Presidential Twitter Chats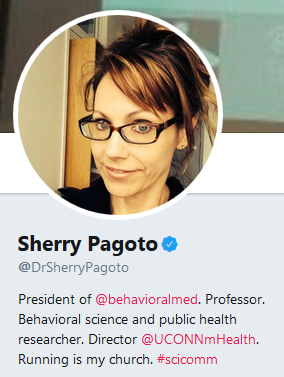 SBM President Sherry Pagoto, PhD, hosts monthly Twitter chats with a wide range of featured guests who have expertise in health policy, science communication, public health, behavioral science, digital health, and more! #BehavioralMedChat
Unfamiliar with Twitter chats? Check out our 101 section below. You can also read transcripts from our past chats.



Upcoming Chats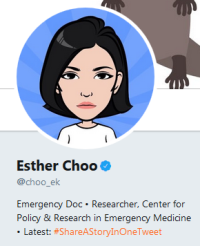 How Academics Can Use Social Media to Advocate for Science and Policy
Guest: Esther Choo, MD
August 2, 12:30 p.m. ET
Dr. Esther Choo is an emergency physician and researcher at Oregon Health & Sciences University. She studies health disparities, substance use disorders, and gender bias. She has published more than 65 research manuscripts on substance use disorders, health disparities, gender bias, and emergency care. She has written on health topics for Quartz.com, KevinMD, and Huffington Post. She serves on the executive board of FeminEM.org and Women Physicians For Humanity, and started the #DoctorsSpeakOut project capturing the opinions of physicians about the Senate health care bill. She also created the #thatsbias hashtag to advance discussions of gender bias in medicine, and #codehate to raise awareness about racism in the healthcare setting.
Join Drs. Pagoto and Choo in a discussion around the following questions.
Why should healthcare professionals and academics use social media to advocate for policy, science, or issues in their fields?
Content is key in social media. Where do you find content to post? How do you decide what to post?
Audience is key in social media. What are some strategies for building the target audience (e.g., colleagues, stakeholders, legislators, journalists)?
When it comes to social media advocacy, how do you measure impact? How do you know if you are having impact?
Academics often say they don't have time for unpaid work like social media. How much time does it take and how do you make the time? Any time-saving tricks or tools?
---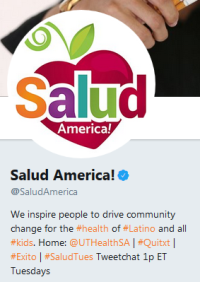 #SaludTues Conversation on Immigrant Health
Guest: Salud America!
September 18, 1 p.m. ET
Salud America! is a national Latino-focused organization that creates culturally relevant and research-based stories, videos, and tools to inspire people to start and support healthy changes to policies, systems, and environments where Latino children and families can equitably live, learn, work, and play. Latinos are a rising U.S. powerhouse, but they face barriers to be their healthiest and suffer high rates of obesity and other health disparities, as evidenced by recent media reports. Salud America! is led by health disparities researcher and SBM member Dr. Amelie G. Ramirez and supported by a passionate team of communicators at UT Health San Antonio, thanks to funding from the Robert Wood Johnson Foundation.
Join Dr. Pagoto and Salud America! in a discussion around the following questions. Note that this chat takes place during the regular Salud America! chat time and will use #SaludTues.
What is the impact of current immigration enforcement on the health of our Latino community? For example, there are reports of children no longer going to school, parents worrying that they may get picked up by Immigration and Customs Enforcement (ICE) since worksite raids are increasing, and temporary protected status beneficiaries or dreamers living under extreme stress as their status will run out in 2019. How can individuals cope with such extreme stressors? How are they supposed to live their lives?
How can we prepare and mitigate the impact of the current state of fear on the health of our minds and bodies?
How is family separation detrimental to a child's physical and mental development and well-being?
In cities where ICE cooperates with the local police, how could this affect families and individual's health and well-being? For example, in some cities, people have stopped reporting crimes to the police.


Past Chats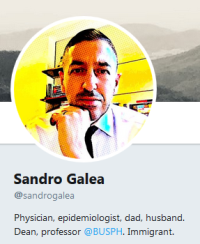 Improving Public Health by Addressing the Social Determinants of Health
Guest: Sandro Galea, MD, MPH, DrPH
July 17, 1 p.m. ET
Dr. Sandro Galea believes public health must do more than improve healthcare. For the public to be truly healthy, public health professionals must fix the social problems that cause poor health, problems like poverty, violence, and mass incarceration. Dr. Galea is dean of Boston University's School of Public Health and an elected member of the National Academy of Medicine. He has published more than 700 scientific journal articles and 13 books, including his latest, Healthier: Fifty Thoughts on the Foundations of Population Health. Dr. Galea writes a column for the American Journal of Public Health and is a regular contributor to Fortune. Thomson Reuters has named him one of the "World's Most Influential Scientific Minds."
Drs. Pagoto and Galea discussed the following questions.
What are some key social determinants of health that public health scientists do not address adequately when designing interventions?
What training is needed to prepare the next generation of public health professionals and practitioners for addressing the social determinants of health? What are current training programs missing?
Some progress has been made in community-engaged research (i.e., CBPR), but one venue we rarely hear community voices is professional conferences. How do we bring the voices of community members, patients, advocates, and local stakeholders into scientific conferences in meaningful ways that are mutually beneficial (avoiding the approach of "token" community person)?
How can we engage other stakeholders and sectors to invest in interventions that address social determinants of health? What role can academics play in facilitating those relationships?
Traditional incentive structures in academia do not seem to incentivize academics to do public/community engagement. Should they be incentivized and how? Are there existing incentives that we might be overlooking?
---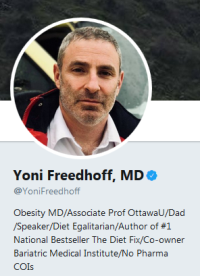 Weight Management: What Works and How Do We Tell Patients
Guest: Yoni Freedhoff, MD
June 18, 12 p.m. ET
Early in his career, Dr. Yoni Freedhoff realized the medical community, himself included, was not adequately managing obesity. Many patients requested weight-loss advice, but he had little to offer as the management of obesity is not taught during medical school. Consequently, Dr. Freedhoff pursued training from the American Board of Obesity Medicine and began speaking differently to patients and policymakers. He has spoken before the Canadian House of Commons and Canada's Senate regarding his concerns about Canada's Food Guide, and he has been referred to as Canada's most outspoken obesity expert and "nutritional watchdog." Dr. Freedhoff is quoted regularly in the international press; sounds off regularly on his blog, Weighty Matters; and has contributed to US News and World Report, Vox, and the Huffington Post. He is an assistant professor of family medicine at the University of Ottawa.
Drs. Pagoto and Freedhoff discussed the following questions.
We haven't seen any breakthroughs in behavioral weight management in quite some time. Which areas of research should we spending more time on? And which less time on?
The public discourse about diet and exercise contains a lot of misinformation. What can providers and researchers do to mitigate misinformation and get evidence-based messages out there?
The saying is that the diet you can stick to is the best diet for you. However, in choosing a diet, how does a patient know which one they will be able stick to over the long haul?
There is a lot of debate about the role of exercise in weight management. If someone wants to lose weight, should they exercise or not?
One thing I have noticed about obesity research that I haven't noticed in other areas I study is the "camps" -- groups who are very adamant about specific approaches. Why is that? Is it affecting our progress?
---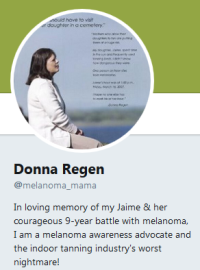 Health Policy Advocacy: Lessons from a Mom who Took On the Tanning Industry
Guest: Donna Helm Regen
May 29, 2 p.m. ET

After using tanning beds throughout her high school and college years, Jaime was diagnosed with melanoma at age 20. She fought a nine-year battle with melanoma until it claimed her life at 29 years old. After Jaime's death, her mother Donna Helm Regen, launched a campaign against the indoor tanning industry. She shared her story and championed tanning bed legislation in front of lawmakers and millions of people on social media. Donna, deemed "the indoor tanning industry's worst nightmare," was instrumental in pushing Texas to become one of the first states to pass legislation banning minors from tanning beds. Now more than 15 states have passed similar legislation. Donna also staged a letter writing campaign to universities, which resulted in several revoking tanning salons from campus cash cards.
Dr. Pagoto and Donna discussed the following questions.
Who (besides legislators) are stakeholders to target in health policy advocacy efforts? Who should we communicate our messages to?
What are some ways to leverage social media for health policy advocacy? Who should you follow and interact with? Which platforms?
What type of messages are impactful on groups that aren't immediately in support of a health policy issue?
What can scientists do to better support advocacy efforts by patients, family members, non-profit organizations, and anyone else on the front lines?
How do you deal with the trolling and pushback from people who disagree with your goals?


Twitter Chats 101
Twitter chats are live discussions that take place on Twitter at a predetermined time, about a predetermined topic. Tweets related to the discussion include a special chat hashtag (ours is #BehavioralMedChat). Dr. Pagoto will tweet questions (designated with Q1, Q2…) to prompt responses from participants (using A1, A2…) and encourage interaction among the group. Chats last one hour. Anyone is welcome to participate by responding to chat questions and asking the guest questions.
Before for the Chat
Mark your calendar for the chat date and time.
Try out a free tool like TweetChat or TweetDeck to more easily follow the chat hashtag and respond quickly (TweetChat, for instance, will add the chat hashtag to all of your tweets automatically).
Promote the chat in tweets to your followers, and send a "high volume" warning before the chat starts.
If the fast pace of chats overwhelms you, feel free to peruse the questions and prepare brief responses in advance.
During the Chat
Always include #BehavioralMedChat in your tweets.
Stay on topic.
Share your knowledge about the topic, tweet relevant research papers, etc. – but don't use the chat as a sales opportunity.
Don't be afraid to contribute! The host, guest, and participants will be glad to hear from you.
It's OK to dip in and out of a Twitter chat. Drop by for the time you have and don't feel guilty if you can't stay for the whole thing.
When answering a specific question or comment from another participant, use Twitter handles to identify who you're speaking to in order to avoid confusion. Include a "." in front of an @username if you want your tweet to show up in all feeds. Reply directly (with no ".") for targeted conversations with one or two people.
After the Chat
Your fellow tweeters may retweet your words of wisdom, offer compliments, or ask follow-up questions, so make sure to reply accordingly.
Introduce yourself to new followers and follow them back.
Check back here to get the link to the chat transcript. Share it with your followers!