2024 Annual Meeting
Join us for the largest yearly behavioral medicine gathering in the world! The Society of Behavioral Medicine's 45th Annual Meeting & Scientific Sessions is happening in Philadelphia, PA, from March 13–16, 2024.
The meeting theme is "Moving Behavioral Science Upstream." Policies, institutions, neighborhoods, and communities impact our behavior and health, and require intervening across multiple levels to change health for the better. There is, for example, a recognizable stress-related pathway by which upstream factors such as systemic racism, discrimination, and environmental injustice get "under the skin" to affect health and disease. Recognizing the multiple ways that upstream factors affect health is as important as developing multi-level intervention frameworks to address downstream conditions. Meeting sessions will prepare attendees to address upstream factors, for example by expanding theoretical models, by bringing expertise in digital health to bear on addressing upstream issues, or by incorporating more rigorous study designs addressing multilevel drivers of health and well-being.
SBM's Annual Meeting is an in-person event, with no hybrid or virtual component. This is based on attendee and member feedback about ideal meeting structure, presentation experience, and networking experience. With the exception of recorded research spotlights, all abstract presenters should plan to present in person in Philadelphia.
Join us for SBM 2024
---
The abstract deadline has been extended! To submit your abstract, please click here. We welcome submissions in 31 topic areas, for courses, symposia, panels, papers, posters, and more. Final Deadline! Submit your science by Friday, September 8 at 11:59 p.m. ET.
Registration
Our registration portal will open in November.
The meeting is taking place at the Philadelphia Marriott Downtown, in the heart of the city and walking distance to restaurants and other attractions. Our discounted room block will open this fall!
Famous as the birthplace of life, liberty and the pursuit of happiness, Philadelphia delivers one destination with countless things to do: fascinating museums, vibrant parks, national historic sites and famous (and delicious) food. Plan your trip.
SBM is working to reduce the meeting's environmental impact, and you can join in this important effort. Learn more.
Why Attend SBM?
---
SBM is a vibrant, multi-disciplinary society focused on the role of behavior in improving health. Most of our country's most daunting health challenges have behavioral origins, and achieving SBM's vision of "better health through behavior change" has never been more important. SBM members include the nation's leading scientists and practitioners, and SBM annual meetings are the premier forum for the most influential behavioral medicine research. Learn more about SBM and who we are.
Who will I meet at the SBM Annual Meeting?
SBM's meeting is the only truly multi-disciplinary behavioral medicine conference. SBM's membership includes approximately 2,400 behavioral and biomedical researchers and clinicians from more than 20 disciplines.
Will SBM have the continuing education credits I need?
The society offers an average 10-15 credit hours per meeting to nurses, nurse practitioners, physicians, psychologists, public health professionals, health education specialists, and dietitians.
What do other professionals say about SBM's Annual Meetings?
"This was my best conference experience ever. I started to get involved with SBM this past year and my experience at the conference just solidified for me that SBM is my professional home."
"The science presented at this meeting is by far the most rigorous science I have seen presented at any professional meeting. I will be back every year and I look forward to presenting in the future."
"This was my first conference as a graduate student and it was beyond my expectations. Wonderful people, wonderful talks."
"The ease to connect with leaders and other colleagues in behavioral medicine has been priceless and is why I have remained a member for the past 17 years."
"My first-time attendance occurred at a pivotal moment in my academic journey that has shaped and helped me refine my dissertation project and likely my academic career moving forward. I will be forever grateful for this experience. [SBM's free attendance for underrepresented scientists provides] a chance to be part of the meaningful conversations that take place at SBM and in the field of behavioral medicine broadly. Our otherwise marginalized presence can and truly does make a difference when given the opportunity; I appreciate a program that can understand the importance of that. Thank you once again."
"SBM is a very nurturing place where I grew my career and friendships and have had the good fortune of working with great mentors and mentees."
SBM by the Numbers
SBM's meeting offers more than 300 sessions in more than 30 topic areas, including cancer, digital health, methods and measurement, physical activity, and quality of life.
An estimated 1,800 individuals from the United States and abroad will attend the 2024 Annual Meeting.
Donate to SBM
---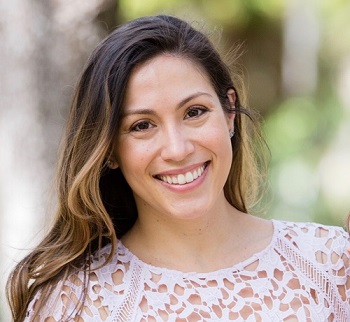 Give Now to Advance the Science that Matters to You
Daniella Carucci Marchetti is a graduate student and first generation college student who couldn't attend the Annual Meeting without financial assistance because her institutional stipend was limited. Thanks to supporters like you, Daniella is able to attend the SBM Annual Meeting. Your support is critical to providing access to spaces that are rich in networking and professional development opportunities, increasing crucial research visibility for members like Daniella in the scientific community.
---
Registration
Online registration will open in early November 2023 and closes February 28, 2024. Individuals seeking to register after that should visit the on-site registration desk beginning March 13, 2024.
2024 Annual Meeting Registration Prices
To be determined. Members and students will be eligible for discounted rates!
Pre-Conference Courses can be registered for independently or in addition to your Annual Meeting registration. Course details will be available when registration opens in November.
Underrepresented First-Time Attendees can have registration fees waived thanks to support from SBM. Look for this option on the registration form. Discounts also available for attendees from low- or middle-income countries.
Student Volunteering offers an opportunity for approximately 30 student members to earn complimentary registration. The application period for SBM Student Member Volunteers will open in early January 2024.
Guest Registrations may be purchased in addition to a full registration, for $75 (2023 rate). Only one guest is allowed per registrant. All guests must check-in at the registration desk onsite and will be identified with an appropriate name badge. A guest is defined as a spouse or significant other, friend, or relative who is not a member of SBM and does not work in a behavioral medicine-related occupation. If you want to bring a guest, please provide their name and pay the registration fee during your online registration process. Guest registrations do not include any ticketed sessions.
Attendees are welcome to bring children to conference sessions, and local SBM leaders can help identify childcare options if needed. Minors do NOT need to have a guest registration.
Hotel Room Blocks
Book early! Only a limited number of rooms are available at the discounted conference rate. The 2024 Annual Meeting will be taking place at the Philadelphia Marriott Downtown. Conference room blocks will be available for booking in fall 2023.
Why stay at the conference hotel?
Pay a discounted nightly rate available only to SBM meeting attendees.
Help keep meeting costs down for attendees, especially students. The more attendees who stay at the host hotel, the better negotiating power SBM has for lower room rates at future conference hotel properties!
Conveniently access conference sessions, networking events, and other special activities.
Easily return to your room if you forgot something or need a break.
Rates
Single or Double Rate ($259)
Government Per Diem Rate ($210) -- A limited amount of rooms are available and will book on a first come first serve basis.
Abstract Submission Deadlines
Abstract Submissions Open: Mid-July
Abstract Submissions Close: Friday, September 8 at 11:59 p.m. ET
Rapid Communication Poster Submissions Open: October 17, 2023
Rapid Communication Poster Submissions Close: November 15, 2023
The abstract submission portal is now open, please click here to submit an abstract.
Abstract Submission Notification: Confirmation emails may go to your spam folder. If you DO NOT receive an email notification regarding your abstract being submitted within 48 hours of submitting it please reach out to SBM.
Abstract Acceptance Notification: Confirmation emails may go to your spam folder. If you DO NOT receive an email notification regarding your abstract submission by November 15, 2023, or by January 15, 2024, for rapid abstracts please reach out to SBM.
For any questions regarding your submission or the abstract submission site, please contact the national office at (414) 918-3156 or at info@sbm.org.
Abstract Guidelines
Abstracts MUST be submitted according to SBM's specific guidelines listed below, using SBM's official CadmiumCD submission website. Abstracts may be submitted as pre-conference courses, symposia, panel discussions, papers, live research spotlights, recorded research spotlights, or posters.
All abstract submissions will be peer reviewed. All accepted abstracts will be published in the Annual Meeting Supplement issue of Annals of Behavioral Medicine, an official journal of SBM. The supplement will serve as the official abstract publication for SBM's 45th Annual Meeting & Scientific Sessions.
Upon receipt of your submission, CadmiumCD will issue an email confirmation to the submitting author. Authors can expect to receive the email confirmation of their submission within 48 hours (or two business days) after submission. If you do not receive a confirmation email from the abstract system within 48 hours of submitting your abstract, contact the national office at (414) 918-3156 or at info@sbm.org.
Character Limit: There is a limit of 2,500 characters including spaces. The 2,500 character limit does not include title or author list.
Complete and Original Results: Each abstract should represent complete and original results. If you want to present a "Works in Progress" (e.g., design and methods of a large clinical trial) or a "Lessons Learned" (e.g., tips for other researchers) abstract, then this could be included in a panel discussion, symposium, or rapid communication poster, but not in a regular poster (until complete data is available). Note that rapid communication poster abstracts have a separate, later deadline than other abstracts. Submitting multiple abstracts in which the same data have been analyzed in different ways, or in which a study is subdivided into small sub-studies, is prohibited and will result in those abstracts being rejected. In addition, this action may result in the individual abstract authors being prohibited from submitting abstracts for future SBM annual meetings. Only if abstracts present unique information that could be published in separate journal articles will multiple submissions from a single project be considered (e.g., if they address theoretically unrelated/distinct hypotheses, if they utilize non-overlapping data/variables, etc.). If multiple presenters claim equal contribution to a project, then they can co-present the poster at the annual meeting.
Ethical Responsibilities of Submitters: SBM is committed to upholding the integrity of the scientific record. Submitters should refrain from activities that could damage the trust in the society, the professionalism of scientific authorship, and ultimately the entire scientific endeavor. Prohibited activities include, but are not limited to, presenting others' data, text, or theories as if they are your own ("plagiarism"); misrepresenting research results; and fabricating or manipulating data to support your conclusions. If there is a suspicion of misconduct, the implicated author(s) will be contacted and given an opportunity to address the issue in a timely fashion. If misconduct is established or the author(s) do not respond to inquiries, this may result in the Annual Meeting Planning Committee rejecting the submission, removing the presentation, retracting the published abstract, and/or prohibiting the author(s) from submitting abstracts for future SBM annual meetings. Additional actions may be taken in accordance with SBM's code of ethics and enforcement procedures.
Empirical/Non-Empirical Research: Poster abstracts submitted for presentation must be based on empirical research and report actual (not promised) results. Poster submissions, except for Works in Progress and Lessons Learned rapid communication posters, must also be based on empirical research and report actual (not promised) results. Abstracts for courses, panel discussions, and symposia may include empirical and/or non-empirical contributions.
Empirical work includes primary quantitative research (e.g., observational studies, clinical trials) and primary qualitative research (e.g., interviews, focus groups), with both requiring appropriate methods for gleaning insights (e.g., the use of appropriate statistics for quantitative data and appropriate processing of qualitative data, such as thematic analysis). Empirical research can also be of a secondary nature and involve the use of prior empirical work, such as review articles. Note that for these types of empirical contributions, the work does need to use accepted procedures for organizing and processing that information including both quantitative (e.g., meta-analysis) or qualitative (e.g., meta-synthesis, scoping or narrative reviews) approaches. Literature reviews that do not use an accepted protocol for organizing the literature and gleaning insights will NOT be considered empirical but could be discussed within courses, panels, or symposia.
Prior Publication Policy: Abstracts that have been published or presented elsewhere prior to the time of presentation at the 45th Annual Meeting & Scientific Sessions may not be submitted for consideration by SBM. Abstracts that were accepted for SBM's 44th Annual Meeting & Scientific Sessions should not be re-submitted for the 2024 meeting. Work may be submitted for publication after the abstract submission deadline, prior to the annual meeting, and still be presented at the meeting (even if it is published prior to the meeting).
Abstract Presentation Limit: Authors are limited to participation as "presenter" in a maximum of three abstract submissions. Presenters of accepted abstracts must register for the annual meeting.
Poster Mentoring Program: Student SBM members can check a box in the abstract submission portal to have their poster presentations evaluated by a senior SBM member. Because of the Poster Mentoring Program's popularity, interested students are selected via a random drawing. Selected students are matched with senior members based on common behavioral medicine interests when possible. Those senior members then stop by the student's poster presentation to offer feedback and advice in person.
Presenter Registration: Each presenting author is responsible for his/her registration fee(s). Presenters who are unable to register for the annual meeting should arrange for another individual to present in person on their behalf. If changes to the listing of your presenting author are necessary, please notify the SBM national office (414) 918-3156 or info@sbm.org.
Submission Deadline Exceptions: Abstracts must be completed and submitted by the noted abstract submission deadline: September 6, 2023, at 11:59 p.m. ET. Rapids must be competed and submitted by the noted abstract submission deadline: November 15, 2023, at 11:59 p.m. ET. The only exceptions to this policy are (1) delay due to weather-related issues that hinder a submitter's ability to complete their submission (ex: power outage due to severe weather), or (2) delay related to personal injury or family health emergency (ex: hospitalization). In these cases, a deadline extension request must be sent to swilson@sbm.org before the abstract submission deadline, for review by the SBM Annual Meeting Planning Committee.
Withdrawn Abstracts: Abstract presenters who withdraw a presentation may be denied the right to submit an abstract for the 2025 SBM Annual Meeting. The only exceptions to this policy are (1) absence due to weather-related issues that hinder a presenter's travel to the meeting, (2) absence due to a work-related emergency, or (3) absence related to personal injury or family health emergency. Miscalculation of travel costs by the presenter does not qualify as an acceptable reason to withdraw one's abstract. In the event this occurs, no refunds will be given.
Abstract/Presentation Language: All abstract submissions must be in English. All presentations based on accepted abstract submissions must be made in English.
Thematic Submissions Encouraged: Submissions are especially encouraged that reflect the theme for the 45th Annual Meeting & Scientific Sessions: "Moving Behavioral Science Upstream."
Open Science Practices Encouraged: Submitters will have the opportunity to declare their open science practices for the submitted work, including preregistered design, preregistered analyses, shared materials, and posted data. SBM is committed to promoting more open science practices among members and at the annual meeting. For more information on these practices and their benefits, see the Center for Open Science (https://cos.io/) or other resources.
Abstract Submission FAQs
Q: Can I submit a "meta-synthesis" for the Annual Meeting? (a meta-synthesis is similar to a meta-analysis but provides an evidence-based integration of qualitative studies).
A: Yes, you can submit a meta-synthesis as long as the synthesis includes sufficient published data (in this case qualitative data) to warrant a meta-synthesis and as long as the work utilizes strong methodology (as supported by existing literature).
Q: Can I submit an abstract that presents the aims, design, and methods for an ongoing trial? We are still collecting data, so this would be the equivalent to a design paper in a journal.
A: You may submit methods/design relevant abstracts as part of relevant panels or symposia and as rapid communication posters but not as regular poster presentations, which require complete data at the time of submission
Q: Can I submit an abstract that explains our experiences as researchers and "lessons learned" when conducting large clinical trials (e.g., partnering with clinics and engaging hard-to-reach patients for a community-level intervention)? Although this type of abstract would not involve sharing statistical results, would it still be considered empirical research?
A: This would fit into empirical work if you gathered qualitative data on this topic area and presented the qualitative data. If you do not have qualitative data, then this would fit better into a symposium whereby you could discuss these areas in the context of others who are working in a similar domain. Lessons learned can also be submitted as rapid communication posters —but not as regular poster presentations.
Q: After submission of an abstract for presentation at the Annual Meeting, is the author prohibited from submitting a manuscript for publication (based off the presentation submission) prior to the presentation date?
A: Authors may submit their work for publication in a journal after the SBM annual meeting submission deadline has passed but before the annual meeting occurs. If you follow these rules and the paper ends up being published prior to the conference, then you do NOT need to withdraw the SBM submission.
Q: Is it allowed for a larger study to be divided into several abstract submissions (e.g., so that several graduate students from the same lab can present)?
A: SBM recognizes the importance of having graduate students present their work at the annual meeting, even if their work is part of a team-based project. However, the individual abstracts should be distinct enough to warrant publication as separate papers—that is, address unique theoretical questions (distinct enough for separate publication), use non-overlapping data, etc. If the abstracts would be combined into one manuscript for publication in a journal, then they should not be separated for submissions to the SBM annual meeting. Instead, consider having two students co-present at the same session (papers or posters, for example).
Q: Can I submit a literature review for presentation?
A: A literature review can be submitted for presentation as a paper/poster only if it includes empirical data. However, systematic reviews, meta-analyses, and meta-syntheses can be considered empirical if they use literature-supported empirical methods (for determining the included articles, for synthesizing quantitative or qualitative findings in the literature, etc.) and utilize the included literature as data/evidence. Otherwise, literature reviews may fit within a relevant panel discussion or symposium.
Presentation Formats
SBM's Annual Meeting & Scientific Sessions features a variety of presentation formats including pre-conference courses, symposia, panel discussions, papers, research spotlights, and posters.
Pre-Conference Courses are 2 hour sessions held on Wednesday. Course design should allow attendees to acquire skills and/or expand practice or research knowledge. Content can center on scientific or educational topics of interest to a specific portion of the meeting audience and/or of an SBM council/committee/SIG. If by the Early Bird Registration an attendance of 10 or more individuals has not received the session may be cancelled. This session type is eligible for continuing education credits.
Symposia are held on Thursday, Friday and Saturday during the meeting. They are scheduled for 50 minutes. Presenters will examine important issues from a variety of different perspectives. Presentations and debate among participants will address alternative solutions, interpretations, or points-of-view on an identified body of knowledge within the advertised topic area or theme. A discussant will summarize/draw conclusion at the end of the session. Several abstract submissions are required for this session type: One "Overview" abstract from the chair/organizer, which will summarize the session. There should be a separate abstract for each presentation. A discussant does not need to submit an abstract, but should be listed as a co-author in the Overview abstract. This session type is eligible for continuing education credits.
Panel Discussions are 50 minute sessions, presented on Thursday or Friday, focus on specific topics with various viewpoints expressed by a panel of experts. One abstract is submitted for the entire session, by the Panel Chair/Organizer. This session type is eligible for continuing education credits.
Paper presentations are offered on Thursday and Friday during the meeting. They are clustered with three other papers around common themes and presented via oral presentations that are approximately 10 minutes in length per paper presentation. One abstract is submitted per paper presentation.
Live Research Spotlight presentations are offered on Thursday and Friday during the meeting. They are clustered with nine other live research spotlights around common themes and presented via oral presentations that are approximately 5 minutes in length per spotlight presentation. One abstract is submitted per live research spotlight presentation.
Recorded Research Spotlight spotlight presentations allow presenters to share their science in a digital format. Recorded spotlights will be pre-recorded 2-minute video presentations that will be shared on-site at the Annual Meeting in addition to being available via the meeting's mobile app. One abstract is submitted per recorded research spotlight presentation.
Poster presentations take place Wednesday, Thursday, Friday, and Saturday. Presentations are grouped thematically within the poster/exhibit hall. Poster Sessions allow abstract authors to discuss their research with interested colleagues for 50 minutes in an informal setting. One abstract is submitted per poster presentation.
Rapid Communication Posters offer the opportunity for presentation of late-breaking findings in the field of behavioral medicine. Rapid communication posters are scheduled during the poster sessions on the Wednesday, Thursday, Friday and Saturday. Only one abstract needs to be submitted per proposed rapid communication poster presentation. Rapid communication poster abstract submissions are done separate from other submission types, and the call for rapids will open in the fall.