How to Start (or Restart) Exercising

Pamela Behrman, PhD, College of Mount Saint Vincent
Maybe you started the New Year aiming to lose that "spare tire" or some of those holiday-related pounds. Maybe you even invested in an exercise bike, rowing machine, or gym membership. That kept you motivated, right?
Maybe. But probably not. All too frequently, the expensive equipment becomes an expensive laundry hamper and the unused gym membership slowly drains the money out of your checking account. This happens just as surely as those unwanted pounds drain your self-esteem, your good health, and your energy levels.
Exercising at moderate levels for 50 minutes a day, three times a week (or 150 minutes a week in any combination) is universally recommended for improved medical and mental health outcomes including reduced risk of Type 2 diabetes, increased cardiovascular fitness, improved mobility, reduced blood pressure, and better sleep. Regular exercise also improves cognition and is a great antidote to stress, reducing the impact of corrosive stress-related hormones such as cortisol. And exercise can provide constructive outlets and social supports, which can reduce psychological distress (including anxiety and depression) and generally ease the burdens of day-to-day life.
But despite all the benefits, starting to exercise, especially when you're out of shape, can be incredibly difficult. The key is to find your own fitness plan, one that suits you, your fitness level, and your interests so you're more inclined to stick to it. Here are some tips to help you do just that.
How to Start (and Stick With) Exercise
Go to the doctor. Get a complete physical.
Get expert advice on how to start exercising again. Follow your doctor's recommendations and check in with them regularly.

Cleared to exercise? Good! But start slowly. Focus on moving more.
Pedometers and step counters are a great, simple way to get yourself moving. Wear a pedometer and take note of your daily step count. Then "make excuses" to add steps to your previous week's average. This can be done as simply as parking your car a bit further from the supermarket or your workplace, or adding an extra block or two to your twice-daily dog walks. Once this becomes a habit, add stair-walking or hill-climbing to the mix. You should start seeing and feeling health benefits fairly quickly if you are consistent, which can be great motivation to keep moving.

Feeling better? Good! Maybe now you are ready to add some organized exercise to the mix.
Be realistic here. Do you like the gym? No really—do you like the gym? The gym is great if it provides activities that engage you emotionally and socially as well as provides the means for you to build strength and fitness. Does it offer activities that pique your interest? Dance, yoga, Zumba, barre, kettlebell groups, water aerobics, spin classes, and others can be motivating, especially if you have done them before. But don't sign on for typical forms of exercise if they don't interest you. Find something you want to do, even if that means trying a few new classes. You might surprise yourself with what sticks.

What sports have you done before, even as a child or adolescent?
This can be the "secret sauce" for picking activities that have some staying power. Our childhood interests developed for a reason, and some remnant of that interest is likely still present in you, today. Were you on a softball team? Good, find one. Running clubs are great for previous track athletes. Were you a dancer as a child or adolescent? Take adult dance classes. Did you swim? Get scuba certified and get in shape for an upcoming dive trip. Do you love the outdoors? Did you work your way up the Girl Scouts or Boy Scouts badge counts? Join a hiking club or take up birdwatching via Audubon groups. Your weekends will be filled with long walks in the woods with new like-minded friends. Ski, cycle, skate, sail, play pickle ball, join a soccer league. The options are literally endless.
Dubious? Try to Start Exercising Before Doubting the Method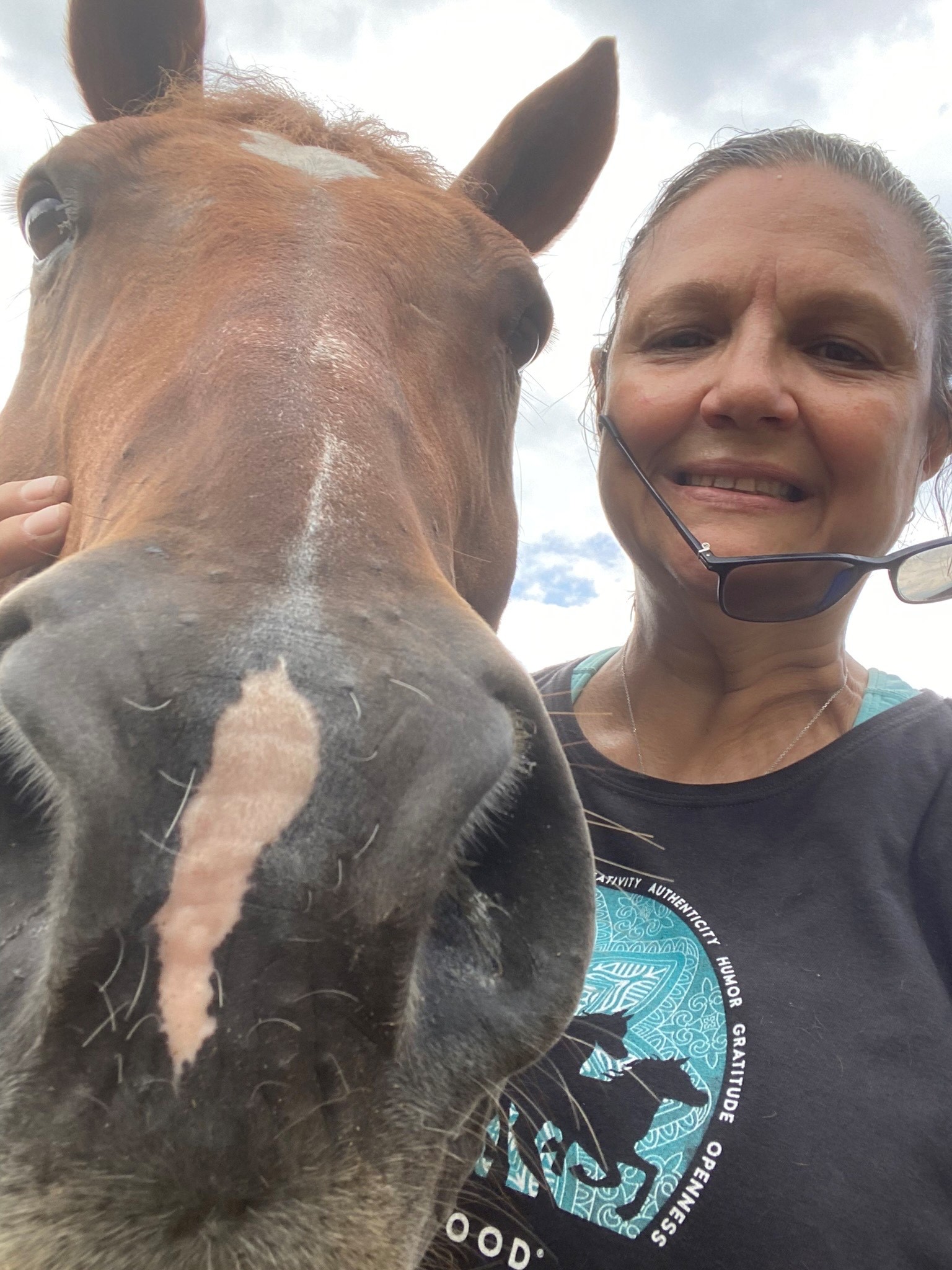 I have a lapsed gym membership, myself. By some combination of serendipity and luck, an acquaintance heard I used to ride horses as a teenager and young adult. Would I go riding with her?
The minute I lifted myself into the saddle, took the reins, and gently pushed my heels into the sides of my mount, I felt a hint of the joy I experienced as a 12-year-old on my first lesson horse. I wondered how I survived more than 30 years without seriously riding.
That was 7 years ago. Since that refresher, I ride horses two or three times a week. I regularly take English and Western riding lessons from a tough and caring trainer. I share the ring with other riders, young and old, including many riders 70 years old and beyond. I even own my own tack and lease and help care for my ride, a 1200-lb quarter horse named Bernie (yes, that photo is of us).
Health-wise, my diabetes A1c percentages are down to pre-diabetic ranges. I lost 20+ pounds. I have energy to spare. And I have a "barn family" of horses and riders that provide endless friendship, encouragement, and socialization.
Bottom line: Starting (or restarting) the right exercise program can be transformative! Find one that works for you!
More Articles