How to Create an Exercise Plan that Sticks

Linda Trinh, PhD, University of Toronto, and Allyson Tabaczynski, MSc, University of Toronto
The Physical Activity Guidelines for Americans (2nd edition) recommends that adults engage in 150 minutes of moderate-to-vigorous activity per week. Hitting this benchmark offers numerous health benefits, including reduced risk of chronic disease.
While this may sound daunting, your weekly exercise time doesn't have to happen all at once. You can create an exercise plan that makes the goal more manageable. You can even break up your exercise within a given day (e.g., doing 10 minutes of walking in the morning, 10 minutes of walking in the evening for 20 minutes of total daily physical activity). You can also spread your exercise time out during the week to support recovery and avoid burnout.
We've all set fitness goals and watched them fizzle out. Exercise and diet planning can be challenging. The trick is to create exercise plans that are realistic and manageable, whether your goals involve weight loss, muscle building, or overall health.
One behavior change technique that you can use is called "action planning." Action plans are detailed plans that includes the who, what, when, where, and how you will achieve your fitness goals. Think of it like a checklist of items you need to have, which makes it easier for you to track your progress and plan for physical activity in your day.
How do I make an action plan?
Click here for a printable, fillable version.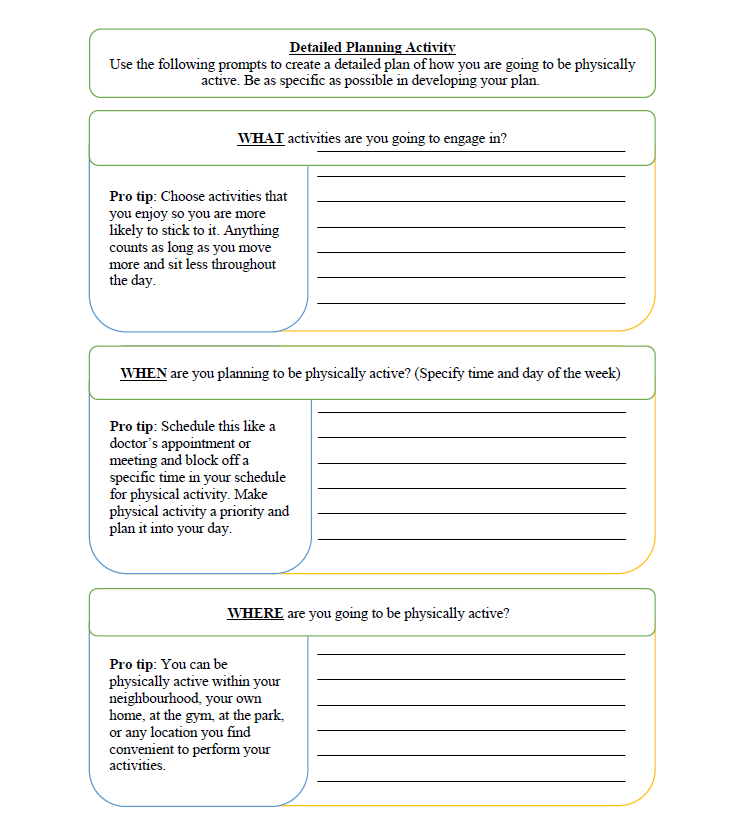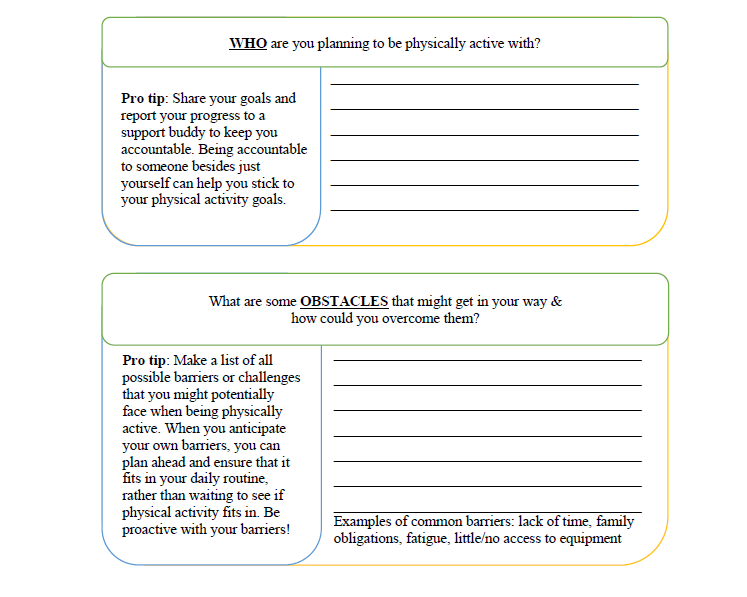 What if I don't stick to my exercise plan?
There are many obstacles that can steer you away from any exercise or diet plan. The key is to recognize these barriers ahead of time and have a plan for overcoming them. When you anticipate a barrier, think of different ways to work around it which will help you stick to your exercise plan.
The most common situations where lapses can happen include travel, holidays, illness, stress, poor weather, extra work hours, and competing family obligations. Using your exercise action plan to anticipate these events can help minimize their impact on your new, active routines.
There are times when we may hit a short-term detour on our way to reaching our physical activity goals. Relapses and lapses are a normal part of behavior change. Try not to let a lapse linger for too long. Once old behaviors start to set in, it can lead to a total collapse of your progress.
Realistically, though, life can make it difficult or impossible to stick to an exercise plan. Don't be too hard on yourself if you have an unexpected lapse in your active lifestyle. Simply pick the plan up again as soon as possible.
Above all, try to remain positive that you will get back on track and remind yourself that behavior change isn't linear. You can resume your daily activity by starting again with shorter durations, and then gradually building in longer periods of activity when you are feeling comfortable. Revisit your plans, adjust them to your current needs, and then put them into action.
More Articles