Host a Local Meetup
Local Meetup Benefits
For the local host: Increase your visibility in the field, grow your own network of colleagues and collaborators, advance the field and increase its diversity, help the next generation of students, generate ideas for new projects, add local event host to your CV, receive recognition on the SBM website, and introduce others to your "professional home."
For student attendees: Provide connections and advice, in order to orient them to SBM and how the society can benefit them in the long-term.
For other SBM members who may attend: Connect with local members outside of the Annual Meeting.
For SBM: Help the field, diversify the pipeline of future scientists, recruit the next generation of researchers, and help attendees with their careers.
Target Attendee Audience
Student members (new and returning)
Prospective members
Other SBM members
Event Format
Meetups are designed to meet the needs of students with limited or no funding, limited time, and who desire multi-format networking opportunities, interactive/energizing events, and professional development skills. Meetups are also designed to help more established members connect with each other, and up and coming students.
In-person for those living/working in the same metro area or within up to a 3-hour drive (no overnight travel required to remove cost barrier).
Time of year variable based on local needs. There will be a blackout period of no events for the two months immediately preceding and following the SBM Annual Meeting (March thru June). Ideal timing is in the Fall (September, October, November).
Late afternoon/early evening to accommodate work schedules, including clinical.
Goal of 20-40 attendees per event, drawing from at least two institutions in the area.
2.5 hours in length, so not too long but also long enough to justify attending.
Professional development component to focus on professional skills, but not scientific findings, per student needs and to avoid this being a "mini-conference."
Local tailoring component: Must have an element that will reflect the local/community context. Can be small (DC provided cupcakes from a popular bakery) or reflected in choice of venue (Denver held the event in a brewery).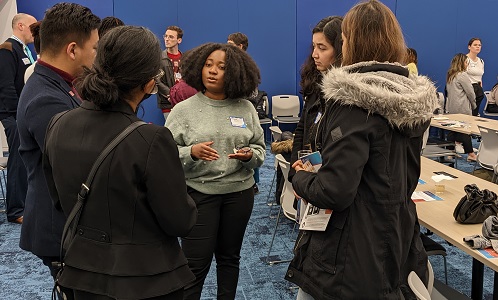 Sample Agenda
Note: Local host will help plan the agenda with support from the full-time SBM Staff.
Welcome (1 minute, led by local host as emcee)
Icebreaker (3 minutes, led by local host as emcee)

Get attendees acclimated to each other and moving around.

SBM 101 (6 minutes or less, led by local host as emcee)

Quickly conveys what SBM is and what professional development and other resources/connection opportunities we offer.
Note that all attendees who have never been an SBM member will get the remainder of the year free membership in SBM ("Try us out!"). SBM stickers and magnets are also available to all attendees as free swag.

SBM Excitement Generator (15 minutes or less, up to 3 local SBM members)

Gets attendees excited about SBM via the sharing of personal "why SBM is my professional home" stories.

Professional Development/Educational Presentation (30 minutes, led by local presenter)

Provides a valuable and concrete skill to attendees and serves as a promotional tool and event draw. Local hosts can choose from a menu of SBM-approved topics or propose their own topic for SBM approval.

Speed Networking (20 minutes, led by local host as timekeeper)

Quickly introduces people and gets them acquainted.

Happy Hour Networking (up to 60 minutes)
Attendees to complete an event evaluation facilitated by SBM Staff
Host Application Process
Applications to host a meetup in 2023 are now closed, thank you to all those that submitted applications! Any current SBM member can apply to host a meetup. Applications must be submitted through the official web form below. Applicants will be asked to answer questions about local hosts, possible venues, and how they will promote the event to their local networks. View all application questions here. Applications will be reviewed by the Professional Advancement Council, with applicants notified of the outcome by no later than Wednesday, June 28, 2023. Two cities will be selected for fall 2023.
Contact SBM Meetings Coordinator Larissa Mickelson with any questions: lmickelson@sbm.org