Keynotes and Master Lectures
Keynotes
---
Michelle Segar, PhD, MPH
When: Thursday April 27 at 10:00 a.m.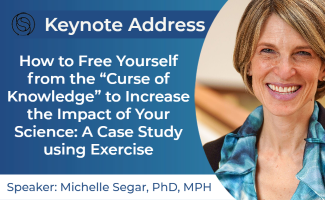 While we hope that our research can truly make a difference, we often get in our own way. In this presentation through science-based story, Michelle Segar, PhD, MPH, reveals how researchers can overcome our greatest challenge to achieving high-impact science using easy-to-use principles and practices.
Dr. Segar is a NIH-funded sustainable behavior change researcher at the University of Michigan and health coach with almost thirty years studying how to help people create changes in behavior that can survive the complexity and unpredictability of the real world. She focuses on transforming people's mindset about healthy behaviors so they desire to do them, find them personally meaningful, and have the skills to maintain them within their daily life through digital health and coaching methods and next-generation messaging strategies. She has authored two popular press books (No Sweat, The Joy Choice), advises the World Health Organization on their physical activity initiatives, and was selected as the inaugural chair of the United States National Physical Activity Plan's Communication Committee. Her work is being scaled to boost patient health, employee well-being, and gym membership retention.
---
Margaret Schneider, PhD, FSBM
When: Thursday April 27 at 4pm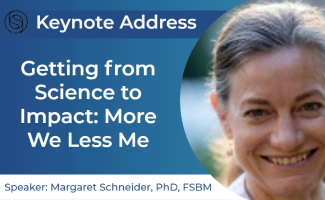 As behavioral medicine researchers, we yearn to see our discoveries translated into benefits to individuals, to communities, to society, and to the behavioral medicine profession; yet the professional training we receive, and the incentive structure of academia typically result in products that are narrowly targeted to a very small audience. In this presentation, Dr. Margaret Schneider will discuss how engaging collaboratively with the community in the research process can make our work increasingly relevant, create pathways to dissemination, and invigorate both ourselves and our profession toward greater impact.
Dr. Schneider is the current SBM president, and has been a member of the society for more than 30 years. Dr. Schneider has received National Institutes of Health research support continuously throughout her career both as an independent investigator developing and evaluating school-based health promotion interventions among adolescents and as an associate director of the Clinical and Translational Science Award (CTSA) at the University of California, Irvine, where she is a research professor in the Department of Population Health and Disease Prevention. Her school-based research leverages the role of exercise-associated affect to promote increased activity among low-active youth, and more recently has incorporated an acceptance-based approach to motivating adolescents to engage in greater activity. Her work with the CTSA has led to several large-scale evaluation studies relating to the science of translation; that is, the study of the process by which institutions may improve the efficiency and effectiveness of their translational science endeavors.
---
Donald Warne, MD, MPH
When: Friday, April 28, at 10:00 a.m.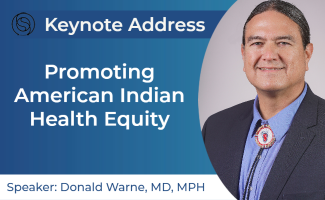 Most of the health challenges faced by American Indian (AI) communities have historical and behavioral causes and can be addressed by behavioral and systemic solutions focused on equity. In this session we will describe historical and developmental roots of AI health disparities, and we will explore solutions that are rooted in addressing historical trauma, adverse childhood experiences, and toxic stress through culturally relevant education, research, and workforce development.
Dr. Warne, (Oglala Lakota) serves as the Co-Director of the Center for Indigenous Health and as a tenured, Full-Professor at the Bloomberg School of Public Health at Johns Hopkins University in Baltimore, MD where he also serves as the Provost Fellow for Indigenous Health Policy. Dr. Warne is also the Senior Policy Advisor to the Great Plains Tribal Leader's Health Board in Rapid City, SD. Dr. Warne is a member of the Oglala Lakota tribe from Pine Ridge, SD and comes from a long line of traditional healers and medicine men.
---
Jamie Chriqui, PhD, MHS
When: Friday, April 28, at 4:00 p.m.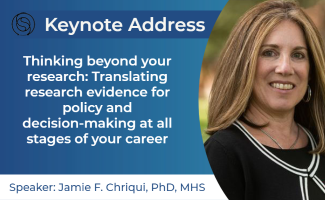 Researchers often progress through their study producing a number of papers and products for an academic audience but they either (1) don't know how to get their evidence in front of policy/decision-makers or (2) they don't realize why it is important to do so. This keynote will provide real-world examples of translating research evidence-related to obesity, physical activity, nutrition, and school wellness for a range of policy-relevant stakeholders at the federal, state, and local levels of government and insights as to key strategies to use for translating evidence for policy based on the branch of government (legislative, regulatory, or the courts).
Dr. Chriqui has over 32 years' experience conducting applied public health policy research, analysis, and evaluation. Her research and expertise focus on studying the adoption, implementation, and impact of public health policies at the federal, state, and local levels. Her research has heavily focused on chronic disease policy related to nutrition, obesity, physical activity, and school wellness. Prior to moving to academia in 2007, Dr. Chriqui served as a Public Health Analyst and then as a Policy Analyst at the National Institute on Drug Abuse (NIH) and then led several legislative and policy-related research centers for a federal government contractor in Washington, D.C.
---
Wizdom Powell, PhD, MPH
When: Saturday, April 29, at 10:00 a.m.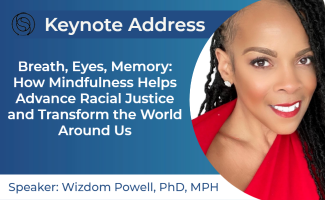 The session will explore linkages between mindfulness practices and racial justice advancement. Next the session will briefly review the scientific evidence base linking racial injustice to poor individual and collective mental health outcomes. Following this review, the session will describe how mindfulness practices might protect the mental health of individuals impacted by racism and those seeking to dismantle it. Building on systems thinking, the session ends with unpacking strategies for instigating mindful racial justice work at individual, interpersonal, and organizational-levels.
Dr. Powell is the Chief Social Impact and Diversity Officer at Headspace Health. Formerly, she served as Director of the Health Disparities Institute (HDI) and tenured Associate Professor of Psychiatry at The University of Connecticut. In her role as HDI director, she forged academic-private sector-community partnerships to advance HDI's legislative mandate to increase health equity among CT's medically underserved. Formerly, Dr. Powell spent over a decade at UNC-Chapel Hill's Gillings School of Global Public Health where she held a tenured appointment in the Department of Health Behavior and was Research Associate Professor and Associate Director of the Center for Health Equity Research in the Department of Social Medicine.
---
Master Lectures
Susan Michie, MPhil, DPhil, FSBM, FAcSS, FMedSci, FBA
When: Thursday, April 27, at 2:00 p.m.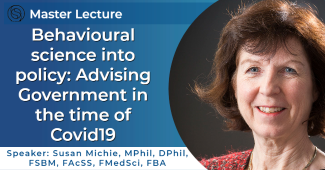 Human behaviour is at the heart of causing and spreading pandemics, and at the heart of managing them. Behavioural science is key to enabling people to adhere to advice and rules, and developing and implementing policies. Several countries had behavioural scientists directly advising Government; the process and outcome will be discussed.
Dr. Michie is currently a Professor of Health Psychology and Director of the Centre for Behaviour Change at University College London, UK. Dr. Michie's research focuses on human behaviour change in relation to health and the environment: how to understand it theoretically and apply theory and evidence to intervention and policy development, evaluation and implementation. Her research, collaborating with disciplines such as information science, environmental science, computer science and medicine, covers population, organisational and individual-level interventions. She is Chair of WHO's Behavioural Insights and Sciences Technical Advisory Group, participated in the Lancet's Covid-19 Commission and served as an expert advisor on the UK Government's Scientific Advisory Group in Emergencies and its Behavioural Science group.
---
Lisa Goldman Rosas, PhD, MPH
When: Thursday, April 27, at 2:00 p.m.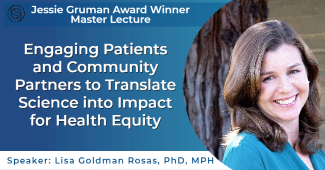 This presentation will highlight best practices and key examples of engaging patients and community partners in behavioral science research with the ultimate goal of translating research into policy and programs that promote health equity. Recommendations for advancing the science of engagement in behavioral science research will be provided.
Dr. Goldman Rosas is an Assistant Professor in the Department of Epidemiology and Population Health and the Department of Medicine (Division of Primary Care and Population Health) in the Stanford School of Medicine. An epidemiologist by training, Dr. Goldman Rosas leverages her expertise in patient and community engagement as well as behavioral science to address inequities in chronic diseases such as diabetes, depression, and cancer. Her work is supported by the National Institutes of Health, and the Patient Centered Outcomes Research Institute among other funders. She is passionate about integrating patients, caregivers, community organizations, and other key stakeholders in the research process in order to affect the greatest improvements in health equity. As a reflection of this passion, Dr. Goldman Rosas serves as the Director for the School of Medicine Office of Community Engagement, Co-Director of Community-Engaged Research for the Office of Cancer Health Equity in the Stanford Cancer Institute, and Director of Outreach, Recruitment, and Engagement for the Stanford Alzheimer's Disease Research Center. In addition to research, she teaches at the undergraduate and graduate levels and has a special focus on increasing diversity in biomedical research.
---
Kathryn Schmitz, PhD, MPH
When: Friday, April 28, at 2:00 p.m.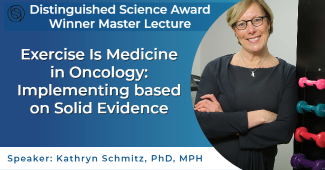 Over the past two decades, the evidence supporting the efficacy of exercise to improve physical, psychosocial, and health services outcomes has grown exponentially. Guidelines stating that exercise should be recommended to those living with and beyond cancer have proliferated. And yet, less than 15% of cancer patients report such a referral. In this talk Dr. Schmitz will review the agenda for an international effort to make exercise standard of care in oncology, the Moving Through Cancer initiative.
Dr. Schmitz is the Associate Director of Population Sciences at Penn State University College of Medicine, and, jointly, serves as Full Professor at the University of Pennsylvania's School of Medicine. She is an exercise interventionist who has led multiple trials, including a large randomized controlled trial to assess the safety of upper body exercise among 295 breast cancer survivors with and without lymphedema. Her research extends from the role of physical activity in the prevention and etiology of obesity-related cancers to the usefulness of activity for rehabilitation and health promotion in cancer survivors of all cancers. Her meta-analyses on the topic of exercise interventions in cancer patients and survivors provide a starting point for clinicians to understand the effects of exercise among cancer survivors.
---
Deborah Parra-Medina, PhD, MPH
When: Friday, April 28, at 2:00 p.m.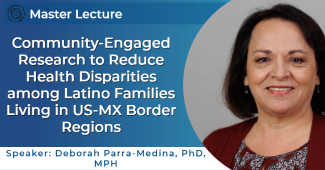 This presentation will discuss the importance of community engagement in behavioral intervention research that addresses health disparities. Dr. Parra-Medina will provide insights into creating partnerships with community-based organizations in intervention planning and share examples from her research on family-centered healthy lifestyle interventions among Latinos in South Texas.
Dr. Parra-Medina's areas of expertise and experience span health promotion, public health epidemiology, health disparities in chronic disease, participatory research methods, and community-based interventions among underserved and minority populations. Over the past 20+ years, her research portfolio includes 18 grants funded for over $20 million. Since transitioning to Texas in 2008 she has completed four RCTs to evaluate theoretically-based, culturally competent healthy lifestyle interventions for Latinos in South Texas.