How to Manage Stress and Exercise During COVID-19 Surges

Margaret Schneider, PhD, University of California, Irvine; Dori Pekmezi, PhD, University of Alabama at Birmingham; and Scherezade Mama, DrPH, The University of Texas MD Anderson Cancer Center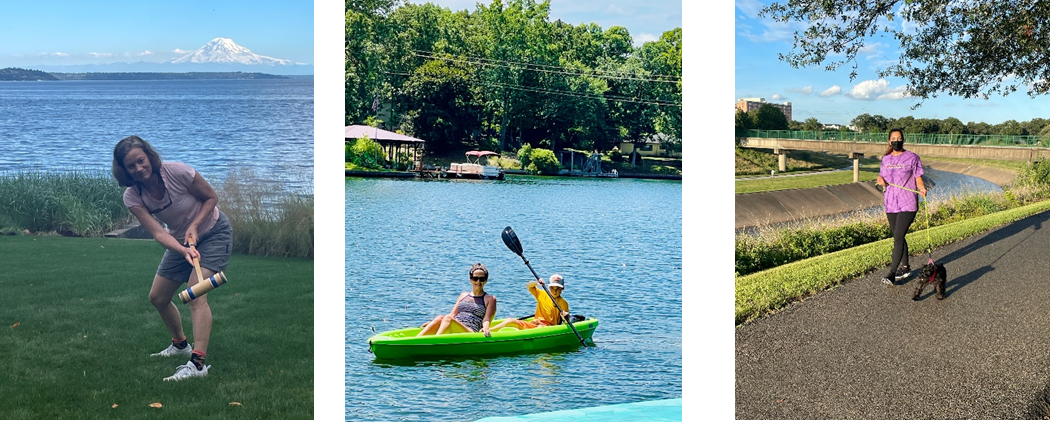 Based on current data, people tend to become less active during surges in COVID-19 case numbers. For many, exercise is done indoors and in a shared, public space. Case number surges drive increased (and justified) concern about catching COVID-19 at the gym, leading more people to stay home.
Losing gym time without adding in an alternative form of exercise can lead to health issues during COVID-19 case surges. Exercise is a powerful tool for managing stress, which can be substantial during any pandemic. Regular physical activity also has the potential to support immune functioning and buffer the impact of these high-stress periods on our physical and mental health.
It's especially important to safely stay active during times of elevated COVID risk, given the virus's effect on the body. But keeping up with exercise during a COVID surge can be challenging. Just as stress can interfere with concentration, healthy habits, and relationships, stress can also derail our usual activity patterns.
Keeping up with Exercise During COVID-19 Case Surges
Establish an exercise habit now. Research shows that people who exercise regularly are more likely to maintain their physical activity during times of stress compared to people who exercise less regularly. Getting into a routine during less stressful times will help you remain active when the stress ramps up.
Have a plan for being active at home or in your neighborhood. If your usual forms of activity or exercise involve going to places where many people gather, you will need a back-up plan for times when social distancing is recommended. Options may include mapping out walks or cycling routes in your neighborhood or accessing on-line activity classes that you can do in your home.
Establish an activity routine. Setting aside a dedicated time to be active each day will help you form an exercise habit and make it more resistant to change.
Identify an activity buddy (or two). Many people find motivation (and accountability) in sharing their fitness routine with a friend. Exercising together provides a partner to share updates on your physical activity and exercise with, which can give you a feeling of accomplishment that carries you through to your next activity session.
Tie your activity to something else you enjoy. You might listen to podcasts or audiobooks while you walk, watch a movie while you ride a stationary bike, or listen to your favorite music while you stretch or lift weights. Anything that makes your active time more enjoyable for you makes it more likely that you will do it again.
Give yourself choices. It is important that you allow yourself some options in your activity. If you are too rigid in your activity plan, you run the risk of giving up when you miss your goals. Everyone has days when plans go sideways. Make sure that you build in some leeway in the frequency, duration and intensity of your workouts. For example, on days you are feeling less energetic, you might take a walk. On days when you feel more energetic, you could ride a bicycle, go for a swim, or do an activity at a higher intensity.
Pat yourself on the back. Recognizing your accomplishments will help build your confidence to do future activities. Keeping a visible record of your exercise sessions can help you to see your progress. Rewarding yourself for meeting certain milestones can encourage you to stay on target with your goals.
Set some short-term and medium-term goals. Short-term goals can be daily or weekly and should be achievable behaviors. For example: I will be active for at least 10 minutes on 5 out of every 7 days. Medium-term goals can be on the scale of 1-6 months and reflect an achievement that would be meaningful and rewarding. For example: within the next 6 months, I will be able to walk 1 mile in 20 minutes.
Find a form of activity that you like. The best physical activity or exercise is one that you can stick to. No matter how you structure it, if you do not like the activity or exercise you are doing, you will be unlikely to stick to it. If you have not found a form of activity that you enjoy, try experimenting with new things. New sports or activities, such as Pickleball, are being invented all the time, so try something new that you may like and be able to stick to.
We know that exercise is protective against many of the negative health impacts of restricted social and physical mobility due to COVID-19. Regular physical activity is also protective against the negative health impacts of the virus. People who are more physically active prior to being infected tend to fare better over the course of their illness.
Exercising after COVID-19
Being moderately active can aid in recovery from COVID-19. Given the potential for lasting impacts on organ function from COVID-19, it's important to take things slow and see what your body is capable of while recovering. Current recommendations suggest stopping exercise for two weeks post-recovery to let your body heal.
When you do feel up to exercise again, try some light movement at first like a brisk walk or low-stress yoga routine. As you're working out, watch for signs of overexertion or unusual discomfort. It can be a slow process to get back to the routine you kept previously.
Using the strategies outlined above can help you get back to your exercise plan sooner. Staying active when COVID-19 is spreading can be tough, but the benefits of regular exercise to physical and mental health are worth the challenge.
More Articles