How to Eat More Fruit and Vegetables

Gwen Alexander, PhD, MPH; Research Scientist, Henry Ford Health System

So many people have trouble imagining how to reach the recommended servings of fruit and vegetables a day. Here are some ideas to get you to the recommended daily vegetable and fruit servings each day.
How Much is a Serving of Fruit and Vegetables?
The USDA's Dietary Guidelines recommend adults eat anywhere from 5 to 13 servings of fruits and vegetables per day, depending on age, gender, physical activity and overall health. Some examples of a serving include:
One small apple
½ cup of fresh fruits or vegetables
One large orange
One banana
One cup leafy greens
How do you go about meeting the recommended daily amount of vegetables and fruits? The following tips and meal plans will help you on your way to healthier eating.

Become An Awesome Meal Planner
Planning meals and shopping for foods ahead of time is really helpful in making healthy food choices. The benefits for planning meals and shopping ahead include:
Finding foods high in nutrients.
Creating meal variety. If you want to have a fruit bowl one day, and a bag of veggies the next, shopping to fulfill your plan makes that happen!
Saving money! Not only will meal planning help reduce the temptation to get the impulse buy (e.g. what looks good vs. what you need to complete your meal plan), but it will also reduce waste from expired or forgotten foods. No more throwing money in the trash! Plus, you can search for sales and coupons as you meal plan, which is fun and it helps you save even more!
Saving time and reducing stress. By preparing snacks and meals in advance, you will save time by avoiding last-minute meal preparation, and you will reduce stress by not having to agonize over your unplanned choices.
Knowing you have healthy food choices at home. Having good food choices available at home lowers your chances of your hunger leading you away from high nutrient foods.

Tips for becoming an All-Star Meal Planner:
Set some time aside to plan menus and snacks.
Know what's already in your kitchen so you don't duplicate purchases or miss purchasing something you need.
Look for recipes or plan meals that you like.

If you see a great deal on lean meat and fresh foods you like, look for recipes or brainstorm ideas for meals.
Ask family and friends for meal ideas, or make healthier versions of some of your old favorites.

Make a list of what you will buy and from where.

Don't forget about energy fueling snacks and that fruit bowl with options that you can eat on the go!

Look for sales posted in grocery store circulars or surf the web for coupons and sale items.

Buy fruits and vegetables that are in season to get the best prices and the most flavor.
Buy proteins that are lean and on sale.

Example Meal Plan for More Fruits and Vegetables
Meal planning for recommended servings of fruits and vegetables a day sounds like a tall order - especially when you only eat 3-4 meals a day, right!? Well, you're in luck. Here are a few days-worth of meals so that you can see what a healthy meal plan looks like.
Note: One serving of fruit (1F). One serving of vegetables (1V).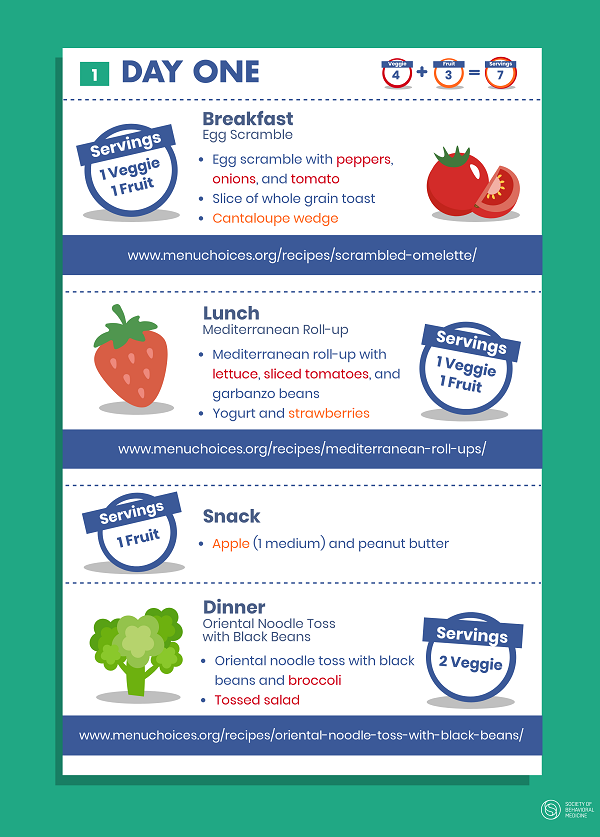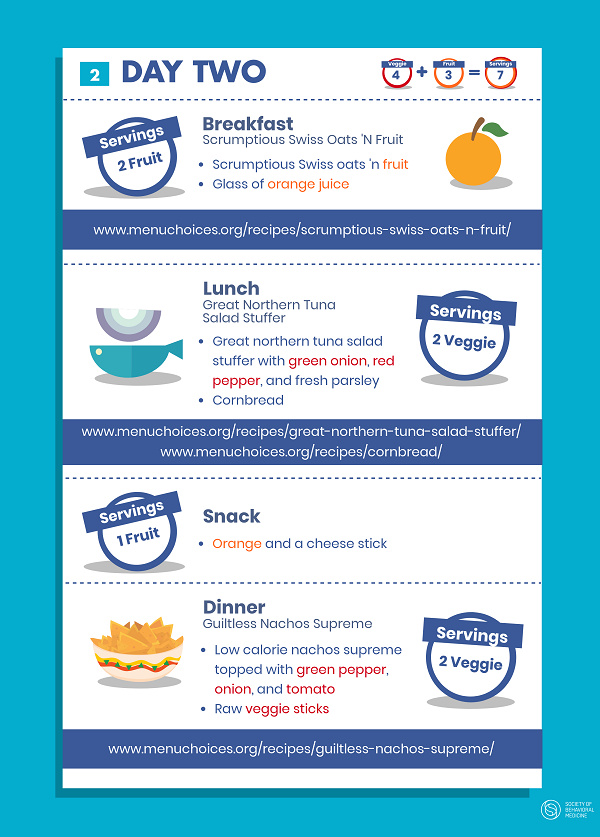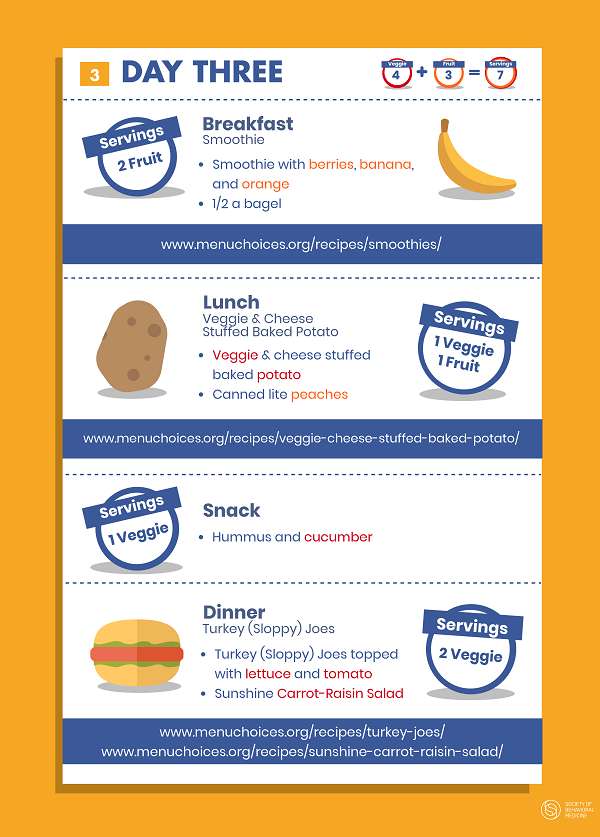 Want more great meal planning like the example above? Then go to MENUChoices.org and learn how eating fruits and vegetables (even just one more serving a day!) can help you increase energy, improve body and brain function, and feel full longer. Where would you add one more serving of fruit or vegetables into your daily routine? Snacks? Breakfast? Food at work or school? Grilling? So many possibilities!
MENUChoices.org is an online menu planning program that helps you make smart food choices. Just answer a few questions about what is important to you and your health, and a meal program will be tailored just for you. MENUChoices.org has over 100 recipes, including 5 and 10 minute meals. They also offer video instructions on topics such as cooking methods, how to shop smarter, and how to test the ripeness of fruit.
---
More Articles