Tune in on select Thursdays at 1 p.m. ET to learn from the best and brightest in behavioral medicine.
---
Sara Bleich,
PhD

Binta Beard,
ScD, SM
Date: March 1, 2018
Time: 1 p.m. ET
Dr. Rachel Shelton, SBM's 2018 Annual Meeting Program Committee chair, will interview Dr. Binta Beard, managing partner at Equinox Strategies, and Dr. Sara Bleich, professor of public health policy at Harvard's T.H. Chan School of Public Health, to learn about their career trajectories and experiences influencing policy and working with policymakers. Drs. Beard and Bleich will be part of an Annual Meeting master lecture panel on health policy.
Click here to register. Registration is free for SBM members and non-members.
---
Cynthia Vinson,
PhD, MPA

Paul Estabrooks,
PhD

Laura Rogers,
MD, MPH, FACP,
FACSM
Date: March 8, 2018
Time: 1 p.m. ET
This webinar will provide practical guidance on the translation of physical activity research into clinical and public health practice. Cynthia A. Vinson, PhD, MPA, senior adviser for the Implementation Science Team in the Office of the Director in the Division of Cancer Control and Population Sciences at the National Cancer Institute, will provide an overview of dissemination and implementation research, funding opportunities, and resources. Paul A. Estabrooks, PhD, professor and the Harold M. Maurer Distinguished Chair of Public Health at the University of Nebraska Medical Center, will provide an example of the dissemination, implementation, knowledge translation, and scale-up of a physical activity intervention adapted from evidence-based principles. A second example presented by Laura Q. Rogers, MD, MPH, FACP, FACSM, professor in the Department of Nutrition Sciences at the University of Alabama at Birmingham, will highlight the translation of an efficacious physical activity behavior change intervention from research into cancer survivorship care. Attendees will walk away knowing a basic definition of translational science, how to design studies with dissemination and implementation in mind, and resources relevant to translational behavioral medicine. This webinar is co-sponsored by SBM's Physical Activity Special Interest Group (PA SIG) and the American College of Sports Medicine (ACSM). PA SIG Chair Scherezade K. Mama, DrPH, and ACSM Strategic Health Initiatives Behavioral Strategies Committee Chair Bryan Blissmer, PhD, will moderate.
Click here to register. Registration is free for SBM members and $15 for non-members.
---
Andrew Foy,
MD

Barnett Kramer,
MD, MPH

Daniel Matlock,
MD, MPH
Date: March 15, 2018
Time: 1 p.m. ET
Research has revealed that certain commonly used medical interventions are not as beneficial as was previously assumed, or that the risks may outweigh the benefits for some people. As the related problems of overdiagnosis (diagnosis of a medical problem that would have not caused harm) and overtreatment (use of treatments that do not improve well-being or lengthen life) are increasingly recognized, understanding how to communicate newly recognized risks and uncertainties to patients is imperative. Scaling back (or even de-implementing) treatment is an unresolved challenge in a culture promoting more intervention(s). To foster a discussion about these issues, this webinar brings together experts in end of life decision making (palliative care), overdiagnosis in cardiovascular disease, and cancer overdiagnosis and overtreatment to provide diverse perspectives from across the healthcare continuum. This webinar is presented by the Health Decision Making Special Interest Group and the SBM/Society for Medical Decision Making Crosstalk Committee.
Click here to register. Registration is free for SBM members and $15 for non-members.
---
Sherry Pagoto,
PhD

Jamie Bodenlos,
PhD
Date: March 22, 2018
Time: 1 p.m. ET
This webinar is designed to empower and excite attendees to contribute to and shape the public narrative about health behavior change. Our expertise as behavioral medicine researchers and practitioners gives us an important opportunity to shape how society thinks about health. This webinar will discuss how to get on the road to becoming a thought leader by learning to write for the public. We will focus on op-ed writing, which entails building a sound evidence-based, values-based argument that is effective and easily digestible to a broad audience. We will review the basic structure of op-eds and how to pitch to editors. We will also discuss important considerations regarding op-ed writing including time commitment, how it can fit into tenure and promotion, dealing with rejection, and dealing with opposing views.
Click here to register. Registration is free for SBM members and non-members.
---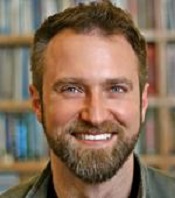 Donald Edmondson, PhD, MPH
Date: March 29, 2018
Time: 1 p.m. ET
Supported by the National Institutes of Health Common Fund, the Science of Behavior Change (SOBC) program seeks to improve the understanding of mechanisms underlying human behavior change by applying an experimental medicine approach to behavior change research. This August, SOBC launched an Internet-based measures repository where researchers can learn about and download measures of key behavior change mechanisms. Research funded during stage one of SOBC (2009-14) identified three broad classes of intervention targets that are highly relevant to the mechanisms underlying behavior change: self-regulation; stress reactivity and stress resilience; and interpersonal and social processes. This aided the development of a reliable and valid way to measure engaged targets through experimental manipulation or interventions. This measurement focus has been the foundation for the current stage two phase of the SOBC Research Network (2015-present). Initial findings from stage one have informed the population of the SOBC measures repository. An essential and unique feature of the repository is the documentation of a measure's status through the three steps of the SOBC experimental medicine approach: (1) identify, (2) measure, and (3) influence. This webinar, led by SOBC Resource and Coordinating Center Director Donald Edmondson, PhD, MPH, will walk attendees through the measures repository and highlight its value for the field.
Click here to register. Registration is free for SBM members and $15 for non-members.
---
Wendy Naus,
PhD

Joanna Buscemi,
PhD
Marian Fitzgibbon,
PhD
Sara Knight,
PhD
Date: May 17, 2018
Time: 1 p.m. ET
This webinar will provide strategies for advocating for health policy change on Capitol Hill. Wendy Naus, executive director of the Consortium of Social Science Associations, will present on how to develop and deliver salient talking points to legislative aides. Then, Joanna Buscemi, PhD, Marian Fitzgibbon, PhD, and Sara Knight, PhD, of SBM's Health Policy Council, will share experiences and talking points from SBM's recent advocacy visits with U.S. Senate offices. There will be time for questions from participants.
Click here to register. Registration is free for SBM members and $15 for non-members.
---
Contact ahahn@sbm.org with webinar questions.