How to Increase the Impact of Behavioral Medicine through Health Policy Briefs
Joanna Buscemi, PhD
Date: Friday, September 29
Time: 2 p.m. ET/1 p.m. CT/12 p.m. MT/ 11 a.m. PT
Description: How can I use what I've learned from my work to increase my impact on population-level health? How do I take an idea for a health policy brief from conception to publication to Capitol Hill? What are the steps to writing a strong health policy brief? The Society of Behavioral Medicine's (SBM's) Health Policy Committee provides structured and guided opportunities for SBM members and others to increase the impact of their work through the development and dissemination of health policy briefs. Dr. Joanna Buscemi, chair of the Health Policy Committee, will lead a structured hour-long webinar on how to effectively develop, write, and disseminate health policy briefs to increase the impact of your work.>
Topics covered include what is a health policy brief, how do you propose an idea for the brief to the committee, how do you engage other like-minded organizations, how do you write an effective brief, and how is the finalized brief disseminated. The webinar will conclude with a question and answer portion. The webinar will be moderated by Marian Fitzgibbon, PhD, SBM Health Policy Council Chair and past-president; and Sara Knight, PhD, SBM Health Policy Council member.
Click here to register. The webinar is free for members. $15 for non-members.
---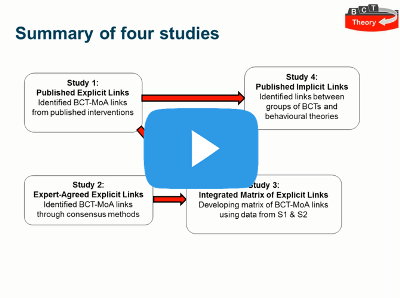 August 22, 2017
Developing effective behavior change interventions requires a deep understanding and ability to link the theoretical bases of an intervention, its components or behavior change techniques, and the mechanisms of action through which it exerts its effects. In this webinar, Dr. Susan Michie describes a methodology for linking behavior change techniques (BCTs) with mechanisms of action (the processes through which they affect behavior), and discusses how this systematic approach to behavioral intervention development can lead to the development of an ontology of behavior change, a foundational step for developing more effective health behavior interventions. Dr. Ben Ainsworth then describes an analysis of data from a trial testing a Web-based intervention aimed at reducing infection transmission in the home, called the PRIMIT trial, that explored the linkage between the intervention's theoretical constructs and specific BCTs. These analyses were useful in determining the effects of specific BCTs and the dose or threshold of engagement required to change behavior.
View a recording of this webinar. Free for SBM members and $15 for non-members.
---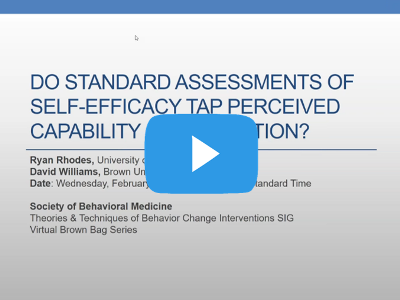 February 22, 2017
Consistent with self-efficacy theory, self-efficacy questionnaires ask respondents to indicate the extent to which they can perform the target behavior. However, for behaviors that are under our volitional control—such as most health-related behaviors—the question of what people can do may serve as an indicator of broad motivation as well as perceived capability. The objective of this presentation was to demonstrate through data from observational, qualitative, and intervention studies that, contrary to self-efficacy theory, self-efficacy ratings are influenced by multiple motivational factors, such as expected outcomes of health behavior, whether one likes or dislikes performing the behavior, and the social implications of the behavior. The implications of these findings are that, as a broad indicator of motivation, ratings of self-efficacy do an excellent job of predicting the target behavior, but a poor job of helping us understand and intervene upon the myriad underlying factors that determine each person's motivation. The webinar discusses potential ways to assess perceived capability independent of motivation.
View a recording of this webinar. Free for SBM members and $15 for non-members.
---
August 12, 2016
National Cancer Institute (NCI) Behavioral Research Program Associate Director Dr. William Klein provided an overview of these exciting new priorities:
View a recording of this webinar. Free for SBM members and non-members.
More information on NCI webinars can be found on the NCI Resources for new Funding Announcements Web page.