Congratulations to the 2014 SBM Award Recipients and New Fellows
The 2014 SBM Award Winners and new Fellows were honored at the 2014 Annual Meeting in Philadelphia, PA, on April 26. Congratulations to all award recipients and new Fellows!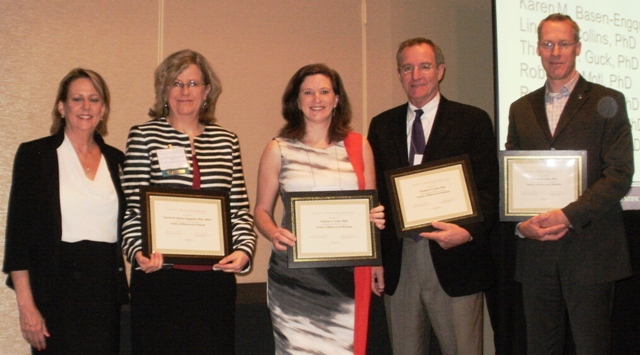 SBM Immediate Past-President Dawn K. Wilson, PhD (far left) recognizes new SBM Fellows at the 35th Annual Meeting & Scientific Sessions on April 26. Pictured (left to right): Karen M. Basen-Engquist, PhD, MPH; Corrine I. Voils, PhD; Thomas P. Guck, PhD; and Robert W. Motl, PhD. New SBM Fellows not pictured: Linda M. Collins, PhD; Ryan E. Rhodes, PhD; Jennifer L. Steel, PhD; and Kenneth Tercyak, PhD.
Donate to SBM
Through the generosity of individuals who contribute to the Advocacy Membership Development Campaign (AMDC), SBM provides awards for student members' travel and research as well as for public policy work designed to increase research funding, the impact of behavioral medicine throughout healthcare reform implementation and the visibility of SBM. Your contribution – of any size – will guarantee the AMDC remains robust and able to meet its important goals.
Field of Behavioral Medicine Historical Timeline
The 2014 Annual Meeting in April featured a historical timeline of the field of behavioral medicine. The timeline was a hit so we are posting it on the website for all to see! Special thanks to Marc D. Gellman, PhD, and Sherry L. Pagoto, PhD, for their work on this timeline.


Welcome New SBM Officers
On April 26 the new SBM officers were inducted. Lisa M. Klesges, PhD, assumed her role as SBM President; Marian L. Fitzgibbon, PhD, commenced her role as SBM President-Elect; and Elliot J. Coups, PhD, began his three-year term as Member Delegate. Welcome to the Board of Directors Drs. Klesges, Fitzgibbon and Coups!
SBM Membership Offers Multiple Benefits
Discounted Annual Meeting registration rates, free access to 21 Special Interest Groups and associated listservs that facilitate critical networking among colleagues, subscriptions to Annals of Behavioral Medicine and Translational Behavioral Medicine: Practice, Policy, Research, and free access to the SBM Expert Consultation Service are among the many benefits enjoyed by SBM members.
Special Interest Groups
Groups created for open and frequent communication among professionals sharing similar interests in the field. Learn more »
Spring/Summer 2014 Issue of Outlook Published
July 15, 2014
Ask Your Representatives to Protect School Meal Nutrition Standards
June 10, 2014
SBM Releases New Position Statement: School-Based Physical Activity Improves Academic Achievement
June 4, 2014
Read more
Abstract submissions due for SBM's 2015 Annual Meeting
September 11, 2014
Read more
Tweets by @BehavioralMed