New Message from SBM President Jim Sallis: Expanding the Reach and Impact of Our Research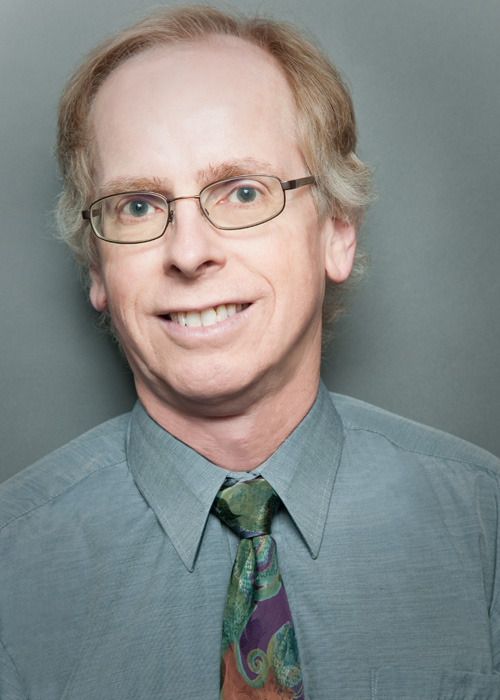 Early in my career I often added a vague sentence to the discussion section of papers that the results had "policy implications" or could be applied in practice. However, I did not have any idea about how that connection between my research and policy or practice could be made, and making the connection did not seem like my job. I did not realize that few policymakers or practitioners read our journal articles. Now I understand that research translation is mostly a haphazard process, though initiatives like the Preventive Services Task Force and Guide to Community Preventive Services are systematically using research to guide changes to practice and policy. As applied researchers, our goal is to use research to improve health, and we do not want our findings to be ignored. There is much that SBM and individual members can do to improve the impact of our work.
Read more.
---
SBM's Spring/Summer Newsletter has Published--With a New Look
The spring/summer 2016 issue of SBM's Outlook member newsletter has published—with a redesigned look. Outlook provides updates about SBM activities and policies as well as issues affecting the behavioral medicine community. This issue features an update on SBM's Leadership Institute, an interview about the National Pain Strategy, advice for early-career psychologists interested in primary care, suggestions for using technology to deliver behavioral interventions, and more.
Read more.
---
Ask Your U.S. Representative to Reject Weaker Nutrition Standards
The U.S. House of Representatives' Committee on Education and the Workforce passed legislation on May 18 to reauthorize federal child nutrition programs. If this legislation were to become law, it would significantly weaken nutrition standards for school meals and would reduce participation in school meal programs. Please consider asking your representative to oppose the House's current child nutrition reauthorization legislation. The SBM Supporting Policy Web page makes it easy. You can quickly find your representative's contact pages, and we've provided a template message that you can copy and paste.
Contact your representative.
---
Infographic: What Did SBM Accomplish in 2015?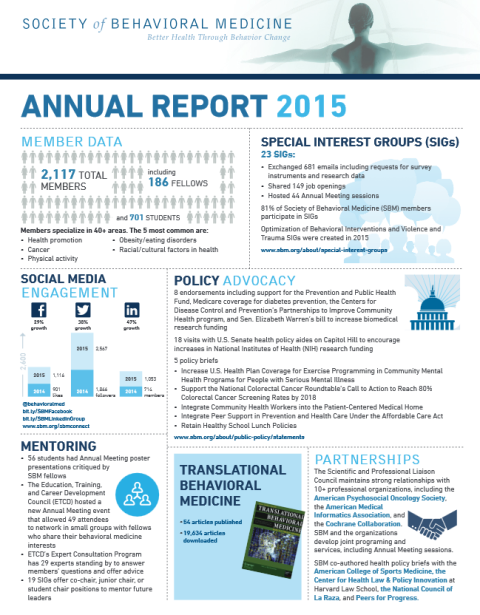 Using one simple infographic chart, SBM's 2015 Annual Report details the society's stats and successes from 2015. You'll find information on membership, policy work, mentoring, journals, the Annual Meeting, grant funding, and much more.
View the graphic.
---
Gary Bennett Inducted as SBM President-Elect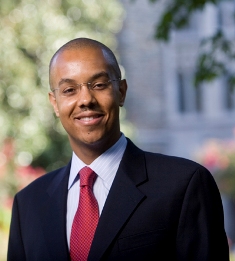 Duke University professor Gary G. Bennett Jr., PhD, began his term as SBM president-elect on April 2. He will become society president in April 2017. Bennett was selected as president-elect through a vote by SBM members. He is a long-time SBM member who planned the society's 2011 Annual Meeting as program chair and who served as a member delegate on the Board of Directors from 2011-14. Bennett is the Bishop-MacDermott Family Professor of Psychology & Neuroscience, Global Health, and Medicine at Duke University. He directs Duke's Global Digital Health Science Center (Duke Digital Health), which leverages digital health technologies to improve health outcomes in medically vulnerable populations. Read more.
SBMConnect
This SBM blog explores ever-changing and sometimes controversial behavioral medicine issues and news items, letting readers weigh in. View »
Special Interest Groups
Groups created for open and frequent communication among professionals sharing similar interests in the field. Learn more »