Infographic: What Did SBM Accomplish in 2015?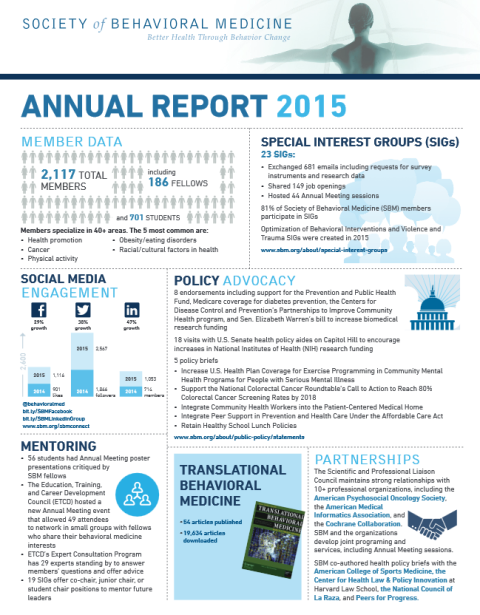 SBM's 2015 Annual Report was just released. In one simple infographic chart, it details SBM's stats and successes from 2015. You'll find information on membership, policy work, mentoring, journals, the Annual Meeting, grant funding, and more. Read more>>
---
Through the generosity of individuals who contribute to the Advocacy and Membership Development Campaign (AMDC), SBM advances public policy work designed to increase research funding, the impact of behavioral medicine throughout health care reform implementation, and the visibility of SBM.
Your contribution—of any size—will guarantee the AMDC remains able to meet its important goals. Your support makes a difference!
---
SBM Membership Offers Many Benefits
Job listings, grant-writing courses, and discounted annual meeting registration rates are just a few of the many benefits that SBM members enjoy. Members also get free access to 23 special interest groups and associated listservs that facilitate critical networking among colleagues; subscriptions to Annals of Behavioral Medicine and Translational Behavioral Medicine: Practice, Policy, Research; and free access to the SBM Expert Consultation Program, among other benefits.
SBM is large enough to have impact, but small enough to make your membership experience personal and rewarding. Make SBM your professional home! Join or renew today.
SBMConnect
This SBM blog explores ever-changing and sometimes controversial behavioral medicine issues and news items, letting readers weigh in. View »
Special Interest Groups
Groups created for open and frequent communication among professionals sharing similar interests in the field. Learn more »