Master Lecturers
SBM is proud to welcome the following master lecturers to the 2018 Annual Meeting!
Morgan Dixon and Vanessa Garrison founded GirlTrek, a national nonprofit that encourages black women to walk their neighborhoods regularly to "heal our bodies, inspire our daughters, and reclaim the streets." They have 111,000 women involved—and counting. Part of their goal is to change the health statistics about black women, who have the highest rate of obesity of any subpopulation in the United States.
---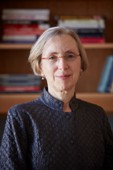 Karen Emmons, PhD, is a leader in health promotion and cancer prevention research. She was one of the first researchers to use web technologies to tackle health behavior change and encourage wide uptake of interventions. Her work earned her SBM's 2017 Distinguished Scientist Award. Dr. Emmons is a past SBM president and dean for academic affairs at the Harvard T.H. Chan School of Public Health.




---

Judith Ockene, PhD, MEd, and Salud America! understand patient communication. Dr. Ockene developed curriculum to help medical students and practicing doctors integrate patient-centered counseling into their day-to-day clinical care. Salud America!, a nonprofit working to prevent obesity for Latino children and families, created the first website to deliver culturally tailored health information. For this work, Dr. Ockene and Salud America! were honored with SBM's 2017 Jessie Gruman Award for Health Engagement. Dr. Ockene is a past SBM president and chief of the Division of Preventive and Behavioral Medicine at the


University of Massachusetts Medical School. Salud America! is a program of the Robert Wood Johnson Foundation and a project of the Institute for Health Promotion Research at the University of Texas Health Science Center at San Antonio.

---
Joe Smyser, PhD, MSPH, designs marketing strategies for behavior change campaigns. He has worked with the Centers for Disease Control and Prevention, the Food and Drug Administration, USAID, Google, and the Peace Corps, among other high-profile clients. (He serves as director of strategy and partnerships for Big Boi of Grammy award-winning hip-hop duo Outkast!) Dr. Smyser is CEO of The Public Good Projects, a nonprofit that uses the power of mass media to solve social problems.