Board Notes – Translating Research to Policy
Margaret Schneider, PhD, Society of Behavioral Medicine (SBM) Member delegate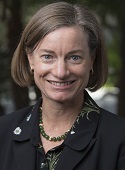 The theme for the SBM Annual Meeting 2019 is Leading the Narrative, and the SBM Board has been working to do just that by leveraging our members' research, expertise, and reputation to influence not just health care practice but also policy. Thus far in 2018, SBM has released four Policy Briefs: 1) Retain School Meal Standards and Healthy School Lunches (link), 2) Support Oral Cancer Early-Detection Examinations (link), 3) Help Address the Opioid Crisis by Increasing Funding for Medication-Assisted-Treatment (link) and 4) Retain and Enhance Efforts to Increase Broadband Internet Availability for Health Care Access in Rural Areas (link). Under the direction of Chair Joanna Buscemi, the SBM Health Policy Committee guides members through the process of creating these brief, targeted and impact-oriented missives, which aim to inform and influence policymakers about the critical impact that behavior has on health and concrete steps that they can take to impact population health. For example, here are the recommendations from the Statement on the Opioid Crisis:
RECOMMENDATIONS
Policymakers Must Increase the Availability of and Insurance Coverage for the Behavioral Component of Medication-Assisted-Treatment for Opioid Use Disorders
Increase Medicaid funding so individuals can receive treatment when they need it but can't afford it.
Declare the opioid epidemic a national emergency and not just a public health emergency. This would provide immediate access to billions of dollars in federal monies for treatment programs.
If you have an idea for a Policy Brief, please reach out to Joanna at jbuscem2@depaul.edu.
In addition to the Policy Briefs, the SBM Board also regularly voices support in favor of or in opposition to specific public policies by releasing or signing on to position statements, often in response to issues prominent in the news. In June of this year, we signed on to a letter drafted by the Children's Defense Fund, opposing the U.S. Immigration policy of forcibly separating children from parents among migrant, refugee, and asylum-seeking families.
Recognizing the power inherent in linking our voices to like-minded organizations, the SBM Board also recently voted to join a Coalition of Behavioral Science Organizations (CBSO) that aligns with our society's mission. SBM has joined five other behavioral science organizations to advance society's use of behavioral science knowledge and methods. In addition to SBM, the coalition includes the Association for Behavioral Analysis International, the Association for Contextual Behavior Science, the Association for Positive Behavior Support, the Evolution Institute, and the National Prevention Science Coalition. The coalition has developed a joint value statement that is directly relevant to SBM's mission to foster nurturance and well-being in families, individuals, communities, and populations. SBM members are encouraged to review this shared value statement and direct questions or comments to SBM's coalition representative and Past-President Dawn K. Wilson, PhD.
If you are looking for an even more immediate way to engage with other behavioral scientists and share your thoughts and opinions, consider participating in the new Twitter Chats hosted by SBM President Sherry Pagoto. In August, Dr. Esther Choo, an emergency room physician at Oregon Health and Sciences University, joined Dr. Pagoto in moderating a Twitter Chat on "How Academics Can Use Social Media to Advocate for Science and Policy". To see information from prior Twitter Chats or to view future topics, click here. If you are looking for ways to translate your research to policy, SBM is ready to help!