Small Doses, Large Hesitancy: Addressing Parent Hesitancy Against Vaccinating Children for COVID-19
​​Christina Cordero, PhD✉; Shu-Fang Shih, PhD, MSc, MBA✉; Marissa Kobayashi, PhD✉; and Sherecce Fields, PhD✉; Child and Family Health SIG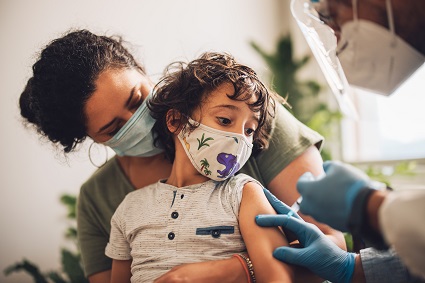 Children ages 5 to 11 years can now receive vaccines to protect them from COVID-19. In early November, the Food and Drug Administration authorized emergency use of the Pfizer BioNTech COVID-19 vaccine followed by a recommendation from the Centers for Disease Control and Prevention (CDC). Data from ongoing clinical trials on children aged 5 to 11 years showed that a lower dose of the vaccine was 90.7% effective in preventing symptomatic COVID-19 infection and no serious adverse events were reported.1 Despite the data on the safety and high effectiveness of the vaccine, many parents continue to express hesitancy and reluctance. According to an October survey, 27% of parents of 5-11year-olds reported that they will get their children vaccinated right away, 33% said they will wait a while, and 30% said their child will definitely not get the vaccine.2 This last category has been increasing from previous iterations of the survey.2 Parents' biggest concerns were long-term side effects (76%), serious side effects (71%), and negative impact on future fertility (66%).2 Concerns about fertility have no basis in science3 and have become widespread through social media misinformation. Parents' political identification and educational attainment also predict their readiness to vaccinate their children.4
To protect children from COVID-19, the Biden Administration proposed a plan with the following goals: to secure vaccine supply, to support education and engagement efforts to build public trust, and, perhaps most importantly, to make vaccinations free and easily accessible.5 The U.S. Department of Health and Human Services will conduct a national public education campaign to reach parents and guardians with accurate and culturally responsive information about the vaccine and the risks that COVID-19 poses to children. Since pediatricians and other health care providers will likely be the main trusted resource for parents, the CDC provides health education materials to those practitioners and the CDC website provides a link to start the process to become a vaccination provider.6 However, presenting health education material may not be enough for parents to make the decision to vaccinate. In fact, recent studies show that pro-vaccine communications are often ineffective and may backfire, decreasing intentions to vaccinate, particularly among those who are already hesitant.7-9
Understanding how people make decisions regarding vaccination will provide insights for designing messages to promote vaccine acceptance. There are many factors that influence vaccine decision-making, including individual risk perception, personal beliefs, underlying moral values, attitudes, and personal barriers and motivators, as well as socio-psychological drivers and cultural norms and traditions.10,11 Vaccine promotion messages should be evidence-based, culturally appropriate, and designed specifically for the social and behavioral context. The World Health Organization proposes that vaccine hesitancy is best addressed by building trust and relationships, listening to and understanding people, and communicating risk and shaping messages to the appropriate audience.12 While scientific evidence supports vaccination, studies suggest that statistics and facts may not be effective at communicating disease risk to a general population. Research shows that the probability of health effects from vaccines or disease is not as important to parents' vaccine decision-making as the impact of disease severity or vaccine side effects.13 Instead, narrative-based messages highlighting disease severity may be more effective than statistical facts.14
Compared with other respiratory diseases such as influenza, children still face a high risk of mortality due to COVID-19.15 In fact, COVID-19 has emerged as a Top 10 leading cause of death among children in the US16 although the risk for severe COVID-19 disease is lower in children than adults. Vaccinating children appears to be the key to preventing future waves of COVID-19 in the United States17 and is also an important way to protect higher-risk family members and people in the community. High vaccination rates in children can also signal a return to normal for children who have especially felt the psychological, social, developmental, and educational impact of the pandemic.
References
The United States Food and Drug Administration. (2021, October 29). FDA Authorizes Pfizer-BioNTech COVID-19 Vaccine for Emergency Use in Children 5 through 11 Years of Age. https://www.fda.gov/news-events/press-announcements/fda-authorizes-pfizer-biontech-covid-19-vaccine-emergency-use-children-5-through-11-years-age
The Kaiser Family Foundation. (2021, October 28). KFF COVID-19 Vaccine Monitor: October 2021. https://www.kff.org/coronavirus-covid-19/poll-finding/kff-covid-19-vaccine-monitor-october-2021/
Centers for Disease Control and Prevention. (2021, November 4). COVID-19 Vaccines for Children and Teens. https://www.cdc.gov/coronavirus/2019-ncov/vaccines/recommendations/children-teens.html
Gallup. (2021, October 29). Parents' Vaccination Intentions for Young Children Steady. news.gallup.com/poll/356774/parents-vaccination-intentions-young-children-steady.aspx
The White House. (2021, October 20). FACT SHEET: Biden Administration Announces Update on Operational Planning for COVID-⁠19 Vaccinations for Kids Ages 5-11. https://www.whitehouse.gov/briefing-room/statements-releases/2021/10/20/fact-sheet-biden-administration-announces-update-on-operational-planning-for-covid-19-vaccinations-for-kids-ages-5-11/
Centers for Disease Control and Prevention. (2021, November 16). How to Talk with Parents and Caregivers about COVID-19 Vaccination: Tips for Pediatricians, Family Medicine Practitioners, Nurses, Pharmacists, Public Health Officials, & Other Vaccine Providers. https://www.cdc.gov/vaccines/covid-19/hcp/pediatrician.html
Nyhan B, Reifler J. Does correcting myths about the flu vaccine work? An experimental evaluation of the effects of corrective information. Vaccine. 2015;33(3):459-464.
Pluviano S, Watt C, Della Sala S. Misinformation lingers in memory: Failure of three pro-vaccination strategies. PLoS One. 2017;12(7):e0181640.
Pluviano S, Watt C, Ragazzini G, Della Sala S. Parents' beliefs in misinformation about vaccines are strengthened by pro-vaccine campaigns. Cogn Process. 2019;20(3):325-331.
Betsch C, Böhm R, Chapman GB. Using behavioral insights to increase vaccination policy effectiveness. Policy Insights Behav Brain Sci. 2015;2(1):61–73. doi:10.1177/2372732215600716
UNICEF Demand for Immunization Team and Yale Institute of Global Health. (2020, December). Vaccine Messaging Guide. https://www.unicef.org/media/93661/file/Vaccine&hx0025;20messaging&hx0025;20guide.pdf
World Health Organization Regional Office for Europe. (2017). Vaccination and Trust: How concerns arise and the role of communication in mitigating crises. https://www.euro.who.int/__data/assets/pdf_file/0004/329647/Vaccines-and-trust.PDF
Sadique MZ, Devlin N, Edmunds WJ, Parkin D. The effect of perceived risks on the demand for vaccination: results from a discrete choice experiment. PLoS One. 2013;8(2):e54149
Finnegan G, Holt D, English PM, Glismann S, Thomson A, Salisbury DM, Bogaerts H, Bonanni P. Lessons from an online vaccine communication project. Vaccine. 2018 Jun 16. pii: S0264-410X(18)30612-1.
Piroth, L., Cottenet, J., Mariet, A. S., Bonniaud, P., Blot, M., Tubert-Bitter, P., & Quantin, C. (2021). Comparison of the characteristics, morbidity, and mortality of COVID-19 and seasonal influenza: a nationwide, population-based retrospective cohort study. The Lancet Respiratory Medicine, 9(3), 251-259.https://doi.org/10.1016/j.vaccine.2021.08.005
Centers for Disease Control and Prevention. (2021). Underlying Cause of Death, 1999-2019. CDC Wide-ranging Online Data for Epidemiologic Research (WONDER) Search. https://wonder.cdc.gov/ucd-icd10.html
Schleiss, M. R., John, C. C., & Permar, S. R. (2021). Children are the key to the Endgame: A case for routine pediatric COVID vaccination. Vaccine, 39(38), 5333–5336.