Is Your Health Research Going Digital? Check Out These Tools and Resources to Guide Ethical Practices
Camille Nebeker, EdD, MS✉; Rebecca Bartlett Ellis, PhD✉; Megan Oser, PhD✉; and Stephanie Goldstein, PhD✉; SBM Digital Health Council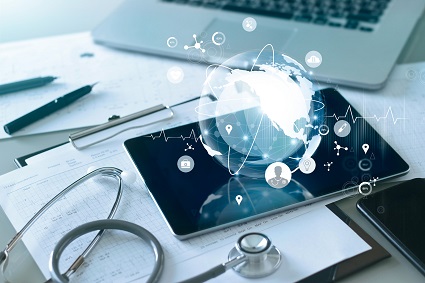 The Digital Health Council is excited to announce a new ethics subcommittee that will assist SBM members in considering the Ethical, Legal and Social Implications (aka ELSIs) of digital health. Digital health is an umbrella term that is used to describe technology-based strategies and tools that are used in health research and healthcare. For example, if you use social media platforms, remote/wearable sensors, computational informatics, virtual/augmented reality, artificial intelligence, smartphone apps for data capture or to deliver an intervention you are in digital health!
Our Digital Health Ethics committee includes Drs. Camille Nebeker, Associate Professor at UC San Diego and Director or ReCODE Health; Stephanie Goldstein, Assistant Professor (Research) at Brown University; Megan Oser, Digital Health Strategist and Rebecca Bartlett Ellis, Associate Professor at Indiana University. Our group is working to help SBM and its members by: assisting researchers of all backgrounds and career levels with ethically incorporating digital health into their work; curating and managing resources to support the ethical design and conduct of studies that use digital health tools for assessment and/or intervention; championing partnerships with initiatives that will benefit members; liaising with other SBM committees to ensure ELSI is a cross-cutting priority within and across SBM; and working to highlight ELSI-related training and content at the annual meeting.
One of our first steps is to conduct a Digital Health Needs Assessment. Help us by completing this survey – only one month left! We plan to share results via an SBM Webinar in 2022 – more on that soon!
What's available to SBM members right now…
We're excited to share that the SBM Board approved a proposal to partner with ReCODE Health [Research Center for Optimal Digital Ethics in Health] https://recode.health. ReCODE Health is a research center at UC San Diego that provides consultation and education to guide the design and conduct of digital health research. In addition, the ReCODE Health team conducts research to guide digital health policy and practices. This new partnership means that SBM members will have access to the Digital Health Checklist and Framework that was developed by SBM-affiliated behavioral scientists who had expressed a need for guidance as they designed their studies. The checklist can be accessed via the ReCODE Health website and can be used to help make decisions about selecting technologies for use in research.
Coming soon, the ReCODE Health team has redesigned its Resource Library. Soon you will be able to search the Resource Library to find approved research protocols and consent language to help kick start your digital health research planning. In addition, you will have access to a global network of digital health researchers, technologists, and experts in ethical and social aspects of digital health. This ReCODE Health Forum is where you can seek input on your digital health research design or provide solutions for someone in need.