A Spotlight on Palliative Care Research
Katherine Ramos, PhD✉; Sean O'Mahony, MD; James Gerhart, PhD; Hailey W. Bulls, PhD; Erin R. Harrell, PhD; Megan Johnson Shen, PhD; Rosario Costas-Muñiz, PhD; Normarie Torres Blasco, PhD; and Laura S. Porter, PhD; Palliative Care SIG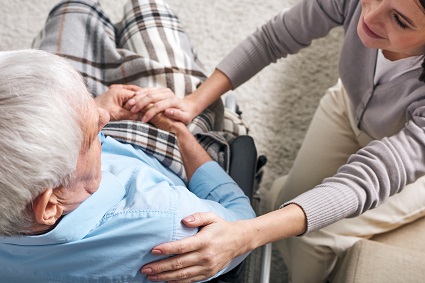 Palliative care research focuses on finding ways to improve quality of life and reduce suffering of people living with serious illness and their family caregivers. Members of the Palliative Care SIG are conducting research in diverse areas, spanning program development, pain management, and development of interventions for underserved populations. Below we highlight exciting and novel projects, each of which takes an interdisciplinary focus, considers health equity, and aims to improve the lives of individuals coping with serious, life-limiting illness.
Sean O'Mahony, MD (Associate Professor at Rush University Medical Center) and Jim Gerhart, PhD (Assistant Professor at Central Michigan University) are developing an interdisciplinary palliative care (PC) training program for healthcare professionals and community leaders in Michigan. A state-level needs analysis is underway to identify regional patterns in social determinants of health and PC access. Thus far, they have identified that more intensive care in the final months of life occurs in counties with other social challenges including violent crime and low social capital. Their goal is to develop a state-wide community of professionals knowledgeable about PC to facilitate education, referral, and resource sharing across Michigan communities.
Hailey W. Bulls, PhD (Assistant Professor at University of Pittsburgh) is a clinician and researcher whose mission is to improve pain management and quality of life in patients with cancer, particularly those with advanced disease. Her efforts include identifying patients at high risk for lasting cancer-related pain with the goal of offering targeted, tailored interventions as early as possible. Currently, she is developing a multi-level intervention to eliminate opioid stigma for patients with cancer and their clinicians.
Erin R. Harrell, PhD (Assistant Professor, Associate of the Alabama Research Institute on Aging) is developing and testing interventions to enhance coping skills and preparation of African American caregivers of patients with cancer-related cognitive impairment (CRCI). Her goal is to better understand the unique challenges African American caregivers face as they deal with CRCI, exploring what they value as being helpful in lessening distress and improving bereavement outcomes.
Megan Johnson Shen, PhD (Associate Professor at Fred Hutchinson Cancer Research Center), Rosario Costas-Muñiz, PhD (Assistant Attending Psychologist at Memorial Sloan-Kettering Cancer Center) and Normarie Torres Blasco, PhD (Postdoctoral Researcher at Ponce Health Sciences University) are teaming up to develop psychosocial interventions specifically adapted for Latinx patients with advanced cancer and their family caregivers. Their efforts include (a) developing and pilot testing a theoretically grounded, tailored culturally competent communication coaching intervention to promote advanced care planning (Dr. Shen); (b) adapting Meaning-Centered Psychotherapy for Latino patients to improve spirituality and quality of life and decrease depression, anxiety, and hopelessness (Dr. Costas-Muñiz), and (c) developing Family Meaning-Centered Psychotherapy for Latinx families to improve patients and caregiver outcomes including spiritual well-being and self-efficacy (Dr. Torres Blasco).
If your research or clinical interests involve patients and families coping with serious illness, we encourage you to contact us about opportunities for collaboration.