What Does the Scientific and Professional Liaison Council Offer Me as an SBM member?
Amy Janke, PhD, Scientific and Professional Liaison Council Chair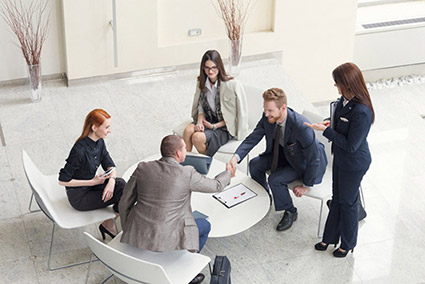 At a time when everyone needs to make the most of their professional resources, the Scientific and Professional Liaison Council (SPLC) helps you maximize SBM membership benefits. Here are some ways you can use the SPLC and the relationships we have developed as a resource.
Advocacy and policy: Helping you lead the narrative
The SPLC works closely with the Health Policy leadership of SBM to amplify your message of advocacy. When SBM members author a policy brief, the SPLC contacts partners to endorse and disseminate your work widely. This helps magnify our impact and gets our message in front of like-minded colleagues who can bring it forward to promote evidence-based change. Sometimes, the SPLC works directly with partners to author policy briefs. If you are interested in authoring a policy brief and want to explore partnerships, we are here to help make those connections.
We also offer development opportunities for members to learn about advocacy strategies from our partners. Webinars, social media, and events at the annual meeting are just some ways the SPLC helps you connect directly with partner organizations. For example, at this year's annual meeting the SPLC will introduce our membership to a new partner, the Prevent Cancer Foundation®, at a panel discussing advocacy and awareness of cancer prevention. Look for other opportunities at SBM Grand Rounds and at the annual meeting to attend sessions and meet-ups where you can connect directly with organizations such as AMIA, the American College of Lifestyle Medicine, and the American Heart Association.
Education opportunities and research networks: Connections for professional development
Partner organizations enrich SBM's educational opportunities and research networks. The SPLC cultivates opportunities for members at all stages of professional development. For example, early career members may want to explore the INSPIRE network of the International Society of Behavioral Medicine (ISBM). INSPIRE supports research and educational opportunities for students and early career members, and ISBM provides a network of global partners for those at all career stages. Members with interest in worksite health can explore opportunities to use the HERO Scorecard as a research tool, and other offerings from our partner Health Enrichment Research Organization (HERO) such as publications and research promotion. For those needing measurement tools and methodology, then the Science of Behavior Change might be a good resource. Opportunities for connection are often posted in the weekly member digest where you can find links to more information on our partners and the trainings, tools, and connections they offer.
Growing our Connections: What else can we do?
Connections help spread SBM's message widely, but the SPLC needs your help. If you belong to an organization that might make a good partner for SBM or want to see SBM partnerships grow in a particular area, let the SPLC know. Partnerships happen because people like you make outreach efforts and show mutual interest. So if you have an interest, let's make the opportunity for partnership happen—make outreach to any member of the SPLC and we will be glad to help.