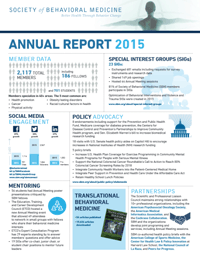 2015 Annual Report Shows SBM's Year in One Infographic
What did SBM accomplish in 2015? It's all in the 2015 Annual Report infographic.
Report highlights include:
SBM had 2,117 members.
SIGs shared 149 job openings.
The SBM Leadership Institute for mid-career members was created.
Leaders made 18 visits to health policy aides on Capitol Hill.
SBM released five policy briefs.