Pandemic Parenting: Challenges and Silver Linings
Alicia A. Dahl, PhD, MS✉; Molly E. Waring, PhD✉; Rizwana Biviji, PhD, MS✉; Tisha Felder, PhD, MSW✉; and Jodie Lisenbee, MA✉; SBM Women's Health SIG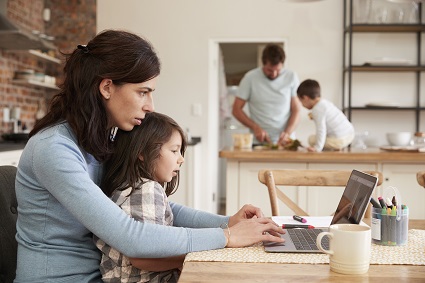 "Unsustainable." "Burnout." "Liberating." "Cognitive overload." "Exhausting." "Anxiety." "Resourceful." These are some of the words filling the Women's Health SIG Twitter feed as parents discuss their experiences balancing personal and professional responsibilities during the COVID-19 pandemic. We reached out to the SIG via email, and four members offered to share their experiences parenting during the pandemic with us. Respondents were mothers of one to three children aged 18 months to 10 years, and all work in academia. While their experiences certainly do not represent all parents' experiences over the past two years, they echo themes reported in recent research and covered in the media.
Nationally, many academics report that the pandemic has brought challenges to both their teaching and research roles. While many research labs were shut down for weeks or months during the pandemic, even those who have managed to keep their projects going may face negative repercussions for their careers. One respondent, who considers herself fortunate that she could conduct her research projects remotely, lamented:
"With increased teaching, mentoring, and service workload, research team challenges, and limited sustained time blocks for deep thought and focused writing, my program of research has taken a hit that will take years to recover from."
There's evidence that the pandemic will have long-term career effects on criteria used in the tenure and promotion process.1,2 Grant funders such as NIH and NSF and academic institutions should consider additional policies to support academic parents, especially women. Suggestions included:
Extending deadlines to use internal funds
Funding for a postdoc or PhD student to help with analyses and writing
Sabbatical options offered pre-tenure to focus on research
NIH grants specifically to protect research time for junior investigators
While the NIH allows extensions to Early Stage Investigator status,1 longer extensions would do more offset long-last effects of the pandemic on research productivity
Many parents have had to pivot their roles and responsibilities at home as well. One respondent, a mother of an infant whose husband was also working from home, "we tried to balance our meetings such that there was at least one of us present with her and the other parent would concentrate on the meeting." Others echoed this challenge of meeting professional obligations while caring for children during daycare closures or periods of remote schooling. Recent research reports that mothers have borne the brunt of childcare gaps during the pandemic.3 Close to two years in, parents still face inconsistent availability of childcare.
Respondents also expressed disappointment and frustration about having to deny their children social opportunities that otherwise are a regular part of this life stage, such as birthday parties, sleepovers with friends, and extracurricular activities.
"The hardest parenting decisions were about how to interact with our families, playdates, and putting our kids in extracurricular activities."
Another respondent noted wanting to make the "right" decisions to keep her family physically and psychologically healthy, but found balancing emerging science, public policy, and practical logistics mentally exhausting.
However, the pandemic hasn't been all bad. While daycare center and school policies have varied widely, many parents are pleased with how their childcare providers and schools have responded to the pandemic, including daily health check requirements, mandatory masking, regular testing, and hosting vaccination clinics.
A silver lining to the challenges of childcare disruptions and limited social engagement was more opportunities for creative play and for parents to bond with their children.
"With lots more unstructured time at home, my children engage in so much imaginative play, which is something there's not always time for when you're running from one activity to another."
"We have gotten to spend way more time hanging out with our children than we would have. My kids are totally awesome people, and I will forever cherish the time we've spent together."
For many parents, the pandemic has prompted reflection on their approach to parenting and helped them cultivate a positive outlook.
"Because we've had to say 'no' to our kids so often, I've become more mindful about saying 'yes' whenever possible. Yes we can go get ice cream, yes you can create your own waterslide in the backyard, yes you can watch another episode, yes you can stay in your pajamas all day, yes you can go swimming in your clothes, yes you can make slime."
Another parent shared, "I firmly believe that the pandemic has taught me the value of gratitude. Gratitude for the good times and being prepared for bad times. I want to instill this mantra in my child, to always value what we have and be humble during not-so-good times."
Parents, we see you. It may not always feel like it, but you're doing a great job in a really hard situation. We'd love to hear your experiences parenting during the pandemic – the good, the bad, and the hopeful. Join the conversation on Twitter @SBMWomensHealth.
References
Mogro-Wilson C, Negi N, Acquati C, et al. Reflections From Academic Mothers of Young Children on Social Work Research and Education, J Soc Work Educ. 2022;58(1):9-33. doi: 10.1080/10437797.2021.2014726
Krukowski RA, Montoya Williams DC, Cardel MI. A Year Into the Pandemic: An Update on Women in Science, Technology, Engineering, Math, and Medicine (STEMM). [published online ahead of print, 2021 Nov 30]. Ann Am Thorac Soc. 2021. doi: 10.1513/AnnalsATS.202107-875CME
Calarco JM, Meanwell E, Anderson EM, et al. By Default: How Mothers in Different-Sex Dual-Earner Couples Account for Inequalities in Pandemic Parenting. Socius. 2021;7:1-15. doi:10.1177/23780231211038783