Efficiency in Interdisciplinary Chronic Pain Management: A Trans-Disciplinary Model for Integrated Care Plans
Kelly M. Wawrzyniak, PsyD, Director of Behavioral Medicine and Clinical Research Development, Boston PainCare, Waltham, MA
SBM Pain SIG member
I have been fortunate to work at a chronic pain center incepted a decade ago by six anesthesiologists on a mission to create an interdisciplinary pain center that is financially sustainable and approaches pain management differently. While interventional procedures continue to be the most profitable service, these go directly to paying for full time behavioral medicine and functional restoration staff that are historically operating at a financial loss to the employer. Keys to sustaining this model are the efficiency of clinician time and treatments, and having coordinated and integrated care across disciplines.
To this end, the medical director at Boston PainCare, David DiBenedetto, MD, has outlined the "GOTT" approach–an acronym for goals, obstacles, treatments, timeline. These terms are not new to the behavioral medicine clinician, and commonly discussed when using a Cognitive-Behavioral approach to psychotherapy. The order of these terms is crucial, such that we begin not with the patient's symptom complaints, but rather with identifying realistic, objective goals of treatment (e.g., walk a mile, return to work 2 days/week). These are essentially SMART goals (i.e., specific, meaningful, adaptive, realistic, time-bound) and are generated through each clinician discussing goals with the patient in each evaluation. We then discuss the obstacles to the patient meeting their goals at this time (e.g. pain, depression). We next identify treatments that will effectively target the obstacles and, finally, identify a timeline for which we will re-evaluate progress and discuss any revision to the care plan. Of course not all patients with chronic pain are interested in a functional goal-focused approach to their care, some preferring a pain palliation focus. However, explicitly outlining this approach with patients at the outset allows for more open discussion to invite patients to try a new approach after perhaps decades of medical care focused on pain reduction.
Figure 1. GOTT Approach to Developing a Plan of Care for Patients with Chronic Pain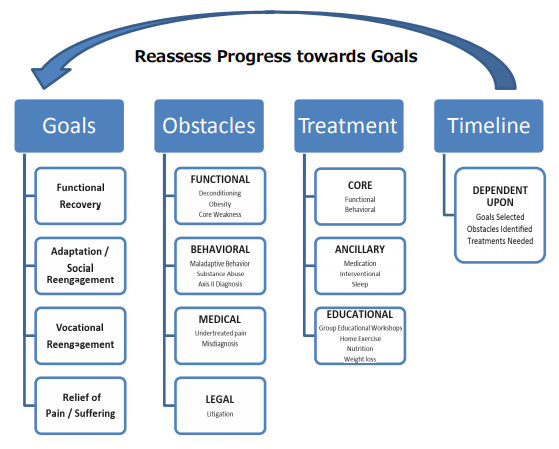 The GOTT framework leads to efficiency in a few ways. First, it focuses each clinician's evaluation and clinical interview. Second, team meetings have more efficient and focused discussion. Third, it re-focuses treatment recommendations on functional goals as the outcomes, rather than only symptom reduction. Fourth, GOTT framework is discussed with patients, leading to clear expectations and timelines at the outset, and more engagement with them in evaluating the effectiveness of treatment. Last, this approach is reflected in the medical records with functional goals stated front and center on the chart summary page, right alongside other top-line information (e.g., allergies, controlled medications). This placement is a poignant reminder of the philosophy of care and the focus of the clinical work. During case reviews or re-evaluations this display will often prompt the clinicians to ask "are the current treatments meeting these goals?" and "are these goals still meaningful and realistic?" Although each clinician's treatment plan is different in terms of the specific sub-goals and interventions, all disciplines should be working toward the overarching functional goals for that patient.
Ultimately, the efficiencies of this model have proven beneficial in cost containment at our center, a topic especially relevant with the shift away from fee for service payment models to ACOs and value-based care. The GOTT model has been effective at providing a more efficient use of the increased time and resources required when providing integrated, interdisciplinary care for chronic pain. This model is one that may easily apply to integrated care teams across settings (e.g., academic hospitals, Veterans Administration clinics) and across clinical conditions (e.g., diabetes, cardiac conditions). This may also be a model that facilitates a multi-disciplinary team move toward an integrated, interdisciplinary team through both the shared framework and the efficiencies that allow for increased time collaborating across providers.