How Should You Design mHealth Technologies for Women?
Katarzyna Wac, PhD, Emily Mailey, PhD, and Danielle Arigo, PhD, Women's Health SIG members; and Jennifer Huberty, PhD, Women's Health SIG chair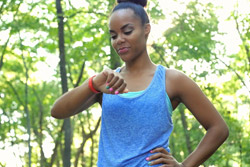 Increasingly health and care are going mobile—embedded in wearable activity trackers and smartphone applications, which are highly personalized. Such tools provide different functions and have different shapes, colors, and interfaces to suit the user's needs and preferences. These technologies enable development of mobile health solutions, denoted as mHealth, including automatic physical activity or sleep assessment, treatment adherence reminders (e.g., for medication), and prompts for specific symptom management behaviors. Because of their ever-increasing prevalence, accessibility, and usability, mHealth enables a self-assessment of individuals' daily life patterns that can support long-term self-management of health for various populations. In particular, there is potential for such tools to address the unique needs of women, including women of different ages, socio-demographics, and health care needs.
However, as research results show, women's acceptance and ongoing use of mHealth depends on their individual user experience and their perceptions of how appropriate the tool is for their context and needs. Some technologies seem too difficult for everyday use due to complex interface logic. And even when used, some tools are not optimally personalized to women's changing needs in daily life (e.g., not carrying the phone in the pocket all day, as many men do) and lifespan at large. For example, younger women may want wearables to appear fashionable, whereas working mothers might be more concerned about durability (e.g., shockproof or waterproof with a long battery life). Additionally, members of the Society of Behavioral Medicine Women's Health Special Interest Group (SIG) have observed that women who use mHealth tools for self-management prefer not to share their data with others for competition purposes: One participant explained that she has "enough people judging her offline" (i.e., in real life). This is an interesting observation, as many of the developed mHealth solutions have a competition component embedded in their core features. In contrast, members of the SIG have applied data sharing between users (i.e., opportunities for positive social comparisons) to facilitate effective accountability and social support between women, with greater success.
Overall, however, we still have a weak understanding of women's experiences with these technologies and the factors influencing their success. The authors of this article, as well as many other members of the Women's Health SIG, have conducted multiple mHealth studies with women, aimed at deepening this understanding. Our findings show that mHealth tools must be further co-designed with women to be: (1) more user-friendly (e.g., easy, automatic data sync); (2) more personalizable with respect to the momentary context, overall routine, and lifestyle choices (e.g., context or/and frequency of prompts/notifications); (3) more attuned to fashion/aesthetics; and (4) more battery-efficient and accurate. These tools must provide timely, non-judgmental feedback and personalized advice that enhances women's self-efficacy for health behavior change (e.g., by focusing on past accomplishments, emotional engagement, and persuasion). Once these needs are addressed, mHealth tools are more likely to be indispensable to women's lives, enabling them to improve their health and quality of life.