Board Notes: A Spotlight on Amy Stone, SBM's Former Executive Director
Elliot J. Coups, PhD, SBM member delegate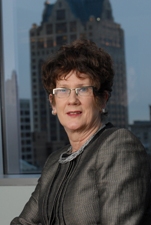 As most of you will (hopefully) know, the Society of Behavioral Medicine's (SBM's) many activities are guided by members of a host of groups, including the Board of Directors, seven permanent councils, seven standing committees, and 24 special interest groups. However, none of their activities would be possible without the steadfast support of the society's full-time, national office staff. From 2008 until a few months ago when she retired, Amy Stone served as SBM's executive director. In that role, she led the national office and provided input and guidance on all aspects of the society's operations, including strategic planning, partnerships, publications, public policy, the annual meeting, and more. Anyone who had the pleasure of working with Amy during her tenure at SBM is well aware of the many skills and experiences she brought to the society. To honor and thank Amy for her valued contributions to SBM, I asked SBM members who worked with her to contribute a few words. Their responses were immediate and, and as shown below, impassioned:
"Amy always gave her all. She provided unwavering support to the mission and well-being of the society. She has been a superb manager, who handled even the most difficult situations and personalities with a high level of diplomacy and grace. She had an unfailing institutional memory and provided the continuity and steadfastness that enabled the society to grow and thrive."
"Amy is a wonderful person; she's kind, patient, supportive, and passionate. What always struck me the most about working with Amy was how much she truly cared about moving the field of behavioral medicine forward, but never cared to take any credit for it. Her behind-the-scenes work has really pushed SBM forward. I'm very grateful for the mark she left on SBM, and on me personally as a mentor. She is already so missed!"
"Amy is the most warm, accepting, kind, and competent executive I have ever worked with."
"Amy is incredibly knowledgeable, helpful, encouraging, and motivating. She has helped SBM in immeasurable ways and will be missed!"
"Amy's warmth and passion for the Society were unmistakable and matched only by her competence in running things so smoothly."
"Amy reminds me of the unicorn: a mythical creature of extraordinary powers. Except our unicorn is real and supersedes extraordinary."
"The opportunity to work with Amy was one of the most valuable experiences I've been afforded by being a part of SBM. The leadership she provided on the management side taught me so much about the kind of professional I want to be, both within SBM and more broadly. Working with Amy was like taking a master class in professional communication, rational decision making, and positive relationship building."
"One thing I remember about Amy is her perseverance in being sure that important topics got adequate coverage in board meetings, even when the board changed hands and the new board members didn't have a firm understanding of important themes from previous presidents. Amy was our institutional memory in this regard and as such she became our skillful guide through the uncertain waters of change."
"Amy Stone with her classic Wisconsin sensibility has shown grit and grace in equal measure, all to the benefit and advancement of the society and field of behavioral medicine. We are so fortunate that she chose to contribute her gentle but unstoppable and unflappable focus to our work."
"Amazing role model;
Masterful in diplomacy;
Yielding to allow others to take the lead."
Characteristically, in her final months at SBM, Amy worked hard to ensure a smooth transition to her successor: new SBM Executive Director Mary Dean. Mary brings more than a decade of association experience to SBM. Most recently, she served as the executive director of the American Society of Gene & Cell Therapy, a long-time client of Executive Director Inc., SBM's association management company. Mary graduated with her law degree from Marquette University Law School in 2011 and received her certified association executive credential in 2012. Welcome to SBM, Mary! We are delighted to have you on board and very much look forward to working with you.
Amy, we thank you sincerely and wish you all the very best for the future. By any standard, the society's current excellent standing is testament to your efforts:
"More than any other individual, Amy has been instrumental to SBM's success in recent years. Her impact on the society and its members cannot be overstated."
Acknowledgement: Thanks are due to the individuals who provided the quotes used in this article.