GUEST ARTICLE
A New Role for Health Psychologists in the Medical Setting: Hepatitis C and Interferon Treatment
Donna Evon, PhD
I was asked to write this column to provide SBM members and psychologists-in-training exposure to a rather unique area of behavioral medicine in the field of hepatitis C. As a health psychologist working on the UNC multidisciplinary hepatitis C team, I apply psychosocial and behavioral principles to a novel area for behavioral medicine. In this article, I will provide some background into hepatitis C and the patient population with whom I work, as well as describe my role on the team. I end with my own story of how I came into this position, and hope that my example leads behavioral medicine neophytes to be proactive, passionate and persistent about career ambitions in ANY area of medicine.
A Primer on Hepatitis C
The hepatitis C virus (HCV) is a viral infection that can lead to chronic hepatitis C in up to 85% of patients who are exposed to the virus, and is the leading cause of cirrhosis and hepatocellular carcinoma. It is the most common blood-borne infection in the US with 4 million people infected; this is 5 times greater than the prevalence rate of HIV. HCV is responsible for 8-10 thousand deaths each year, and is the most common condition leading to liver transplantations. Chronic HCV is associated with mortality, morbidity, decreased quality of life, and increased healthcare utilization costs. Symptoms of HCV are often vague and diffuse, such as fatigue, weakness, aches and pains, itchy skin, and stomach pain. HCV, like HIV, is transmitted through exposure to contaminated blood. The most common mode of transmission is injection drug use, but it can also be contracted through blood transfusions prior to 1990, intranasal cocaine use, accidental needle sticks, sharing of razors and toothbrushes, unsterile tattoos or body-piercings, unprotected sex, and intranatally.
Interferon Treatment
The treatment of choice for HCV is a combination of oral ribavirin and injectable pegylated interferon (IFN), which is also commonly used in the treatment of multiple sclerosis and malignant melanoma. Ostensibly if IFN treatment can eradicate the virus, damage to the liver can be minimized, and the risk of cirrhosis and liver cancer lowered. IFN treatment can clear HCV in 50-80% of patients. African-Americans have a much lower chance of viral clearance (~25%) and reasons for the racial discrepancy are not well understood. Unfortunately, IFN treatment can be associated with adverse side effects, such as flu-like symptoms, fatigue, weakness, nausea, rash, and cognitive and mood changes, and can lead to decreased quality of life in all aspects of functioning.
Pre-existing Mental Health and Substance Use Disorders (MH/SUD) and Interferon-Induced Mood Disorders
IFN-induced psychiatric symptoms are often the most concerning side effects for treating physicians. Depression, anxiety, irritability, cognitive disturbances, insomnia, suicidal ideation and attempts, psychosis, mania and relapse of substance abuse have all been reported. IFN-induced mood disturbance may hinder treatment adherence, may be associated with diminished rates of viral clearance, and has deleterious effects on quality of life. When these side effects cannot be managed, treatment can be reduced or discontinued.
Many patients with HCV have comorbid MH/SUD, and historically have not been considered eligible candidates for IFN therapy for fear of worsening their problems. However, more recent evidence suggests that previous MH/SUD is not necessarily a reliable predictor of the development of IFN-induced mood disturbance. Given the high rate of MH/SUD among HCV patients, and that these comorbidities do not necessarily translate into increased risk, then it no longer seems justified to withhold treatment from these individuals. Leaving this cohort untreated would worsen health disparities that already exist among persons with MH/SUD. Some programs are slowly but surely recognizing that novel solutions and models of care need to be implemented to effectively treat this large and challenging population. As a health psychologist with a multidisciplinary hepatology program, I am part of this larger goal to prepare and provide treatment to patients with MH/SUD, who otherwise may not have been given the opportunity to undergo treatment.
The Role of the Health Psychologist on a Multidisciplinary Hepatitis C Treatment Team
Because treatment is challenging and psychiatric disturbance is common, an essential part of my job is conducting psychological evaluations and interventions. After medical clearance from the hepatologist, I determine whether patients are psychologically stable and emotionally prepared to undergo treatment. I evaluate psychiatric and substance abuse history, and review social support, occupational and relational functioning, and expectations and concerns about treatment. Have patients addressed medical treatment with their employees? Do their spouses support the decision to undergo treatment? How do they normally cope with illness and fatigue? Patients with significant MH/SUD issues are required to be followed by a local mental health or addiction professional with whom I will collaborate if the patient's functioning deteriorates. Another aspect of my job involves providing education and psychologically preparing patients to undergo treatment. Knowledge about treatment is often limited and anticipatory anxiety is high. I review pertinent information and guide them in conducting a risk-benefit analysis of treatment. For most non-cirrhotic patients where there is usually no urgency in starting treatment, I encourage them to consider their emotional, marital, and occupational stability so that treatment is initiated at the optimal time for themselves and their families. When patients appear too unstable to cope with the rigors of treatment, we discuss the barriers to initiating treatment, and I often assist in identifying resources in their community.
Once patients begin treatment, I follow those identified as high-risk for psychiatric issues. Mood disturbance is likely to occur within the first 5 months of treatment, so high-risk patients are monitored closely during this early phase. My follow-up clinics run concurrently with those of our treating clinicians, so patients are conveniently evaluated by both of us on the same day. Follow-up visits are spent re-evaluating mood functioning, symptomatology, and presence of suicidal ideation. I often find that my training as a health psychologist has equipped me with the expertise to aid patients with a wide array of physical and psychological issues that were either pre-existing, developed on treatment, or interfere with their ability to cope with treatment. For example, I may provide education and skills training in sleep hygiene, relaxation techniques, smoking cessation, medication adherence, coping and communication skills, behavioral activation for depression, or anger management. In a nutshell, many of these patients have considerable pre-existing emotional dysfunction and unhealthy lifestyle habits, and often these issues worsen on treatment. Thus, the opportunity to make small, yet positive, changes in patients' lives is endless.
Future Directions for Clinical and Research Opportunities
As with many other medical conditions such as heart disease, cancer, and HIV, a multidisciplinary approach to the treatment of HCV may well be the most effective strategy for treating patients with HCV. As the field has moved forward, a few HCV clinical researchers have encouraged integrative models of care that are equipped to handle the tri-morbidity of HCV, psychiatric and substance abuse disorders. The programs which are the most capable of treating this cohort often have psychiatrists, psychologists, or addiction specialists on staff. At this point, psychiatrists are the primary providers of mental health services. I know of very few psychologists working in the field of HCV, but I believe our contributions could mirror those made to other areas of medicine. Aside from psychiatric medication management, which falls under the purview of an HCV clinician or psychiatrist, the initial psychological evaluation, follow-up evaluations, and nonpharmacological interventions are all within a health psychologist's expertise.
Studies addressing psychosocial issues of HCV and IFN treatment are virtually non-existent. The literature is much akin to HIV research in the late 1980s when the contributions of psychology were just beginning to be recognized. A recent literature search of HCV in PsychInfo illustrates this point. Only 500 articles were retrieved with a search term of "hepatitis C" while 26,000 articles were retrieved when searching for "HIV." Combining the search terms "hepatitis C" and "interferon" the number of articles dropped to 130. Many articles that mention HCV are published in the addiction literature as a consequence of illicit drug use, but few articles have been published in journals oriented toward health psychology. This does not mean that those journals are not interested in publishing articles on the psychological factors of HCV and IFN, but rather it reflects that few psychologists are doing research in this area! There is also a dearth of posters and presentations on HCV at health psychology conferences—further attestation that the biopsychosocial issues of HCV and IFN treatment are under-explored by behavioral medicine researchers. Currently, most of the psych-oriented research on HCV has been conducted by psychiatrists interested in IFN-induced depression because it appears to be biochemically-induced, and it provides a patient population in which to study the cytokine-based theory of depression (interferon is a well-known proinflammatory cytokine).
Hepatitis C and IFN treatment offer a new medical arena in which to study the psychological, social, and behavioral aspects of disease and treatment. This field would be fruitful for psychologists interested in studying psychoimmunology, the activation of the HPA axis and development of depression. Psychologists working in the field of HIV would find many similarities between the two populations with regard to risk reduction interventions, medication adherence, co-morbidity of substance abuse and mood disorders, and social stigma. Psychologists working with cancer patients undergoing chemotherapy could easily translate knowledge about the benefits of social support and certain types of coping to researching these factors in treated patients. Essentially, an easy leap can be made from most psychological constructs and medical conditions to the field of hepatitis C research. My own research has involved reviewing the primary reasons patients are deferred from treatment, and determining the incidence rate of MH/SUD among HCV patients treated at our clinic. I am also working on projects to identify psychosocial predictors of IFN-induced mood disturbance, and to determine whether a psychosocial intervention can help MH/SUD patients become better candidates for treatment. These research projects are just the tip of the iceberg.
Connecting the Dots….
The trail from my starting point in behavioral medicine to my current position in hepatology is not obvious to a casual observer. A series of job opportunities, and being proactive, connected my graduate training to my current position. In graduate school, my area of interest was in cardiac rehabilitation; subsequently I took an internship position at UNC with the Heart and Lung Transplant Program to extend my experiences with this population. As a UNC intern, I took an elective rotation with the Liver and Kidney Transplant Program. From there, the transplant programs decided to create a two-year postdoctoral position that involved working with both transplant teams. During my postdoctoral training, I worked extensively with the Liver Transplant Program, becoming familiar with the biopsychosocial issues of liver disease. I became well-acquainted with members of the transplant team, comprised of hepatologists, transplant surgeons, nurses, and physician extenders. I initiated discussions with a few members of the medical and surgical teams regarding research opportunities, career development, and of course, funding. My discussions with the director of hepatology were fruitful, as he began to conceptualize how a psychologist trained as a clinician and a researcher might benefit and expand his HCV program. I continued to pursue these discussions, even writing a grant to demonstrate initiative, and Voila! A year later my faculty appointment was created.
For the past two years, I have enjoyed a rewarding position combining patient care and clinical research as a member of a multidisciplinary team in a hospital setting. What more could a health psychologist ask for? The take-home point is this: There are several possible paths to a career in health psychology, the most obvious of which is to search and interview for job positions that already exist. However, there are so many untapped opportunities where positions can be created for health psychologists in medical subspecialties. Many MDs in hospital settings who direct medical programs do not know what we do, or what we are capable of contributing. I encourage trainees to take initiative and start a dialogue about what you can offer patients, and more importantly, the medical team. Don't be intimidated to start discussions with our MD counterparts; I have always found them interested and intrigued by what we can offer. Here's a challenge: I can't think of a disease or medical condition where psychosocial or behavioral factors are NOT relevant, can you?
For more information on hepatitis C, liver disease, and interferon treatment, the following references are recommended:
Donna Evon, PhD, is a Clinical Psychologist and Assistant Professor in the Department of Medicine, Division of GI and Hepatology, at the University of North Carolina in Chapel Hill. She has been a member of SBM for over 10 years.
---
2008 Society of Behavioral Medicine (SBM) Achievement Awards
The deadline for submission of all 2008 SBM Achievement Awards applications and supporting materials is 11:59 p.m. Eastern time on November 16, 2007. New this year, all applications must be submitted via the SBM website, www.sbm.org, by the deadline noted above in order to qualify as a nominee for a 2008 award.
Visit the awards page at www.sbm.org >>
---
Anticipating Annals
This column lists the table of contents for an upcoming issue of SBM's journal: Annals of Behavioral Medicine. I would like to thank Alan Christensen, PhD, the Editor of Annals, and his staff for providing this information.
Cheryl Albright, PhD, MPH, Outlook Editor
Annals of Behavioral Medicine
Volume 34, Number 3
December 2007
Table of Contents
Original Articles
"Does One Size Fit All?" Moderators in Psychosocial Interventions for Breast Cancer Patients: A Meta-Analysis
Tanja Zimmermann, Nina Heinrichs, and Donald H. Baucom.

Are Psychological Characteristics Related to Risk of the Metabolic Syndrome? A Review of the Literature
Edie M. Goldbacher, and Karen A. Matthews.
A Computer-Tailored Dietary Fat Intake Intervention for Adolescents: Results of a Randomized Controlled Trial
Leen Haerens, Benedicte Deforche, Lea Maes, Johannes Brug, Corneel Vandelanotte, and Ilse De Bourdeaudhuij.
Efficacy Of A Behavioral Intervention For Increasing Safer Sex Behaviors In HIV-Negative, Heterosexual Methamphetamine Users: Results From The Fast-Lane Study
Brent T. Mausbach, Shirley J. Semple, Steffanie A. Strathdee, Jim Zians, and Thomas L. Patterson.
Anticipating Dissemination Of Cancer Genomics In Public Health: A Theoretical Approach To Psychosocial And Behavioral Challenges
Jennifer L. Hay, Hendrika W. Meischke, Deborah J. Bowen, Joni Mayer, Jeanne Shoveller, Nancy Press, Maryam Asgari, Marianne Berwick, and Wylie Burke.
A Cognitive-Behavioral Mechanism Leading to Adolescent Obesity: Children's Social Images and Physical Activity
Sarah E. Hampson, Judy A. Andrews, Missy Peterson, and Susan C. Duncan.
The Relation of Acculturation to Latinas' Perceived Neighborhood Safety and Physical Activity: A Structural Equation Analysis
Latrice C. Pichon, Elva M. Arredondo, Scott Roesch, James F. Sallis, Guadalupe X. Ayala, and John P. Elder.
Self-Regulation, Self-Efficacy, Outcome Expectations, and Social Support: Social Cognitive Theory and Nutrition Behavior
Eileen S. Anderson, Richard A. Winett, Janet R. Wojcik.
Symptoms of Depression and Anxiety as Unique Predictors of Pain-Related Outcomes Following Burn Injury
Robert R. Edwards, Michael T. Smith, Brendan Klick, Gina Magyar-Russell, Jennifer A. Haythornthwaite, Radha Holavanahalli, David R. Patterson, Patricia Blakeney, Dennis Lezotte, Jodi McKibben, James A. Fauerbach.
Rapid Communications
Explaining Physical Activity Levels From a Self-efficacy Perspective: The Physical Activity Counseling Trial
Chris M. Blanchard, Michelle Fortier, Shane Sweet, Tracey O'Sullivan, William Hogg, Robert D. Reid, and Ronald J. Sigal.
To see the Instructions for Authors, please go to https://www.sbm.org/annals/instructions.php
---
EBBM Committee: Next Steps
David C. Mohr, PhD
I am very pleased to be writing this column as the new chair of the Evidence-Based Behavioral Medicine (EBBM) Committee. I would like to take this opportunity both to acknowledge the work and dedication of the previous EBBM chair (and current president-elect), Bonnie Spring, and to describe the current goals of the EBBM Committee.
While Bonnie's contributions to EBBM are too numerous to list exhaustively, some of her accomplishments as EBBM Committee Chair have included:
Increasing EBBM awareness within SBM to the point that the EBBM SIG numbered nearly 500.
Increasing awareness of EBBM in the field more broadly through publication, and as an "ambassador" to other organizations. For example, Bonnie edited the July 2007 special issue of Journal of Clinical Psychology, which was devoted to EBBM practice and training, and authored the lead article. She has also conducted symposia and seminars at many SBM meetings and sister organizations, including the Council of University Directors of Clinical Psychology, Society of Medical Decision Making, International Society of Behavioral Medicine, ABCT, APA, and the World Health Care Congress on Behavioral Health and Wellness.
Obtaining a 5-year OBSSR contract to develop web-based resources for training in evidence-based behavioral practice – an effort that will likely have far-reaching impact in defining and disseminating EBBM across multiple disciplines.
As we move forward, the aims of the EBBM Committee will continue to be the development and dissemination EBBM. This will include:
Continuing to promote evidence-based practice through publication, presentation, and education. These efforts will be organized by a) continuing to create the evidence base through systematic reviews, b) dissemination, and c) clarifying and advancing the methodologies that support EBBM research.
Integrating SBM SIGs into EBBM committee. This may have several benefits, including the promotion of the development of an evidence base. SBM possesses a wealth of expertise. Working with the SIGs we aim to realize that expertise by facilitating the development of systematic reviews in areas of particular relevance for EBBM. We currently are piloting this effort with the Cancer SIG.
Working closely with the SBM Policy Committee to coordinate our efforts to support behavioral medicine practice and research.
To achieve these goals we have organized four subcommittees. The subcommittees, members, and their current projects are listed below:
Evidence Base Synthesis Subcommittee: Joost Dekker, Bonnie Spring, Suzanne Miller, Deb Bowen, Evelyn Whitlock, David Mohr
This subcommittee will oversee the development of a evidence base, primarily through systematic reviews. Current projects are:
Weight gain prevention after smoking cessation. Bonnie Spring, Brian Hitsman, Kristin Hitchcock.
This is a systematic review evaluating whether combined weight control plus smoking treatment affects cessation and weight gain differently than smoking treatment alone.

Cancer SIG: Suzanne Miller, Deb Bowen, Linda Fleisher, David Mohr, Bonnie Spring: This is the first liaison with an SBM SIG. The Cancer subcommittee is developing an EBBM review comparing medical and behavioral interventions for Fatigue, Pain and Depression in Cancer.
Dissemination: Bev Thorn, Barb Walker, Tim Carmody
This subcommittee will continue engaging in outreach and developing dissemination through developing and papers/conference presentations on EBBM and creating liaisons with other organizations that are involved in research, education of clinicians, and education of students.
Methodology: Russ Glasgow, Bob Kaplan, David Mohr, Judy Ockene, Bonnie Spring
This subcommittee examines methodology as it pertains to both the acquisition of basic evidence for EBBM, as well as evidence in the area of implementation. The current projects are:
Control Conditions: Ken Freedland, Bob Kaplan, David Mohr, Judy Ockene, Bonnie Spring, Steve Hollon, Victoria Beckner.
This project is examining the use of control conditions in randomized controlled trials.

EMR and Rapid Learning Systems: Bob Kaplan, Russ Glasgow.
This paper examines the use of electronic medical records to create "rapid learning systems."

Current Issues in Systematic Reviews: Evelyn Whitlock, Alice Ammerman, Mark Atkins, Mark Helfand, Bonnie Spring.
This working group is developing a series of papers on historic and contemporary issues in systematic reviews.
Liaison Subcommittee to the Policy Committee: Russ Glasgow, Bob Kaplan, Judy Ockene.
Liaison to the SBM Policy committee.
I welcome communication with SBM members. If you have any comments, questions, or would like to become more involved with the EBBM committee, please do not hesitate to contact me at d-mohr@northwestern.edu.
---
COLUMN
Your Membership Voice
"Your Membership Voice" is a new column that will be featured periodically in Outlook. This column will be devoted to addressing questions you have about SBM and how to get involved, written by your Member Delegates, Jasjit Ahluwalia, MD, MPH, MS, Amanda Graham, PhD, and Felicia Hill-Briggs, PhD, ABPP. If you have topics or questions regarding SBM that you would like to see addressed in this column, send them to Felicia Hill-Briggs at fbriggs3@jhmi.edu.
Did you know that SBM remains at the forefront as a multidisciplinary behavioral medicine organization comprising researchers, educators, clinicians, and students/trainees across professions including medicine, psychology, nursing, epidemiology, physiology, nutrition, and public health, to name just a few? You can help SBM serve as your "home" for meeting your expertise, resource, and information needs concerning behavioral medicine. Do you have ideas for SBM? Are you taking advantage of resources available through SBM? Are you aware of what projects and activities SBM is working on throughout the year? Send us your questions and comments. In this column, your Member Delegates can help steer you around SBM so that you can maximize your involvement.
Q & A:
I am teaching a behavioral medicine course that will be open to graduate nursing students and psychology students. Does SBM recommend competency areas for content and key references for inclusion?
Although SBM does not have a recommended teaching guide for academic behavioral medicine, fellow members of SBM have provided their own course syllabi, topic outlines, and reference lists as a resource. You can find these on the SBM website under Education, Training, & Professional Development on the opening page. Select Course Syllabi.
It seems that SBM members are primarily researchers/academicians. As a clinician, how can SBM help my professional practice?
SBM needs and values your input. The expertise and experience you bring as a clinician are key to SBM's vision of bringing about Better Health through Behavior Change. Translation of research into practice and policy, in particular, requires active involvement of and advising from behavioral medicine practitioners across clinical arenas. Join a Special Interest Group (SIG) in your area of interest or practice. Take a look at the Evidence-Based Behavioral Medicine (EBBM) initiatives and share your input. Take advantage of opportunities for feedback regarding the annual meeting and scientific sessions to make suggestions for clinically-focused conference topics and activities.
I like to be an informed member. How do I find out about the operations of SBM and issues under consideration by the Executive Board?
One excellent opportunity is the SBM Business Meeting held each year at the Annual Meeting and Scientific Sessions. All members are invited to attend. At this meeting, you will hear committee reports on the financial status of the organization, membership, nominations and elections, and annual meeting, and you will hear about planning and priorities for the upcoming year from the president. In addition, at this Business Meeting, you will have an opportunity to see and get to know your outgoing and incoming SBM officers. Check your conference preliminary and final programs for the day and time of the Business Meeting. Be sure to include this one-hour meeting in your session planning.
Does SBM have a way to update members routinely of news and information of interest?
The most frequent method for communicating news and information directly to the membership is through blast emails. You will see "Important Information from SBM" in the Subject line of your email. Do not delete it without reading it! It will typically include several timely SBM announcements as well as relevant notices from beyond SBM. You do not have to wait on the blast emails, though. At any time, you can also go to the SBM website for news and information. The website contains a Latest SBM News box on the opening page. In addition, you can click on the Links and Events (from the home page) to access related websites as well as to see dates for meetings and conferences that may be of interest to members.
Beyond the annual meeting, is SBM active in public policy initiatives or disseminating information in the public interest?
SBM's Health Policy Committee is actively involved in developing and increasing member involvement in policy research, priorities, and dissemination. Two policy briefs are currently available for viewing on the SBM website, entitled: Diabetes: Measures of Quality of Care Should Include Patient-Centered Outcomes, and Childhood Obesity: Can Policy Changes Affect this Epidemic? These can be accessed by selecting Public Policies from the opening page. You can contact the current Health Policy Committee chair, Prabhu Ponkshe, MA, LLB by clicking on Councils and Committees from the SBM website's opening page.
I find that there are some topics that are not well-covered at the SBM annual meeting. What can be done to increase the breadth of the scientific sessions?
There are several ways that you can help guide topic coverage. Here are three. 1) Each year, the program committee sends out an email to all members requesting input for selection of topics and speakers. Be sure to look out for this email and complete the survey by the deadline. 2) In addition, consider submitting an abstract for a symposium on your topic of interest. 3) Special Interest Groups are another mechanism through which to rally support for a topic. See if your area of interest falls within one or more of the SIG's. By becoming an SIG member, you will have opportunities for scientific sessions input through the SIG.
--Your Member Delegates, Your Voice.
---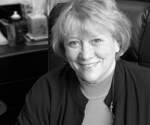 Outlook on Life
Editor's note: This column has questions similar to the ones asked by James Lipton on the TV show, "Inside the Actor's Studio." I have "adapted" his questions to address issues in our field, and I think these questions are a nice way to "feature" a SBM member in the newsletter. Featured is: Dr. Andrea Dunn, a Senior Scientist at Klein Buendel, Inc. in Denver, Colorado.

| | |
| --- | --- |
| What is your favorite word? | Love, it's all we need and we all need more of it. |
| What is your least favorite word? | Utilize, use is so much simpler. |
| What "turns you on" or excites you about the field of Behavioral Medicine? | The opportunity for interdisciplinary collaboration and working and learning from so many talented people. |
| What turns you off /frustrates you about the field of Behavioral Medicine? | Behavioral Medicine study sections. |
| What sound or noise do you love? | The quiet of big wet snowflakes falling in the mountains. |
| What sound or noise do you hate? | Horns honking. |
| What was the most unusual job (outside of Behavioral Medicine/academia) you ever had? | I worked as a carpenter because it paid better than clerical work to make money for school. |
| What profession, other than yours, would you like to attempt? | Being a Buddhist scholar. |
| What profession or job would you not like to participate in? | Being a miner, it's too dark and noisy. |
| If Heaven exists, what would you like St. Peter to say when you arrive at the pearly gates? | Go back and try again. |
---
Spotlight on Education and Training in Behavioral Medicine

Founded in 1980, the Graduate School of Public Health (GSPH) at San Diego State University (SDSU) has a well-established program of education and training, research, and community outreach. Collaborating institutions include the University of California San Diego (USCD) School of Medicine and the San Diego Country Health and Human Services Agency.
The GSPH is actively involved in the local community, offering opportunities for both research and practice-based experience working with a large number of nonprofit community-based health organizations. San Diego's culturally diverse community and its proximity to Mexico provide opportunities for experiences with issues that may apply to particular ethnic groups.
The SDSU GSPH offers numerous programs of study, spanning undergraduate, masters, doctoral and integrated, concurrent degrees. Its five divisions include an Undergraduate Division and four academic divisions reflecting Epidemiology and Biostatistics, Health Promotion and Behavioral Sciences, Health Services Administration, and Occupational and Environmental Health.
Undergraduate program options for students include an undergraduate minor with a Health Science concentration and a BS degree in Health Sciences with an emphasis in Public Health. Masters Degree programs of study are varied and include Master of Science (MS) and Masters in Public Health (MPH) foci. The MS concentrations include Global Emergency Preparedness and Response, Industrial Hygiene, and Toxicology. Several MPH concentrations are available: Biometry, Environmental Health, Epidemiology, and Health Promotion. The Biometry Concentration is an applied biostatistics program focused on public health, medicine, and biology. The Environmental Health Concentration is a professional degree program for students who wish to work as environmental or occupational health practitioners. The Epidemiology Concentration provides training in identification of biological, environmental, social, and behavioral risk factors for human disease as well as determination of the distribution and etiology of health and disease. The Health Promotion concentration emphasizes the behavioral sciences and behavior-environment relationships. A concentration in Health Services Administration is also offered.
Several interdisciplinary, concurrent MPH programs of study are available. The GSPH in tandem with the school of Social Work offers a graduate program leading to a MPH and a Master of Social Work (MSW) with a Health Services Administration concentration. The GSPH and the Center for Latin American Studies offer a program leading to a MPH in Epidemiology, Environmental Health, or Health Promotion and a Master of Arts (MA) in Latin American Studies. The GSPH at SDSU and the UCSD School of Medicine, offer a collaborative education effort to enable UCSD medical students to also obtain the MPH degree.
Several doctoral degrees are also offered jointly by the SDSU and UCSD. These doctoral programs (PhD in Public Health) are in three concentration areas: Epidemiology, Health Behavioral Sciences, and Global Health. A concentration in Epidemiology includes several specialization options including infectious and chronic diseases, exercise science, medical geography, and behavioral epidemiology. A concentration in Health Behavioral Science emphasizes applied behavioral analysis, social cognitive theory, and ecological models for population application; qualitative and quantitative research methods; and the application of interventions and research methods to health behavior in disenfranchised populations. A new concentration in Global Health emphasizes specific skills related to public health research and leadership in global health settings.
The GSPH provides numerous opportunities for field placements with local agencies and organizations.
For more information visit the SDSU Graduate School of Public Health website: http://publichealth.sdsu.edu
Contact Information:
Graduate School of Public Health (GSPH) at San Diego State University
Hardy Tower 119, 5500 Campanile Dr., San Diego, CA 92182-4162.
Undergraduate education information: Dr. Virginia Kreisworth: vkreiswo@mail.sdsu.edu
MS and MPH degree program information: Brenda Fass-Holmes: bholmes@mail.sdsu.edu
Doctoral education: Florencia Davis: fdavis@mail.sdsu.edu
---
Spotlight on Special Interest Group
It is Never Too Late to Change: Exciting Research From the Aging SIG
The Neighborhood Tailored Activity Plans for Seniors (nTAPS) study was undertaken in July 2006 by Jacqueline Kerr, Dori Rosenberg, Jim Sallis, and Kevin Patrick at the University of California, San Diego and San Diego State University. The purpose of the study was to test a novel multilevel intervention targeted towards older and more frail older adults living in retirement communities. Twelve participants between ages 70 and 92 (Mean age = 84 years) were recruited from a retirement facility and completed all measures. The 2-week intervention was tailored to the individual (using brief individual counseling focusing on goal setting to increase step counts by 10% each week) and residential site (with specially designed walking maps). Pedometers were worn for self-monitoring and for the primary outcome (steps per day). Surveys at pre- and post-intervention assessed daily activities, benefits, barriers, route use, quality of life, and satisfaction. Results showed that mean steps per day increased between baseline (M = 3020; SD = 1858), week 1 (M = 4314; SD = 2627) and week 2 (M = 4246; SD = 2331) (all p's < .02). Step counts between weeks 1 and 2 did not differ (p = .79). The researchers concluded that a novel multilevel site-specific intervention is feasible and acceptable for increasing steps among seniors living in a retirement community. A larger randomized pilot study based on these findings is currently being conducted in 4 retirement communities and results will be available at the end of 2007.
Dori Rosenberg, MPH, MS
Graduate Student
Joint Doctoral Program in Clinical Psychology UCSD/SDSU
3900 Fifth Avenue, Suite 310
San Diego, CA 92103
drosenberg@paceproject.org