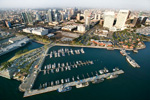 Key Dates

SBM 29th Annual Meeting & Scientifc Sessions
March 26-29, 2008 • San Diego, CA
2008 Annual Meeting Link:
https://www.sbm.org/meeting/2008/
GUEST ARTICLE
A New Role for Health Psychologists in the Medical Setting: Hepatitis C and Interferon Treatment
Donna Evon, PhD
I was asked to write this column to provide SBM members and psychologists-in-training exposure to a rather unique area of behavioral medicine in the field of hepatitis C. As a health psychologist working on the UNC multidisciplinary hepatitis C team, I apply psychosocial and behavioral principles to a novel area for behavioral medicine. In this article, I will provide some background into hepatitis C and the patient population with whom I work, as well as describe my role on the team. I end with my own story of how I came into this position, and hope that my example leads behavioral medicine neophytes to be proactive, passionate and persistent about career ambitions in ANY area of medicine. Read more >>
2008 Society of Behavioral Medicine (SBM) Achievement Awards
The deadline for submission of all 2008 SBM Achievement Awards applications and supporting materials is 11:59 p.m. Eastern time on November 16, 2007. New this year, all applications must be submitted via the SBM website, www.sbm.org, by the deadline noted above in order to qualify as a nominee for a 2008 award.
Visit the awards page at www.sbm.org >>

Anticipating Annals
This column lists the table of contents for an upcoming issue of SBM's journal: Annals of Behavioral Medicine. I would like to thank Alan Christensen, PhD, the Editor of Annals, and his staff for providing this information.
Cheryl Albright, PhD, MPH, Outlook Editor Read more >>

EBBM Committee: Next Steps
David C. Mohr, PhD
I am very pleased to be writing this column as the new chair of the Evidence Based Behavioral Medicine (EBBM) Committee. I would like to take this opportunity both to acknowledge the work and dedication of the previous EBBM chair (and current president-elect), Bonnie Spring, and to describe the current goals of the EBBM Committee. Read more >>

COLUMN
Your Membership Voice
"Your Membership Voice" is a new column that will be featured periodically in Outlook. This column will be devoted to addressing questions you have about SBM and how to get involved, written by your Member Delegates, Jasjit Ahluwalia, MD, MPH, MS, Amanda Graham, PhD, and Felicia Hill-Briggs, PhD, ABPP. If you have topics or questions regarding SBM that you would like to see addressed in this column, send them to Felicia Hill-Briggs at fbriggs3@jhmi.edu. Read more >>

COLUMN
Outlook on Life
Editor's note: This column has questions similar to the ones asked by James Lipton on the TV show, "Inside the Actor's Studio." I have "adapted" his questions to address issues in our field, and I think these questions are a nice way to "feature" a SBM member in the newsletter. Featured is: Dr. Andrea Dunn, a Senior Scientist at Klein Buendel, Inc. in Denver, Colorado. Read more >>

Spotlight on Education and Training in Behavioral Medicine
Founded in 1980, the Graduate School of Public Health (GSPH) at San Diego State University (SDSU) has a well-established program of education and training, research, and community outreach. Collaborating institutions include the University of California San Diego (USCD) School of Medicine and the San Diego Country Health and Human Services Agency. Read more >>

Spotlight on Special Interest Group
It is Never Too Late to Change: Exciting Research From the Aging SIG Read more >>
Announcement:
The 10th International Congress of Behavioral Medicine will meet August 27-30, 2008 in Tokyo, Japan! Deadline for abstracts is Dec 1, 2007. Please see their website for more information: http://www.icbm2008.jp/
CONTEST for SBM Members - "Why are YOU a member of SBM?"
We want to hear WHY you became (and continue to be) a member of SBM. In 150 words or less tell us when you first joined SBM, why you first joined SBM, and/or what being a member for many years has meant to you professionally or personally. You could win a $50 discount on the SBM conference registration for the March meeting in San Diego.

Please submit your short description (150 words or less) and send it to David Wood (dwood@sbm.org) by November 15, 2007. The winner's entry will be published in the next issue of Outlook. Entries that include humor and creativity are strongly encouraged.
Lora Burke, PhD, SBM Membership Chair

29th SBM Annual Meeting & Scientific Sessions Update
Dear Colleague,
On behalf of the 2008 Program Committee, I am pleased to present you with a preview of the planning for the 29th SBM Annual Meeting & Scientific Sessions, scheduled to take place March 26-29, 2008, at the Manchester Grand Hyatt in San Diego, CA. The theme for the upcoming conference is Celebrating the Past, Inspiring the Future and consistent with that theme, the 2008 scientific program is sure to offer something for everyone involved in the field of behavioral medicine! Read more>>
Classified Advertising
Deadline and Rates
To advertise in the Winter 2008 edition of Outlook (which will be available in January 2008), please supply ad copy to the SBM National Office. Artwork, including company logos, will not be accepted. Please contact the National Office for additional information.
The deadline for receipt of ad copy is November 27, 2007. Advertising is billed at a rate of $10 per line based on Outlook's final layout.
Contact:
David Wood, Associate Director, Member Services
Society of Behavioral Medicine
555 East Wells Street, Suite 1100
Milwaukee, WI 53202-3823
Phone: (414) 918-3156
Fax: (414) 276-3349
E-mail: dwood@sbm.org
Officers
Peter G. Kaufmann, PhD, President
Bonnie Spring, PhD, President-Elect
Edwin B. Fisher, PhD, Past-President
Susan M. Czajkowski, PhD, Secretary-Treasurer
Jasjit S. Ahluwalia, MD, MPH, MS, Member Delegate
Amanda L. Graham, PhD, Member Delegate
Felicia Hill-Briggs, PhD, Member Delegate

Council Chairs
Katharine Stewart, MPH, PhD, Chair,
Phillip Brantley, PhD, Co-Chair,
Education, Training & Career Development
Lora E. Burke, PhD, Membership
Kenneth Freedland, PhD, Chair,
William Gerin, PhD, Co-Chair,
Publications & Communications
Richard W. Seidel, PhD, Chair,
Susan Woods, MD, MPH, Co-Chair,
Professional & Scientific Liaison
Jennifer Steel, PhD, Chair,
Barbara Resnick, PhD, CRNP, Co-Chair,
SIG Council
Committee Chairs
Alan J. Christensen, PhD, Editor, Annals
Karen Matthews, PhD, Awards
Linda C. Baumann, PhD, RN, Development
David Mohr, PhD,
Evidence-Based Behavioral Medicine
Kenneth A. Wallston, PhD, Finance
Prabhu Ponkshe, MA, LLB, Health Policy
Edwin B. Fisher, PhD, Nominating
Cheryl L. Albright, PhD, MPH, Editor, Outlook
Amanda L. Graham, PhD, Associate Editor,
Outlook
Frank Penedo, PhD, Program Chair,
Sherry Pagoto, PhD, Program Co-Chair,
Program Committee
Kathleen Goggin, PhD, Program Oversight
Ronald Abeles, PhD, NIH Liaison
Robert Kaplan, PhD, Chair, Wisdom Council
Judith Ockene, PhD, MEd, Co-Chair, Wisdom Council