Editor's Note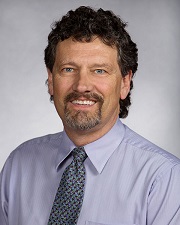 Readers of Outlook have more to enjoy than ever before! This is the inaugural issue in which readers' questions are answered by SBM leaders and relevant Councils (e.g., ETCD). The quality of the articles and their value to ALL SBM members should be increasingly apparent. Specifically in this issue, the BIT SIG interview with Dr. Aschbacher is a good read for all SBMers curious about career transitions and differences between industry work and academics. The Health Decision Making SIG's article is also broadly relevant to those not in the HDM SIG as it serves as a wonderful primer on that area of behavioral medicine. Also a good read for all is the description by the Multiple Health Behavior Change SIG of the basics for structuring the elements of a mentoring relationship for shared success. The OBBI SIG article is a great example of how research design (e.g., SMART) is more closely supporting analysis and improvement in clinical interventions – a focus on SBM overall. Mid-career professionals should find the ideas presented in the ETCD Council's article to be supportive of the struggles often encountered in this career phase; the ideas often encourage us to focus on work-life balance with one positive outcome being a possibly more "productive" career. The description of the process of how the decision was made to switch publishers for our two flagship journals is an example of why Outlook is becoming more and more a major communication channel between SBM leadership and all members.
Questions posed recently by readers seeking 'senior advice': (thank you to Ed Fisher, David Conroy, and the ETCD Council for these responses)
How can our "system" be changed and reinforced to better recognize collaboration and deep attention to mission over "competitive individualism"?

Responses:

There is no easy answer to how we change the culture, but asking the question in a public forum like this is a good way to start the conversation. A recent article by Dr. Madhu Mazumdar and colleagues has put forth three key components of valuing team science that need to be considered by institutional promotion committees, department chairs, and others who evaluate faculty.
Contributions to team-based scholarship that go beyond the number of 1st author/senior author publications and grants need to be assessed and given appropriate and substantial weight, in addition to tracking specialized contributions to education and service
Faculty evaluations must be founded upon well-articulated criteria for assessing the stature and accomplishments of team scientists, including letters from team science leaders that document the major contributions of the faculty member to published papers and grants. Mechanisms for collecting such evaluative data must be developed and implemented at the institutional level.

How should newly tenured faculty get out of the 'post-tenure slump'?

Responses:

In hindsight, I should have expected some sort of letdown after accomplishing a goal that organized many of my daily activities for the past 6 years…but I didn't. What helped me most was finding interesting new goals. I stayed deeply involved in work that led up to tenure but I got excited by investigating some new research problems and trying different methods. I continue to get a thrill from riskier projects – they are interesting even when they don't turn out as expected.
Go through what are probably quite a few files of papers that are "in the works." In one of them you probably have little remaining interest. Very likely, it also would have very little importance if published. Throw it away or delete it. Savor the moment of hitting "trash" or of dropping the hard copy file in the recycle bin. You are likely to find this mildly liberating. Now that you have tenure, you can focus on what you care about and what is important, not just building the pile.
According to a recent publication by the Collaborative on Academic Careers in Higher Education, getting out of a post-tenure slump (also identified by others as a mid-career slump) requires faculty and their institution to work hand-in-hand to develop processes whereby faculty can "vision" methods to match their passions with institutional needs. One example provided in this paper was that a Dean at the University of Missouri-Kansas City conducted a series of visioning exercises with faculty to identify their passions and to develop career plans to engage those passions. Another example was to engage with other mid-career faculty at national meetings, in order to share best practices. In this issue of Outlook in the ETCD Corner, we have a Q&A with three panelists addressing ways to balance creativity and productivity demands in mid-career, and their perspectives may also be useful to consider.
-- William J.Sieber, PhD
President's Message
Listen to SBM President, Gary G. Bennett Jr., PhD, speak about how the Society of Behavioral Medicine is working to put the 2018 Annual Meeting and Scientific Session theme, "Extending Our Reach," into action.
The BIT SIG Asks: What is the Value of a Social Media Presence for Behavioral Medicine Research and Practice?
Danielle Arigo, PhD; Danielle Jake-Schoffman, PhD; Carly Goldstein, PhD; Behavioral Informatics and Technology Special Interest Group (BIT SIG) Social Media Subcommittee members
#Hashtags, @handles, pages… You've seen them fly by on screens at SBM annual meetings, and you've seen them promoted in the SBM weekly digest emails. Maybe you've wondered what all the fuss is about. And if you use any of these regularly as a behavioral medicine professional, it's likely you've been asked to explain why you do it. The BIT SIG's Social Media Subcommittee explains the benefits here.
So, why? Nearly 70% of adults in the US use social media, including 35% of adults 65 and older. And 80% of those adults use social media at least once per day.1 (Younger than 18? The numbers skyrocket.) So if you're looking to reach people who aren't already visiting a research center or clinic, effective social media use can help you find and engage them. Social media has enabled healthcare systems to contact patients about signing up for health insurance, getting a basic health screen, raising awareness about physical and mental health conditions, and disseminating available community health resources. Social media can also connect patients to each other for tips and support with chronic disease management or other health behavior changes.
For an organization like SBM (@BehavioralMed) or a subgroup like a SIG, social media represents a way to connect with members and the broader community between annual meetings. For example, SBM and the BIT SIG each share new research findings and industry news relevant to our members. BIT SIG recently launched our #TechSIG feature on Twitter (@SBMDigitalHlth), which highlights a recent digital health publication each week. (Archived on our SIG webpage.)
In January 2017, BIT SIG also hosted a "Twitter chat" to discuss topics of interest to our members. A Twitter chat allows anyone with a Twitter account to participate in a conversation by using a particular hashtag (e.g., #TechSIG) and replying to the facilitator or other participants in the conversation. This chat allowed us to engage with our members in two ways. First, we sent out a brief survey to BIT SIG members and members of other SIGs to determine the topics of greatest interest for the Twitter chat. The results pointed to three topics, that were the focus of our chat:
Discussing challenges and solutions for ongoing research with technology
Use of emerging technologies (to help identify areas for collaboration)
Advice for junior researchers interested in digital health
Second, we engaged members directly during the Twitter chat itself. Overall, the 141 tweets included in this one-hour discussion received over 3,000 views and earned SBM a dozen new followers. If you missed it, this chat is also archived on our SIG webpage, and we have a follow-up chat planned for January. Please be on the lookout for input on the topics we'll discuss!
What can you do with social media as a behavioral medicine professional? In addition to engaging in events like a Twitter chat, social media offers many opportunities to an individual professional. As a user, you can choose to follow or "friend" others with similar interests or expertise; this can enable professional networking, staying informed about the latest published research, and promoting your own work. Recent findings show an increase in downloads and citations of manuscripts shared via social media.2
With respect to research capabilities, social media can be used to target specific groups for recruitment into studies (e.g., focus groups, surveys, interventions) or to deliver health behavior interventions remotely. Because these processes differ via social media (vs. traditional methods) and their ethical implications are distinct, BIT SIG is offering several opportunities to learn from experts in these areas. At the SBM 2017 annual meeting, the BIT SIG and Health Decision-Making SIGs co-sponsored a pre-conference workshop titled "Using Social Media for Research," featuring presentations by Dr. Lisa Carter-Harris (recruitment), Dr. Sherry Pagoto (intervention), and Dr. Camille Nebeker (ethics). As follow-ups, the BIT and Theories & Techniques of Behavior Change Interventions SIGs will offer the following learning opportunities this year:
Fall and winter webinars on recruitment and intervention via social media, featuring Drs. Lisa Carter-Harris and Sherry Pagoto
A 2018 pre-conference workshop on designing and delivering interventions via social media, featuring Dr. Brie Turner-McGrievy
Stay tuned for more information about both of these opportunities!
Doesn't it take a lot of time and energy that you could be spending on other aspects of your behavioral medicine work? Yes, it does take time to cultivate a social media presence, learn whom to follow/friend, grow a network, and learn how to harness your network for research or clinical purposes. But as a user, you can engage as much or as little as you prefer and curate a feed that provides updates on your professional interests. And if you want to save time, get started by following SBM (@BehavioralMed) and the BIT SIG (@SBMDigitalHlth) on Twitter for all things #digitalhealth. Another tool that SBM offers for SIGs who want to have a social media presence is the use of the SBM Twitter, @BehavioralMed, to host a Twitter chat like the one mentioned above or live tweet an event. For more information on how you can leverage SBM's social media, contact Lindsay Bullock, lbullock@sbm.org.
References
Pew Research Center: http://www.pewinternet.org/2016/11/11/social-media-update-2016/
Erdt et al. (2017): http://journals.plos.org/plosone/article?id=10.1371/journal.pone.0183217
Board Notes: How Can SBM Make a Wider Impact and Stay Connected With Members?
Elva Arredondo, PhD, Board Member Delegate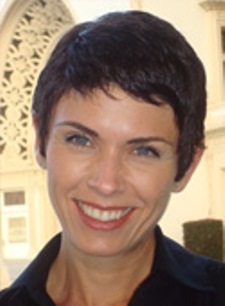 As most of our membership knows, the Society of Behavioral Medicine (SBM) has initiated social media-based outreach to its members via LinkedIn and Twitter, but there is a greater need to reach a wider audience with our information. Much of the science shared with our members at SBM is currently not accessible to the wider audience, including policy makers, both because of paywalls and because the content isn't packaged in an easily digestible format. Our social media efforts were our first step at addressing both, but we are looking to do more.
Podcasting has the potential to reach large numbers of people who are interested in learning new topics or deepening their knowledge of a particular topic. Podcasts make the information readily accessible, on virtually any device, to anyone. As fans of Serial know, podcasts can highlight topics that may not otherwise be getting media attention and will provide opportunities to go deeper than a headline, making information accessible. All this, while the listener learns in a casual and fun manner from the conversation that occurs in the podcast.
Dr. Kate Wolin is leading this initiative and will be hosting the podcasts. Dr. Wolin will interview researchers, patients, commercial partners, and health providers about topics related to behavioral medicine. The discussions during the podcasts would not only offer an opportunity to share information about particular health topics, but also go beyond the science to understand the people and stories behind the science. SBM will have a landing page for the podcasts with links to past episodes, previews of future episodes, and a path to submit new ideas.
Think you might be the next Alex Blumberg or Sarah Koenig? Feel free to reach out to Kate with your ideas and interests in helping - the more specific the better. She does actually want to know how you felt when Sampler was cancelled, your favorite Matt Lieber Is… and which CYG host is your favorite. Please stay tuned and they are scheduled to begin winter 2017/2018.
Another exciting new initiative that will make our science more accessible to a wider audience and increase SBM's impact is through the upcoming webinars titled "Behavioral Change Grand Rounds: An SBM Webinar Series" which will be held the first and third Thursday of the month. Topics are going to highlight collaborative efforts with professional liaisons and promote content that will be presented at the Annual Meeting. Examples of webinars include topics of recently released policy briefs (e.g., Pain, enacting taxes on sugary drinks) and conversations with Keynote Speakers for the 2018 SBM conference. Through the podcasts and webinars that will begin this coming year, the larger community will benefit from the innovative and meaningful science that our members are conducting.
OBBI SIG Talks with Daniel Almirall about Experimental Designs for Adaptive Interventions
Ahnalee Brincks, PhD, Optimization of Behavioral and Biobehavioral Interventions Special Interest Group (OBBI SIG) Communication Chair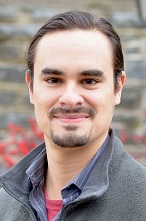 Daniel Almirall
The Optimization of Behavioral and Biobehavioral Interventions Special Interest Group (OBBI SIG) recently interviewed Daniel Almirall, Ph.D., Associate Professor in the University of Michigan Institute for Social Research. Dr. Almirall is a leading statistician in the area of experimental design for adaptive interventions, with an emphasis in sequential multiple assignment randomized trials (SMARTs). He is currently co-PI on a 5-year R01 from the National Institutes of Health focused on the development of analysis methods for repeated outcome measures arising from a SMART.
OBBI SIG: On your website you describe adaptive interventions as "sequences of individually tailored decision rules that specify whether, how, and when to alter the intensity, type, or delivery of treatment at critical decision points in the medical care process." How did you become interested in adaptive interventions?
Dr. Almirall: When I was a doctoral student (2000-2007), behavioral medicine scientists were just starting to talk about adaptive interventions. I was working on a special case of these involving predetermined sequences of treatments, but I knew that it was unlikely we would know what sequence of interventions was best for a person using baseline characteristics alone. What I really wanted to be doing was research on adaptive interventions, in which intervention decisions could change based on the changing characteristics/context of the participant. After finishing my PhD, I accepted a position at Duke University as an assistant professor of biostatistics. Ultimately, I left that job to devote 100 percent of my time to developing expertise in adaptive interventions through an advanced post-doctoral training experience at the University of Michigan. The past seven years in this research area have been really fun.
OBBI SIG: You have been involved in the design and implementation of numerous SMARTs across a range of behavioral interventions. What do you see as essential to the success of a SMART study?
Dr. Almirall: My answer to this question may surprise you because it is not specific to SMART. I think there are two things that are essential to the success of any trial about adaptive interventions. The first, which is most important, is whether there is a strong rationale for the study design. Here, I feel strongly that the scientific questions should drive everything, including whether to use a SMART design at all. Second, it is critical to understand the distinction between adaptive intervention design (i.e., what we do when we have our clinician hats on) and study design (i.e., what we do when we have our scientist hats on). It is surprising to me how often these two ideas are mixed up. For example, as part of the adaptive intervention, it is important to have a plan for preventing or addressing treatment drop-out (e.g., what will you do if your participant doesn't show up to the clinic, including failing to provide information needed to determine response or non-response?); and it is important to have a separate plan—this one is part of the study design not the adaptive intervention design—for preventing or addressing study drop-out (e.g., to obtain research outcomes regardless of treatment drop-out). This distinction is critical to the success of any behavioral intervention trial (SMART or not).
OBBI SIG: What would you recommend to an investigator who is interested in learning more about adaptive interventions and related experimental designs?
Dr. Almirall: We now have numerous manuscripts in the literature that define adaptive interventions and how they help guide clinical practice, and that is the first thing a new investigator should understand. The second step is to determine the scientific questions that need to be addressed regarding adaptive interventions in the investigator's scientific area. Then, she or he should develop an understanding of the various experimental designs that can be used to optimize an adaptive intervention. One is a SMART, but there are others. I am currently finishing a chapter for Linda Collins' forthcoming book (more information here) that discusses three types of experimental designs available for adaptive interventions.
OBBI SIG: What are you most excited about in your current research?
Dr. Almirall: I am currently very excited about trial designs for optimizing 'multilevel adaptive interventions', specifically cluster-randomized SMARTs. A few years ago, my colleague Amy Kilbourne and I designed the first-ever cluster-randomized SMART to learn how best to intervene adaptively with community-based mental health clinics to encourage them to adopt evidence-based practices for mood disorders. The intervention target was the clinic, and if the clinic was not showing change after six months, an alternate intervention was offered. This led us to think about how to design a SMART where clinics were randomized and re-randomized; yet with outcomes at the patient level. This first study was just the tip of the methodological iceberg: behavioral intervention scientists likely will be interested in studies that address scientific questions about how best to adapt intervention based on both clinic and patient levels (e.g., hybrid type-2 implementation study designs). Currently, there is no methodological work in this area. I am extremely excited about working out the design and statistical methods that will lead to better science in this area.
No More Hunting for Measures: SOBC's Online Registry Makes Measures of Behavior Change Mechanisms Accessible to Everyone
This August, the National Institutes of Health (NIH) Science of Behavior Change (SOBC) program launched a Web-based measures repository for key behavior change mechanisms. This repository on the SOBC website is a unique resource that offers a way to advance, and engage with, behavioral science research through a common, systematic, and transparent method.
Supported by the NIH Common Fund, SOBC seeks to improve the understanding of mechanisms underlying human behavior change by applying an experimental medicine approach to behavior change research. By using this common method, researchers aim to reveal how and why people make and sustain healthy behaviors, which will inform the development of more reliable, efficient, and effective behavioral interventions.
Research funded during stage one of SOBC (2009-14) identified three broad classes of intervention targets that are highly relevant to the mechanisms underlying behavior change: self-regulation; stress reactivity and stress resilience; and interpersonal and social processes. This aided the development of a reliable and valid way to measure engaged targets through experimental manipulation or interventions. This measurement focus has been the foundation for the current stage two phase of the SOBC Research Network (2015-present).
Initial findings from stage one have informed the population of the aforementioned repository. An essential and unique feature of the repository is the documentation of a measure's status through the three steps of the SOBC experimental medicine approach: (1) identify, (2) measure, and (3) influence. First, researchers identify a hypothesized mechanism that may drive behavior change. Next, they develop valid measures of the target mechanism. Researchers then influence the target mechanism with experimental methods. Measures are ultimately validated or not validated based on whether a change in a measure relates to a change in behavior.
"Knowing why a behavior change intervention didn't work is actually just as important as knowing why it did," said Dr. Donald Edmondson, Associate Professor of Behavioral Medicine and co-principal investigator of the SOBC Research Network located at Columbia University Medical Center. "What we are interested in is uncovering the underlying mechanisms of behavior change. If we can do that, then we can begin to reliably affect change across different behaviors because we'll know which mechanisms we need to influence."
At the foundation of this repository, SOBC is embracing open science and ensuring rigor, reproducibility, and transparency. Each step of the validation process is documented along with the measures that are posted. For example, Dr. Richard Heyman and Dr. Amy Slep document the validation steps for the Couple Coercion Scale, a nine-item self-report scale that assesses an individual's perception of how much coercion characterizes their relationship with their partner.
You can get involved by contacting SOBC directly or by subscribing to the SOBC newsletter. This is a great way to learn more about funding opportunities, job postings, and developments within the SOBC Research Network. To learn more, please visit the SOBC website.
How and Why Are Biomarkers Relevant in Research on Complementary and Integrative Health? An Interview With an Expert in Biobehavioral Research
Patricia Kinser, PhD, WHNP-BC, RN, Complementary and Integrative Medicine Special Interest Group (CIM SIG)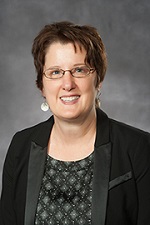 Interest in complementary and integrative health (CIH) research has increased exponentially in recent years. Further, researchers have recognized the importance of using objective measures to determine mechanisms of action and effects of interventions. In response to readers' requests for content from experts in the field, we have interviewed an expert in biobehavioral research, Theresa Swift-Scanlan, PhD, RN, to talk about her views on the role of biomarkers in CIH research. Dr. Swift-Scanlan is a senior scientist at the Virginia Commonwealth University School of Nursing, where she is the Director of the Biobehavioral Research Lab and the Ellen Fontaine Winston Distinguished Professor.
CIM SIG: Can you tell me why you became interested in biobehavioral research and biomarkers?
Dr. Swift-Scanlan: I began my career as an environmental scientist/molecular biologist and pursued nursing as a second career. What attracted me to the science and practice of nursing was its holistic emphasis on considering individual health within the context of one's environment. Therefore, it was natural for me to segue into conducting biobehavioral research by incorporating measures at the biological/cellular level ("biomarkers"), with clinical, psychological, behavioral, and environmental "exposures" of interest.
CIM SIG: Is biobehavioral research relevant for all disciplines?
Dr. Swift-Scanlan: Biobehavioral research is appealing because, by necessity, it involves synergistically working with multiple disciplines to address the complex interplay of varied influences on health states.
CIM SIG: What is your current research focus?
Dr. Swift-Scanlan: My current research focuses on the identification of genetic and epigenetic markers to improve risk assessment for complex illnesses such as breast cancer and neurodegenerative disorders. I am particularly motivated to understand how such markers can be utilized in the clinical setting to guide prevention, treatment, and/or behavioral interventions to improve health outcomes.
CIM SIG: Why are biomarkers important for inclusion in CIH intervention research?
Dr. Swift-Scanlan: First let me say that I don't believe biomarkers should be compulsory or required for intervention research. However, for those that have the yen and the interest, biomarkers can have multiple advantages simultaneously. For example, biomarkers can serve important roles in early detection and risk prediction, as surrogate indictors of health states, but also as targets for individualized interventions. Additionally, they are often more feasible in terms of timeliness and cost to measure than "true" endpoints or final outcomes.
CIM SIG: What advice would you give to a researcher who is embarking on CIH research and hopes to integrate biomarkers into the study design?
Dr. Swift-Scanlan: Here are my recommendations:
Critically scan the literature to identify biomarkers that have been associated with your population and health state of interest. Are there gaps in our understanding of the role of specific biomarkers? If so, you have the opportunity to shape your study design to address important gaps, and thus make invaluable contributions in your field.

If you are new to biomarker research, the jargon and mechanics of biological and molecular measures can initially be intimidating, and diving into the literature on cytokines, psychoneuroimmune pathways, genetics, epigenetics or various "omics" studies may be a little overwhelming. I recommend actively engaging with resources available through academic settings, professional organizations and meetings, and colleagues in other disciplines with expertise in biomarker research. For example, most academic settings support both didactic "hands on" training and experiences with molecular, cellular and physiologic assays as well as analysis. Additionally, NIH has wonderfully informative, educational modules on all aspects of cell biology and genetics.

"You don't have do it alone:" I can't emphasize enough the necessity of forming collaborative relationships with colleagues from other disciplines. It is not uncommon for successful biobehavioral researchers to have collaborative teams with wide-ranging expertise in nursing, medicine, epidemiology, epigenetics, molecular methods, nanoscience, pharmacogenomics, bioinformatics, or statistics.
Recent Findings Highlight new Directions for Researchers in Multi-Morbidity
Jerry Suls, PhD, Multi-Morbidities Special Interest Group (SIG) Chair; Matthew B. Howren, PhD, MPH, Multi-Morbidities SIG Co-chair.
The Multi-morbidities SIG tries to keep its members and the general membership of the Society of Behavioral Medicine informed of the most recent scientific developments in the study of multi-morbidity. This column highlights two recent research programs with strong implications for behavioral medicine research and practice.
Mental Disorders and Subsequent Physical Conditions
Although it has long been known that mental disorders in treatment settings are associated with a higher incidence of chronic physical conditions, whether this is the case in community settings was unknown. To address this gap, Scott et al. (JAMA 2016) published the results from 18 cross-sectional World Mental Health surveys of community-dwelling adults living in 17 countries (47,609 individuals) from January 1, 2001 to December 31, 2011.
Even after adjusting for age, sex, country, smoking and education level, all mental disorder categories, including depression, anxiety disorders and substance abuse, were associated with later physical outcome conditions; chronic lung disease had the highest Odds Ratio (1.70), cancer had the lowest (1.2), and anxiety disorder fell in the middle (1.6) When statistical analyses adjusted for mental disorder co-morbidity (e.g., depression and anxiety), the associations were reduced by about half - suggesting that subsequent physical conditions are more likely if people experience multiple mental problems over the life course. Increasing number of mental disorders over the life-span predicted the subsequent onset and diagnosis of chronic physical conditions.
Scott et al. (2016) conclude that, "…treatment of all mental disorders should optimally incorporate attention to physical health and health behaviors, with this parallel focus on physical health beginning as early in the course of mental disorder as possible," (p. 157). Also, mental health-physical comorbidity might be better addressed by focusing on the physical health of those with mental disorders rather than current approaches focusing on the mental health of those with chronic physical conditions. This suggestion deserves consideration from the behavioral medicine community, especially those interested in the burdens carried by patients with both primary medical and mental disorders.
Multi-morbidity, Functional Limitations and Geriatric Syndromes
The conventional epidemiological measurement of multi-morbidity relies on disease counts extracted from administrative data, etc. However, Koroukian et al (2015) argue this approach equates multi-morbidity with multiple chronic conditions; researchers should move beyond the traditional approach because most health conditions are multifactorial. Multi-morbidity should be redefined to include the co-occurrence of chronic conditions, functional limitations, and geriatric syndromes. The later two constructs are important because they recognize clinical conditions in older persons that do not fit into discrete disease categories and are strongly associated with disability. We would add that incorporating limitations and syndromes into the definition of multi-morbidity is more in keeping with the intents of behavior medicine Of course, functional limitations are usually considered as outcomes of a medical condition, not a condition in and of itself. Koroukian propose that whether and how a medical condition produces concrete consequences for daily living may be just, if not more, important for understanding long-term health outcomes.
Using data of U.S. adults aged 50 years or older from the longitudinal US Health and Retirement Study, Koroukian et al (2016) tested whether the relative contributions of self-reported fair/poor health, self-reported chronic conditions, functional limitations, and geriatric syndromes to the prediction of self-rated worse health at 2 years, and 2-year mortality. Chronic conditions were identified by whether the respondents was ever told by a physician that they had any medical (conditions) (e.g., heart disease, lung disease, diabetes, stroke, arthritis, cancer, or psychiatric conditions). For functional limitations, the respondent was asked to report difficulties with specific tasks (e.g., pulling/pushing a large object, picking up a dime, walking one block, preparing meals). Geriatric syndrome was assessed by older persons via a series of questions about visual and hearing impairment, depressive symptoms, urinary incontinence; low cognitive performance; persistent dizziness or; severe pain. Analyses using a novel machine-learning method identified combinations of predictors associated with health outcomes. The most important "splitting" variables were age, functional limitations, and geriatric syndromes, rather than chronic conditions. Hence, functional limitations and geriatric syndromes appeared to drive health outcomes in older individuals.
This study's results highlight the importance of characterizing multi-morbidity in broader terms with general symptoms (rather than disease-specific) and limitations also being critical for identifying subgroups that are most vulnerable to experience adverse outcomes. Whether functional limitations and geriatric syndrome consistently predict future mortality better than occurrence of medical conditions needs further study. In addition to these "lessons," Kourukian's research illustrates how the US Health and Retirement Study (available to all researchers) can serve as a valuable resource to explore questions relating to multi-morbidity.
References
Koroukian SM, Warner DF, Owusu C, Given CW. Multimorbidity Redefined: Prospective Health Outcomes and the Cumulative Effect of Co-Occurring Conditions. Prev Chronic Dis 2015;12:140478. DOI: http://dx.doi.org/10.5888/pcd12.140478
Koroukian, SM, Schiltz, N., Warner, DF, Sun, J., Bakaki, PM, Smyth, KA, Stange, KC, & Given, CW. Combinations of Chronic Conditions, Functional Limitations, and Geriatric Syndromes that Predict Health Outcomes. J Gen Intern Med 31(6):630–7 DOI: 10.1007/s11606-016-3590-9
Scott KM, Lim C, Al-Hamzawi A, et al. Association of mental disorders with subsequent chronic physical conditions. JAMA Psychiatry. 2016; 73(2):150-158.
SBM's Journals are Moving to a new Publisher: Oxford University Press
David E. Conroy, PhD, Publications and Communications Council Chair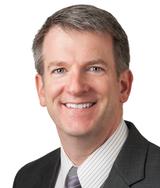 As your Society of Behavioral Medicine (SBM) Publications and Communications Council chair, I am thrilled to announce, on behalf of the Board of Directors, that after 10 years successful partnership with Springer Nature as publisher of SBM's two outstanding journals, Annals of Behavioral Medicine and Translational Behavioral Medicine, SBM is moving to Oxford University Press as our journal publisher.
Annals of Behavioral Medicine (Annals) is currently completing its 51st volume and is a longstanding flagship journal for the field. It has published some of the most cited and rigorous science in behavioral medicine. Translational Behavioral Medicine (TBM) is newer—in its 7th volume—and provides a unique venue for connecting practice, policy, and research. It was recently accepted for indexing in PubMed/Medline and received an impressive impact factor. Both journals are vibrant, healthy outlets for scholarship in behavioral medicine.
The decision to explore other publishers, prompted by the scheduled end of our contract with Springer in December 2017, was not undertaken lightly by the SBM leadership, especially given our long and successful partnership with Springer.
Last year in preparation for our next contract negotiation, the Board of Directors and both journal's editors discussed aspirations for the journals. Some of the goals that rose to the top in this discussion:
securing wide international distribution to increase SBM's prestige and influence;
increasing penetration in non-traditional and non-member markets, including the policymakers, industry, and media;
developing an innovative digital presence with a better interface between the journals and more interactivity with authors and readers;
creating heightened discovery, branding, and content marketing; and, most of all,
attracting the best science and scholarship in behavioral medicine.
With those goals in mind, we wrote the request for proposals for our next contract. This request was sent to Springer and other major academic publishing companies. Several top publishers submitted bids and we invited finalists to present to a subcommittee of the SBM Board and the journal editors before our Annual Meeting in San Diego, CA, last year. After clarifying questions from the proposals and doing due diligence on each company, the subcommittee formulated their evaluation and recommended that SBM select Oxford University Press as our next publishing partner, beginning January 2018.
Oxford University Press has a distinguished history, and our journals are joining a selective portfolio of prestigious journals. Figure 1 shows some of the Oxford University Press journals that may be familiar to SBM members. We will be in good company and well-positioned to achieve our goals.
Members will begin to see some changes to the journals in the weeks and months ahead with the most immediate signs of change involving each journal's cover and website. In time, authors will have new opportunities for communicating their findings and increasing their impact.
The success of the Annals and TBM has been the product of efforts from our publisher, editors, and authors alike. We are grateful for all of the efforts by Springer, and especially Janice Stern and Bill Tucker, to ensure the health and success of our journals to date.
And as we look ahead, we are excited about the bright future of the journals in our new partnership with Oxford University Press.
SBM, Springer, and Oxford University Press are working hard to make this transition as seamless as possible for authors, editors, and reviewers. We look forward to seeing you in New Orleans for the 2018 Annual Meeting, where you can meet our partners from Oxford University Press. In the meantime, the editors are eager to receive your best work so please make Annals and TBM your first choices for disseminating your work!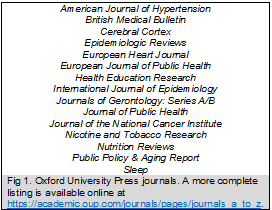 Distance Mentoring to Develop a Program of Research
Claudio R. Nigg, PhD, Multiple Health Behavior Change Special Interest Group (MHBC SIG) Co-Chair; Xiaomeng (Mona) Xu; Jayson J. Spas, PhD, MS, MHBC SIG Chair
Background
Early career scientists face numerous challenges to establishing themselves within their respective fields. These difficulties include establishing a programmatic line of research, securing extramural funding, conducting quality studies, presenting and publishing data, networking, and work-life balance. To mitigate and perhaps help prevent these difficulties, early career scientists should foster academic connections and encourage the formation and maintenance of high quality mentoring relationships. This does not have to be at the same institution. We present an example of a successful model of a distance mentor-protégé relationship that has led to the development of a mutually beneficial research program.
Developing the Relationship
Potential mentors with similar research interests were identified by the protégé via Vivo. The mentor (University of Hawai'i) and protégé (Idaho State University) had an initial phone call to discuss and come to a consensus on both short-term and long-term goals of the mentoring relationship, expectations for both sides, and frequency of contact. Following this arrangement, the mentor and protégé had monthly phone meetings (with more meetings, when necessary) in addition to email exchanges on an as-needed basis. With the mentor's input, the protégé kept track of monthly meetings including issues that were discussed, goals that were set, progress reports, and the agreed upon tasks to be completed before the next meeting. The mentor and protégé also collaboratively created a schedule of deadlines for the protégé's goals, which included conference presentations, manuscripts, and National Institutes of Health (NIH) grant proposals. The mentor offered advice on the protégé's research program, strategies for making submissions more competitive, and assisted as an editor and was often co-author on submissions. In-person meetings also occurred: once when the mentor visited the protégé's institution to assist with the first grant proposal (funded by a pilot grant the protégé received from the Mountain West Clinical Translational Research – Infrastructure Network (MW CTR-IN) and NIGMS), and several times thereafter during relevant conferences (including the Society of Behavioral Medicine (SBM) and MW CTR-IN). Figure 1 summarizes the key components of the mentoring relationship.
Outcomes
The utilization of this mentoring process created a productive and ongoing collaborative relationship that led to the establishment of a productive research program. This includes poster and symposium presentations (at SBM Annual Meetings), two other conference presentations (at the CTR-IN Conference), several manuscripts (1 accepted and several currently under review or in preparation), as well as additional collaborations with other researchers and the protégé facilitated by the mentor, two grant NIH proposals (R21 and R15), and plans for future collaborations. The overarching goal is to develop a fundable sustained program of research contributing to the knowledgebase in our fields. Conclusion: Mentor-protégé relationships are important and can provide vital support that enhances the career trajectory of the protégé while also being rewarding for the mentor. These relationships do not have to be location specific. Regular check-ins and open communication of progress, goals, expectations, along with a big picture understanding are necessary for establishing a productive research program that is mutually beneficial for both the protégé and the mentor.
Figure 1: A Mentoring Process Model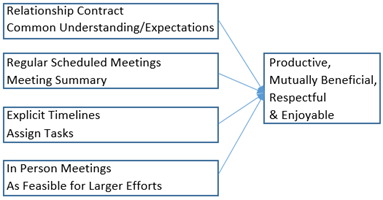 A Population Researcher's Take on Failure, Persistence and His Current Endeavors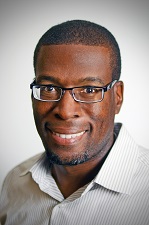 The following is an interview with Robert L. Newton Jr., PhD, an associate professor in the Physical Activity and Ethnic Minority Health Laboratory at LSU's Pennington Biomedical Research Center in Baton Rouge, Louisiana. Much of his work focuses on physical activity promotion and community-based interventions
What populations are you working on reaching, and what sorts of interventions are you using to improve the health of people in your community?
Dr. Newton: My work addresses health disparities in African American adults and children. Baton Rouge is about 55 percent African American so I've been able to connect with lots of members of the community to develop and assess programs aimed at improving health in that population. In Louisiana, we have the highest rate of obesity in the nation at 36 percent of adults, while one in two kids is considered overweight and obese, so my interventions are intended to be easily translatable into the community. Right now my Program for African American Cognition and Exercise (PAACE) research study is working to evaluate whether a physical activity program can reduce the risk of Alzheimer's disease in African Americans. We'll recruit sedentary adults between the ages of 65 and 85 who are currently sedentary and will assess whether a physical activity program can improve cognition in terms of attention, memory, executive control and processing speed.
Through my Mobile Men research study, I'm working to learn how African American men feel about using a mobile phone app to assist in maintaining their physical activity habits. I'm looking to learn whether regular exercise reminders and tips delivered through smartphones actually work—and how well—so we can develop tailored smartphone apps in the future that will better help this population stay physically active and avoid chronic diseases like diabetes and heart disease, which we know that African Americans are more at risk for.
I'm also working with local churches to deliver a weight loss intervention that integrates technology (text messages) to encourage church members to stick with the weight loss plan. It operates at the intersection of community and health in that we have members of the church who may have a health background delivering the intervention to their fellow church members. They meet regularly to weigh in on progress, learn behavior strategies and keep each other accountable. Even with the massive floods of last August that decimated the homes of thousands of people in the area, I've found that we have had a great adherence rate to this program.
What were the challenges you faced when you decided that your scientific focus would be on health disparities in minority populations—and how have you overcome them?
Dr. Newton: When I was an undergraduate and thinking about a research career, I was told that I couldn't do ethnic and minority research and that I had to be broader with my science. But I decided that I wasn't going to totally eliminate what I wanted to do, my passion, so I stuck with it. Don Williamson was an early mentor of mine when I first arrived at Pennington Biomedical in Baton Rouge. I distinctly remember one piece of advice he gave me. He said, "No is not an acceptable answer." What he meant was that you have to learn to overcome obstacles that are in your way. You have to think outside the box and not rely on traditional systems or ways of thinking. You have got to be creative in problem-solving. For example, when I designed the ARTIIS study (a randomized, controlled exercise training program on insulin sensitivity in African American men), I knew that this study would be more successful if we were asking participants to exercise in their own neighborhoods instead of fighting traffic to get to our center. It was initially a challenge to find a local partner organization to work with us because there were some paperwork barriers, but instead of tossing the idea out the window, I kept pushing. Eventually, I found a great local organization – the YMCA – who partnered with us and helped us tremendously with the study. In short, you just can't accept the answer you're given—you have to find ways to make things happen, no matter how tough they may seem at first. It's not always been easy, but that persistence that Don described has really helped me to overcome hurdles through the years.
What advice do you have for early career scientists who are seeking funding for population research?
Dr. Newton: No matter how early it is in your career, you probably know by now that it's gotten a lot more difficult in recent decades to get a grant. When I first started my career, the paylines were about the 25th percentile and now they are around the 10th. Funding is really competitive, and I have to be honest—it never gets any easier to see that your grant was denied. What I've found is that you have to be optimistic because if you're not, you're going to miss some really great opportunities. If you want to do good science, you're going to take the parts of the reviews that you can learn from and use them instead of taking offense to reviewers' comments. Over the years, I've learned that after you read the initial review, sometimes taking some time off can be tremendously helpful, whether it's a week or two weeks or a month working on something else—or taking a vacation! After a little time, I always come back to it re-invigorated and ready to take on the grant again with renewed energy.
What lessons have you learned that apply to your involvement with SBM?
Dr. Newton: Be persistent. We do this naturally as scientists. We reapply for grants that were unfunded and we resubmit manuscripts that were rejected. So I originally applied to be a co-chair of the the Ethnic Minority and Multicultural Health Special Interest Group (EMMH SIG) in 2015 and was denied. I was also denied a spot in the inaugural Leadership Academy. However, I reapplied in 2016 for EMMH SIG Co-chair and I was voted in. I kept my application available for the Leadership Academy and was accepted in the 2nd class.
Be open to new opportunities. A few years ago I gave a presentation on recruiting African American adults into clinical studies as part of our Work In Progress series at Pennington. A colleague of mine came up to me after and asked me if I was interested in conducting dementia research with African Americans. Prior to this, I had not conducted a single study involving an older population or one involving dementia. However, I took this as an opportunity to broaden my horizons. Although our collaboration has moved slowly largely due to other commitments on my end, we were recently were funded to conduct the PAACE study. Related to the Society of Behavioral Medicine (SBM), I had not really thought about serving in an administrative role prior to applying to be co-chair of the EMMH SIG. But I was open to this opportunity when it became available. That resulted in greater opportunities within the SBM SIG organization as well, and now I am part of the Program Committee for the Annual Meeting and recently accepted a position on the Nominating Committee. I hope that more opportunities will arise within SBM in the future that I'm sure I'll accept, and I'd encourage everyone to be open to these opportunities as well.
Guidance for Mid-Career Behavioral Medicine professionals: Staying Productive and Creative Amidst Career Challenges, Transitions, and Advancements
Amy G. Huebschmann, MD, MS, Education Training and Career Development (ETCD) Council chair
Welcome to the second "ETCD Council corner" segment. In each issue of Outlook, look to the ETCD Council corner for information related to our mission, which is to provide Society of Behavioral Medicine (SBM) members with opportunities and support to enhance their training and career development throughout all phases of their careers in behavioral medicine. The focus of this ETCD Corner segment is on mid-career professionals (researchers, teachers, and clinicians). At the SBM 2017 annual meeting, Dr. Karen Oliver of the ETCD council chaired a panel with co-sponsorship from the Cancer Special Interest Group (SIG) and the Health Decision Making SIG to discuss strategies to maintain productivity and creativity during the mid-career phase. Below is my interview with the panelists to share their insights with our SBM community. In addition, the ETCD council would like to highlight that Dr. Oliver is one of the SBM consultants available to consult with SBM members on career development concerns as well as research methods questions. Feel free to seek out a SBM consultant who could help you with these types of questions.
Panelists:
Karen Oliver, PhD, Clinical Associate Professor/Health Behavior Coordinator, Brown Alpert Medical School/Providence VA Medical Center, ETCD Council member
Christine Rini, PhD, Director, Cancer Prevention and Control, John Theurer Cancer Center
Catherine Alfano, PhD, Vice President Survivorship, American Cancer Society, Inc.
ETCD: Your session title at SBM's 2017 Annual Meeting suggests that mid-career challenges may include career transitions and advancements. What do you find are the specific barriers that often challenge mid-career faculty's time to be productive? Are there different barriers that challenge faculty's ability to be creative and motivated/engaged, as compared to barriers to productivity, or do you see that they are the same?
Dr. Oliver: Productivity is not always easy to define. Workplace productivity includes meeting the expectations of the position, and those may not be directly aligned with one's motivation or creative work. Workplace expectations (meeting performance measures, grant deadlines, etc.) are often the least creative part of a position, and the most tied to burnout/lack of motivation.
Dr. Rini: I think the barriers may be different, although that may be mainly because productivity is directly rewarded in the workplace. Prioritizing activities related to productivity is necessary for career advancement and thus more likely to occur naturally for most of us. That is not the case for staying creative and motivated/engaged—challenges that must be tackled more privately. In my opinion, another challenge is that we don't always know what our next steps will be as a mid-career professional. What opportunities are available? Of those opportunities, which will lead to a more gratifying career? There are a number of possible directions and little guidance for discovering them and selecting among them. It's hard to know where to target our goals and efforts without mentoring and advice, which are more readily available to early career professionals than to mid-career professionals.
Dr. Alfano: We all know that having multiple demands on our time (from research, teaching, grants, home, relationships, etc.) makes us feel crazed and rushed. While it is possible to increase your productivity by being organized and focused even while juggling so much, this situation is not conducive to creative thought. We have to set up conditions in our lives that make us creative but those conditions (e.g., taking time away from work, playing more, etc.) might make us feel like we are being less productive. I feel strongly that in the end, taking time away to develop creative ideas will pay big dividends at work and make me a happier person, but that is a tough sell for some people.
ETCD: In your experience, how can faculty sidestep these barriers? Specifically, are the strategies the same or different to maintain productivity and creativity, respectively?
Dr. Oliver: I think that attempting to align workplace productivity goals with personal career goals/interests as much as possible is generally the best approach, but this is not always easy to do, and it is dependent on the work environment, leadership, and position expectations. It is important to find mentorship from someone with a similar career path to help identify and work around barriers. I also can't stress enough the importance of work-life balance and taking time away from the workplace through vacations and hobbies as a way to recharge and reconnect with one's creative self.
Dr. Rini: Some people build in protected time to work on projects that are particularly exciting to them—for instance, dedicating morning hours to writing. I've found that to be challenging, although it's a good idea. For me and others I've spoken with, interacting with colleagues is critical for maintaining motivation and creativity. As a researcher, that's one reason I enjoy team science. Also, I pursue opportunities to learn about others' work and I try to stay up to date with new developments in the field. Regarding potential new career directions and their implications, I believe there is no better way to learn about them than to talk with colleagues. Keep an eye open for people in positions that seem interesting or people whose career trajectory is intriguing. They are often happy to share their insights and experiences.
Dr. Alfano: I think budgeting even small amounts of protected time (with no multi-tasking) daily toward your top priority projects progress make you more productive—but this is a 2-stage process of prioritizing your work then budgeting time in your schedule for it. To stimulate creativity, I also advocate for time not thinking about the project to get your brain thinking creatively . Prioritizing recharging (workouts, healthy diet, sleep hygiene, daily meditation practice) helps stimulate creativity, as does time spent "playing" (e.g. in music, reading for fun, athletics, games, cooking, brainstorming with colleagues, etc., that can lead to "aha" moments for your work).
ETCD Do you think that these mid-career issues are different for research-focused faculty as compared to teaching/clinically-focused faculty?
Dr. Oliver: I think there is similarity in terms of trying to define one's career path and goals in the mid-career phase, and the difficulties with finding mentorship later in your career, finding opportunities for growth, staying motivated, advancing academically, and learning to become a leader. However, I think the specific measurements of productivity are different (e.g., clinical revenue vs. grants/publications), and may present different types of barriers across differing positions.
Dr. Rini: As a researcher, it's difficult for me to thoughtfully discuss mid-career issues faced by colleagues in teaching or clinically-focused roles. That's why I was interested in being involved in the panel on mid-career challenges at SBM's 2017 Annual Meeting. I think there is a great need for more—and richer—resources related to mid-career issues.
Dr. Alfano: It seems to me that the factors that contribute to mid-career difficulties might differ depending on your work role and specific situations. However, after listening to my colleagues' mid-career challenges in the panel at SBM's 2017 Annual Meeting, it seems like the sequelae of those issues contribute to similar mid-career angst among most people and the strategies to maintain creativity and productivity are fairly similar across job types.
The Growing Impact of the Health Policy Committee
Joanna Buscemi, Ph.D., Health Policy Committee (HPC) Chair
"Extending our Reach"
The goal of the HPC is to identify and create opportunities for health policy briefs, to review and approve brief drafts for review/approval by the Executive Committee, and to disseminate the briefs widely in collaboration with partner organizations.
Newly Released Health Policy Briefs
Since the 2017 Annual Meeting in San Diego, the HPC has released two new briefs. The first addresses policies to reduce smoking disparities for gender and sexual minorities and involved several partnering organizations such as The African American Tobacco Control Leadership Council, LGBT Health Link, the National LGBT Cancer Network, the Gay and Lesbian Medical Association, The American Academy of Nursing, Northwestern's Institute for Sexual and Gender Minority Health and Wellbeing, Pride Action Tank, and Howard Brown Health. The other brief calls for increased funding for the NIH Office of Behavioral and Social Sciences Research. The Consortium of Social Science Associations co-sponsored this brief, and the American Psychological Association, the Society for Health Psychology, the American Anthropological Association, the American Association of Geographers, and the American Sociological Association endorsed our statement.
Upcoming Health Policy Briefs
The HPC is currently working on several health policy briefs in the following areas:
Rural health
Oral cancer prevention
Prostate cancer screening
Increasing fruit/vegetable production allocations in the reauthorization of the Farm Bill
Push back school start times
Opioid misuse prevention
Support of safety net programs for at risk youth
Authorship teams are currently revising their drafts for HPC feedback. Each team is engaging early career and senior members, relevant Special Interest Groups, and partner organizations. If you have expertise in these areas and would like to contribute, please contact the HPC Chair, Joanna Buscemi, at jbuscem2@depaul.edu.
Stay Tuned for Health Policy Webinars
The Health Policy Council, chaired by Marian Fitzgibbon, in collaboration with the HPC, is please to announce the start of our health policy webinar series. Our first webinar will occur on September 29th at 2pm EST and is entitled "How to Increase Research Impact Through Developing and Disseminating Health Policy Briefs: a Guide for SBM Members." Joanna Buscemi will lead this webinar and Marian Fitzgibbon and Sara Knight will moderate. Moving forward, we will use the webinar platform as another way of disseminating our briefs. We plan to have first authors present the content of the brief, and then have a more senior member serve as a discussant.
The Board's Visit to Capitol Hill
The Board will travel to Capitol Hill this November to meet with legislative aides to discuss issues that are central to SBM's mission. We will take our health policy briefs with us to share with the Staffers!
Thank you to our current members!
Joanna Buscemi, PhD (Chair)
Akilah J. Dulin Keita, PhD
Edwin B. Fisher, PhD
Marian L. Fitzgibbon, PhD
Amanda Blok, PhD, MSN, PHCNS-BC
Laura L. Hayman, RN, PhD, FAAN
Lisa M. Quintiliani, PhD, RD
Kenneth Tercyak, PhD
Dawn K. Wilson, PhD

SBM Keeps Breaking Membership Records – Why?
Monica L. Baskin, PhD, Membership Council member (past chair) and Board of Directors Member Delegate
The Society of Behavioral Medicine (SBM) just keeps breaking membership records.
We had a record-high 2,392 members in 2016. Then this year we passed that number in early July—with six months left to go in the membership year! As of early August, we have 2,419 members for 2017.
Why are our ranks growing? Well—besides the fact that there has never been a more critical time for behavioral medicine interventions to prevent disease, improve quality of life, and reduce healthcare costs—we know our SBM champions are getting more people to join. The Champions Program was created by the Membership Council in 2016, and it tasks specially selected SBM members with spreading the word about SBM at their institutions. In particular, one champion's institution saw SBM membership increase by 17 people from 2016 to 2017.
Strong Annual Meeting attendance is also driving the increase in membership. Many members join and renew to receive a discount on Annual Meeting registration, and we have seen record-high meeting attendance the last two years. Much praise goes to our recent Annual Meeting program chairs and Program Committee members, who make sure meeting sessions—and keynotes in particular—are engaging and feature the latest science.
The Annual Meeting is a particular deciding factor for new members who choose to join SBM. Of the 647 new members who have joined SBM so far this year, nearly half indicated they became a member to receive the meeting discount, and 87% actually attended the meeting.
Why else did those new members join?
| | |
| --- | --- |
| Why Did You Join SBM? (choose one) | Percent of 2017 New Members* |
| Annual Meeting registration discount | 49% |
| Research information/guidance | 22% |
| Networking | 21% |
| Journal subscriptions | 3% |
| Required for job or academic program | 2% |
| Other | 3% |
*Out of those who selected an answer. 284 new members left this field blank.
What else do we know about these new members?
Career level: 67% are students, and another 4% have graduated but are still early-career.
Profession: They work in more than 15 professions. Most are psychologists, public health professionals, nurses, epidemiologists, and physicians, but there are also anthropologists, dietitians, geneticists, health economists, pharmacists, physical therapists, and social workers.
Gender and race: They are more inclusive and diverse. Of those who indicated gender, 78% are women (compared to 51% of all members). Of those who indicated race, 14% are Hispanic/Latino (compared to 8% of all members), 11% are Asian (compared to 9% of all members), and 9% are black (compared to 8% of all members).
Location: They come from 47 U.S. states and nine countries: Australia, Canada, Cyprus, France, Ireland, Kazakhstan, Taiwan, the United Kingdom, and, of course, the United States.
Our increasing membership comes at a particularly critical time in our nation as the number of people covered by health insurance is increasing, the average lifespan continues to rise, and healthcare costs are on track to outpace GDP in the coming years. Now more than ever, the expertise of our membership is needed to advance the science, promote evidence-based practice and policy, and train the next generation of behavioral health practitioners. Our interdisciplinary membership is at the forefront of promoting the study of the interplay of behavior, biology, and the environment—and the application of that knowledge to improve the health and well-being of individuals, families, communities, and entire populations.
We're so glad these new members have joined us. They bolster SBM not just in terms of sheer numbers, but also in terms of breadth and depth. We're also glad that so many of our members renew year after year. Our retention rate is strong: 81% in 2016, and we bet it will be even higher this year. Thanks to our new and returning members for helping the society achieve better health through behavior change!
Health Decision Making 101
Aisha Langford, PhD Health Decision Making Special Interest Group (HDM SIG) Co-Chair; Kristen Riley, PhD, HDM SIG Student Liaison; and Megan Oser, PhD MPH, HDM SIG Chair
For those interested, or those wanting to pursue research in health decision making, we present definitions of decision making, seminal papers, relevant journals, and a snapshot of types of research HDM SIG members are exploring.
Definition of Health Decision Making
Broadly, health decision making is the cognitive and affective processes through which individuals make decisions about health behavior engagement, their risk for an illness, or their management of an illness across the medical and behavioral health spectrum. The Society of Behavioral Medicine's (SBM) HDM SIG has a special interest in understanding informed decision making by patients and the general population, shared decision making between patients and health professionals, and clinical decision making by health professionals.
Theories and Papers of Interest
Health decision making is impacted by many factors1, 2 and can be evaluated in the context of several theories.3 For example, Prospect Theory posits that people make decisions based on how they value potential gains and losses while Fuzzy Trace Theory explains memory and reasoning in the context of "gist" or bottom line understanding versus verbatim recall of information.4,5
Clinical Risk Communication
Patients are increasingly asked to make difficult decisions about medical and behavioral health screening, prevention, and treatment. Patients are often presented with numbers and statistics, but many Americans do not have the skillsets to accurately digest and objectively make decisions based on these numbers. A number of empirical articles have developed recommendations for communicating risk effectively to patients, including using plain language, using absolute instead of relative risk terms, using pictographs, etc. Here are resources and summaries of tips for helping patients make medical and behavioral health decisions. 6, 7
Journals
In addition to SBM journals, a number of other journals regularly feature health decision making research, including Medical Decision Making, Health Psychology, BMC Medical Informatics and Decision Making, and Social Science and Medicine.
Methods
To learn about methods for conducting and evaluating health decision making research, check out the sessions at SBM and short courses at the Society for Medical Decision Making (SMDM). The SBM/SMDM Crosstalk Committee continues to promote collaboration between the two organizations. The Ottawa Hospital Research Institute and International Patient Decision Aid Standards (IPDAS) websites are also good resources.
Current and Future Research
PCORI recently released notes from an Expert Panel Meeting on Advancing Medical Decision Making here. HDM SIG members are exploring a number of Health Decision Making research questions, including information avoidance, superstitious thinking about risk, shared decision making in cancer screening, beliefs among cigarette smokers, the connection between affect and eating, message sourcing for national public health campaigns for behaviors like smoking and receiving the HPV vaccine, and creating measurement scales and methods to study these research questions.
If you'd like to learn more, visit our website, reach out to HDM researchers for collaboration, join our SIG, and/or attend our programming at SBM. We look forward to seeing you in New Orleans.
References
Stacey D, Légaré F, Lewis K, et al. The Cochrane Library. April 2017. doi:10.1002/14651858.CD001431.pub5.
Hamilton, J. G., Lillie, S. E., Alden, D. L., Scherer, L., Oser, M., Rini, C., ... & Goldstein, M. K. (2017). What is a good medical decision? A research agenda guided by perspectives from multiple stakeholders. Journal of behavioral medicine, 40(1), 52-68.
Reyna VF. Theories of Medical Decision Making and Health: An Evidence-Based Approach. Med Decis Making. 2008;28(6):829.
Kahneman D, Tversky A. Prospect Theory: An Analysis of Decision Under Risk.; 1979.
Reyna VF. A theory of medical decision making and health: fuzzy trace theory. Med Decis Making. 2008;28(6):850-865.
Fagerlin A, Zikmund-Fisher BJ, Ubel PA. Helping Patients Decide: Ten Steps to Better Risk Communication. JNCI Journal of the National Cancer Institute. 2011;103(19):1436.
To Industry and Back Again: Stories from the Road Less Traveled​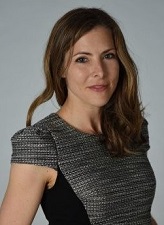 SBM's Behavioral Informatics & Technology Special Interest Group (BIT SIG) recently interviewed Kirstin Aschbacher, PhD, Associate Professor & Data Scientist at University of California San Francisco, Department of Cardiology to discuss career transitions and her experience between academia and industry jobs.
BIT SIG: Can you tell us how you made your career transition from Academia to health tech industry and back into academia?
Dr. Aschbacher: I find it is a little easier to make big decisions (like changing jobs) if I can get a sense of how it might feel first. I started by just sending my resume out to a couple industry jobs to see if I would even get an interview. After a couple interviews, I started to see where some of my skill deficits were, which ultimately led me to finding the Insight Data Science fellowship. At the time, I had a K23 Career Development Award, which funded me as an Assistant Professor on a 100% soft money track in the Medical School at University of California San Francisco (UCSF). I knew I was going to need multiple RO1 grants to sustain my salary once the K23 ended. I felt like it was a huge jump to make. I was a mother raising a toddler, and I just did not want to give up the opportunity to spend most evenings and weekends with my son while he was so little. The Insight Data Fellowship led to a job offer as a Data Scientist working on a behavior change App at a wearables start-up, Jawbone. Ironically, this experience later allowed me to return to UCSF in the Division of Cardiology in a supported position as an Associate Professor, where I work on a "start-up" Digital Research App, which is built around a cohort of roughly 125,000 individuals in the Health eHeart cohort.
BIT SIG: Did you get a chance to work on apps and software during your doctoral degree or post-doc?
Dr. Aschbacher: I started programing games when I was 10 years old, though I stopped once I hit high school. After college, I started programming again by taking classes in Java. During graduate school, I taught statistics, and in my dissertation, I wrote a program to automate a large volume of data from flow cytometry experiments. In my post-doc, I taught myself to program in Matlab in order to build control systems models to tackle questions that cannot be modeled by more commonly used statistics.
BIT SIG: How was your experience interviewing for the industry jobs?
Dr. Aschbacher: My pathway into industry was definitely via the technical skills of Data Science; however, companies thought it was a "bonus" that I also had behavior change and research design training. I found the process of interviewing for industry data science jobs to be quite difficult (white board coding interviews are no joke). However, I now feel like I have a lot more job security and options.
BIT SIG: What are the pros and cons of Academia and Industry in your opinion?
Dr. Aschbacher: In academia, I have enjoyed a more flexible schedule, and I have had greater autonomy in choosing what I work on. In industry, I learned how to implement an idea quickly, at scale, as part of a team. I gained a lot of technical skill quickly because I was surrounded by very talented people. In some ways, I felt freer to innovate, because I didn't have to cite a huge body of evidence and raise funding to test an idea. Within just a couple of weeks, I could receive feedback from real users on the interventions that I helped develop and implement. That was very satisfying! However, sometimes in industry products are developed primarily based on design, business, and engineering needs, and science takes a back seat.
BIT SIG: How can people change CVs to industry-suitable resumes?
Dr. Aschbacher: Ideally your resume should be 1-2 pages. Under each experience, write one sentence or a series of short bullets that describe your research as "projects" and highlight the technical tools you used. I summarized my publications and grant funding literally in one sentence.
BIT SIG: What was the most challenging part of the career transition?
Dr. Aschbacher: Change is scary. I had to continually remind myself that I was committing to a way of being, not a goal. As an academic, I used to feel like my career was defined by external badges of honor – publications, awards, grants, etc. In my new path, I decided my career was going to be defined by my values. I don't care whether the job is in industry or academia, but I want a healthy balance in my own life and I want to build interventions that reach people.
Spirituality and Health SIG News
Crystal Y. Lumpkins, PhD, Spirituality and Health Special Interest Group (SIG) member
Under the leadership of current chair Dr. Karen Yeary, The Spirituality and Health SIG will launch its new mentoring program in collaboration with the Ethnic Minority and Multicultural Health SIG, whereby senior scientists will be matched with junior scientists for one year. Within the SIGs, senior investigators have signed up to be mentors for the inaugural year of the mentorship program.
The Spirituality and Health SIG also is working to increase its social media presence, and have elected Ms. Kathleen Isaac to be the SIG's first social media chair. Watch for the latest in Spirituality and Health research and news through SBM's social media channels. Isaac also is the SIG's student representative.
Finally, the SIG welcomes Dr. Elena Salmoirago-Blotcher as Chair-Elect and thanks Dr. Jill Bormann for her leadership as she steps into the role of Past-Chair. This year the SIG will also have open positions (Chair-elect, Social Media, and Newsletter Editor). These are excellent opportunities to get involved and to be part of a dynamic and fun leadership team.
SBM to Offer Achievement Awards at the 2018 Annual Meeting and Scientific Sessions
Each year, SBM provides awards recognizing outstanding achievement and contribution to the field of behavioral medicine. Nominations for awards must be submitted by current SBM members in good standing. Join SBM or renew your membership. With the exception of the Distinguished Mentor Award, self-nominations are accepted. Recipients will be presented with their awards during the 2018 SBM Annual Meeting & Scientific Sessions.
Awards applications and supporting materials will be accepted during fall 2017; a call for applications and submission deadline will be announced on the SBM website. Only those nominations submitted via the online form before the deadline will be considered. SBM has a strong institutional commitment to diversity in all areas and encourages candidates from underrepresented groups to submit applications.
The following awards will be offered in 2018:
Distinguished Scientist Award
Research to Practice Award
Jessie Gruman Award for Health Engagement
Early Career Investigator Award
Outstanding Dissertation Award
Distinguished Student Awards
Distinguished Mentor Award
Excellence in Behavioral Medicine Training Program Award
Visit the SBM Annual Meeting Website for more information.
Honors and Awards
Congratulations to the following Society of Behavioral Medicine (SBM) members who recently received awards or were otherwise honored. To have your honor or award featured in the next issue of Outlook, please email ahahn@sbm.org.
Akilah Dulin Keita, PhD
Dr. Keita received a five-year grant for her project titled, "The Role of Resilience in Addressing Racial Disparities in Adverse HIV-Related Outcomes."
James F. Sallis, PhD
Dr. Sallis received the Excellence in Thought Leadership award from the Center for Active Design
Camille Short, PhD
Dr. Short was awarded funding by the Below the Belt Research Fund to develop an exercise prescription web application for men with metastatic prostate cancer.
Jill Bormann, PhD, RN, FAAN
Dr. Bormann has been designated as an EdgeRunner from the American Academy of Nursing for her research on the Mantram Repetition Program. Dr. Bormann has also received the 2017 APNA Award for Excellence in Research.
Karl Maier, PhD
Dr. Maier received the 2017 Distinguished Faculty Award from Salisbury University for his transdisciplinary work on the biopsychosocial ecological model of the microbiome and health, appearing in Psychosomatic Medicine, and for his teaching, research, and curriculum development that encompasses psychology, health, and climate change.
Kristy Straits-Troster, PhD and Jen Averyt, PhD
Drs. Kristy Straits-Troster, Jenna Gress-Smith, Lisa Burgess and Jen Averyt at the Phoenix VA were recently awarded funds from the Office of Rural Health to implement an innovative intervention within primary care mental health integration (PCMHI) that will target rural Veterans with mild to moderate depressive symptoms and chronic pain. The project involves a 30-day mindfulness intervention, will be delivered through the VA's telehealth system and has the potential to improve access and patient satisfaction and reduce system cost.
Susan Vadaparampil, PhD, MPH and Kristi Graves, PhD
Drs. Vadaparampil and Graves recently received a 5-year R25 award from the National Cancer Institute entitled "Programa de ARBOLES Familiares: Assessing Risk of Breast Cancer through Outreach to Latinas with Education and Support."." The ARBOLES Familiares [Family Tree] training program is for bilingual (English-Spanish) individuals who provide community health education and/or outreach to the Latina community (e.g., community health workers, navigators, promotoras) to learn about hereditary breast and ovarian cancer (HBOC), communication, education and identification of community members at risk for HBOC. If you know of any bilingual community health educators, patient navigators or promotoras who may be interested, please email LatinaStudy@georgetown.edu.
Patricia Robinson, PhD
Dr. Robinson was given the 2017 Outstanding Contributions to Clinical Health Psychology Award by the APA's Division 38.
Katie Cueva, MAT, MPH
Katie received the first place award for the 2017 R. Davilene Carter Presidential Prize for Best Manuscript for her manuscript entitled, "Culturally-Relevant Online Cancer Education Modules Improve Tribal Health Workers' Capacity and Intent to Talk With Patients About Cancer."
Members in the News
The following Society of Behavioral Medicine (SBM) members and their research were recently featured in news articles, videos, or journals. To have your news spot featured in the next issue of Outlook, please email ahahn@sbm.org.
Erik Groessl, PhD
Dr. Groessl has had his research on Yoga for Veterans with Chronic Low Back Pain featured in The San Diego Tribune and was featured in a story about integrating psychological care into hepatitis C clinics to better prepare them to complete antiviral treatment in MD Magazine.
Shervin Assari, MD, MPH
Dr. Assari recently published a conceptual paper "Unequal Gain of Equal Resources across Racial Groups" in the International Journal of Health Policy and Management (IJHPM). The paper reviews more than 20 original articles showing that, potentially due to structural and societal factors, the effects of economic resources and psychological assets are systemically larger for Whites than Blacks. He also sat on panels at the Brookings Institute and the University of Michigan Ford School of Public Policy to discuss the relevance of these findings for public policy and public health.
James F. Sallis, PhD
Dr Sallis was quoted in US News and World Reports, The San Diego Union-Tribune, The Washington Post and The Fifth Estate.
Maryam Gholami, PhD
Dr. Gholami had her article about chronic disease management published on ICareBetter.com.