2010 Society of Behavioral Medicine Achievement Awards: Applications Open
The Society of Behavioral Medicine is now accepting applications for its 2010 Achievement Awards. If you would like detailed information about the awards and/or how to apply please visit the SBM homepage at www.sbm.org. Recipients will be presented with their respective awards at the 31st Annual Meeting & Scientific Sessions of the Society of Behavioral Medicine, April 7-10, 2010, in Seattle, Washington. Read more »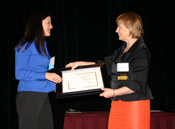 Awards Committee Overview
Every year at the annual meeting of the Society of Behavioral Medicine the contributions of scientists, clinicians, and training programs are acknowledged by formal awards. recipients! Read more »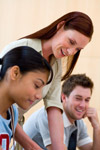 Overview of Education, Training and Career Development Activities
Have you heard about SBM's initiative to help members navigate their career development? As a Society focused on the needs of its members, SBM recognizes that education and training needs vary over the course of one's career. Many SBM members have carved out interesting and unique careers. Read more »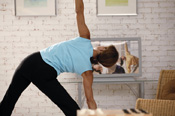 Using Information and Communication Technologies to Close the Health Disparities Gap
Physical activity (PA) is an effective tool in improving health. Yet few Americans, and even fewer minority and low-income individuals, meet the recommended guideline of obtaining 150 minutes of PA each week. Lack of PA participation at least partially explains health disparities in minority and disadvantaged populations. Participation barriers are multilevel. Environmental barriers include poor or no sidewalks or walking trails, lack of green space, traffic, and fear of crime. Read more »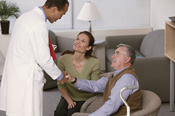 Health and Decision Making SIG News
The 2009 Annual Meeting of the Society of Behavioral Medicine (SBM) in Montreal marked the first meeting of the Health Decision Making (HDM) Special Interest Group (SIG). About thirty of the HDM SIG's fifty members networked and discussed plans for the coming year, including programming for the 2010 meeting. The HDM SIG has started a listserv to encourage information exchange, scientific debate, and mentoring. We welcome new members from all disciplines to participate in the early growth and development of the HDM SIG. It is an exciting time in the SIG and there are many opportunities to contribute to its direction. Read more »

IPC SIG News
With the new administration in Washington and significant efforts focused on health care reform, Integrated Primary Care SIG members are more active than ever in helping shape health care by integrating behavioral medicine into primary care. While much remains to be worked out in Congress about the specifics, the emphasis placed on primary care and health promotion/disease prevention suggests SBM members will play a vital and growing role in U.S. health care. Some of our members' activities are summarized here. Read more »


A New Approach for Multiple Health Behavior Change
Interventions promoting change in more than one health behavior at a time present unique challenges. The question of when a sequential versus simultaneous treatment approach is warranted to target multiple health behaviors illustrates one such challenge (Prochaska et al., 2008). The presentation by Bonnie Spring, PhD, at the 2009 Annual SBM Conference about weight loss and smoking cessation was a prime example of research targeting interrelated health behaviors. Dr. Spring's work and a recent review article by Prochaska and colleagues (2008) highlight mixed findings whereby simultaneous health behavior change sometimes results in iatrogenic effects and sometimes synergistic helpful effects. Read more »
Classified Advertising
Deadline and Rates
To advertise in Outlook, please supply ad copy to the SBM National Office. Artwork, including company logos, will not be accepted. Please contact the National Office for additional information.
Contact:
Holland LaFave, Project Manager
Society of Behavioral Medicine
555 East Wells Street, Suite 1100
Milwaukee, WI 53202-3823
Phone: (414) 918-3156
Fax: (414) 276-3349
E-mail: hlafave@sbm.org
BOARD OF DIRECTORS

Officers
Francis J. Keefe, PhD
President
Karen M. Emmons, PhD
President-Elect
Bonnie Spring, PhD, ABPP
Past-President
Paul A. Estabrooks, PhD
Secretary/Treasurer
Felicia Hill-Briggs, PhD, ABPP
Member Delegate
Lisa M. Klesges, PhD
Member Delegate
James F. Sallis, Jr., PhD
Member Delegate
Council Chairs
Laura S. Porter, PhD
Education, Training & Career Development Chair
Brent Van Dorsten, PhD
Membership Chair
Kenneth E. Freedland, PhD
Publications & Communications Chair
Sara Knight, PhD
Scientific & Professional Liaison Chair
Barbara Resnick, PhD, CRNP, FAAN, FAANP
Special Interest Groups Chair
Committee Chairs
Karen A. Matthews, PhD
Awards Chair
Suzanne M. Miller, PhD
Development Chair
David C. Mohr, PhD
Evidence-Based Behavioral Medicine Chair
Paul A. Estabrooks, PhD
Finance Chair
Prabhu Ponkshe, MA, LLB
Health Policy Chair
Bonnie Spring, PhD, ABPP
Nominating Chair
Michael A. Diefenbach, PhD
Program Chair
Gary G. Bennett, PhD
Program Co-Chair
Kathleen J. Goggin, PhD
Program Support Chair
Editors
Alan J. Christensen, PhD
Annals Editor
Cheryl L. Albright, PhD, MPH
Outlook Editor
Please send Outlook correspondence to:
Cheryl L. Albright, PhD, MPH
Editor, SBM Outlook
Phone: (808) 441-8189
E-mail: calbright@crch.hawaii.edu
Guidelines for Articles submitted to Outlook
1. Articles should be no longer than 500 words, plus up to 10 references.

2. Please submit only original articles, not articles that have been previously published in another organization's newsletter or bulletin.

3. The Outlook editor may edit articles to fit the format of the newsletter, or defer articles to another issue based on space limitations. The submitting author(s) will be informed, prior to publication, and will be sent a copy of any edited article for approval or withdrawal.

4. Submitted articles may be reviewed by the Publications and Communications Committee Chair and, potentially, additional SBM Board members to determine appropriateness for publication and/or length.