PRESIDENT'S MESSAGE: ACROSS BOUNDARIES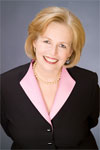 Bonnie Spring, PhD, ABPP
Globalism
Some of you know that I am an inveterate traveler. Asia has been my favorite destination for more than 30 years. Never have I been happier than when trekking (usually literally) through Japan, India, China, Cambodia, Vietnam, Indonesia, Thailand, Myanmar, or Singapore. At least initially, my fascination with Asia reflected its exoticism, relative to my U.S. life experiences. Meeting others with vastly different values, priorities, beliefs and fears expanded my own horizons. Seeing how things really are different elsewhere helped me to envision how they could be different where I am.
After a hiatus of several years, I returned to Japan this past August 2008 to attend the International Congress of Behavioral Medicine. Re-orienting to Tokyo I was struck, as usual, by much that is different. Where in the U.S. could one ever encounter: …a luggage attendant who bows formally to each departing airport bus..... a breakfast buffet containing (adjacently) iceberg lettuce, fruit loops, congee, pickles, scrambled eggs, seaweed, hotdogs, olives, sashimi…..a device that automatically sheaths in plastic the wet umbrellas of entering customers …orderly subway lines….heated toilet seats with rushing water acoustics…..white gloved, capped train attendants?
Yet in the midst of so much foreignness, a vague feeling of familiarity also crept over me. Compared to most Americans, the Japanese are very slight in build. More than once I've given a gift of extra-large Japanese size clothing that failed to close around an American frame. I'd always attributed the apparent absence of Japanese weight control problems to a mixture of felicitous genes and healthy lifestyle. Having a car is a distinct liability in Tokyo, where food portion sizes also tend to be sensible. The ubiquitous Japanese vending machine has for many years offered the micro-packages of soft drinks and Haagen-Dazs that calorie-conscious Westerners can now purchase. On this visit, my Japanese companions at the breakfast buffet still decorated their plates elegantly with tiny food servings. But something was askew…..Could my fellow patrons actually have grown slightly larger than I'd remembered?
The change was subtle, nearly imperceptible, but born out by a Google search. Fearing the economic costs of obesity in a rapidly aging society, the Japanese government passed a new law this past April 2008. The so-called "Metabo Law" aims to shrink by 10 percent over the next four years and 25 percent over the next seven years the number of Japanese whose waist circumference exceeds government limits. The national law forbids waist lines larger than 33.5 inches for men and 35.4 inches for women. Companies and local governments must now measure the waistlines of all employees and citizens between the ages of 40 and 74 as part of an annual check-up. Companies whose employees fail to meet weight loss targets will face hefty fines.
Which shall we consider more astonishing: the Japanese approach to the "metabo" problem or the fact that the obesity epidemic has now struck the lithe Japanese? Clearly, the world has entered a global era in which our problems are our neighbors' and our neighbors' problems are ours. Let us hope that the expanded human capital now applied to solve our shared health challenges will yield better solutions…and soon.
In that same spirit we can look forward to hearing fresh perspectives when SBM 2009 meets in Montréal, Canada this coming April. Nearly 150 annual meeting submissions this year have come from Canada - a new record. Meeting attendees are ensured of an international perspective on behavioral medicine in a world-class city.
Interdisciplinarity
I have spent much of the past two years learning about a different kind of boundary: the sort that separates the health professions. My education has been contributed by the mentoring souls who co-populate the Council on Evidence-Based Behavioral Practice (EBBP), supported by the National Institutes of Health's Office of Behavioral and Social Science Research (OBSSR). Council members hail from medicine (Evelyn Whitlock), social work (Edward Mullen), nursing (Robin Newhouse), public health (Ross Brownson), psychology (Jason Satterfield), and information sciences (Kristin Hitchcock).
The EBBP Council is trying to decipher how practitioners can utilize behavioral medicine research to help people engage in healthier behaviors. Our process of mutual education has been alternately head-spinning and eye-popping, hair-pulling and uplifting. In other words, our process is quite reminiscent of the one that affects those of you who work on interdisciplinary teams. The core, ineluctable challenge has been the one to which SBM introduced me: that of integrating behavioral medicine interventions at the individual, community, and population levels of the ecological model. With alternating exhilaration and gnashing of teeth, Council was able to develop a model of the evidence based behavioral practice process that appears to us to apply at all levels of the ecological model. A set of three free on-line learning modules on searching for evidence, systematic reviews, and engaging the EBBP practice process for individuals and communities was just released at www.ebbp.org/training. The EBBP Council would very much welcome your input on how we're doing: bspring@northwestern.edu
Much can be learned by craning one's neck to assume the perspective of a sister discipline whose members engage in behavioral medicine. Acquiring the new viewpoint takes time and practice. The developmental process is akin to that needed to perform Piaget's Three Mountain Task. There the challenge is to depart from egocentrism well enough to envision how things look from a different vantage point. The undertaking is puzzling, enlightening, and eminently worthwhile. It affords the kind of deep, broad perspective that becomes possible when SBM's many member professional disciplines gather for the annual meeting.
Translation
In many respects, the boundary of greatest importance for SBM to cross is the one that involves translating research findings into practical implementation and practical questions into meaningful, useful research. Four SBM working groups have been working diligently and creatively to address that challenge. Their efforts are beginning to bear fruit, and you can expect to hear more about their accomplishments in the next issue of Outlook. In the meanwhile, most sincere thanks go to Paul Jacobsen for chairing the Guidelines working group, Barbara Resnick for chairing the Practice journal working group, Jeff Goodie for chairing the group on practice research networks, and Amanda Graham for chairing the consumer demand working group.

Ellen R. Gritz, PhD
SBM Member Ellen R. Gritz, PhD Receives Award
The Foundation for the History of Women in Medicine (FHWIM) recognized SBM Member and Fellow, Ellen R. Gritz, PhD, on October 1, 2008, as the 2008 Alma Dea Mornai, MD, Renaissance Woman Award recipient. Dr. Gritz is professor and the founding chair of the Department of Behavioral Science at the University of Texas M.D. Anderson Cancer Center.
"Dr. Gritz is a significant advocate for preventive medicine, as well as a driving force in cancer research," notes Barbara Atkinson, MD, FHWIM President. Dr. Gritz is an established leader in cancer prevention and control research and an internationally known investigator. She holds a long record of distinguished activity within the medical field; she is a member of multiple advisory councils, Boards of Directors, and was elected to membership in the Institute of Medicine.
In order to be recognized with this prestigious award, a woman must: have provided a uniquely valuable influence in medicine and the sciences; challenge the status quo and embrace the unknown with a passion for learning; be determined and spirited beyond the traditional pathways; and posses a dedication to service that has enhanced the practice and understanding of medicine and humanities in our lifetime.
SBM extends its warmest congratulations to Dr. Gritz for this noteworthy achievement.
From the Ethnic Minority and Multicultural Health SIG
The following article from the Ethnic Minority and Multicultural Health SIG provides a brief overview about the opportunities and challenges in conducting research with ethnic and racial minority participants.
Michelle Martin, Ph.D.
Assistant Editor to Outlook Newsletter
Ethnic Minority and Multicultural Health SIG
---
The Willingness of Ethnic and Racial Minorities to Participate in Behavioral Medicine Research
Jeffrey L. Kibler, Ph.D.
Center for Psychological Studies, Nova Southeastern University
Mindy Ma, Ph.D., Division of Social and Behavioral Sciences, Farquhar College of Arts and Sciences, Nova Southeastern University
Despite the importance of including participants from ethnic and racial minority groups in research, and initiatives of funding agencies to mandate adequate inclusion of minorities, there continues to be under-representation of minority groups in behavioral medicine research. Difficulties recruiting individuals of ethnic and racial minority status in biobehavioral research can result in samples that are too small for conventional analyses, limit conclusions drawn from studies, and diminish the ability to improve health services for minority populations. Several variables have been identified as facilitators of research participation for ethnic/racial minorities. Studies in genetics (1), HIV prevention (e.g., 2-3), cardiovascular health (4), and general assessments of community views (e.g., 5-6) have generally associated greater willingness to participate with less mistrust, fewer health-related fears, greater perceived benefits (benefits to the community or personal incentives), altruism, greater health risks, knowing someone with the illness under investigation, and lacking knowledge of the Tuskegee Syphilis Study. These findings are consistent with first-hand experiences of investigators in the field, which suggest that efforts of the research team to immerse themselves in the community, actively engage community members, leaders and gatekeepers, and provide education about study details, are effective for gaining trust and enhancing recruitment (e.g., 7-8). In addition, investigators may provide information that addresses health-related fears of study candidates and effectively communicate the benefits of research participation for potential volunteers and the community. Messages that focus on the potential of research findings to improve quality of life for specific segments of the community may stimulate altruistic intentions for the targeted population.
There is a need for further systematic research of the factors that predict study participation, and the implementation of empirically-based strategies for enhancing recruitment. To date, studies of willingness to participate have primarily focused on African American samples. Given the history of research-related ethical violations involving African Americans, the perspectives of African Americans are central to understanding barriers and facilitators in research participation. However, expanding willingness research to other ethnic and racial minority groups will enhance the understanding of how sociocultural differences between groups may contribute to decisions regarding participation.
Americans are central to understanding barriers and facilitators in research participation. However, expanding willingness research to other ethnic and racial minority groups will enhance the understanding of how sociocultural differences between groups may contribute to decisions regarding participation.
References
Henderson, G., Garrett, J., Bussey-Jones, J., Moloney, M. E., Blumenthal, C., & Corbie-Smith, G. (2008). Great expectations: Views of genetic research participants regarding current and future genetic studies. Genetics in Medicine: Official Journal of the American College of Medical Genetics, 10(3), 193-200.
Kibler, J.L., Ma, M., Bartholow, B.N., Durham, M.D., Sarpong, D., Lally, M.A., et al. (2007). Correlates of willingness to participate in microbicide research among African-American adults in Mississippi. Annals of Behavioral Medicine, 33(Suppl.), S014. [Abstract].
Sengupta, S., Strauss, R.P., Devellis, R., Quinn, S.C., Devellis, B., & Ware, W.B. (2000). Factors affecting African American participation in AIDS research. Journal of Acquired Immune Deficiency Syndromes, 24, 275-284.
Brisco, K., Kibler, J.L., & Dollar, K.M. (2004). Predictors of biobehavioral research participation among African-American students at an urban HBCU. Annals of Behavioral Medicine, 27(Suppl.), S156. [Abstract].
Napoles-Springer, A.M., Grumbach, K., Alexander, M., Moreno-John, G., Forte, D., Rangel-Lugo, M., et al. (2000). Clinical research with older African Americans and Latinos: Perspectives from the community. Research on Aging, 22, 668-691.
Shavers, V., Lynch, C. Burmiester, L. (2001). Factors that influence African-Americans' willingness to participate in medical research studies. Cancer, 91(6), 233-236.
Moreno-John, G., Gachie, A, Fleming, C.M., Nápoles-Springer, A., Mutran, E., Manson, S.M., et al. (2004). Ethnic minority older adults participating in clinical research: Developing trust. Journal of Aging and Health, 16(5) (Suppl.), 93S-123S.
Wyatt, S. B., Diekelmann, N., Henderson, F., Andrew, M. E., Billingsley, G., Felder, S. H., et al. (2003). A community-driven model of research participation: The Jackson Heart Study participant recruitment and retention study. Ethnicity & Disease, 13(4), 438-455.
From the Complementary and Alternative Medicine SIG
The common perception of many healthcare providers is that the Department of Defense is more conservative in their approach to healthcare than most civilian organizations. Many would probably think that military hospitals would not be interested in exploring Complementary and Alternative Medicine approaches to treatment. Submitted by Dr. Mona Bingham of the Complementary and Alternative Medicine SIG, this article provides two examples of current research efforts focused on addressing the efficacy of these holistic healing practices for military populations.
Suzanne C. Danhauer, Ph.D.
Assistant Editor to Outlook Newsletter
Complementary and Alternative Medicine SIG
---
Research in Integrative Medicine at the Department of Defense: Generating Quality Research to Promote Healing
Yoga Experience for Soldiers (YES)
In 2004, there was little literature on the use of yoga with military populations. However, we believed that the multi-component aspects of yoga - physical exercise, breathing and meditation - could be effective in reducing physical discomfort and mental stress for soldiers experiencing physical and emotional pain resulting from injuries or illnesses related to Operation Iraqi Freedom (OIF). This pilot project, Yoga Experience for Soldiers (YES), was uniquely designed as a medical therapeutic intervention for injured soldiers. Because Dr. Beth Whitney-Teeple had a strong background in the military, yoga, and research, she was the perfect co-researcher, with Dr. Mona Bingham, the PI for this project. She has also completed the 500-hour level Viniyoga training w/ Gary Kraftsow (Director, American Viniyoga Institute www.viniyoga.com, Author: Yoga for Wellness, 1999; Yoga for Transformation, 2002). She consulted with numerous other yoga experts to identify optimal sequencing of movements and postures to ensure a safe and healing program for soldiers with multiple types of injuries who were generally inexperienced with yoga.
Goals
The objective of this pilot project was to evaluate yoga as a complementary treatment for injured soldiers experiencing chronic pain, sleep difficulties, or stress. Goals were to offer yoga as a complementary treatment option, demonstrate feasibility, and evaluate the effectiveness of the intervention in improving short-term clinical outcomes. Hopefully, this initial effort could answer three questions: Which injured soldiers would be most interested in a yoga intervention? Would they participate in classes and practice at home? Would the intervention be helpful for their symptoms?
Design
Prior to beginning the intervention, baseline self-report measures of general health, mood state, and stressful life events were collected; however, issues with obtaining informed consent prevented us from matching pre- and post-intervention measures. Post-intervention qualitative data of participants who completed the program were collected, anonymously, from individual journal entries, instructor observations, and verbal encounters. The yoga intervention was designed to help increase body and mind awareness using gentle movement and breathing for relaxation. Consistent with Viniyoga principles, the structure of the yoga practice relied more on individual adaptation than props to achieve the purpose of the postures. It used a pattern of repetition and longer time in each posture to encourage gradual stretching and reduce risk. Classes were conducted twice weekly over 8 weeks at three different times to accommodate participants' schedules.
Recruitment
Soldiers were recruited using flyers distributed by their Case Managers and other key staff members. The headline of the flyer was entitled Tools for Managing Pain; this yoga-based program was specifically designed to help soldiers experiencing discomfort or physical limitations. The flyer listed a number of questions including the following: Are you tossing and turning at night? Do you have low back pain or shoulder pain - Pain in the neck? Have you changed the way you live because things hurt? Are you discouraged? Do you wish you felt better? Since this was a descriptive pilot study, soldiers could participate with any type of pain or injury. Of note, most soldiers complained of pain due to orthopedic injuries, primarily leg, foot, back, shoulder and neck pain.
Participant Characteristics
Participants included 23 soldiers (returning from or en route to Iraq) and one spouse (n=24). Soldiers were primarily enlisted (88%), male (58%), and relatively older (mean age = 37 years, range = 20-56 years). Most were reservists (37%); however, active duty (33%) and National Guard (25%) soldiers were also adequately represented.
Descriptive Findings
Due to limited resources, the project could not accommodate all who were interested. Almost fifty interested soldiers were interviewed but could not attend for various reasons. While the project initially targeted pain, soldiers described other significant symptoms and reasons for attending; the most frequent complaints were poor pain management (67%), unresolved stress (29%), and sleep disturbances (21%). Additional reasons for attending were to learn yoga for strength and flexibility. More than 50% of the participants attended over half of the sessions, even with significant barriers related to time and location of classes. Journal data about the intervention revealed that participants liked yoga postures the most, followed by relaxation and breathing techniques. Information in the journals revealed that participants used the yoga techniques outside of class, and showed an upward trend in use of the yoga techniques outside of class with each week. Of those who completed the program, all stated that they would continue to practice yoga techniques and seek more classes.
Conclusions
This innovative pilot study suggests that soldiers with wartime experiences are interested in integrative and/or complementary modalities such as yoga sequences and relaxation techniques for handling chronic symptoms such as pain, sleep difficulties, and stress. While self-reported pain issues were not relieved for most soldiers as reported in their journals, there were individual improvements in coping, sleep, and perceived overall stress. Future considerations include: (1) more targeted yoga practice for individual symptoms; and (2) identification of additional chronic symptoms in this population that may be amenable to yoga interventions. Further work is needed to clarify which soldiers (i.e., diagnosis, injury) will benefit the most from complementary treatments and which symptoms would be best to measure to indicate sustained improvement. Ultimately, we hope to conduct a well-designed randomized controlled trial of yoga to improve debilitating chronic symptoms and quality of life for this unique and deserving military population.
**This pilot project was selected for presentation at the 1st Symposium on Yoga Therapy and Research (SYTAR), International Association for Yoga Therapists, Los Angeles, California, January 2007. This work has also been presented to military audiences of clinicians and researchers.
Bingham, M.O., & Whitney-Teeple, B. (2007). Using yoga for pain management with soldiers.
International Journal of Yoga Therapy. Supplement edition.
*Funding provided through the US Army Center for Health Promotion and Preventive Medicine (USACHPPM) Directorate of Health Promotion and Wellness (DHPW).
Outcomes of Cranial Electrotherapy Stimulation (CES) with Soldiers for Combat-Related Symptoms
Cranial electrical stimulation (CES) falls within the larger arena of bioelectric medicine and has become increasingly accepted as a treatment modality for multiple conditions, with the most promise shown for centrally-mediated pain syndromes that have historically been difficult to treat effectively (Kirsch, 2008). A form of microcurrent electrical therapy (MET), CES is a noninvasive technique that involves the passing of microcurrent (µA) levels of biphasic electrical stimulation across the head via small electrodes clipped to the earlobes for 20 to 60 minutes for a few days to a few weeks.
CES has been found to be effective in controlling anxiety, depression, insomnia, and generalized stress with other populations (Kirsch & Smith, 2000). There are many Department of Defense (DoD) facilities that are using CES in clinical practice, and it has gained popularity with many military providers and patients, but there are no published data for the use of CES in soldiers with combat related symptoms post-deployment. Considering the largely positive results of preliminary studies on patients with anxiety, depression, and insomnia, we decided to examine the effects of CES as an adjunct therapy for combat-related symptoms. The purpose of an ongoing double-blind randomized controlled research study is to determine if CES for soldiers is effective in reducing irritability (and also other combat-related symptoms of anxiety, depression, pain, and sleep disturbance). The study uses a repeated measures design to measure outcomes and duration of effects up to one month following treatment. This inter-disciplinary study combines the Nursing Research Service with a Clinical Health Psychologist (Alice Inman, PsyD) as co-investigator and works closely with Case Management and Behavioral Medicine to recruit soldiers who may benefit from this treatment. Currently, this study is active and no data has been analyzed. We anticipate outcomes by 2009.
Kirsch, D. L. (2008). CES in the treatment of pain-related disorders. Practical Pain Management, 8(3), 12-25.
Kirsch, D. & Smith, R.B. (2000). The use of cranial electrotherapy stimulation in the management of chronic pain: A review. NeuroRehabilitation, 14(2), 85-94.
These studies are just two examples of integrative medicine research in military hospitals. It is our hope that we can continue to promote integrative medicine treatment and research to improve the health and healing of our military population. Thank you for the opportunity to share our work here, and we look forward to sharing our findings and discussing future ideas and collaborations with you.
*Contact information for Dr. Mona Bingham, PI for both studies, is listed below.
Mona Bingham, PhD, RN Lieutenant Colonel, U. S. Army Chief, Nursing Research Service Brooke Army Medical Center Fort Sam Houston, TX 78234 Mona.bingham@amedd.army.mil
Alice.Inman@Lackland.AF.Mil
whitneyteeple@comcast.net
The opinions or assertions contained herein are the private views of the author(s) and are not to be construed as official or reflecting the views of the U.S. Department of Defense, U.S. Army, or Army Nurse Corps
From the Women's Health SIG
Reviving Attention on Women's Health at SBM
By: Leanne Mauriello, Ph.D. & Zaje Harrell, Ph.D.
The Context
Women's health remains a national health priority with a critical need to increase public awareness through major research advancements and announcements. For example, in March 2008, the results of a nationally representative study conducted by the Centers for Disease Control and Prevention revealed that one in four adolescent girls are estimated to have a sexually transmitted infection. One year prior, in March 2007, new breast cancer screening guidelines were released recommending magnetic resonance imaging (MRI) exams, not just mammograms, for women at high risk for the disease. These prominent health-related news stories are in line with the ubiquitous pink ribbon campaign, focused on breast cancer awareness, and the more recent red dress campaign, focused on educating women about the risks for cardiovascular disease. In fact, among the most pressing health issues there are many with particular relevance to women:
Heart disease, cancer, and stroke are the three leading causes of death in women and are all influenced by behavioral and psychosocial factors.
Women are more likely to be overweight and obese than are men.
Certain types of cancer are specific to women and disproportionately affect some groups of women more than others.
Type II diabetes is more common among women than men.
Depression, which has been shown to be related to chronic disease, is more prevalent among women than men.
Prevalence rates of HIV and AIDS among women are increasing worldwide.
Given these trends, would anyone dispute the fact that women's health research warrants continued, and even increased, attention by SBM members? We know that many of you are already working productively on these issues, particularly in regards to improving prevention and treatment efforts. As you know, the Special Interest Group (SIG) structure provides a forum for health professionals, researchers, and clinicians to share their innovations and challenges, as well as a venue for networking. Sadly, in the past few years, there has been a notable decline in participation in the Women's Health SIG. Given the importance of women's health issues in behavioral medicine, this decreased interest in the SIG is perplexing.
Our Current Challenge
We were among the very few who attended the Women's Health SIG Business Meeting at the annual meeting last April. The primary order of business was to discuss revitalizing the Women's Health SIG. We agreed to take an active role by becoming the new co-chairs of the SIG. Our mission is to reach out to all SBM members to revive the presence of not only the Women's Health SIG, but also attention on women's health at SBM.
Beginning Solutions
We realize that there are many competing presentations and roundtables at the annual meeting. It is our goal to stimulate and encourage more quantity and quality presentations and events related to women's health. We hope these efforts will help spark a renewed interest and active participation in the SIG. In the upcoming year we are planning to:
Honor a student researcher with an award that will be presented at the Women's Health SIG's breakfast roundtable at the annual meeting
Co-sponsor a panel with the Education Training and Career Development Council on work/life balance issues for women
Encourage members to submit papers, posters, and symposia on topics related to women's health topics
Advocate for more representation of society members with expertise in women's health as abstract reviewers
Encourage more regular use of the Women's Health SIG List Serv to post relevant scientific and professional information related to women's health research, practice, and career development.
Call to Action
The help of all society members is needed as we work to increase the visibility of women's health research and the Women's Health SIG at SBM. We ask society members, when applicable, to share how their research, interventions, and treatments are helping to advance women's health either through conference presentations or through posts to the Women's Health List Serv. Moreover, at the annual meeting let's revive communication on women's health issues in as many SBM sessions as possible. We ask current SIG members to become more actively involved in the SIG. As a first step, make a commitment to attend the breakfast roundtable student award presentation in Montreal. Please encourage your student researchers to submit proposals for the annual meeting related to women's health so they can compete for the award. Finally, we invite interested society members who are not yet members of our SIG to join the Women's Health SIG. Having our SIG membership numbers grow in the upcoming year would be a great sign of increased participation!
We welcome the reactions, ideas, and comments of all society members. Achieving our goal of increasing visibility on women's health at SBM is much larger than solely the Women's Health SIG membership. We hope to attract the attention and assistance of all society members. We would appreciate feedback and ideas on ways we could increase participation and attention on women's health at SBM. Our contact information is below. We look forward to hearing from you.
Leanne Mauriello, Ph.D.
Director of Behavior Change Projects
Pro-Change Behavior Systems, Inc.
lmauriello@prochange.com

Zaje Harrell, Ph.D.
Assistant Professor
Department of Psychology
Michigan State University
harrellz@msu.edu

NIH OBSSR-Sponsored On-Line Training in
Evidence-Based Behavioral Practice Now Available
The interdisciplinary Council for Training in Evidence-Based Behavioral Practice (EBBP), sponsored by National Institutes of Health's Office of Behavioral and Social Science Research (OBSSR), announces release of a newly redesigned website and training modules at http://www.ebbp.org. A goal of the EBBP project is to develop online learning tools to help behavioral practitioners and students integrate research and practice in real-world conditions. Three training modules are currently available: The EBBP Process, Searching for Evidence, and Introduction to Systematic Reviews.
The EBBP Process module aims to enhance the skills of behavioral interventionists from a variety of health care disciplines to find, appraise, and apply evidence to improve the health of individuals, communities, and other populations. In Searching for Evidence, behavioral health professionals will learn about available on-line resources and develop skills to more effectively search for health care evidence. In Systematic Reviews, evidence-users will learn to appraise the quality of systematic reviews, and evidence-creators will learn the basic steps in conducting a systematic review. Instructors who use the modules or other EBBP materials in their courses are also invited to share syllabi, conference presentations, and other resources in the new EBBP Teaching Resource Library at http://ebbp.org/syllabus.php.
EBBP.org training materials are based on an analysis of the professional competencies required to engage in the EBBP process. The EBBP Council white paper describing these competencies, available at http://www.ebbp.org/competencies.html, is a singular accomplishment. Council members representing the disciplines of medicine, nursing, psychology, social work, public health, and information sciences came together to delineate a harmonized approach to the evidence-based practice process across the major professions that deliver behavioral interventions. The white paper, which received public comment in spring and fall of 2007, reflects revisions based on the input of numerous professional societies.
Focus on SBM Scientific and Professional Liaisons
Liaison: coordination;the exchange of information or the planning of joint efforts by two or more people or groups
In an effort to inform our members of ongoing and planned activities of the Scientific and Professional Liaison Council, Outlook will regularly shed a spotlight on SBM partnerships with other organizations and groups. Are you working with another organization on behalf of SBM? The Scientific & Professional Liaison Council would like to hear from you! Contact Susan Woods, MD at woodssus@ohsu.edu
Highlight: Society for Medical Decision Making The Society of Behavioral Medicine (SBM) and the Society for Medical Decision Making (SMDM) share more than a few core values. Both are diverse multidisciplinary societies whose members come from around the globe and both seek to improve health outcomes. The distinct emphasis in SMDM, in contrast to SBM, is health decision making. SMDM works to improve health outcomes through the proactive application of systematic methods such as decision analysis, shared decision making, utility elicitation, cost-effectiveness analysis, technology assessment, predictive modeling, quality of life assessment, medical informatics, discrete-event simulation, and evidence-based medicine. The Scientific and Professional Liaison Council of SBM has provided support and guidance in the formation of a special interest group on medical decision making and plans for shared programmatic activities with SMDM. For additional information, or to participate in the SBM Health Decision Making SIG and SBM/SMDM collaborative activities, please contact Sara Knight, PhD, at sara.knight@ucsf.edu, or Jamie Studts, PhD., jamie.studts@uky.edu. Information about SMDM can be found at www.smdm.org.
An Update from the Integrated Primary Care (IPC) SIG
Members of the Integrated Primary Care (IPC) Special Interest Group (SIG) had a productive meeting in San Diego in March 2008. Here are a few highlights of activities of some of its members:
Literature reviews of IPC are needed
Several members have joined forces to publish reviews of the IPC literature. These reviews can help clarify common language, focus the goals of those practicing integrated primary care, and identify the challenges facing the continued expansion of IPC.
Increasing reimbursement for Health & Behavior codes
At the annual meeting in San Diego, an energetic discussion was held that focused on the difficulties experienced by some SBM members in getting reimbursed by insurers for Health & Behavior (H&B) codes. While some members of the Integrated Primary Care SIG reported inconsistent reimbursement across insurers, other members reported little if any success in receiving reimbursement for services billed under these codes. Clinicians in SBM are likely to be among the best trained to deliver services described in the H&B codes, and such service is likely to be delivered in integrated primary care settings. Several SIG members bemoaned the need to bill for services as psychotherapy with the requirement to diagnose patients with mental health diagnoses in order to get reimbursed. In response to these difficulties, IPC SIG members Drs. Flora Hoodin, Abbie Beacham, Bill Sieber, and Jeff Goodie have taken action with the help of Mr. Prabhu Ponkshe, chair of SBM's Health Policy Committee and a policy analyst, to draft a policy statement encouraging insurers and legislative leaders to make reimbursement of Health & Behavior codes more standard. Members of the SIG also have voiced concern about how the H&B codes work for "non-psychologist" clinicians, as clinical social workers and others were included in the original language for reimbursement yet qualifications for these codes may have become unclear over time.
A recent release of a report funded by the Substance Abuse and Mental Health Services Administration (SAMHSA), Health Resources and Services Administration (HRSA), and Centers for Medicare & Medicaid Services (CMS) helps to support the expansion of IPC. However, it does not address the unique needs of those who practice behavioral medicine in getting reimbursed for brief interventions targeted at medical conditions such as insomnia, pain, and adherence. The American Psychological Association (APA) informed us that reimbursement of H&B codes depends less on private carriers and more on whether or not an employer has included coverage for health and behavior series in the contract that they sign with the insurer. Because of the wide variation in policies, and the thousands of existing private insurance carriers, APA indicated they do not have the resources to closely monitor this. APA has been receiving fewer requests to assist psychologists in convincing private insurers to cover these services and regard this decrease as an indication that carriers are now more willing to make health and behavior care a covered benefit. Dr. Roger Kessler, an IPC SIG member, recently published an article on this issue in Family, Systems, and Health, Vol. 26, #2. IPC SIG members have submitted a symposium on this issue for consideration at the 2009 Annual meeting in Montreal.
Primary Care Behavioral Health in the Air Force
Under the leadership of Lt. Col Neal-Walden, PhD, Chief of Population Health (Air Force Medical Operations), thirty four Air Force bases are now receiving core competency training in a model of integrating behavioral health services in primary care. Bases in Germany, England, Japan, South Korea, Alaska and numerous sites in the continental US have received a minimum of one week on-site training. About one-third of these bases are receiving additional on-site training in an effort to prepare a group of Behavioral Health Consultant (BHC) mentors who are ready to train other mental health providers for work in the Behavioral Health Optimization Program or "BHOP" (the program name for integrated care services in the Air Force). Publications supporting training efforts include Gatchel and Oordt (2005) and Robinson and Reiter (2007). Mountainview Consulting Group is providing the training, and trainers include Kirk Strosahl, PhD, Patricia Robinson, PhD, and Jeff Reiter, PhD, ABPP.
Compendium of IPC Training Sites
Flora Hoodin, PhD and Kevin Alschuler, M.S. of Eastern Michigan University, along with Abbie Beacham, PhD and Melanie Bierenbaum, M.S. of Spalding University have been busy compiling detailed information about graduate schools and internships/residencies that will serve as a resource to students, faculty, and professionals with an interest in Integrated Primary Care. The project's first phase in 2006 and early 2007 resulted in 27 participating sites recruited from the SBM IPC Special Interest Group and the Collaborative Family Healthcare Association membership. The second and current phase involves expanding the survey to clarify the specific nature of the collaborative/integrated care model as it operates at each training site, and expanding the reach to include additional training sites who listed a major or minor rotation in IPC on the Association of Psychology Postdoctoral and Internship Centers (APPIC) website. Data analysis of the 51 participating sites is in progress. Plans are to disseminate a searchable spreadsheet to IPC SIG members, Collaborative Family Healthcare Association (CFHA) members, and others upon request.
Planning for the 2009 Annual Meeting
Dr. Jeff Goodie (IPC SIG chair), in addition to seeking time at next year's annual conference for round table discussions, a lunch meeting, and a pre-conference workshop, hopes to obtain funds to support a student research award at the conference that would partially subsidize travel expenses for a graduate student or two.
2009 Society of Behavioral Medicine Achievement Awards
The Society of Behavioral Medicine is now accepting applications for its 2009 Achievement Awards. Recipients will be presented with their respective awards at the 30th Annual Meeting & Scientific Sessions of the Society if Behavioral Medicine, April 22-25, in Montréal, Québec, Canada. This year the awards presentation will take place during the Business Meeting on Thursday, April 23 at 5:45 pm. The Presidential Reception, with hors d'oeuvres and cash bar will immediately follow.
Awards:
Distinguished Scientist Award
Selection for the Distinguished Scientist Award will be based on total career achievement. Nominees must have achieved great scholarly distinction (i.e., made a series of distinguished empirical contributions or contributed substantially to the development of new theories or methods).
Early Career Investigator Award
Selection of the Early Career Investigator Award will be based on total career achievement and review of a representative published paper.
Outstanding Dissertation Award
2009 is the twelfth year that SBM will recognize excellence in Student/Trainee Members' research through the Outstanding Dissertation Award
Distinguished Student Awards
Once again SBM will be offering the Distinguished Student Awards from funds raised through the Advocacy & Membership Development Campaign. These awards will be provided to students who demonstrate outstanding academic and professional potential in the field of behavioral medicine.

Excellence in Research
Excellence in Service Delivery
Travel Scholarship

Distinguished Research and Clinical Mentor Awards
For many of us there was one individual who really stood out during our training. It may have been our advisor or a faculty member who took a special interest in our work. This award recognizes these individuals for their outstanding service as a mentor in clinical or research settings.
Excellence in Behavioral Medicine Training Program Award
The purpose of the Excellence in Behavioral Medicine Training Program Award is to identify and honor a training program at any level that provides behavioral medicine training. The training program in question can be research and/or clinically focused and can occur in any discipline, but especially with an interdisciplinary approach.
For more information about the award nomination process including criteria and submission instructions, please visit www.sbm.org
Nomination and Application Submission Information
Please note: The deadline for submission of all 2009 SBM Achievement Awards applications and supporting materials is 11:59 p.m. Eastern time on November 14, 2008. All applications are to be submitted via the SBM website, www.sbm.org, by this deadline in order to qualify as a 2009 award nomination. All award winners will be notified via e-mail by no later than January 30, 2009, from the SBM national office.
For questions regarding the achievement awards, please contact the SBM national office:
Holland LaFave
Project Coordinator
E-mail: hlafave@sbm.org
Phone : (414) 918-3156
New Membership Directory Search Features Help Connect SBM Members
Until now, the online SBM Membership Directory allowed users to find other members only by name, company, or location. Now, SBM members can also search by Specialty, Occupation, or Primary Profession. If, for example, an SBM member was interested in finding all members who indicated their specialty as "nutrition", now it's not only possible - it's easy! Here's how: simply log onto the "Members Only" section of the SBM Web site at https://www.sbm.org. (If you've forgotten your log in information - user name and/or password - all you need do is submit your email address and the information will be emailed to you.) Click "SBM Membership Directory." By the "specialty" field, either type in "nutrition" or choose it from the link of common examples at the right. Hit search, and voila - a list of names with locations appears instantly. For detailed contact information click on the member's name.
Searchers can fill in one field or a combination of fields. Common examples and a drop down menu (by occupation) make searching especially easy.
Happy searching!
Plan Now to Attend the 30th Annual Meeting & Scientific Sessions of the Society of Behavioral Medicine, April 22-25, 2009
"Behavioral Medicine: From Evidence to Practice and Policy," is the theme of the 30th Annual Meeting & Scientific Sessions of SBM in Montréal, Canada, April 22-25, 2009, a timely topic of keen interest to behavioral medicine researchers, practitioners, and educators alike.
The Program
Gordon Guyatt, MD, MSc, Professor of Clinical Epidemiology and Biostatistics at McMaster University, who coined the term "evidenced-based medicine," and SBM President Bonnie Spring, PhD, ABPP, Professor of Preventive Medicine at Northwestern University, who adapted the evidence-based practice process for behavioral interventions, will deliver keynote addresses highlighting trends and developments that inform and support the translational process.
Other speakers include:
Wayne J. Katon, MD, professor of Psychiatry and Behavioral Sciences, University of Washington.
Delia Smith West, PhD, professor and Look AHEAD investigator, College of Public Health, University of Arkansas for Medical Sciences
Caryn Lerman, PhD, director of the Tobacco Use Research Center, University of Pennsylvania.
Dee Edington, PhD, professor of Movement Science, University of Michigan.
Noshir Contractor, PhD, engineer and entrepreneur who will share his work on the use of e-network science to map, understand and enable effective networks among business, science, engineering, and public health communities.
C. Tracy Orleans, PhD, Distinguished Fellow and Senior Scientist, Robert Wood Johnson Foundation
Colin Milner, CEO of the International Council on Active Aging;
Sumit Majumdar, MD, MPH, health outcomes expert at the University of Alberta
Miriam Shuchman, MD, physician and medical columnist.
Enjoy Montréal!
Montréal is guaranteed to charm meeting attendees with its architecture, top-rated restaurants, chic boutiques, museums, and more. The city is a study in contrasts, offering something for everyone. Visit www.tourisme-Montreal.org to learn more about this exciting city.
All educational sessions will be held at the Palais des congrès de Montréal, directly across from the main meeting hotels, the Hyatt Regency and the Intercontinental.
Housing Registration Open
To book a hotel room, visit www.sbm.org, and click on à la Montréal. The conference rate is available through March 22, 2009, but conference-rate rooms could sell out before then - so reserve your room today!
Thanks to our Canadian Colleagues
To extend our thanks to our Canadian colleagues for hosting the meeting in Canada, SBM will be offering a free Seminar ticket ($60 value, discount to be taken during registration) to Canadian residents who are either students or first-time meeting attendees with a full paid meeting registration.
Rapid Communication Abstracts Accepted November 28 - January 5
The September 19 deadline for abstract submissions has passed, but beginning November 28, 2008, SBM will open an additional submission opportunity for late-breaking Rapid Communication abstracts that allow researchers to report recently analyzed data. All accepted Rapid Communication abstracts will appear as posters during one of the 30th Annual Meeting & Scientific Sessions three poster sessions and in handouts disseminated to all Meeting attendees. For more information visit www.sbm.org or http://sbm2009.abstractcentral.com/ on November 28, 2008, to submit your abstract; closing date is January 5, 2009.
Mix and Mingle
Networking is an important aspect of any Annual Meeting and this year's includes two SBM-sponsored receptions, where all attendees can catch up, exchange ideas, view posters, and enjoy hors d'oeuvres and a cash bar:
Wednesday evening, April 22:
Opening Welcome featuring Citation Awards and Meritorious Student Award Posters in the Poster and Exhibit Hall

Thursday evening, April 23:
President's Reception in the Poster and Exhibit Hall
Don't Forget Your Passport
US citizens need a passport for entry and exit; find passport application information at http://travel.state.gov/passport/passport_1738.html