Editor's Note
Our Outlook is changing!

These are exciting times for SBM! It seems member engagement has never been higher and Americans need what our members have to offer more than ever. Our SBM organization appears to be expanding in multiple ways. One way expansion and increased engagement is showing itself is with Outlook!
Based on member feedback to a survey conducted last year, SBM's Board has approved that Outlook expand from three issues per year to four! This will increase the opportunities some of the more active Councils and SIGs have to share their activities with the broader membership, and to encourage greater participation in SBM research and policy efforts. The current list of contributing SIGs and groups will still be expected to submit one article annually, however if there is activity of a group that merits the broader SBM membership should be notified, then we welcome 'spontaneous' submissions that will be accommodated on a first come, first serve basis (we do have limits!). Therefore starting immediately while the SBM office will alert groups when their annual article is due, do not feel limited to submitting articles only in your assigned quarter. We will be sending a call for article submissions for the fall issue in mid-July.
Another important expansion that will appear in the next issue of Outlook, based on SBM member requests, is a forum to ask questions of senior members and Board members. Many of you have asked for this as a way to get input on career advancement issues, alternative opportunities outside academia, and 'pearls of wisdom' from members successful in numerous ways. Please see this as a developing forum to get input on questions that may otherwise be difficult to ask. Thus my "ask" of you is to send me questions over the coming weeks that you would like to have an SBM Board member answer. Your question will be directed to someone in SBM leadership that may have the best experience to respond. Examples of questions may be
How does one go about finding a mentor?
How do I go about finding job opportunities outside academic medicine?
What conferences other than SBM should I attend?
How can I make the most of my time at the 2018 SBM Annual Meeting?
What should I do if I am having difficulties with my primary mentor?
How can I expand my mentoring network?
In psychology graduate programs, what are the differences between clinical and research post-doctoral fellowships?
How worried should I be about the federal funding climate?
Please send your questions to ahahn@sbm.org.
--William J. Sieber, PhD
President's Message Extending Our Reach
Gary Bennett, PhD, SBM President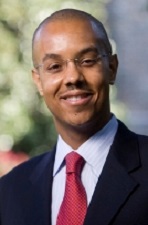 When I hung my scientific poster at our Annual Meeting nearly two decades ago, I could never have imagined writing this message. To say that I'm honored and humbled to lead SBM are profound understatements. Like many of you, I owe a great debt to our society; during my 20 years as a member, SBM has been a constant force in my life. At nearly all of my professional (and many personal) milestones, I can point to an SBM member or leader who has guided my steps. SBM is a special organization made up of highly committed, connected, and conscientious individuals who consistently impress me with their intellect and good cheer. Our community is small, but our size belies our import. By now, we can all recite the refrain: most of our country's most daunting health challenges have behavioral origins and we've shown that behavior change can prevent, manage, and cure most of these same conditions. Indeed, rarely in our country's history has there been greater need for what SBM members can uniquely provide -- evidence-based insights and solutions that can improve Americans' health.
My goal is to help SBM move beyond being the "best kept secret in health and medicine," and embrace its role as a critical component in the worlds of health research, policy, and practice. To accomplish this goal, we need to "extend our reach," to engage broadly and fully with a range of key stakeholders. In the next year, we will build on our existing relationships with policymakers and make new outreach to industry leaders and the public to emphasize the importance of behavior in preventing disease, improving treatment outcomes, expanding care, and lowering healthcare costs. We will also reach inwardly, identifying new ways for our members to grow the Society, educate our community about innovations that will advance our science and practice, and engage new stakeholders to disseminate behavioral medicine research.
The past few months have offered too many examples of the pressing challenges facing the field's mission to discover, test, and disseminate. And yet, opportunities for impact abound. Our Society is healthy and growing, the broader scientific community is galvanized, and we have a new generation of scientists -- many of whom work outside of the academic setting -- who aspire to make an impact. We've already started to explore new ways to diversify the Society's revenue sources, fight for sustained increases in NIH funding, create new models for sharing our science, and ramp up efforts to provide continuing education for our members.
We will need your help in these efforts. One of the most pleasant surprises in my two months on the job have been the large number of emails, tweets, Slack messages, texts, and notes with offers of assistance. Keep them coming. I am committed to finding new ways to engage our members in leadership activities. Remember that our key strength is that we are a federation of groups with diverse interests. In many ways, SBM leadership takes its direction and inspiration from our SIGs. They need your time and creative energies.
My door is open to any of your thoughts, questions, or concerns. I plan to share updates about leadership activities consistently over the next year via email and social media. We've also planned a series of town hall-style webinars where we can discuss issues related to the Society and our field. You can register for the next Office Hours, happening July 12 at 3 p.m. ET.
I believe strongly that SBM is poised to make an even greater impact on the public's health. To get there, we must accelerate our discovery mission, while also focusing beyond the borders of our profession to disseminate information about the real causes, consequences, and solutions for America's health challenges. I hope you will join me in making this vision a reality.
2017 Annual Meeting Recap: La Buena Vista: Expanding Horizons in Behavioral Medicine
David X. Marquez, PhD, Program Committee chair; Rachel Shelton, ScD, Program Committee co-chair; and James F. Sallis, PhD, SBM president
The Society of Behavioral Medicine's (SBM) 2017 Annual Meeting & Scientific Sessions kicked off with a thought-provoking opening keynote delivered by Robert K. Ross, MD, president and chief executive officer of The California endowment. Dr. Ross spoke about the 10 year Building Healthy Communities initiative to expand access to affordable, quality health care for underserved individuals and communities and to promote fundamental improvements in the health status of all Californians.
The theme of expanding our horizons carried into the keynote delivered by our very own Jim Sallis, who educated us on what we can do to take action in policy, and reiterated the importance of science in today's society. Anna Diez Roux, dean of Drexel University's School of Public Health, works at the intersection of health care and urban planning, and continued the theme of working towards health equity.
Harold Goldstein, DrPH, founder and executive director of Public Health Advocates, runs the California-based nonprofit that improves health by advocating for evidence-based community and school health policies. He spoke about their local efforts in California by using diabetes prevention as an example to describe the value of using a public health framework to address the most pressing physical and behavioral health challenges we face today.
Col. Tracy A. Neal-Walden, PhD, chief of psychological health for the U.S. Air Force Surgeon General's Directorate of Healthcare and Research Operations, delivered the closing keynote and focused on the importance of studying and maintaining behavioral health within military populations.
Francis J, Keefe, PhD, was the recipient of SBM's 2016 Distinguished Scientist Award and is a professor of psychology and neuroscience at Duke University. He gave a stimulating Master Lecture on novel strategies for understanding pain coping and enhancing pain coping skills. Kate Lorig, DrPH, was the recipient of SBM's 2016 Jessie Gruman Award for Health Engagement and is the director of Stanford University's Patient Education Research Center. Her work on preventing chronic disease through community-based programs has been tremendously disseminated.
In his Master Lecture, Frank J. Penedo, PhD, an expert in cancer care and survivorship and the director of the Lurie Comprehensive Cancer Center's Cancer Survivorship Institute and Northwestern University's Biopsychosocial Mechanisms and Health Outcomes Program, discussed examples of patient-centered and technology-based precision care approaches in oncology settings. Finally, Marjorie Kagawa-Singer, PhD, emeritus professor in the departments of Community Health Sciences and Asian American Studies at the University of California-Los Angeles Fielding School of Public Health, gave a Master Lecture in which she provided a scientifically grounded consensus definition of culture for health research.
Many of these topics extended into the rigorous science presented throughout the meeting in paper and poster sessions, symposia, panel discussions, and seminars. New at this year's meeting was a session focused on small business (SBIR)-researcher partnerships, which helped expand our usual horizons. Also, we successfully launched an "active conference," that included morning yoga in the park directly outside the conference hotel, standing during sessions, taking the stairs, and participating in stretch breaks.
The upcoming 2018 Annual Meeting theme is 'Extending our Reach'. Some featured speakers in New Orleans will help highlight the key connections that need to be built with a diverse range of sectors to maximize behavioral medicine's reach and impact. This includes, but is not limited to policy-makers, government agencies, community organizations, journalists, healthcare practitioners, and industry partners. The Program Committee has received excellent suggestions from the membership for content and is looking forward to the symposia, paper, panel discussions, and poster submissions to showcase SBM as a thought leader in this space.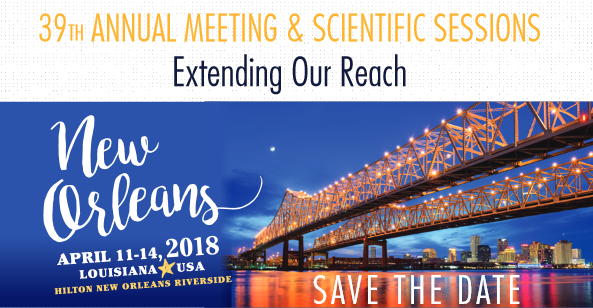 Congratulations to the Recipients of SBM's 2017 Achievement Awards
SBM extends a warm congratulations to the following recipients of the society's 2017 achievement awards. Recipients formally received their awards from Dr. Sallis on March 30, 2017, during SBM's 38th Annual Meeting & Scientific Sessions at the San Diego Hilton Bayfront in San Diego, CA.
SBM additionally congratulates new 2017 society fellows, who were also honored by Dr. Sallis during the Annual Meeting and are pictured with him below.
SBM would like to recognize the recipients of 2017 Special Interest Group (SIG) Awards as well. Recipients were honored during individual SIG meetings at the Annual Meeting, and their names are listed below.
Jessie Gruman Award for Health Engagement
Judith K. Ockene, PhD, MEd, MA and Salud America!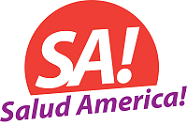 Distinguished Research Mentor Award
Richard A. Winett, PhD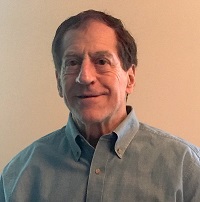 Distinguished Scientist Award
Karen M. Emmons, PhD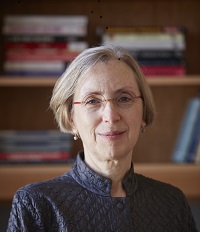 Research to Practice Award
Sherri Sheinfeld Gorin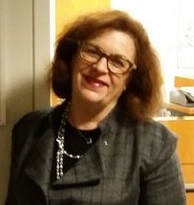 Excellence in Behavioral Medicine Training Program Award
Yale School of Medicine Behavioral Medicine Internship Placement

Early Career Investigator Award
Daniel J. Graham, PhD and Katherine Hoerster, PhD, MPH


Outstanding Dissertation Award
Jason T. Fanning, PhD
Distinguished Student Award
Excellence in Research Award
Jessica Dietch and Leah Schumacher


Travel Scholarship Award
Allison Carroll, Kathryn Godfrey, Brenna Renn,
Erin Anderson Goodell, Matea Dallacker, Kristina Decker,
Dorothy McLeod, Jennifer Nicoloro-SantaBarbara, and Ariella R. Tabaac









C. Tracy Orleans Distinguished Service Awards
Ellen Beckjord, PhD, MPH; Marian Fitzgibbon, PhD; Nicole Zarrett, PhD; Sherri Sheinfeld Gorin, PhD; David X. Marquez, PhD; Elliot Coups, PhD; Brent Van Dorsten, PhD
New 2017 Fellows
Shervin Assari, MD, MPH; Monica Baskin, PhD; Shelby Langer, PhD; Michele D. Levine, PhD; Marci Lobel, PhD; Robin Masheb, PhD; Valerie Myers, PhD; Colleen A. Redding, PhD; Lila J. Redding, PhD; Amy B. Wachhotlz, PhD, Mdiv, MS; Amy L. Yaroch, PhD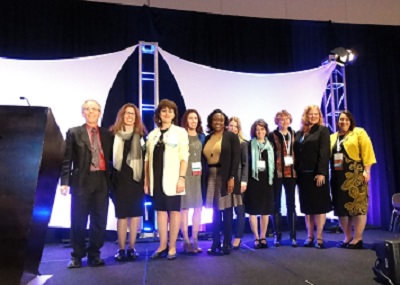 Special Interest Group (SIG) Awards
Aging SIG Outstanding Graduate Research Award
Katie Greenawalt
Aging SIG Local Innovator Award
Aging & Independence Services, County of San Diego Health & Human Services Agency
Behavioral Informatics and Technology SIG Trainee Award for Significance to the Field of Digital Health
Erin K. Tagai, PhD
Behavioral Informatics and Technology SIG Trainee Innovation Award
Molly L. Tannenbaum, PhD
Cancer SIG Outstanding Student Abstract Award
Moriah Brier
Cancer SIG Senior Investigator Award for Outstanding Contributions to the Field of Cancer Prevention and Control
Gary R. Morrow, PhD
Child and Family Health SIG Outstanding Research in Child and Family Health Award
Mary Tripp, PhD
Child and Family Health SIG Student Award for Outstanding Research in Child and Family Health
Kimberly L. Savin
Child and Family Health SIG Lifetime Achievement Award
Alan M. Delamater, PhD
Complementary and Integrative Medicine SIG Outstanding Student/Trainee Research Award in Complementary and Integrative Medicine
Moé Kishida
Complementary and Integrative Medicine SIG Outstanding Scientific Contribution Award
James Carmody, PhD
Complementary and Integrative Medicine SIG Early Career Award
Claire Spears, PhD
Diabetes SIG Early Career Travel Award
Molly L. Tanenbaum, PhD
Ethnic Minority and Multicultural Health SIG Early Career Award for Outstanding Oral Abstract Submission
Aisha Langford, PhD
Ethnic Minority and Multicultural Health SIG Trainee Award for Outstanding Oral Abstract Submission
Allyson Diggins
Ethnic Minority and Multicultural Health SIG Mentoring Award for Dedication to Training and Mentoring of the Next Generation of Health Equity and Disparities Research Scientists
Clement Gwede, PhD, MPH, RN, FAAN
Ethnic Minority and Multicultural Health SIG Trainee Award for Outstanding Abstract Submission
Isabela Gouveia Marques
Service Award in Recognition of Your Leadership, Dedication and Continuous Support of the Ethnic Minority and Multicultural Health SIG
Jamilia R. Sly, PhD
Evidence-Based Behavioral Medicine SIG Trainee Award for Best Poster Abstract
Marlena Ryba, PhD
Evidence-Based Behavioral Medicine SIG Outgoing SIG Chair
Joanna Buscemi, PhD
Health Decision Making SIG Outstanding Trainee Abstract in Health Decision Making
Devon Price
Integrated Primary Care SIG Student/Postdoc Travel Award
Laura J. Buchholz and Jaime M. Hughes, PhD, MPH, MSW
Military and Veterans Health SIG Patricia H. Rosenberger Outstanding Student Abstract in Military and Veterans Health
Erin Anderson Goodell and Cara Blevins
Multiple Health Behavior Change SIG Outstanding Student/Trainee Abstract in Multiple Health Behavior Change Award
Rachel H. Salk, PhD and Ellen M. Kinner
Obesity and Eating Disorders SIG Excellence in Postdoctoral Research Award
Nanette Lopez, PhD
Obesity and Eating Disorders SIG Excellence in Graduate Research Award
Cara Dochat
Optimization of Behavioral and Biobehavioral Interventions SIG Research Award
Siobhan M. Phillips, PhD
Optimization of Behavioral and Biobehavioral Interventions SIG Excellence in Behavioral Intervention Optimization Research Student Award
Sara A. Hoffman
Physical Activity SIG Student Research Award
Courtney J. Stevens
Physical Activity SIG Local Innovator Award
Challenged Athletes Foundation
Sleep SIG Trainee Abstract Award
Dhwani J. Kothari
1st Place Student SIG Abstract Award
Christopher M. Warren
2nd Place Student SIG Abstract Award
Molly L. Tanenbaum, PhD
3rd Place Student SIG Abstract Award
Laura Aylward
Theories and Techniques of Behavior Change Interventions SIG Student Abstract Award
Reyna Puentes
Violence and Trauma SIG Early Career Award
Charlene A. Niemi, PhD, RN
Violence and Trauma SIG Innovative Research Award
Katherine D. Hoerster, PhD
Violence and Trauma SIG Mid-Career Investigator Award
Julie B. Schnur, PhD
Women's Health SIG Research Award
Michele Levine, PhD
Educational Innovations for Science Advocacy: A Call to Action
Jamie Bodenlos, PhD, ETCD Council Member
On Earth Day, many of us marched in the name of science. We did so in cities across the world. In a time when science is regularly dismissed by our government leaders, the excitement and public support of that march was inspiring. However, the March for Science did not halt the ongoing attacks on science. Obviously, this feels disheartening. However, like other times in life, when things get bad, there are opportunities for much needed growth. Now is the time to critically examine the status quo and identify ways to make positive changes.
One change that is gaining momentum recently, is the idea that scientists should communicate directly with the public by writing op-eds in newspapers or magazines. In the words of our President elect, Dr. Sherry Pagoto, "Op-eds provide a huge opportunity to influence public opinion which has implications for policy, since legislators are affected by their constituent's views. Op-eds are also more impactful than form letters or phone calls to legislative offices because they are exposed to a far larger audience. Legislators pay attention to op-eds and if you follow the op-ed pages you'll see they frequently use this format to influence public opinion themselves."
Writing op-eds may be the right answer, strategically, but it may seem nearly impossible to find the time. Additionally, many faculty may feel less comfortable writing to a lay public audience than a scientific audience. This brings me to the opportunity for change and growth that I mentioned earlier. Every day, faculty work with students and trainees who are eager for ways to make a difference. What if writing op-eds became a part of the learning process? What if faculty taught this skill in the classroom and encouraged this work in our laboratory?
Scientists have the opportunity, right now, to change our culture. Students — who is in a better position to bridge this gap than you? Students are early enough in their careers that using too much academic jargon is less of an issue. In fact, students may be at an ideal career stage to communicate scientific information to the public in a more digestible form.
Let's also consider the potential benefits to students, for getting an op-ed published. Obviously, there is the positive recognition of their work, the opportunity to have some "fame", and a tangible addition to their resumé. It may even be a skill that they come to value and enjoy. Unlike our submissions to peer review journals, we hear about the decisions on op-eds much sooner and see them online in what seems like the blink of an eye. As Dr. Jim Sallis, our immediate Past-President states, "Op-eds are a good way to share some of your findings with the broader community. Social media and sharing links means that op-eds in even small papers can have wide reach." It gives students the opportunity to efficiently share information with the lay public.
In closing, as the unprecedented attacks on science continue, we need to consider embedding a role as a scientific activist into our role as scientific educators and students. Now is the time for change. There are existing tools to guide both faculty and student scientists to write compelling op-eds. Faculty, I urge you to consider ways to integrate an op-ed writing assignment into your curriculum. Is there a class you will be teaching next year that you could integrate this assignment into? Students, I urge you to bring this idea up to your faculty as a way to shift the paradigm for scientists. You are the future of science and what steps we take next are critical.
Movin' On Up: SBM Leadership Institute Participants See Gains at Work, in Research Dollars
Karen Mustian got $1 million in cancer research funding from her institution.
Lynette Craft got a promotion to chief science officer.
They accomplished these things through years of hard work—and some help from the Society of Behavioral Medicine's (SBM's) Leadership Institute.
The yearlong institute gives mid-career SBM members the training and skills they need to advance their careers and take on more leadership roles. The institute was the brainchild of SBM Past-President Marian Fitzgibbon, PhD. Mustian, PhD, MPH, and Craft, PhD, were in the institute's very first class.
They and 34 other institute participants convened in spring 2016 at a two-day, in-person workshop. Over the next year, they met one-on-one with career coaches and had group conference calls with esteemed SBM leaders who shared their professional interests. They also completed a leadership project of their choosing.
For her SBM Leadership Institute project, Dr. Mustian, co-director of the Wilmot Cancer Institute's Cancer Control and Survivorship Research Program at the University of Rochester Medical Center, assembled a group of leaders at her institution to flesh out a new vision for cancer control and survivorship research.
"The end of that project culminated in me presenting an overview of our research program to our senior leadership and creating an 'ask' to grow the program," she said. "This resulted in my obtaining almost a million dollars in new institutional support for our group from the cancer institute director and executive leadership."
Dr. Mustian's SBM Leadership Institute participation also helped her convince executive leadership to fund additional coaching sessions for her.
"They spent a total of $27,000 to invest in me during the year and grow my leadership capacity with an executive coach," Mustian said. "I was also selected as our University of Rochester Medical Center candidate for the National Executive Leadership in Academic Medicine Training Institute. I found out in April that I was awarded this very competitive and prestigious fellowship for this coming year, and I will be working with our university president, medical center CEO and VP, cancer institute director, and other executive leaders. I am thrilled with the opportunities the SBM Leadership Institute has led to for me."
Meanwhile, Dr. Craft's institution recognized her new leadership skills with a promotion. When she started SBM's Leadership Institute, she was the vice president for evidence-based practice and scientific affairs at the American College of Sports Medicine. Now she's the group's chief science officer.
"The Leadership Institute played a key role in preparing me for this position and many of the skills I developed there will be invaluable as I move forward," Dr. Craft said.
The institute's 2017 participants are already on their way to seeing similar professional gains. They have completed the in-person workshop and are beginning to have group calls.
In an anonymous survey, all participants said the workshop "closely" or "very closely" met their needs for leadership development. They also said they were "likely" or "very likely" to recommend the institute to colleagues.
"I can already see some areas where this can drastically impact my work," wrote one respondent.
"Gave me the tools and motivation to implement positive strategies at work,"' wrote another.
Yet another wrote: "As a mid-career [professional], it's good to have this type of input early. It's also great to do it with peers."
Congratulations to all 2016-17 and 2017-18 Leadership Institute participants. Applications for the 2018-19 institute will be available on the SBM website this fall.

Leadership Institute participants met for a two-day training workshop on March 28-29 during SBM's 2017 Annual Meeting in San Diego, CA.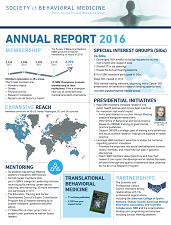 2016 Annual Report Shows SBM's Year in One Infographic
What did SBM accomplish in 2016? It's all in the 2016 Annual Report infographic.
Report highlights include:
SBM had 2,392 members.
SIGs shared over 370 job openings.
Leaders made 12 visits to health policy aides on Capitol Hill.
SBM released three policy briefs.
Recent Systematic Review Highlights the Need for Greater Transparency in Behavioral Medicine Clinical Trials
Heather L. McGinty, PhD, Evidence-Based Behavioral Medicine Special Interest Group (EBBM SIG) Co-Chair; Eimear C. Morrissey; Heather S. Jim, PhD, EBBM SIG Co-Chair
The EBBM SIG is dedicated to the creation of an evidence base in behavioral medicine, improving research methodology in the field, and translating evidence-based knowledge into evidence-based behavioral medicine practice. One vehicle for achieving these goals is the summary of existing literature into systematic reviews and meta-analyses, allowing for researchers and clinicians alike to efficiency consume the evidence available on a particular topic. The EBBM SIG is dedicated to training researchers in these skills as well as disseminating these highly impactful reviews as they become available. In this issue of Outlook, we highlight a recent review from our very own EBBM SIG members.
Morrissey, Durand, Nieuwlaat et al. recently published their work in Psychology & Health (2017), providing a closer look at behavioral interventions for medication adherence in a specific group of patients - those receiving care for hypertension. This review and meta-analysis offered a hypertension specific update to the Cochrane Review on medication adherence by Nieuwlaat et al. (2014). They identified 26 interventions and documented significant but modest post-intervention improvements in blood pressure outcomes among hypertensive patients.
Given the significant result of the available interventions and the variety of intervention techniques employed across studies, Morrissey et al. (2017) took the further step of trying to identify the key characteristics that may be driving the improvements in patient outcomes. The authors used the Theoretical Domains Framework (TDF; Cane, O'Connor, & Michie, 2012) to explore which theoretical factors and behavior change processes the interventions may have been targeting. With this information, they could examine how the addition of intervention techniques impacted the size of the intervention effects on blood pressure.
According to study authors, coding interventions by theoretical domain using the TDF was the greatest challenge of the review process. The lack of intervention detail in some of the papers occluded the accuracy and confidence in coding what, if any, theoretical factors were being targeted. Several other reviews have also identified this problem.
This absence of clear, documented behavioral science theory in the development of behavioral medicine interventions is a fundamental problem that prevents progress in research. Using theory refines intervention design and promotes more accurate description and analysis of intervention effects, including identifying the 'key ingredients' most responsible for improved patient outcomes. The Office of Behavioral and Social Sciences Research collaborated with the National Institutes of Health and Food and Drug Administration to help social and behavioral scientists performing clinical trials research increase the transparency in reporting clinical research protocols. The newly available Clinical Trial E-Protocol Tool and Template was developed for drug and device trials, but provides useful protocol reporting standards for social and behavioral trials as well. Much work is needed, however, to overcome limited space in publications for elaborating on the techniques of social or behavioral interventions. Future research should aim to comprehensively report methodology through detailed method sections or pre-trial methods papers to fully describe the interventions, supplementary intervention descriptions that accompany published results, or by making intervention manuals widely available.
References
Morrissey, E. C., Durand, H., Nieuwlaat, R., Navarro, T., Haynes, R. B., Walsh, J. C., & Molloy, G. J. (2017). Effectiveness and content analysis of interventions to enhance medication adherence and blood pressure control in hypertension: A systematic review and meta-analysis. Psychology & Health, 1-38.
Cane, J., O'Connor, D., & Michie, S. (2012). Validation of the theoretical domains framework for use in behaviour change and implementation research. Implementation Science, 7(1), 37-53. doi: 10.1186/1748-5908-7-37
Nieuwlaat, R., Wilczynski, N., Navarro, T., Hobson, N., Jeffery, R., Keepanasseril, A., . . . Haynes, R. B. (2014). Interventions for enhancing medication adherence. Cochrane Database Syst Rev, 11, CD000011. doi: 10.1002/14651858.CD000011.pub4
How to Become a Good Leader – Advice from the Meet the SBM Board of Directors Session at SBM 2017
Amy G. Huebschmann, MD, MS, ETCD Council chair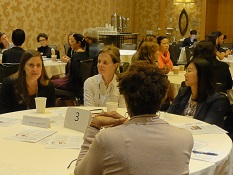 Welcome to the first "ETCD Council corner" segment. In each issue of Outlook, look to the ETCD Council corner for information related to our goals, which are to identify and promote interdisciplinary education and training efforts in behavioral medicine. The focus of this segment is on leadership. At the SBM 2017 Annual Meeting, the ETCD council facilitated round-table discussions between members of the SBM Board of Directors and about 50 SBM attendees at the Meet the SBM Board of Directors event. After completing their round-table discussions about leadership-related topics, each table shared some "pearls of wisdom" about how to become a good leader. Our ETCD council is using this forum to share these pearls with all of SBM. Many thanks to the SBM leaders and participants in our Meet the Board event for providing this shared wisdom.
Pearls of Wisdom about Leadership
Know your passion and have a goal in mind so that you can focus your energy on things that will help you achieve that goal without spreading yourself too thin. Truly find your passion — do not just look at leadership positions as resume padding. This can be fun!
Understand how the moving parts of an organization fit together and where you can get engaged.
Express your interest in taking on leadership positions to others within an organization to create opportunities for engagement.
In SBM, start by looking at leadership opportunities at the Special Interest Group (SIG) level — there are many opportunities for engagement there.
Do not take on a position where you will be overwhelmed. Find a situation that is a win-win for both you and the organization.
Get to know the Board members and leaders within an organization in order to identify good opportunities for leadership.
Do not be afraid to ask how to get involved.
Be a fly on the wall. Get involved and learn from others' experiences.
Ask what is involved in a position. In this way you can be strategic in deciding which leadership positions to take on and there are no (or fewer) surprises.
The ETCD Council invites you to consider a golden opportunity to apply for training to become a good leader:
Consider applying to the SBM Leadership Institute to receive training on leadership from several current and past SBM presidents and leaders. The training includes an intensive two-day workshop immediately preceding the 2018 SBM annual meeting, followed by additional sessions over the following 12 months. Applications open in late fall 2017 – click here for more details.
Closing the Gap Between Research and Real-World Clinical Practices: Tips and Resources
Julie C. Gass, PhD; Keri Dotson Bayley, MS; Jennifer S. Funderburk, PhD, Integrated Primary Care Special Interest Group (IPC SIG) Co-Chair
Similar to other areas within behavioral medicine, there remains a gap between "research" and "clinical care" within integrated primary care. Current research is limited on essential elements that are relevant for real-world application, and/or criticized for being idealistic. The activation and engagement of clinicians in the research process can help to fill this gap. One way to integrate clinicians into the process is to examine real-world processes and clinical innovations, such as those developed and deemed efficacious. However, schemas of randomized clinical trials and insurmountable time may become activated when the word "research" is mentioned to non-researchers. Using integrated primary care as one example, this article offers practical considerations and resources to overcome barriers, and provides suggestions for clinicians considering ways to contribute to a significant gap in the literature and researchers interested in increasing the applicability of their work:
Develop cross-professional relationships.

Primary care clinics are often located near or affiliated with academic centers, offering opportunities for clinicians and researchers to interface. 'Cross the street' to develop collegial relationships.
Professional organizations offer email listservs, mentorship, websites, twitter feeds, and other ways to professionally connect with either clinicians or researchers with similar interests (e.g., our IPC SIG, American Psychological Association Division 38, Collaborative Family Healthcare Research and Evaluation Committee, North American Primary Care Research Group, American Psychiatric Association IPS).
Look within your own healthcare or academic system for professionals to build connections.
Consider registering your site with the Practice-based Research Group which provides resources and assistance to clinical and health researchers.

Researchers

Ensure findings are disseminated to clinicians.
In addition to publishing in peer-reviewed journals, disseminate results via email, blogs, webinars, or other avenues that can reach larger groups of clinicians.
Identify and disseminate how clinicians can help support you and extend your work.
Engage clinicians in your setting in the early development of your research ideas to ensure that the innovation is clinically relevant.

Clinicians

Search the literature to guide new clinical innovations, as well as gaps in the literature. When identifying a need in your clinical practice, see if research can help guide it.
Use a structured approach to help refine local practices such as the Plan-Do-Study-Act model as a first step in improving your rigor.
To make local evaluations more generalizable, increase the rigor:
Conduct strategic planning to further refine your question and outcomes and do this with others outside your area of expertise.
Consider program evaluation frameworks to help identify outcomes (e.g. Reach, Effectiveness, Adoption, Implementation, and Maintenance) or examine quality indicators of integrated healthcare such as those identified by the Agency for Healthcare Research and Quality or Sunderji et al. (2016).
Consider existing data that is already available (e.g., electronic medical record, performance metrics, healthcare utilization).
Find additional resources in the June 2017 Special Issue of Families, Systems, & Health, or workshops available at the Collaborative Family Healthcare Association annual conference.
We hope that these tips and resources can help clinicians and researchers (and anyone in between) to consider ways to better bridge the gap between complex research and day-to-day clinical practice.
What Has the SBM Board Been Up To?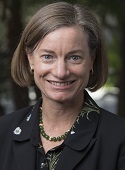 As a newly-elected SBM Member Delegate, I would like to update the membership on recent Board activities and encourage members to seek out opportunities to get more involved in Society activities. I am guessing that many members may have little knowledge of what actually transpires at Board meetings, so I hope that this brief update will provide some sense of the exciting work that is going on among the SBM Leadership. As an example, the Board recently approved two new appointments of council chairs: Dr. Amy Huebschmann to the Education, Training, and Career Development Council and Dr. Amy Janke to the Scientific and Professional Liaison Council. In addition, Dr. Eric Heckler was approved to become the next incoming Annual Meeting Program Chair, to follow Rachel Shelton, who is the Program Chair for our next Annual Meeting, which will be held in New Orleans April 11-14, 2018. The 2018 Annual Meeting will feature the theme of "Extending Our Reach." Speakers will highlight the key connections that need to be built with a diverse range of sectors to maximize behavioral medicine's reach and impact. This includes, but is not limited to policy-makers, government agencies, community organizations, journalists, healthcare practitioners, and industry partners.
The board also recently approved two new proposals for policy briefs, which will add to a recent surge in SBM activity around these very important statements of the evidence related to specific behavioral medicine topics. Recent policy briefs, available on the SBM website, include the following: "enact taxes on sugary drinks to prevent chronic disease", "restore CDC funding for firearms and gun violence prevention research", and "improving access to psychosocial care for individuals with persistent pain: supporting the National Pain Strategy Call for Interdisciplinary Pain Care". Members who have their own idea for a health policy brief can just fill out this form.
There are many available avenues to become involved in SBM leadership and advocacy. It is a great way to make connections with other professionals in your field and have an impact on policy. There is a helpful list of ways to be involved here. These opportunities include writing an SBM Comment blog post, joining a Special Interest Group and submitting an article to Translational Behavioral Medicine or Annals of Behavioral Medicine (both published by SBM). For those who are interested in a higher level of commitment, there are 7 permanent councils within SBM: Digital Health, Education, Training & Career Development; Health Policy; Membership; Publications & Communications; Council on SIGs; and Scientific and Professional Liaison. To inquire about joining a council, you can contact the Council chair. If you are looking for expert feedback on your research or career activities, SBM can link you up with an expert in your field through our consultation program .
The Society of Behavioral Medicine draws its strength from its members and from the active energy that they put into Society activities. While the Annual Meeting is the most visible manifestation of the talent and dedication that drives the organization, SBM is really a year-round operation, and there are ways to contribute your voice at any time. As your member delegate, I invite you to contact me with your ideas about how the Society can continue to serve our members in ways that meet your interests and needs. I can be reached at margaret.schneider@uci.edu.
The Future of Orthopedic Care: Interview with Dr. David Ring, an Orthopedic Surgeon with a Knack for Psychological Care
Ana-Maria Vranceanu, PhD, Pain Special Interest Group (SIG) Chair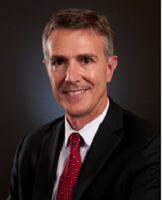 The Pain Special Interest Group is pleased to introduce you to Dr. David Ring. He is the former Chief of Hand and Upper Extremity Service at Massachusetts General Hospital and Professor of Orthopedic Surgery at Harvard Medical School. He left this position 2 years ago to serve as Associate Dean of Comprehensive Care at Dell Medical School in Austin Texas. Dr. Ring is not your typical orthopedic surgeon – he has a strong interest in psychological factors associated with pain, and earned a PhD in Psychology from the University of Amsterdam. His research on psychosocial aspects of musculoskeletal illness encompasses original research publications on topics such as shared decision making, emotional functioning, coping strategies, and physician empathy. I met David in 2006 during my clinical internship in Behavioral Medicine at Massachusetts General Hospital in Boston. David reached out to get help developing a psychosocial program in orthopedics. I did not have much experience with pain or orthopedics at that point, but I was excited for the collaboration. Shortly after starting out, I was hooked. David and I have continued to learn from each other and collaborate ever since. This interview provides a snippet of a model of a successful collaboration between a medical doctor and a psychologist. Such collaborations are key if we are to be successful with behavioral health integration efforts in both primary and specialty care clinics. The interview provides valuable information about challenges associated with behavioral health integration, as well as strategies to bypass these barriers.
Pain SIG: How did you become interested in psychosocial factors?
Dr. Ring: Medical training can be dehumanizing, but I managed to maintained some curiosity, humility, and compassion. Some people have more symptoms and limitations with a given problem than others. Doctors tend to treat the symptoms. For instance, many hand surgeons will offer people with disproportionately bothersome intermittent hand numbness and pain a carpal tunnel release even when the disease is so mild it cannot be detected on electrophysiological testing. But those same hand surgeons won't offer surgery to people with measurable advanced nerve dysfunction at risk for permanent numbness, or weakness from atrophy if they have no symptoms. To me that's like offering antibiotics for sore throat when it's clearly a virus as long as the patient pushes you hard enough, while withholding penicillin for strep throat if the symptoms are minimal and the patient is very agreeable and deferential. It's puzzling and unsettling.
When patient reported outcomes became popular in the 1990's, they gave us a way to quantify and study symptoms and limitations. I put an advertisement on the Harvard website to recruit medical student researchers; one Dartmouth pre-med psychology major then helped me name and measure some of the constructs I was interested in. That led to your (Dr. Vranceanu) internship and post-doc with me and a slew of additional research. Within a few years it was clear that symptoms of depression and anxiety, less effective coping strategies like catastrophic thinking and kinesiophobia, and heightened illness concern explained a substantial amount of the variation in symptom intensity and magnitude of limitations for a given nociception or pathophysiology. I've also learned about effective treatments like cognitive behavioral therapy and its derivatives.
Pain SIG: The role of psychological factors in the response to nociception is well known now, yet screening and addressing these factors in a standardized and efficient way is lacking. What are some barriers?
Dr. Ring: The interaction between people seeking and people providing care is delicate. People don't seek care for a symptom. People seek care when a symptom becomes a concern. When it comes to nociception, those concerns are often based on misconceptions. We humans are wired to prepare for the worst. What we imagine is often worse than what's actually going on. As a result, expert medical advice is often unexpected, counterintuitive, disappointing or unwelcome. Expert advice may even feel dismissive, belittling, or arrogant. This creates difficult conversations. As physicians we tend to develop habits to conduct diagnostic tests of low value and offer treatments to try and avoid these difficult conversations.
It gets even more difficult when we attempt to offer people opportunities to reduce stress and distress, and improve coping strategies. The human mind defaults to a false mind-body dichotomy and there is stigma and shame associated with psychological factors. The message that "there's a better way to think about this" may sound like "you're getting it all wrong…your mind is defective" or "it's all in your head".
Doctors—surgeons in particular—may have developed relative "stress immunity" and other personality traits that make it possible to perform such a high-stress profession, yet at the cost perhaps of lower empathy. This might contribute to challenges with communication skill for many surgeons and other physicians. Physician training focuses largely on the technical aspects of medicine, while non-technical skills such as effective communication strategies aren't typically as well practiced. So we are asking less effective communicators to have high-stakes, difficult conversations. It's not surprising that surgeons often choose to avoid discussing psychosocial issues.
To improve, we'll need a culture change where people see mind training and cognitive exercises are just as helpful and important as body training and exercise, healthy diet, and other healthy habits. We're starting to see this in the military where resiliency training is increasingly common, and in sports where many accomplished athletes have mindset coaches (i.e., sports psychologists). We need to also change the way we train doctors. Effective communication should be just as important if not more important than adequate knowledge and technical skills. Psychologists trained in behavioral medicine are key in helping doctors learn how to discuss psychosocial factors with patients and how to use simply cognitive behavioral therapy skills during their visits with patients. You (Dr. Vranceanu) and I used to see patients together at the beginning of our collaboration, and that has helped us learn from each other so that eventually we became able to see patients independently and stay on the same page.
Pain SIG: You and I worked together for many years, yet this collaboration is pretty unique. We are Co-PIs on a grant testing a 4 session live video skills intervention for patients with acute fractures who have difficulties coping and are at risk for chronic pain and disability, "The Toolkit for Optimal Recovery". Although patients who undergo this program do really well and like it, it is challenging to convince surgeons to refer patients. What do you think we can do better to facilitate their buy in?
Dr. Ring: I think surgeons increasingly understand the importance of psychosocial factors. That's a development we can be proud of. I think the next step is helping surgeons and their teams develop effective communication strategies. You and I did a survey of orthopedic surgeons and found that surgeons do notice psychosocial factors, but are uncomfortable discussing them with patients. In addition, we know that patients are not generally happy when their surgeon tells them to see a psychologist. But starting the conversation by asking patients who their social/instrumental support is might increase their acceptance of an offer of more support. When a patient requests more support, then a referral can be made and may be better received by patients.
Historically, surgeons made referrals to Psychiatry Departments, but this has been problematic not only because of stigma associated with mental health, but also because of the long wait, often months, to see a psychologist. There are also few psychologists with specialized training who can work well with orthopedic patients. You, Dr. Vranceanu, trained and saw patients with me, and learned the specific culture of both the orthopedic practice and orthopedic patients. When I was at Massachusetts General Hospital, I was blessed to have you available when people requested support. Most surgeons don't have this type of colleague ready at hand.
I think surgeons are now receptive to the approach of "comprehensive care". This means that surgeons can learn to effectively communicate about psychosocial factors with patients during the medical appointments, and introduce cognitive behavioral skills. In our work with the "Toolkit for Optimal Recovery", we found that approximately 50% of patients do pretty well on their own, and we know this has little to do with the severity of the injury. They may have some misconceptions about pain, and some pain-related anxiety, and they can respond very well to an empathic, encouraging surgeon who can put them at ease. The other 50% have more difficulties - in the form of anxiety about pain and catastrophic thinking about pain. These patients can still benefit from working with a reassuring surgeon, but a friendly program like the "Toolkit for Optimal Recovery", which is delivered early in the recovery process through telehealth (so very convenient), can make a big difference in helping patients develop a resilient mindset that is not contingent on being pain free, but on engaging in activities and getting back to living a full life. The surgeon's role in this process is key to reinforce the work of the psychologist. As you and I have learned, speaking the same language and having a similar understanding of both the medical and psychosocial factors in pivotal in order to help our patients. The words we use when discussing psychosocial aspects of illness are also very important, and the Toolkit is successful with patients because it is framed as coaching rather than a therapy program; it normalizes the pain experience while instilling hope, teaching and reinforcing skills, and keeping patients accountable to developing engrained adaptive habits.
Extending our Reach to Non-Academic Audiences: Lessons from the Military and Veterans Health Special Interest Group
In his persuasive presidential address, Jim Sallis encouraged SBM members to better communicate to the public, clinicians, organizations, and decision-makers, aligned with current SBM President Gary Bennett's mission to "extend our reach". To help the Military and Veterans Health Special Interest Group (MVH SIG) and SBM members put their calls into action, our incoming MVH SIG VA Co-Chair Katherine Hoerster shares strategies for activating the public on behavioral medicine issues, drawing on her recent publication of an op-ed, and past legislative advocacy.
Writing an Op-Ed
Include a personal perspective along with scientific and professional claims.
Invite people with various (including dissenting) perspectives to read and edit your piece.
Work with your institution's media liaisons to craft your message, identify target outlets, and obtain approval.
Have a draft ready so breaking news can be incorporated and the piece submitted quickly.
Have a plan for how you'll disseminate the op-ed so that you can quickly get the word out once it is published. Share it broadly on social media platforms, and directly with professional, academic, advocacy, and healthcare organizations. Also share the op-ed with relevant blogs and media outlets that disseminate published pieces. Be sure to share the piece with those holding opposing views.
Keep your advocacy momentum going after the op-ed is published. Invite potential partners to discuss next steps.
See additional helpful tips from Duke University and the op-ed project.
General Tips for Communicating to Non-Academic Audiences
Work with your institution to help craft press releases and prepare for media interaction in advance of publishing peer-reviewed publications.
Identify and frame research findings to have broad audience relevance.
Communicate with leadership and other stakeholders who have the ability to translate findings into action.
Be mindful of laws prohibiting direct lobbying with federal dollars/time.
You can have a big impact on public health by using these non-traditional mechanisms. Be sure to anticipate, and ameliorate, potential unintended consequences of large-scale changes you seek. Get creative and have fun!
Additional MVH SIG Activities to Extend Reach
In partnership with several SIGs and SBM committees/councils, we held a preconference course at SBM 2017: "Research Translation for Military and Veteran Health: Research, Practice, Policy." The course identified critical steps for translating research to advance military and Veteran health while facilitating collaborations among over 80 researchers, clinicians, and leadership from VA, DoD, their academic affiliates, and beyond. We are preparing a product focused on key lessons learned to assist others doing translational, collaborative work with military and Veteran populations. We are also working with MVH SIG members to identify policy-change priorities to include in a policy brief. We are strengthening ties to the community-based organization Team Red, White, and Blue, which promotes physical activity and social engagement among Veterans. We hope to highlight their work, and other partnerships with Veteran-serving organizations, at the 2018 Annual Meeting.
We'd love to connect with you about increasing the reach of behavioral medicine interventions and improving Veteran and Servicemember health. Lastly, we congratulate Cara Blevins and Erin Goodell who received the 2017 MVH SIG Dr. Patricia R. Rosenberger awards.
We look forward to continuing to work with you in the coming year!
Your MVH SIG Executive Team:
Dr. Linda Gallo and Dr. Addie Fortmann on Addressing Diabetes within the Latino Community
Maggie A. Crawford and Naomi S. Kane, Senior Student Co-Chairs, Diabetes Special Interest Group (SIG)


Diabetes is a growing epidemic that heavily impacts the Latino population--- diabetes prevalence for Latinos was 17%, compared to 8% in non-Hispanic whites in the National Health and Nutrition Examination Survey. The Diabetes SIG spoke with Dr. Linda Gallo to learn how she studies the diabetes-related health needs of the Latino population in Hispanic Community Health Study/Study of Latinos (HCHS/SOL), and how she translates these findings into intervention research aiming to successfully promote diabetes self-management in this population. Dr. Linda Gallo is a Professor of Psychology and Co-Director South Bay Latino Research Center at San Diego State University. We also interviewed Dr. Addie Fortmann, PhD Research Scientist at the Scripps Whittier Diabetes Institute (SWDI), to learn how she collaborates with Dr. Gallo to create and implement diabetes management interventions for the Latino population.
Diabetes SIG: What are the guiding research objectives of the HCHS/SOL? How has the design influenced its findings?
Dr. Gallo: The goal of HCHS/SOL is to establish prevalence, incidence, and risk and protective factors for major chronic diseases. This landmark study includes >16,000 adults of Latino descent, enrolled from four US cities (Bronx, NY; Chicago, IL; Miami, FL; San Diego, CA). The communities selected have high concentrations of specific heritage groups, allowing the study to examine variability in disease prevalence. For example, diabetes prevalence varied from 10.2% in South Americans to 13.4% in Cubans, to 17.7% in Central Americans, 18.0% in Dominicans and Puerto Ricans, and 18.3% in Mexicans. The cohort provides an opportunity to understand the health needs of the US Latino population, and guide interventions by identifying factors that may explain why some groups fare better than others.
Diabetes SIG: What key needs has the HCHS/SOL highlighted in the Latino population?
Dr. Gallo: 36.3% of HCHS/SOL participants have pre-diabetes, placing them at high risk for developing diabetes. Latinos with diabetes also show worse glycemic control, more complications, and higher mortality than non-Hispanic whites. Of the participants who have diabetes in HCHS/SOL, only 48% have adequate glycemic control. The high prevalence of diabetes and pre-diabetes highlights the need for accessible, culturally appropriate healthcare strategies to reduce diabetes disparities among Latinos. At the baseline assessment (2008-2011), only 52% of HCHS/SOL participants with diabetes had health insurance, so access is a major factor. However, there are additional practical, social, and cultural barriers that may interfere with optimal care and glycemic control even among those with insurance.
Diabetes SIG: In addition to SOL, you collaborate on a number of diabetes interventions with the SWDI. Can you talk about how SOL has influenced the objectives of these interventions?
Dr. Gallo: My recent research has focused on developing and testing culturally appropriate interventions to prevent diabetes and improve outcomes among Latinos. I have asked SWDI Co-Investigator Dr. Addie Fortmann to join me in discussing these efforts.
Dr. Gallo and Dr. Fortmann: Working with Neighborhood Health, a large federally qualified community health center that serves a largely Latino population, we are testing diabetes interventions that involve lower-cost personnel (e.g., medical assistants, community health workers) to improve adherence and provider-patient communication, and integrate approaches that address both behavioral and physical healthcare needs of underserved patients. We work closely with our community partners, providers, and patients to ensure that the intervention design and content is culturally appropriate, acceptable, and sustainable in today's healthcare environment.
Diabetes SIG: How has the use of technology evolved in your diabetes interventions?
Dr. Gallo and Dr. Fortmann: Culturally, members of the Latino population might prefer personal interactions to digital intervention modalities. In our Dulce Digital ME study, we are comparing a non-tailored text messaging intervention to a personally tailored version that sends participants personalized feedback in response to bluetooth transmitted glucose and medication adherence data. Feedback is either issued immediately via texts generated from computer generated algorithms, or delivered by specially trained medical assistants. We hope to guide how best to incorporate technology into a real world, low resource primary care environment to promote patient outcomes, and effective, cost-efficient care.
Diabetes SIG: How has the leverage of social support evolved in your diabetes interventions?
Dr. Gallo and Dr. Fortmann: Our interventions often rely on specially trained laypersons, such as community health workers (otherwise known as promotoras) who can relate to patients culturally, understand barriers, provide support, and connect participants with community resources. In one current trial, we are testing how effective a team-care approach is for improving self-management and clinical outcomes--- this utilizes medical assistants who collaborate with primary care providers and provide health coaching to participants. In our text messaging intervention, we encourage participants to engage family and friends in their lifestyle goals, or as a resource to cope with stress. Given the research showing that social support is a critical predictor of many health outcomes, it makes sense that it is a critical "ingredient" in effective chronic disease management.
References:
Schneiderman N, Llabre M, Cowie C, et al. Prevalence of Diabetes among Hispanics/Latinos from Diverse Backgrounds: the Hispanic Community Health Study/Study of Latinos (HCHS/SOL). Diabetes Care. 2014;37(8):2081-2083.
Centers for Disease Control and Prevention. National Diabetes Statistics Report: Estimates of Diabetes and Its Burden in the United States, 2014. Atlanta, GA: Department of Health and Human Services.
Fortmann AL, Gallo LC, Garcia MI, et al. Dulce Digital: An mHealth SMS-based intervention improves glycemic control in Hispanics with type 2 diabetes. Diabetes Care. 2017;40:1-7.
For more information about the HCHS/SOL: https://sites.cscc.unc.edu/hchs/; https://www.nhlbi.nih.gov/research/resources/obesity/population/hchs.htm
Dulce Digital Me is funded by NIH/NIDDK (NIH/NIDDK 1 R01DK112322-01A1; Gallo & Philis-Tsimikas); The Medical Assistant Coaching Trial is funded by NIH/NIDDK (NIH/NIDDK 5 R18 DK104250-02; Gallo & Philis-Tsimikas)
SBM Poised to Address Rural Health Disparities at 2018 Annual Meeting
Sabrina Ford, PhD Ethnic Minority and Multicultural Health Special Interest Group (EMMH SIG) Co-Chair
We often think of urban, medically-underserved populations as facing the most serious health disparities but increasing disparities are being seen in rural populations (Blake et al, 2017). This creates an opportunity for behavioral science researchers to apply our expertise to address these emerging health inequities. Approximately, 72% of the land area of the United States is rural as defined by Office of Management and Budget. Yet, only 15% of Americans live in rural locales across the U.S. This means that there are small communities that cannot sustain health providers and hospitals. Thus, rural residents face healthcare barriers distinct from urban poor populations. Healthcare challenges for rural populations include; limited geographic access to health providers, lack of adequately skilled hospitals for complicated illnesses, and fewer health education and health promotion programs. There is also limited technology such as broadband internet and telecommunications to coordinate care when rural patients do, in fact, access doctors and specialists. To further complicate this lack of access, rural populations are mostly older in age, have lower income, and face serious health issues such as lack of cancer screening and treatment.
The National Cancer Institute (NCI) continues to address challenges facing rural Americans with renewed vigor and vision in cancer control. In May 2017, the University of Memphis hosted a dynamic meeting, Rural Cancer Control: Challenges & Opportunities, chaired by NCI Senior Advisor and SBM Past President Dr. Lisa Klesges. The meeting held at the University of Memphis FedEx Institute of Technology offered a productive space for researchers, policy makers, and practitioners to share evidence-based interventions and practices to address rural challenges across the cancer care continuum. The meeting culminated in a wealth of innovative ideas in healthcare delivery, technological advancements, and prevention programs that are needed and valued by rural Americans. It was also clear that Implementation science would offer valuable frameworks to enact evidence-based interventions. This meeting was part of NCI's effort to drive more equitable cancer outcomes in rural populations.
SBM's EMMH SIG is poised to join national colleagues to a focus on rural health disparities. SBM is working to create sessions and presentations at our upcoming annual meeting – with plans to engage rural healthcare experts to present innovative ideas to promote healthcare equity in rural populations. EMMH SIG members will work with the health policy council to create a policy brief focused on behavioral research approaches to addressing health inequities in rural residents in the U.S. Stay tuned as SBM's EMMH SIG moves forward to address this important issue.
References
Blake, et al article - http://cebp.aacrjournals.org/content/early/2017/06/09/1055-9965.EPI-17-0092
Health Resources & Services Administration, Federal Office of Rural Health Policy. Defining Rural Population. Accessed June 6, 2017 at: https://www.hrsa.gov/ruralhealth/aboutus/definition.html
Klesges, L. (2017). Rural Cancer Control: Challenges & Opportunities – highlighting upcoming meeting. Research to Reality Accessed May 12, 2017 at: https://researchtoreality.cancer.gov/discussions/rural-cancer-control-challenges-opportunities-%E2%80%93-highlighting-upcoming-meeting
National Cancer Institute. (2016). Improving Cancer Control in Rural Communities: An Interview with Dr. Robert Croyle. Cancer Currents Blog. Accessed June 6, 2017 at: https://www.cancer.gov/news-events/cancer-currents-blog/2016/cancer-control-rural
Non-Academic Career Paths: An Interview with Dr. Kate Wolin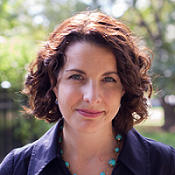 The Physical Activity Special Interest Group (PA SIG) interviewed Kate Wolin, ScD about non-traditional career paths as a physical activity and obesity researcher. Dr. Wolin is a behavioral epidemiologist. Her academic research focused on the role of exercise and obesity in cancer risk reduction and survivorship. She is co-founder of two companies, Coeus Health and ScaleDown, and an Adjunct Associate Professor in the Department of Preventive Medicine at Northwestern University.
PA SIG: Tell us about Coeus Health and Scaledown.
Dr. Wolin: I founded ScaleDown with Drs. Gary Bennett and Dori Steinberg. We set about to build a commercial product based in theories of behavior change around the idea that came out of the WEIGH trial - that daily weighing is an effective intervention. As a team, we leveraged our different skills to build a product that is efficacious and highly scalable, having reached over 150,000 patients in 2 years.
With Coeus Health, the focus was on building something that wasn't patient facing. In 2013, I learned to code. That experience led to conversations with Gary Bennett about how to use existing software models to disseminate behavioral science. Coeus Health focuses on how to take an intervention that works and make it into a software tool that someone else can pull into their existing platform.
PA SIG: What led you to found Coeus Health and ScaleDown?
Dr. Wolin: Academic research is set-up to focus on discovery, and not implementation. Implementation largely happens in the commercial world. I saw a disconnect between what we know about health behaviors and what is being done commercially. For something to be implemented, it must be scalable and cost-effective. We wanted to create something that delivers on reach and scalability so it is affordable and can be offered to a large number of people.
PA SIG: What influenced your decision to follow a non-traditional career path?
Dr. Wolin: I wanted to do something I did not think I could do in academia. I had a problem that I didn't think I could solve in academia.
PA SIG: What challenges did you encounter when following a non-traditional career path?
Dr. Wolin: I had to let go of a lot of the assumptions about industry that I held/had been taught in my academic training. For example, I haven't met a single person in the commercial world (including pharma) who isn't committed to making people healthier. It pushed me to be open to listening and learning.
PA SIG: What are some key lessons learned throughout your career?
Dr. Wolin: One that's applicable regardless of whether you're in industry or academia is how much your team matters. The culture that you create in your lab or workplace and the people you bring in really make a difference in your success. ScaleDown's success is attributable to the team – it wouldn't have happened without each member of the team.
PA SIG: What advice would you give to trainees/early career professionals looking to pursue a non-traditional career path?
Dr. Wolin: Talk to as many people as possible about how they got there and what they did. You have to talk to someone who has done it, and do not assume you understand what it is like to be out there.
New Articles from Annals of Behavioral Medicine and Translational Behavioral Medicine
SBM's two journals, Annals of Behavioral Medicine and Translational Behavioral Medicine: Practice, Policy, Research (TBM), continuously publish online articles, many of which become available before issues are printed. Three recently published Annals and TBM online articles are listed below.
SBM members who have paid their 2016 membership dues are able to access the full text of all Annals and TBM online articles via the SBM website by following the steps below.
Go to the Members Only section of the SBM website (http://www.sbm.org/membership/members).
Log in with your username and password.
Click on the Journals link (listed third in the list of member benefits).
Click on the title of the journal which you would like to electronically access.
To check if you are a current SBM member, or if you are having trouble accessing the journals online, please contact the SBM national office at info@sbm.org or (414) 918-3156.
Annals of Behavioral Medicine
Coordination of Self- and Parental-Regulation Surrounding Type I Diabetes Management in Late Adolescence
Jonathan E. Butner, Cynthia A. Berg, A. K. Munion, Sara L. Turner, Amy Hughes-Lansing, Joel B. Winnick, Deborah J. Wiebe
Background
Type 1 diabetes management involves self- and social-regulation, with past research examining components through individual differences unable to capture daily processes.
Purpose
Dynamical systems modeling was used to examine the coordinative structure of self- and social-regulation (operationalized as parental-regulation) related to daily diabetes management during late adolescence.
Methods
Two hundred and thirty-six late adolescents with type 1 diabetes (M age = 17.77 years, SD = .39) completed a 14-day diary reporting aspects of self- (e.g., adherence behaviors, cognitive self-regulation failures, and positive and negative affect) and parental-regulation (disclosure to parents, knowledge parents have, and help parents provide).
Results
Self-regulation functioned as one coordinative structure that was separate from parental-regulation, where mothers and fathers were coordinated separately from each other. Mothers' perceived helpfulness served as a driver of returning adolescents back to homeostasis.
Conclusions
The results illustrate a dynamic process whereby numerous facets of self- and social-regulation are coordinated in order to return diabetes management to a stable state.
Associations Between Parenting Factors, Motivation, and Physical Activity in Overweight African American Adolescents
Lauren E. Huffman, Dawn K. Wilson, M. Lee Van Horn, Russell R. Pate
Background
Positive parenting practices and environmental supports have been linked to physical activity (PA) levels in youth, yet factors associated with positive parenting styles have been understudied in African American adolescents.
Purpose
This study expands on previous literature by examining associations between motivation, parenting factors associated with Self-Determination Theory's psychological needs (competence, autonomy, and relatedness) including authoritative parenting, autonomy support and emotional and tangible support, and adolescent moderate-to-vigorous PA (MVPA) and light PA (LPA).
Methods
Participants were African American adolescents (N = 148; Mage = 13.6 years; MBMI% = 96.6) and their caregivers (Mage = 43.4 years; MBMI = 37.4) enrolled in the Families Improving Together for Weight Loss trial. Parenting factors were measured using self-report surveys, and PA minutes were measured using 7-day accelerometry estimates.
Results
Regression analyses indicated that overall models for MVPA (F(11,134) = 4.35; R2 = 0.26) and LPA (F(11,134) = 5.84, R2 = 0.32) were significant. Adolescent motivation for PA (B = 0.58, SE = 0.16) was positively associated with MVPA minutes. Authoritative parenting (B = 15.71, SE = 4.38) and tangible support (B = 8.53, SE = 4.02) were positively associated with adolescent LPA minutes. Unexpectedly, emotional support was negatively associated with both MVPA (B = −0.47, SE = 0.17) and LPA (B = −11.22, SE = 4.79), with follow-up analyses showing this relationship stronger in males.
Conclusion
Findings highlight the importance of adolescent motivation for PA on MVPA and positive parenting styles and tangible supports on adolescent LPA in overweight African American youth. Recommendations for integrating these factors within the context of intervention studies are discussed.
High-Frequency Heart Rate Variability Reactivity and Trait Worry Interact to Predict the Development of Sleep Disturbances in Response to a Naturalistic Stressor
Sasha MacNeil, Sonya S. Deschênes, Warren Caldwell, Melanie Brouillard, Thien-Thanh Dang-Vu, Jean-Philippe Gouin
Background
High-frequency heart rate variability (HF-HRV) reactivity was proposed as a vulnerability factor for stress-induced sleep disturbances. Its effect may be amplified among individuals with high trait worry or sleep reactivity.
Purpose
This study evaluated whether HF-HRV reactivity to a worry induction, sleep reactivity, and trait worry predict increases in sleep disturbances in response to academic stress, a naturalistic stressor.
Method
A longitudinal study following 102 undergraduate students during an academic semester with well-defined periods of lower and higher academic stress was conducted. HF-HRV reactivity to a worry induction, trait worry using the Penn State Worry Questionnaire, and sleep reactivity using the Ford Insomnia Stress Reactivity Test were measured during the low stress period. Sleep disturbances using the Pittsburgh Sleep Quality Index were assessed twice during the lower stress period and three times during the higher stress period.
Results
Greater reductions in HF-HRV in response to the worry induction predicted increases in sleep disturbances from the lower to the higher academic stress period. Trait worry moderated this association: individuals with both higher trait worry and greater HF-HRV reactivity to worry had larger increases in stress-related sleep disturbances over time, compared to participants with lower trait worry and HF-HRV reactivity. A similar, but marginally significant effect was found for sleep reactivity.
Conclusion
This study supports the role of HF-HRV reactivity as a vulnerability factor for stress-induced sleep disturbances. The combination of high trait worry and high HF-HRV reactivity to worry might identify a subgroup of individuals most vulnerable to stress-related sleep disturbances.
Translational Behavioral Medicine
Engaging multilevel stakeholders in an implementation trial of evidence-based quality improvement in VA women's health primary care
Alison B. Hamilton, Julian Brunner, Cindy Cain, Emmeline Chuang, Tana M. Luger, Ismelda Canelo, Lisa Rubenstein, Elizabeth M. Yano
The Veterans Health Administration (VHA) has undertaken primary care transformation based on patient-centered medical home (PCMH) tenets. VHA PCMH models are designed for the predominantly male Veteran population, and require tailoring to meet women Veterans' needs. We used evidence-based quality improvement (EBQI), a stakeholder-driven implementation strategy, in a cluster randomized controlled trial across 12 sites (eight EBQI, four control) that are members of a Practice-Based Research Network. EBQI involves engaging multilevel, inter-professional leaders and staff as stakeholders in reviewing evidence and setting QI priorities. The goal of this analysis was to examine processes of engaging stakeholders in early implementation of EBQI to tailor VHA's medical home for women. Four inter-professional regional stakeholder planning meetings were conducted; these meetings engaged stakeholders by providing regional data about gender disparities in Veterans' care experiences. Subsequent to each meeting, qualitative interviews were conducted with 87 key stakeholders (leaders and staff). Stakeholders were asked to describe QI efforts and the use of data to change aspects of care, including women's health care. Interview transcripts were summarized and coded using a hybrid deductive/inductive analytic approach. The presentation of regional-level data about gender disparities resulted in heightened awareness and stakeholder buy-in and decision-making related to women's health-focused QI. Interviews revealed that stakeholders were familiar with QI, with regional and facility leaders aware of inter-disciplinary committees and efforts to foster organizational change, including PCMH transformation. These efforts did not typically focus on women's health, though some informal efforts had been undertaken. Barriers to engaging in QI included lack of communication across clinical service lines, fluidity in staffing, and lack of protected time. Inter-professional, multilevel stakeholders need to be engaged in implementation early, with data and discussion that convey the importance and relevance of a new initiative. Stakeholder perspectives on institutional norms (e.g., gender norms) and readiness for population-specific QI are useful drivers of clinical initiatives designed to transform care for clinical subpopulations.
A 6-year update of the health policy and advocacy priorities of the Society of Behavioral Medicine
Joanna Buscemi, Gary G. Bennett, Sherri Sheinfeld Gorin, Sherry L. Pagoto, James F. Sallis, Dawn K. Wilson, Marian L. Fitzgibbon
Government policy affects virtually every topic of interest to health behavior researchers, from research funding to reimbursement for clinical services to application of evidence to impact health outcomes. This paper provides a 6-year update on the expansion of Society of Behavioral Medicine's (SBM) public policy and advocacy agenda and proposed future directions. SBM's Health Policy Council is responsible for ensuring coordination of the policy-related activities of the Health Policy Committee (HPC), the Civic and Public Engagement Committee (CPEC), and the Scientific and Professional Liaison Council (SPLC). These committees and councils have written letters to Congress, signed onto advocacy letters with hundreds of organizations, and developed and disseminated 15 health policy briefs, the majority of which have been presented to legislative staffers on Capitol Hill. With the assistance of the SPLC, SBM has collaborated on policy efforts with like-minded organizations to increase the impact of the Society's policy work. Moving forward, SBM plans to continue to increase efforts to disseminate policy work more broadly and develop long-term relationships with Congressional staffers. SBM leadership realizes that to remain relevant, demonstrate impact, and advance the role of behavioral medicine, we must advance a policy agenda that reflects our mission of better health through behavior change.
Active involved community partnerships: co-creating implementation infrastructure for getting to and sustaining social impact
Renée I. Boothroyd, Aprille Y. Flint, A. Mark Lapiz, Sheryl Lyons, Karen Lofts Jarboe, William A. AldridgeII
Active involved community partnerships (AICPs) are essential to co-create implementation infrastructure and translate evidence into real-world practice. Across varied forms, AICPs cultivate community and tribal members as agents of change, blending research and organizational knowledge with relationships, context, culture, and local wisdom. Unlike selective engagement, AICPs enable active involvement of partners in the ongoing process of implementation and sustainability. This includes defining the problem, developing solutions, detecting practice changes, aligning organizational supports, and nurturing shared responsibility, accountability, and ownership for implementation. This paper builds on previously established active implementation and scaling functions by outlining key AICP functions to close the research-practice gap. Part of a federal initiative, California Partners for Permanency (CAPP) integrated AICP functions for implementation and system change to reduce disproportionality and disparities in long-term foster care. This paper outlines their experience defining and embedding five AICP functions: (1) relationship-building; (2) addressing system barriers; (3) establishing culturally relevant supports and services; (4) meaningful involvement in implementation; and (5) ongoing communication and feedback for continuous improvement. Planning for social impact requires the integration of AICP with other active implementation and scaling functions. Through concrete examples, authors bring multilevel AICP roles to life and discuss implications for implementation research and practice.
Honors and Awards
Congratulations to the following Society of Behavioral Medicine (SBM) members who recently received awards or were otherwise honored. To have your honor or award featured in the next issue of Outlook, please email ahahn@sbm.org.
Barbara Andersen, PhD
Dr. Andersen was awarded the title of College of Arts and Sciences Distinguished Professor of Psychology at Ohio State University.
Robert D. Kerns, PhD
Dr. Kerns Professor of Psychiatry, Neurology, and Psychology at Yale University recently received the American Pain Society's 2017 Wilbert E. Fordice Clinical investigator award. The award was established in 1995 to recognize and honor career achievement in clinical research on pain.
Xiaomeng (Mona) Xu, PhD
Dr. Xu, assistant professor of psychology at Idaho State University (ISU), was awarded an Outstanding Achievement Award by the Mountain West Clinical Translational Research - Infrastructure Network. The MW CTR-IN comprises 7 Mountain West states and 11 institutions, including ISU. Dr. Xu was recognized during their annual conference in May 2017 in Las Vegas.
Meagan Helmick, MPH, CHES
The University of Nebraska Medical Center held the annual College of Public Health Student Research Conference where students presented their work. Five MPH and five PhD students were selected to receive an award based on judge's scores for their presentation. Ms. Helmick was selected as one of the PhD students who received an award for Outstanding Thematic Poster.
Michelle Janelsins, PhD, MPH
Dr. Janelsins recently published a manuscript in Journal of Clinical Oncology, "Cognitive Complaints in Survivors of Breast Cancer After Chemotherapy Compared with Age-Matched Controls: An Analysis From a Nationwide, Multicenter, Prospective Longitudinal Study." This article was recently recognized by American Society of Clinical Oncology as the Best of JCO 2017.
Members in the News
The following Society of Behavioral Medicine (SBM) members and their research were recently featured in news articles or videos. To have your news spot featured in the next issue of Outlook, please email ahahn@sbm.org.
Amanda E. Staiano, PhD
Dr. Staiano appeared on Wisconsin Public Radio to share about her work to help children become more physically active through her use of technology-based interventions.
Robert L. Newton Jr., PhD
Dr. Newton gave interviews on his work with the Pre-Place research study, which is aimed at helping parents encourage their kids to become more physically active on Baton Rouge Channel 9 WAFB and brproud.com.
Jamie M. Jacobs, PhD
Research presented by Dr. Jacobs at the 2017 American Society of Clinical Oncology (ASCO) Annual Meeting was recently featured in Oncology Nurse Advisor magazine. For the full article, visit Oncology Nurse Advisor magazine here.
James F. Sallis, PhD
Dr Sallis was quoted about his work with children and adolescents and physical activity in The New York Times and US News and World Report and his work on built environment and its impact on health in Politico. He also gave an interview on the impact of urban design on health on a University of North Carolina radio show, called Your Health.
Michelle Segar, PhD, MPH, MS
Dr. Segar's recently published work on ways in which ethnically diverse women perceive physical activity as supporting or thwarting their daily happiness and success and the implications for public health messaging was featured in featured in the The Wall Street Journal and Time.
Helen L Coons, PhD, ABPP
Dr. Coons, President and Clinical Director of Health Psychology Solutions was quoted in an article on everydayhealth.com in an article called "Negative Thinking and Feelings in Adults with Type II Diabetes." She was also quoted on CB WKMG News, Orlando in a story called "Women and Couples Coping with Pregnancy Loss."
CLASSIFIEDS
University of Virginia School of Nursing - Associate Dean for Research
University of Virginia School of Nursing - Associate Dean for Research
The Associate Dean for Research provides strategic direction to the School's research and research support services, oversees programs' direction, fosters an environment of inquiry and scholarship, and promotes faculty development as a mentor. This position oversees the School's four research centers and initiatives and is responsible for post-doctoral research scholars. A member of the Dean's Council, the Associate Dean also maintains his or her own program of funded research.
A doctorate is required, as is relevant teaching experience. Applicants must have an established program of externally-funded research. This position is eligible for the rank of an associate or full professor, and joint appointments are available. Qualified applicants may be eligible for an endowed chair. UVA Nursing offers generous start-up packages, reimbursement for moving expenses and the opportunity to conduct research at one of the nation's top facilities. Salary is commensurate with experience.
Nurture and mentor the next generation of exceptional nurse scientists, academics and students in a time of immense growth, change and opportunity as nurses are ever more central to the delivery of compassionate, safe, high-quality healthcare. The University of Virginia School of Nursing is deeply committed to developing a community that is inclusive, respectful, and considers diversity to be a key part of our excellence. We seek applicants whose experience, teaching, research, and community connections have prepared them to contribute to this vital mission.
To apply, visit https://jobs.virginia.edu and search for position #0620433, complete a candidate profile and attach a cover letter describing your interests, research, education and practice, and your CV. For nurses, licensure in Virginia is required by start date.
Questions?
Christine Kennedy, search committee chair and Associate Dean for Academics
cmk4k@virginia.edu; 434-924-0099

Visit the SBM Job Opportunities page for additional positions.