2012 Annual Meeting Updates
New SBM Annual Meeting Features
Music at the Opening Poster Session
New Orleans is a city entrenched in music, so why not bring local musicians to the SBM Annual Meeting? In addition to showcasing recent behavioral medicine research, the opening poster session on Wednesday April 11 from 6:30 p.m.-8:30 p.m. will feature a pianist and clarinetist for your enjoyment. Arrange your travel to New Orleans to ensure you do not miss the new research, smooth jazz and complimentary light hors d'oeuvres paired with a cash bar at the opening poster session.
Closing Plenary Panels
In keeping with the theme, "Engaging New Partners and Perspectives," the 2012 Annual Meeting will feature three plenary panels, two of which will conclude the meeting on Saturday, April 14, 2012. The three plenary panels will focus on obesity, career paths, and team science. All panels promise to offer lively dialogue among expert panelists whose perspectives vary. Through such dialogue, meeting attendees can expect to better appreciate and understand the breadth and depth of behavioral medicine research and practice and discover new ways of thinking about their own areas of expertise. Each panel will be moderated with time for audience questions. As the Annual Meeting nears, registrants will be invited to submit questions for the panelists of the two closing panels-career paths and team science-so check the Annual Meeting website frequently for this opportunity. Panelists for the two closing panels are below.
Career Paths
C. Tracy Orleans, PhD; Lisa M. Klesges, PhD; Judith K. Ockene, PhD; Gary G. Bennett, PhD; and James F. Sallis, PhD
Team Science
Bonnie Spring, PhD, ABPP; Robin J. Mermelstein, PhD; and Robert T. Croyle, PhD; with Moderator Margaret L. Schneider, PhD
Register before March 15 to Receive Early Bird Registration Rates
The base Annual Meeting registration fee includes admittance to all education sessions that do not require a ticket. Continuing education credits, t-shirts, guest admittance and pre-conference session tickets require an additional fee. Please refer to the registration form for the pricing of these items.
Register for the SBM 2012 Annual Meeting using the online form before March 15 to receive the early bird registration rates, saving you about $50.00 as compared to the regular registration rates.
Attention Utah Nurses! Depending on your registration and membership type, you are eligible for either a 20% or $50 registration discount. Please contact the SBM national office via phone at 414-918-3156 or via email at info@sbm.org for more information or to register for the meeting with the discount.
2012 Annual Meeting T-Shirt available for purchase on SBM registration form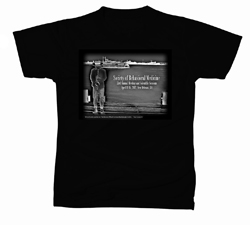 If you have already registered for the meeting, but would still like to purchase a t-shirt for $25, please contact the SBM national office at 414-918-3156 or by email at info@sbm.org.
All proceeds go to the Advocacy and Membership Development Campaign, which funds the SBM Distinguished Student Achievement Awards, the Dinners with an Expert and Expert Consultation sessions.