Proven Science-Better Health Giving Campaign
What is the "Proven Science—Better Health" Giving Campaign?

The "Proven Science—Better Health" Giving Campaign was launched by the Board of Directors in Spring 2020 with three funds for donors to choose from that support the professional development of our members, share our members' research with the popular press and general public, and influence public health laws by strategically promoting our members' research to policymakers. A General Fund was also established to cover SBM's most pressing needs and keep membership fees affordable.
We want a healthier world, and we know it's possible. We need a world that knows what behavioral medicine is and how valuable it is. A world that recognizes our individual members as esteemed experts. A world where members advance their careers and the filed—impacting real lives. The Proven Science—Better HealthTM Giving Campaign will keep students from gravitating toward other fields. It will help prevent disease and make people's lives better. All because behavioral medicine will no longer be a "best kept secret."
Case for Support | Financial FAQ | Brochure | Ways to Give | Campaign Events | Your Impact
Achievements & Impact
---
Notable Achievements: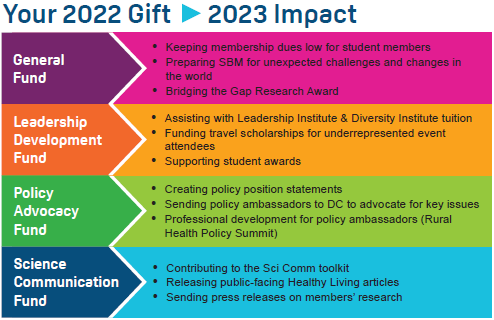 Get Involved & Make a Difference
---

The Society of Behavioral Medicine (SBM) is a 501(c)(3) tax-exempt organization. Your contribution is deductible to the fullest extent allowed by the law.
Annual Campaign Events
---
SBM Policy Advocacy Month – March 2023
A month long celebration to bring awareness to the critical policy work that SBM and members do! During the month of March, we will highlight all of SBM's key policy areas with briefs, statements, and ambassadors supported by the Policy Advocacy Fund.
Stride for Science Run/Walk – April 27, 2023
Participate in our Stride for Science Run/Walk during the 2023 Annual Meeting in Phoenix. The Run/Walk is a 5k through Kiwanis Park, making a lap around the beautiful Kiwanis Lake and jogging along side the scenic Western Canal. For a shorter route, both runners and walkers are welcome to take a roughly one mile lap around Kiwanis Lake. Registration is $30. Those who register with the Annual Meeting will be guaranteed a free t-shirt.

View photos of the 2022 Stride for Science Run/Walk here
Planking Palooza - April 26-29, 2023
Donate at least $10 to the Science Communication Fund during the Annual Meeting week and have your gift matched up to $1,000. To show off your donation, take a fun photo of yourself planking in scenic Baltimore (Camden Yards, Inner Harbor, food Trucks, National Aquarium--the sky is the limit!) and post it on Twitter using #SBM2022. Be sure to mention that you donated to the Science Communication Fund.

Thank you to everyone who helped us raise $1,410 during the Planking Palooza, including SBM Past President Dr. Sherry Pagoto who matched all gifts. All proceeds are helping SBM launch the new Sci Comm toolkit as well as strategically promoting members' research to popular press journalists, the general public, and through social media. Every dollar donated to the Science Communication Fund guarantees that medical/research organizations are seen as the knowledge brokers of trusted behavior change science, which will improve clinical and population health.
Annual Battle of the SIGs Fundraising Competition
SBM's Battle of the SIGs competition takes place all year long with the winner announced during the Closing Reception of the Annual Meeting. When making a donation on the SBM website, be sure to select the SIG you'd like to represent in the competition. The winning SIG receives bragging rights and special recognition.

Congratulations to the Health Equity SIG, the 2021-22 Battle of the SIGs Winner!
SBM Thank Your Mentor Week – September 12-16, 2022
Do you remember the first time you met your mentor? As we head into the new school year, don't forget to show your appreciation for the mentor who shaped you into the leader you are today. Pick up the phone and give them that call you've been putting off, or better yet, make a gift in honor of them! The Leadership Development Fund celebrates mentorship each year through the Leadership Institute, Diversity Institute, and Distinguished Mentor Award.

Thank you to those who participated in the first Thank Your Mentor Week in 2021! See our supporters and their mentors here.
Membership Renewal – October 2022
Did you know that you can donate to one of SBM's funds through your membership renewal form? Quick and easy—every little bit helps!
World Science Day – November 10, 2022
Celebrate this international holiday that highlights the important role that science has in society, and the need to engage the wider public in debates on emerging scientific issues. SBM's Science Communication Fund does just that.
GivingTuesday - November 29, 2022
GivingTuesday is a global day of giving that harnesses the collective power of a unique blend of partners (charities, families, businesses, and individuals) to encourage philanthropy and to celebrate generosity worldwide. Held annually on the Tuesday after Thanksgiving, kick off the holiday giving season by giving back to SBM!

In 2021, we surpassed our goal to raise $6,000 in a single day for our General Fund to keep membership dues low for our student members, empowering them to become successful and connected young professionals. Thank you GivingTuesday donors for helping SBM raise over $7,800 for our student members. See our supporters here.
How Your Donation Makes an Impact
---
General Fund
| | |
| --- | --- |
| Laura Hayman, PhD, MSN, FAAN, FAHA, FSBM, General Fund Honorary Chair, SBM Past President | Brian Gonzalez, PhD, General Fund Honorary Co-Chair, SBM SIG Council Chair |
Leadership Development Fund
| | |
| --- | --- |
| Gary Bennett, PhD, FSBM, Leadership Development Fund Honorary Chair, SBM Past President | Valerie Myers, PhD, FSBM, Leadership Development Fund Honorary Co-Chair, SBM Education, Training, and Career Development Council Chair |
Policy Advocacy Fund
| | |
| --- | --- |
| Karen Emmons, PhD, FSBM, Policy Advocacy Fund Honorary Chair, SBM Past President | Lorna McNeill, PhD, MPH, FSBM, Policy Advocacy Fund Honorary Co-Chair |
Science Communication Fund
| | |
| --- | --- |
| Sherry Pagoto, PhD, FSBM, Science Communication Fund Honorary Chair, SBM Past President | Joanna Buscemi, PhD, Science Communication Fund Honorary Co-Chair, SBM Health Policy Council Chair |