Getting into the Mix: Resources for Mixed Methods Research Training
Heather McGinty, PhD; Evidence-Based Behavioral Medicine SIG Co-Chair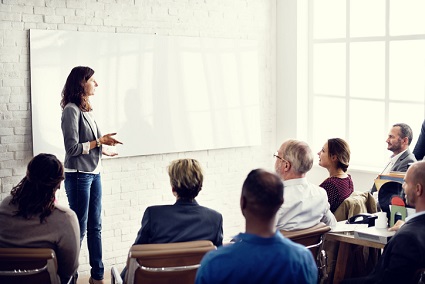 Health science researchers are increasingly incorporating qualitative data with quantitative data, and giving much needed context and multi-level perspectives to complex health phenomena. Mixed methods research seeks to combine the worlds of quantitative data (e.g., frequency or magnitude) and qualitative data (e.g., meaning or contextual understanding). The goal is to integrate these unique forms of data, rather than simply append one to the other. Each data type should expand upon and help inform the other.
In 2010, the National Institutes of Health Office of Behavioral Social Sciences Research brought together leaders in the field to provide guidance and best practices for utilizing these approaches in health research.1 They created a report highlighting mixed methods research designs, recommendations for resources and training in mixed methods, and developing high-quality mixed methods research grant applications. While this guide provides valuable information, specific training in the design, conduct, and analysis of mixed methods research or consultation with experts is highly desirable. We offer a number of suggestions for current training opportunities and resources for those interested in learning the skills and craft of mixed methodology.
The Inter-university Consortium for Political and Social Research offers a number of three to five day workshops in their Summer Program in Quantitative Methods of Social Research including introductory and advanced workshops in mixed methods. Find more information about the workshops here.
Stanford Medicine has a three-day intensive Mixed Methods Research workshop for those interested in designing or analyzing mixed methods research projects. Participants are encouraged to bring their in-progress work to use in the workshop. Learn more here.
The University of Michigan Mixed Methods Program offers several training workshops throughout the year and consultation services for those designing research proposals in the social and health sciences. Visit www.mixedmethods.org for more information about past and upcoming workshops, consultation services, and other resources.
The University of Michigan School of Social Work also offers a 30-hour continuing education Web-Based Certificate Program in Mixed Methods Research. The curriculum is comprised of five core areas and is designed for social and health science experts to build their skills in scientific research. More information for upcoming cohorts is available here.
University of Oxford Department for Continuing Education offers a Mixed Methods in Health Research short course module with both virtual learning environment and face-to-face teaching experiences. Students will be able to design, implement, and analyze a mixed methods research project. For more information, click here.
Harvard Catalyst has an online, eight-week introductory course in mixed methods research available to scholars affiliated within the national Clinical Translational Science Award (CTSA) consortium or Harvard Catalyst members. Additional information about the program is available at the Harvard Catalyst website.
The University of Nebraska-Lincoln created an 18-credit, graduate certificate program in Mixed Methods Research through their graduate studies in Educational Psychology. Courses may be completed online during a 12-month period through six 3-credit hour courses for enrollees. More information including the application process can be found here.
References
Creswell JW, Klassen AC, Plano Clark VL, Smith KC for the Office of Behavioral and Social Sciences Research. Best practices for mixed methods research in the health sciences. August 2011. National Institutes of Health.