How to Become a Good Leader – Advice from the Meet the SBM Board of Directors Session at SBM 2017
Amy G. Huebschmann, MD, MS, ETCD Council chair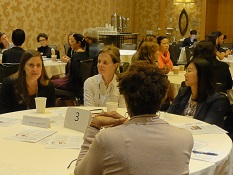 Welcome to the first "ETCD Council corner" segment. In each issue of Outlook, look to the ETCD Council corner for information related to our goals, which are to identify and promote interdisciplinary education and training efforts in behavioral medicine. The focus of this segment is on leadership. At the SBM 2017 Annual Meeting, the ETCD council facilitated round-table discussions between members of the SBM Board of Directors and about 50 SBM attendees at the Meet the SBM Board of Directors event. After completing their round-table discussions about leadership-related topics, each table shared some "pearls of wisdom" about how to become a good leader. Our ETCD council is using this forum to share these pearls with all of SBM. Many thanks to the SBM leaders and participants in our Meet the Board event for providing this shared wisdom.
Pearls of Wisdom about Leadership
Know your passion and have a goal in mind so that you can focus your energy on things that will help you achieve that goal without spreading yourself too thin. Truly find your passion — do not just look at leadership positions as resume padding. This can be fun!
Understand how the moving parts of an organization fit together and where you can get engaged.
Express your interest in taking on leadership positions to others within an organization to create opportunities for engagement.
In SBM, start by looking at leadership opportunities at the Special Interest Group (SIG) level — there are many opportunities for engagement there.
Do not take on a position where you will be overwhelmed. Find a situation that is a win-win for both you and the organization.
Get to know the Board members and leaders within an organization in order to identify good opportunities for leadership.
Do not be afraid to ask how to get involved.
Be a fly on the wall. Get involved and learn from others' experiences.
Ask what is involved in a position. In this way you can be strategic in deciding which leadership positions to take on and there are no (or fewer) surprises.
The ETCD Council invites you to consider a golden opportunity to apply for training to become a good leader:
Consider applying to the SBM Leadership Institute to receive training on leadership from several current and past SBM presidents and leaders. The training includes an intensive two-day workshop immediately preceding the 2018 SBM annual meeting, followed by additional sessions over the following 12 months. Applications open in late fall 2017 – click here for more details.