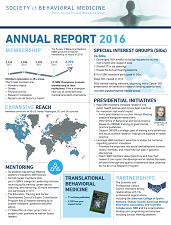 2016 Annual Report Shows SBM's Year in One Infographic
What did SBM accomplish in 2016? It's all in the 2016 Annual Report infographic.
Report highlights include:
SBM had 2,392 members.
SIGs shared over 370 job openings.
Leaders made 12 visits to health policy aides on Capitol Hill.
SBM released three policy briefs.