Black Behavioral Scientists Forging On during the COVID-19 Pandemic
Sharon Cobb, PhD, MSN, MPH, RN, PHN; Shaila M. Strayhorn, PhD, MPH; Rhoda K. Moise, PhD; Christyl T. Dawson, PhD, MPH; Kamilah B. Thomas-Purcell, PhD, MPH, MCHES; Kimlin Tam Ashing, PhD✉; Health Equity SIG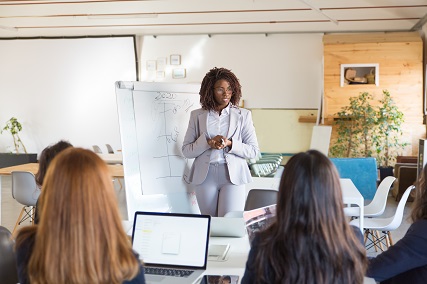 In this brief, we share the voices of Black Behavioral Scientists -- from various regions, disciplines and stages of their career – and the impact COVID-19 has had on their professional lives.
COVID-19 has detrimentally affected our personal lives and our communities. At this same time, we are also intensely coping with racism and discrimination that is now at the forefront of societal self-examination and corrective action. COVID-19 is impacting our work, including research activities and community engagement. As our research addresses health disparities, our study populations are underserved, under-resourced and are the same communities who are disproportionately impacted and dying due to health inequities including COVID-19.

Impact of COVID-19 on our studies and career
Traditional research benchmarks, such as study implementation, IRB approvals, data collection (e.g., survey and biospecimen) and data analyses, are hindered given COVID-19 restrictions. Early career researchers, specifically postdoctoral fellows, are also faced with multiple challenges from individual to institution. Facing increased stress, these scientists must navigate new territory in virtual and remote environments. Mentoring is crucial and needed -- more so now than ever before due to the pandemic. Mentors and mentees are both adjusting to technology communications. Technology platform communications provide challenges for conducting research as well as training and mentoring, especially in the context of a new fellow. Mentors, with even more patience and flexibility, must be available to help new post-doctoral fellows to align expectations, develop obtainable goals, maintain work-life balance and expand their network.

Impact of COVID-19 on community responsive work
The COVID-19 pandemic has resulted in added responsibilities for behavioral scientists who conduct community engaged research with underserved minority communities. In the COVID-19 pandemic, these communities now have added health burdens including access to COVID-19 testing and vaccine readiness. As Black Behavioral Scientists, we are responding to these new and urgent community needs while still trying to conduct our research. Much of our data collection has shifted to communication technology platforms. Yet, technology-driven research with underserved study populations has its drawbacks including low technological literacy and capacity.

Forging On
We propose the following strategies that can assist researchers in helping communities affected by COVID-19 and that may also provide scientific bidirectional benefit:
Institutions and scientists need to provide, facilitate and improve community access and utilization of technology communication methods (i.e. internet-based data collection, tele/video conferencing) for health intervention and research activities.

Recommended Resources: a) Teleconferencing Platforms (i.e Zoom, Skype, WebEx, Google Calls), b) Podcasts (i.e. Spotify, Apple), c) Livestreams (i.e. Facebook, Instagram), d) Blogs (i.e. BioMed Central – Amplifying Black Voices).


In partnership with community health leaders, institutions and scientists must heed the call to action and respond to the growing health disparities and health inequities by publicly contributing to corrective action for community health improvements.

Recommended Resources: a) American Association for Cancer Research (AACR) Cancer Disparities Progress Report, b) National Cancer Institute - Continuing Umbrella of Research Experiences, c) NIH - Office of Behavioral and Social Sciences Research.


Lastly, Behavioral Scientists should collaborate with other disciplinary fields on funding opportunities and resources for both COVID-19 and other chronic health issues to better address the biological and social determinants of health disparities. In partnership with diverse behavioral professionals, including nurses and social workers, community-directed efforts must increase promotion and uptake of COVID-19 protective behaviors, testing and vaccine preparedness among minority populations.

Recommended Resources: a) Office of Minority Health and Health Disparities, b) National Cancer Institute - Center to Reduce Cancer Health Disparities (NCI-CRCHD), c) Black Psychiatrists of America, d) National Association of Black Social Workers, d) Special Interest Groups - Society of Behavioral Medicine, e) AACR – Minorities in Cancer Research (MICR), f) National Health IT Collaborative for the Underserved.

As Black Behavioral Scientists, we must stay resilient in our efforts to improve health outcomes among underserved, vulnerable, and minority populations by developing innovative and collaborative strategies. We must be supportive and unified in order for all of us to thrive personally and professionally as we rise like the phoenix from the ashes of inequity.