Promoting Shared Decision Making in Lung Cancer Screening
Sarah E. Lillie, PhD, MPH, Health Decision Making SIG co-chair and Outlook liaison; Margaret M. Byrne, PhD, Health Decision Making SIG member; Lisa Carter-Harris, PhD, Health Decision Making SIG member; and Jamie L. Studts, PhD, Health Decision Making SIG member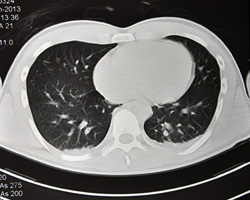 Lung cancer is the second most common cancer and the leading cause of cancer mortality in the United States, with an estimated 158,000 deaths predicted in 2015.1 Prevention (smoking cessation) is the most effective strategy for reducing the burden of lung cancer. Lung cancer screening also has the potential to reduce lung cancer mortality. The largest lung cancer screening randomized trial to date, the National Lung Screening Trial (NLST), recently compared annual low-dose computed tomography (LDCT) with chest X-ray for three years. The trial found a significant benefit for LDCT, with a 20% relative reduction in lung cancer mortality (absolute reduction 62 lung cancer deaths/100,000) and 6.7% relative reduction in all-cause mortality (absolute reduction 74 deaths/100,000).2 For those undergoing LDCT, the number needed to screen to prevent one lung cancer death was 320, a number considered by most to be cost-effective and consistent with, if not better than, other established cancer screening modalities. While LDCT-based lung cancer screening has the potential to decrease mortality from lung cancer, it also has potential harms. These harms include false-positive results, significant incidental findings, adverse psychological effects, overdiagnosis, and radiation exposure.3 With an increased appreciation of both the benefits and potential harms of medical intervention, this topic is of broad interest to Society of Behavioral Medicine (SBM) members.
The United States Preventive Services Task Force (USPSTF) recently incorporated the NLST results into revised guidelines and issued a Grade B recommendation for annual LDCT for high-risk adults aged 55-80 who are current smokers or former smokers who have quit within the past 15 years, with a 30 pack-year smoking history.4 This guideline joins an increasing number of professional organizations that promote shared decision making. Additionally, the Centers for Medicare & Medicaid Services (CMS) issued a national coverage determination for Medicare coverage of lung cancer screening with LDCT.5 While the USPSTF has advocated for the implementation of shared decision making for preventative health services for over a decade, this landmark determination by CMS is considered the first of its kind to require that shared decision making occur, and be documented, before providing reimbursement for lung cancer screening. Further, CMS has indicated that health care providers will be reimbursed for offering shared decision making consultations regarding lung cancer screening. This innovative shared decision making policy, and the reality in which it occurs, are just a few of the reasons members of the SBM Health Decision Making Special Interest Group (HDM SIG) are drawn to this fascinating topic.
To consider this notable policy stance, the HDM SIG has organized a midday meeting for the upcoming SBM Annual Meeting. This meeting will focus on policy use to promote shared decision making in lung cancer screening. An interdisciplinary panel will discuss the development of the USPSTF lung cancer screening guidelines, benefits and potential harms of lung cancer screening, the CMS policy, and implementation of lung cancer screening decision aids. The session will include ample time for what organizers anticipate to be a lively discussion. HDM SIG members look forward to seeing you in Washington, DC!
References
American Cancer Society. Cancer Facts & Figures 2015. Atlanta: American Cancer Society; 2015.
The National Lung Screening Trial Research Team. Reduced lung-cancer mortality with low-dose computed tomographic screening. N Engl J Med. 2011;365(5):395-409.
Bach PB, Mirkin JN, Oliver TK, et al. Benefits and harms of CT screening for lung cancer: a systematic review. JAMA. 2012;307(22):2418-29.
Moyer VA; U.S. Preventive Services Task Force. Screening for lung cancer: U.S. Preventive Services Task Force recommendation statement. Ann Intern Med. 2014;160(5):330-8. Recommendation statement available at: http://www.uspreventiveservicestaskforce.org/Page/Document/RecommendationStatementFinal/lung-cancer-screening
The Centers for Medicare & Medicaid Services. Decision Memo for Screening for Lung Cancer with Low Dose Computed Tomography (LDCT) (CAG-00439N). Available at: http://www.cms.gov/ medicare-coverage-database/details/nca-decision-memo.aspx?NCAId=274.