New TBM Editor Suzanne Miller Hopes Partnerships with Nonprofits and Legislators Can Increase Articles' Real-World Impact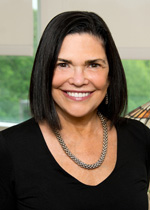 Lindsay Bullock, SBM senior media and member communications manager
Incoming Translational Behavioral Medicine (TBM) Editor-in-Chief Suzanne Miller, PhD, has a dream that someday, someone like the New Jersey commissioner of health will visit the TBM website and comment on a TBM blog post about a newly published TBM paper.
Never mind that TBM doesn't currently have a blog and that the New Jersey commissioner of health has probably never heard of the journal. Where some might see roadblocks, Dr. Miller sees potential.
She's driven by one overarching goal for TBM: She wants to expand its impact. She wants more decision makers and health care providers to use TBM's evidence-based research to improve health care policies and practices.
"We really need to disseminate our findings so that they do not stay on our shelf and in the journal," Dr. Miller says.
She's quick to note she'll be building on the work already done by TBM founding Editor-in-Chief Bonnie Spring, PhD. Under Dr. Spring's leadership, TBM articles have been downloaded more than 70,000 times and the journal has been indexed in 15 archive services.
When Dr. Miller takes over from Dr. Spring in a few months, she'll work to make sure TBM's impact continues to grow.
One of her key strategies will be partnering with nonprofit health organizations. As a hypothetical, Dr. Miller describes a possible relationship with HealthWell, a nonprofit that provides cost assistance for the underinsured (she sits on its board). If a TBM article found lung cancer patients could live longer by spending time outdoors, the article editor could create a bulleted list of what oncologists might tell patients and then HealthWell could send the list to its network of 48,000 providers. HealthWell could even hold a press conference about the article to draw additional attention. HealthWell might also survey its 20,000+ patient network about article findings; results could be published online in real time.
Dr. Miller says she's already talked with HealthWell officials about such possibilities. They're excited by the idea of disseminating helpful findings, which would give greater visibility to co-payment assistance organizations like theirs.
Article findings could similarly be shared with state legislators who craft health policies, Dr. Miller adds. She's already done work like that as a founding board member of the New Jersey Health Care Quality Institute. Miller and the other founders were honored this year in a joint legislative resolution from the New Jersey Senate and General Assembly.
"I sit on a number of health policy boards designed to help improve the quality, safety, and health effectiveness of health care. I noticed on these boards, I'm generally the only health psychologist. Other members tend to be public health people, policymakers, insurers, payers, providers, and lawyers. Rarely is the psychological approach represented," she says. "On those boards, I can help speak to that as one person. But I thought the journal was an incredibly unique vehicle for potentially doing that on a very broad and impactful scale."
Dr. Miller will look for associate editors that can help strengthen policy and nonprofit relationships. She'd also like to beef up the TBM website so it includes blogs and is more interactive-someone better tell the New Jersey health commissioner to get ready.
About Suzanne Miller
Dr. Miller is an SBM fellow with a PhD in clinical psychology. She was drawn to the field while studying at McGill University. Her honors advisor, Ronald Melzack, was doing pioneering research on the psychological aspects of pain, particularly in phantom limbs.
"He was looking at pain not just in a simple self-report way but in a way that bridged brain processes with how pain was expressed, felt, and tolerated," Dr. Miller says.
She was fascinated by that research and later became interested in how people cope-not only with pain but also with everyday stresses. She eventually turned that into a long career of studying how cancer patients cope with diagnosis, make decisions about treatment, and cope with survival.
Dr. Miller founded the Department of Defense-funded Behavioral Center of Excellence in Breast Cancer and directed one of the country's first National Cancer Institute-funded behavioral core facilities. She is currently a professor of cancer prevention and control at Fox Chase Cancer Center/Temple University Health System, where she also serves as director of the Psychosocial and Bio-Behavioral Medicine Department.