Interpersonal Job Search Doís and Doníts for Early Career Multiple Health Behavior Researchers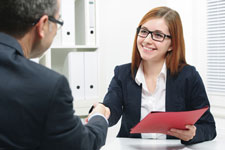 Marcella H. Boynton, PhD, Multiple Health Behavior Change chair
Much ink has been spilled in various professional publications on ways to navigate the highly competitive job market. Although many candidates are advised on the more formal aspects of the job search, what is often less discussed are the interpersonal elements of establishing an excellent professional reputation and a rapport with professional contacts. Listed below are some do's and don'ts for being a more interpersonally skilled job candidate, especially as relevant to multiple health behavior researchers.
DO participate in as many professional development opportunities as possible. Local networking events, courses on grantsmanship, and professional mentorships all fit the bill. If your local institution does not offer coursework or seminars on professional development topics, professional conferences—like the Society of Behavioral Medicine (SBM) Annual Meeting— usually offer several such pre-conference sessions or panels. If you are a multiple health behavior researcher, try to seek out opportunities that address your specific professional development issues (e.g., how to build and communicate a coherent research identity when doing research in multiple areas). DO NOT participate in professional development opportunities to the exclusion of your primary training or research activities. Learning skills such as how to put together a well-structured curriculum vitae is a laudable goal; however, if you have meager accomplishments to detail, you may struggle to make the cut come job-search time.
DO develop your professional network. Means of doing this include organizing a symposium, reviewing articles, participating in grant panels, and contributing your time and skills to professional organizations like SBM. Attending professional organization social events are also an excellent means of extending your professional network. If you are a multiple health behavior researcher, try to develop professional connections in all of your research domains. DO NOT pester, vacuously glad-hand, or otherwise attempt to make a non-genuine contact with someone in your field just to extend your "network." Contacting someone you don't know with a genuine query or striking up a conversation with a colleague at a professional mixer is perfectly legitimate and even desirable—just remember to use a light touch. If there is someone you are particularly eager to make a professional connection with, ask a mentor or colleague to make an introduction. It will be your authentic relationships that will help you establish a strong professional reputation as well as make you a more desirable job candidate.
DO keep your professional interactions collegial and positive. Never underestimate the interconnectedness of your professional world or the visibility of your behavior toward others. No one wants to hire a toxic personality, and you can bet that if your name makes it onto a short list of job candidates, the individuals involved in the hiring process will be asking around about the kind of person you are. Moreover, inconsiderate or socially inept behavior at a job interview can play a major role as to whether a candidate is offered a position. DO NOT make it your mission to have close personal relationships will all of your colleagues. Becoming overly involved in your colleague's personal lives can have serious pitfalls, including a reputation for being intrusive or inappropriate.
DO try to gather job search stories and suggestions from as many colleagues as possible. Everyone has a tale to tell, and much wisdom can be gained from hearing what those before you have experienced. Additionally, letting your colleagues know that you are on the job market may lead to unexpected job opportunities. DO NOT however, believe all of the advice that you receive. As you go through the job search process, many people will give you well-meaning suggestions, some of which may be off the mark. So ask questions, but take all answers (even those presented here!) with a hearty grain of salt.