2014 Society of Behavioral Medicine Achievement Awards: Applications Open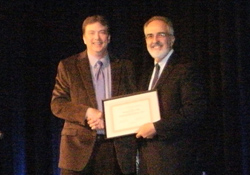 The Society of Behavioral Medicine is now accepting applications for its 2014 Achievement Awards. For detailed information about the awards and/or how to apply, please visit the Call for Awards page on the SBM website. Awards will be presented at the 35th Annual Meeting & Scientific Sessions of the Society of Behavioral Medicine, April 23-26, 2013, in Philadelphia.
Awards:
Distinguished Scientist Award
Selection for the Distinguished Scientist Award will be based on total career achievement. Nominees must have achieved great scholarly distinction (i.e., made a series of distinguished empirical contributions or contributed substantially to the development of new theories or methods).
Alere Wellbeing Research to Practice Award
The Alere Wellbeing Research to Practice Award recognizes an individual's contributions and exemplary work in translating or extending behavioral medicine from research into practical application, dissemination, or implementation. Eligible candidates may have made substantial contributions to any phase of translational work, including a) development of new and effective dissemination or implementation strategies, b) promoting uptake of effective, sustainable health promoting interventions into new contexts; or c) fostering development of practice-based research.
Early Career Investigator Award
Selection of the Early Career Investigator Award will be based on total career achievement and review of a representative published paper.
Outstanding Dissertation Award
SBM will recognize excellence in Student/Trainee Members' research through the Outstanding Dissertation Award.
Distinguished Student Awards
SBM will be offering the Distinguished Student Awards from funds raised through the Advocacy & Membership Development Campaign and funds donated by Springer Science + Business Media. These awards will be provided to students who demonstrate outstanding academic and professional potential in the field of behavioral medicine.

Excellence in Research
Excellence in Service Delivery
Travel Scholarship

Distinguished Research and Clinical Mentor Awards
For many, there was one individual who stood out during training. It may have been an advisor or faculty member who took a special interest in our work. This award recognizes these individuals for their outstanding service as a mentor in clinical or research settings.
Excellence in Behavioral Medicine Training Program Award
The purpose of the Excellence in Behavioral Medicine Training Program Award is to identify and honor a training program at any level that provides behavioral medicine training. The training program in question can be research and/or clinically focused and can occur in any discipline, though programs with an interdisciplinary approach will also be considered.
For more information about the award nomination process including criteria and submission instructions, please visit www.sbm.org.
Nomination and Application Submission Information
Please note: The deadline for submission of all 2014 SBM Achievement Awards applications and supporting materials is 11:59 p.m. Eastern time, November 15, 2013. All applications must be submitted via the SBM website, www.sbm.org, by this deadline in order to qualify as a 2014 award nomination. All award winners will be notified via e-mail by no later than February 2014 from the SBM national office.
For questions regarding the achievement awards, please contact the SBM national office:
Benjamin Stumpf
Program Manager
E-mail: bstumpf@sbm.org
Phone: (414) 918-3156