Career Development Issues and Resources Across Career Phases
Barbara A. Stetson, PhD, ETCD Member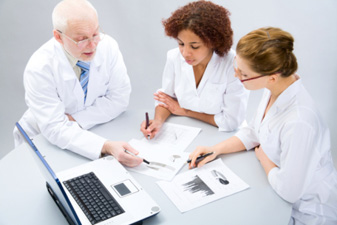 Behavioral Medicine education and training needs vary over the course of one's career. SBM members reflect diverse and interesting pathways and can offer a wealth of experiences and resources. For many, careers have evolved over time; taking turns through research, clinical work, administration, and even public advocacy. As an interdisciplinary and rapidly developing field, changing roles and goals during a career may become the norm for those of us working in Behavioral Medicine. SBM aims to provide support and resources for education and training, spanning careers across the continuum from trainee to senior levels.
Numerous career development resources are available to provide assistance for a variety of needs that emerge across junior as well as mid- and later-career phases. Helpful activities at the SBM Annual Meeting include the availability of Expert Consultation Service, opportunities to have dinner and discussion with Experts, and programs and scientific sessions related to Education, Training and Career Development. A workshop at the 2012 Annual Meeting in New Orleans addressed issues pertinent to many SBM members in mid- and later-career phases. Issues addressed included the concept of mentoring beyond the junior career stage; the changing context, rules and expectations across the career trajectory; reinvention strategies; and navigating challenges and opening up to new opportunities when anticipated career paths don't go as expected.
SBM members may be interested in mentoring beyond the tenure acquisition phase, such as navigating promotion from Associate to Full professor, or negotiating service and leadership roles. Traditionally mentoring has been thought of as a 1:1 hierarchical relationship. However, newer research and practice supports a network-based model of mentoring and support. This may be accomplished in a number of ways including networking with other mid or senior careerists, communicating more indirectly or anonymously via established, well regarded blogs, or even attending sponsored webinars (e.g., through the Chronicle of Higher Education or the Center for Creative Leadership).
Current research findings also indicate that at senior career levels, it can be helpful to consider the concept of retirement as a process rather than an all or none event (e.g., considering career transitions to a new type of work or change in work schedule rather than an abrupt job change). Well-regarded resources include empirical studies on retirement (see the American Psychologist special series, April 2011) and thought-provoking books (e.g., Encore: Finding Work that matters in the Second Half of Life). Many medical schools and universities now provide guidelines for faculty mentoring, including those at mid and later career stages (see an example program from the AAMC).
In addition to Annual Meeting opportunities related to career development, SBM now offers a web-based Consultation Program that is designed to facilitate the exchange of information and resources between SBM members. Prospective consultees can identify expert consultants on the website and contact them with specific questions pertaining to scientific topic areas as well as career development issues. Currently, consultants are available from the Cancer SIG, Integrated Primary Care SIG, Obesity & Eating Disorders SIG, and Child & Family Health SIG, and from the ETCD Council for Clinical Career Development Issues.
Resources will expand as we accrue mentor volunteers spanning even more areas of expertise. Whether you are a postdoc looking for advice on negotiating your first job, or a full professor delving into a new area of research, your fellow SBM members may be able to provide the knowledge and guidance you need. To access, log into the Members Only section of the website and click on the link to the Consultation Program.
Look for the upcoming Annual Meeting in San Francisco for additional education and career development opportunities through special symposia and presentations.