Ethnic Minority and Multicultural Health SIG Update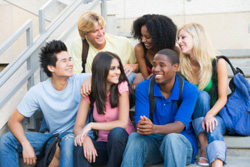 Eleshia JP Morrison, MA, EMMH Co-Chair
Luz Garcini, MA, EMMH Co-Chair
The mission of the Ethnic Minority and Multicultural Health (EMMH) Special Interest Group (SIG) is to advance the field of ethnic minority and multicultural health through education and training; networking; mentorship of ethnic minorities and non-minorities; and conducting research in ethnicity, culture, and health. Members of this SIG also aim to increase the involvement of ethnic minorities in SBM councils, committees, and the peer-review process.
At each annual meeting, we host a mentorship roundtable event to discuss issues pertinent to our mission. Last year we had a richly informative discussion concerning guidelines to enhance research with ethnic/racial minority populations.
We are excited to announce the topic for this year's roundtable discussion in collaboration with Division 38 [Health Psychology] of the American Psychological Association. A recent NIH-commissioned study (August 2011; http://www.nih.gov/news/health/aug2011/od-18.htm) noted that African Americans, Latinos, and Asians/Pacific Islanders remain underrepresented in tenured and tenure track faculty positions within the sciences. They also identified a discrepancy with regard to funding success for minority scientists. To address this important issue at the upcoming conference (April 2012), EMMH is excited to host a mentorship roundtable discussion, along with APA Division 38, focused on the continuing need to diversify the field of Health Psychology by encouraging minority researchers and those engaged in minority health research to pursue successful careers in academia. All are welcome to engage in this important meeting, regardless of stage in their professional training or career. We have enjoyed great success at our roundtable discussions over the years and expect nothing less for the upcoming meeting!
We look forward to seeing you at the upcoming conference in New Orleans, April 11-14, 2012. Please look out for the scheduling of the roundtable discussion and other events that the EMMH SIG will be hosting in collaboration with other SIGs throughout the conference. We will be providing the EMMH SIG membership with more information concerning dates and times of these events in the future.
Warm regards,
Eleshia Morrison, MA, and Luz Garcini, MA
EMMH SIG Co-Chairs
morrison.364@osu.edu lgarcini@projects.sdsu.edu