NEW SIG: Military and Veterans' Health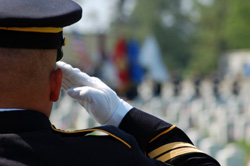 This is an invitation to all SBM members to join a new SBM Special Interest Group (SIG). The Military and Veterans' Health SIG will be an interdisciplinary group of researchers, clinicians, and educators who are committed to promoting research, prevention, clinical assessment and intervention, policy development, education, training, and mentoring in military and Veterans' health. This includes translating evidenced-based behavioral medicine interventions into clinical care for military service members engaged in active duty and Veterans that improve health outcomes by promoting innovative implementation and evaluation practices and access to quality and cost-effective care. We invite those who have an interest in promoting health within the unique health care systems of the Department of Defense (DOD) and the VA in the United States, as well as those interested in improving health outcomes in active duty service members and Veterans from around the globe.
If you would like to join the SIG, please send your name and email address to Ben Stumpf at bstumpf@sbm.org, and you will be included in the MVH SIG email listserv.
A MVH SIG meeting will be held at the 2012 SBM Annual Meeting in New Orleans to establish leadership positions and terms for rotation, most likely a breakfast roundtable. I look forward to MVH SIG-related posters and presentations next April and hope to see you at our SIG meeting.
Sincerely,
Patty H. Rosenberger, PhD
VA Connecticut Healthcare System