Update on Education, Career Development, and Training Activities at SBM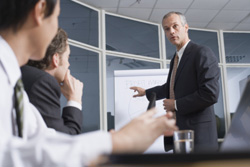 Laura Porter, Ph.D., ETCD Council Chair
The Education, Training and Career Development (ETCD) Council has been active on a number of fronts to meet the professional development needs of SBM members at all stages of their careers. Below are some highlights of our activities over the past year, a preview of upcoming events, and ways that you can get involved.
Consultation Program: We are very excited about the new, web-based Consultation Program! This program was designed to facilitate the exchange of information and resources between SBM members. Prospective consultees can identify expert consultants on the website and contact them with specific questions pertaining to scientific topic areas as well as career development issues. The Consultation Program was piloted by the Cancer SIG last fall; this spring, it was opened to the entire membership. Currently, we have consultants from four SIGs - Cancer, Integrated Primary Care, Obesity & Eating Disorders, and Child & Family Health. However, it is open to all SBM members regardless of SIG membership. The program is still in the early phases of development, and we need your help to grow this into a valuable resource for the SBM membership. Please consider doing one or all of the following:
Volunteer to serve as a consultant: Whether you are early in your career or more seasoned, you likely have valuable knowledge and experience that would benefit other members. The Consultation Program gives you the opportunity to connect with other members who share your interests with a minimal time commitment. We welcome consultants both within and outside of SIG content areas, as well as consultants focused on career issues in clinical, industry, and military settings.
Use the program yourself: Whether you are a postdoc looking for advice on negotiating your first job, or a full professor delving into a new area of research, your fellow SBM members may be able to provide the knowledge and guidance you need.
Refer your trainees and colleagues to the program for their consultation needs.
The program can be accessed by logging into the Members Only section of the website and clicking on the link to the Consultation Program. Please contact me (laura.porter@duke.edu) if you have any questions about being a consultant or using the program.
Programs at the Annual Meeting: Every year, the ETCD Council organizes Expert Consultations and Dinners with an Expert. These are great opportunities for trainees and junior members of SBM to network with senior members in an informal setting. This year, we will be working with the Student SIG to ensure that the Consultations best meet the needs of the trainees and junior members while making the best use of consultants' time. Also offered on an annual basis is the Graduate Research Panel, a forum in which faculty with experience in mentoring students in research activities, theses, and dissertations provide advice and answer questions on a variety of topics. At the 2011 meeting, we offered popular programs on Efficient and Effective Mentoring, Reviewing Manuscripts for Behavioral Medicine Journals, and Atypical Career Trajectories in Behavioral Medicine. For 2012, we are planning programs focused on making the most of post-doctoral fellowships, military careers in behavioral medicine, and navigating mid-late career issues. We hope to see you there!
Educational Webinars: SBM is considering the possibility of providing state-of-the-art webinars on a variety of educational topics relevant to behavioral medicine. Before moving forward, we want to determine members' level of interest in such webinars. In the coming month, please look for an invitation to complete a brief survey so that you can tell us what you think about this exciting possibility!
Finally, I would like to thank Phil Brantley, Karl Meier, and Shawna Ehlers, who have recently rotated off the ETCD Council, for all of their contributions to the Council over the years. And I would like to welcome our newest members, Jenny Reese and Valerie Myers!