Current Progress and New Initiative Announcement for the Multiple Health Behavior Change Special Interest Group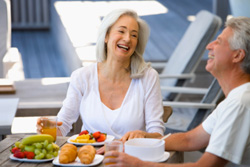 Kerry E. Evers, PhD, MHBC SIG Co-Chair
Lisa M. Quintiliani, PhD, RD, MHBC SIG Co-Chair
In this Outlook article, we would like to provide an update on the current state of the MHBC SIG as well as to announce an exciting new initiative! At the 2011 SBM Annual Meeting, Claudio Nigg, PhD, completed his role as co-chair (thank you Claudio for your many years of hard work!). Kerry Evers, PhD, will continue in her role and be joined by Lisa Quintiliani, PhD, who has been involved in many aspects of the SIG in the previous year. In addition to our regular SIG award provided to a citation abstract winner, we are happy to announce that the new student abstract award that we began in 2011 will again be offered in 2012. In addition, we held a successful pre-conference course at the 2011 SBM meeting (which was attend by over 30 people), which included talks on the current state of MHBC research, research directions at NIH and internationally, and group discussions. Evaluations of the day were overwhelmingly positive. Although we will not hold another pre-conference at SBM 2012, we are happy to announce a new initiative: the next MHBC special issue!
By way of background, the first special issue was published in Preventive Medicine in 2008 and was a resounding success with 16 contributions having been cited an average of 18 times each! Since that time, the field of MHBC research continues to expand into additional populations, settings, evaluation techniques, and theoretical underpinnings. These developments point to a need for a broader emphasis on the importance, implications, and evidence for MHBC research and practice. The proposed special issue is intended to present an updated collection of state-of-the-science conceptual and research papers on core topics in multiple health behavior research.
The special issue will be published in 2013 in the new SBM journal Translational Behavioral Medicine: Practice, Policy, Research. We will include articles of varying types, including Original Research, Practice Tools, Practice and Public Health Policy, Editorials, Systematic Reviews, Case Studies, and Synopses and Guidelines. Below are our proposed topic areas.
Multiple Risk & Multiple Health Behavior Relationships
Theories of Multiple Behavior Change
Methodological Issues
Intervention Design Issues
Use of Technology to Maximize the Effectiveness of MHBC Interventions
Multiple Health Behavior Change Interventions
Issues in Service Delivery and Implementation
Discussion and what the Future Holds
The general call for papers is slated for March 2012. Potential authors will be asked to submit an expanded abstract along with the list of authors, which are then due April 2012. Each abstract will then be reviewed by a selected panel of reviewers for this special issue. We will invite authors of selected abstracts to submit a complete manuscript that will be due August 2012. Once full manuscripts are received they will go through a full review process, revisions, and final acceptance. We are truly excited for this upcoming venture and hope that you will consider submitting your MHBC-relevant work!