Ethnic Minority and Multicultural Health SIG Update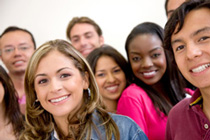 Eleshia J.P. Morrison, MA Luz M. Garcini, MA
The two-fold mission of the Ethnic Minority and Multicultural Health (EMMH) SIG is to advance the field of ethnic minority and multicultural health through education and training, networking, and mentorship of ethnic minorities and non-minorities, and to conduct research in ethnicity, culture, and health. Members of this SIG also aim to increase the involvement of ethnic minorities in SBM councils, committees, and the peer-review process.
Given this mission, it is with great enthusiasm that we recognize the recent call for papers put forth by SBM's Annals of Behavioral Medicine journal. This call for papers focuses on understanding and minimizing social and behavioral aspects of racial/ethnic health disparities, one of the many issues that we are committed to examining in the EMMH SIG.
Our SIG has a current membership of 227 individuals dedicated to issues concerning ethnic and multicultural health. Members are from various disciplines and research backgrounds. If you are interested in becoming a member of our SIG or would like to learn more about the SIG, please contact us directly.
We are very excited for the upcoming conference in Washington, D.C., April 27-30, 2011. We will be holding two breakfast events during the conference. The first will be our annual business meeting and student award presentations. The second meeting will be a mentoring roundtable. Please contact us if you have any ideas or suggestions regarding potential topics for the mentoring event. We will be providing the SIG membership with more information concerning dates and times of these events in the future.
We look forward to keeping you posted on future events and seeing you in April 2011!
Warm regards,
Chair: Eleshia Morrison (morrison.364@osu.edu)
Co-Chair: Luz Garcini (lgarcini@projects.sdsu.edu)