Getting A Little Help from Your Friends:
Development of a New Consultation Program for SBM Members
Laura Porter, PhD, Education Training and Career Development Council Chair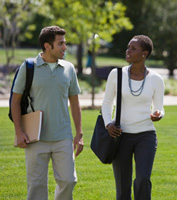 Wish you could chat with an expert regarding state-of-the-art methods for measuring medication adherence? Would you like to know the pitfalls of setting up a cardiac rehabilitation program from someone who has been there? Could you use help on your grant's specific aims from an experienced grant reviewer?
You will soon have the chance to seek out the help you need through a new Consultation Program. In response to members' input about how SBM may best meet their career development and networking needs, the ETCD Council in connection with the SIGs is developing this program to facilitate the exchange of information and resources between SBM members throughout the year.
What is it? The Consultation Program centers on the idea of an "electronic hallway consultation" (i.e., what might happen if you run into a colleague in the hall or knock on their office door and have a brief exchange regarding some question or issue). While most consultations will be time-limited and focused on specific questions, our hope is that some of these exchanges may also lead to longer-term mentoring and/or collaborations.
How will it work?
SIGs will solicit their members to serve as consultants in topic areas relevant to their members' needs.
Members can search for a consultant by accessing a web page on the members-only section of the SBM website listing consultants' names, contact information, and areas of expertise.
Guidelines for appropriate use of the program will be provided. For instance, consultees will be asked not to contact the same consultant more than twice per year (unless the consultant invites additional contact). Consultants will be asked to respond to requests in a timely manner.
Who can take part? All members of SBM can take part in this unique program! Unlike traditional mentoring programs, members at all stages of their careers will be encouraged to participate as both consultants and consultees.
How can I use it? Consultation regarding both scientific topic areas and career development issues is encouraged. Given the brief nature of the consultations, consultees should present specific, focused requests. Some examples include:
I am planning a study examining a physical activity intervention for prostate cancer survivors. Which measure would be more appropriate, A or B?
I am interested in building on data I obtained from a pilot study of cancer screening in Latinos. Are the following specific aims for an R03 compelling /innovative?
I am having difficulty recruiting participants for my study of obese adolescents. Do you have any tips?
I have been asked to take the lead in developing a new educational initiative in my department. What criteria should I consider in deciding whether to take on this type of administrative role?
The program will be piloted with the Cancer SIG in the fall of 2010 and expanded to additional SIGs in 2011. We hope that this will be a valuable resource for SBM members and look forward to your future participation!