PRESIDENT'S MESSAGE
Scientific and Professional Development as Journeys of Venturing Beyond Our Current 'Comfort Zones'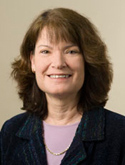 Abby C King, PhD
Abby King, PhD, Society of Behavioral Medicine President
"Knowing is not enough; we must apply. Willing is not enough; we must do." Goethe
On the Scientific Development Front
While behavioral medicine has always been a field that embraces different perspectives, we are continuing to expand our focus in exciting ways that reflect the increasingly demanding and complex world around us. This expansion of focus has been both upward - for example, into the 'macro-spheres' of public policy and related areas - as well as downward - for example, into the 'micro-spheres' of cellular and genetic forces that contribute to human behavior, health, and disease. Such efforts involve our collective willingness as a field to learn about and embrace different ways of thinking that extend beyond our traditional scientific 'comfort zones'. This type of scientific engagement - SBM's overarching theme for the 2011-2012 year - was reflected in myriad ways at the 2011 conference. An example of this was Dr. Len Epstein's master lecture on some of the genetic and physiological forces underlying the important behavioral construct of food reinforcement. Over the years, Len's work has epitomized the kind of thinking beyond one's usual terrain that is increasingly called for as scientific funds become more competitive and the world's problems ever more complex.
SBM is pursuing several approaches to stay abreast of scientific arenas that are increasingly relevant to behavioral medicine. One approach that is in the initial stage of development is the creation of a series of simple "primers" aimed at describing "basic things that you wanted to know about [a specific discipline or field] but were afraid to ask". The goal of such primers is to increase our basic working knowledge and collective "literacy" pertaining to fields that are currently not in the SBM "mainstream" but will likely become increasingly important to our field over the next several years. Among the goals of such primers are to describe basic terminology and jargon in a relevant field, along with the types of current discoveries in the field of particular relevance to behavioral medicine researchers and a list of resources for learning more about it. We envision such primers being distributed through different channels, including the SBM website, and likely utilizing different types of communication media (e.g., brief YouTube videos). So stay tuned! We will also continue to highlight important fields with growing connections to behavioral medicine through SBM's 2012 scientific program. Among the ideas that have been generated by the Program Committee thus far are spotlights on the emerging genetic evidence predicting behavioral health intervention success (as well as the "counter-evidence" to this approach); "brain health" across the life course; and ways of translating our evidence-based behavioral medicine interventions for community dissemination as well as the public policy arena.
A second approach through which SBM is engaging with the scientific community more generally is through partnerships with other scientific organizations with common interests that pertain to behavioral medicine. An example of a recent partnership is the work that some of our SBM members are doing with the American College of Sports Medicine (ACSM) to promote the behavioral intervention component of the ACSM's "Exercise is Medicine" initiative. The goal of this collaboration is to foster ways in which health care providers' efforts to counsel patients on the importance of regular physical activity can be consistently linked with evidence-based physical activity intervention programs that have been developed by behavioral scientists, many of whom are SBM members. More details are presented in the Physical Activity SIG update.
A third area of continued SBM engagement involves continuing to "grow" our collective capacity and expertise in the area of public policy through our health policy committee and public policy leadership group. The public policy leadership group serves as our "rapid response" team when relevant legislative and policy issues arise that impact behavioral medicine and that require timely action (e.g., a policy brief aimed at the scientific evidence germane to a particular piece of legislation currently being discussed in Congress). As part of SBM's continuing education related to impacting relevant health policy on national, regional, and local levels, we have become increasingly aware of the importance of local behavioral medicine scientific "success stories" in capturing the attention of decision makers, including those at the NIH. In identifying such scientific success stories, it has become abundantly clear that our greatest resource is our members and the excellent scientific work that they have been doing at local, regional, and national levels. So keep a look out for ways in which we can build our local scientific 'success stories' into messages that can have an impact beyond the usual academic arenas.
Finally, in keeping with our engagement theme related to growing community partnerships, the Program Committee is exploring ways to move beyond the hotel "walls" in developing active learning seminars, as well as finding ways to bringing the culture and vibrancy of the New Orleans community into the meeting.
On the Professional Development Front
It strikes me that the scientific engagement and expansion-oriented work that the Society and the behavioral medicine field as a whole are doing represent a useful 'metaphor' for how professional development often happens on a personal level. That is, our careers can be enhanced through reaching beyond our own personal 'comfort zones' in many ways, both large and small. This could mean doing some initial 'reconnaissance' into domains that extend beyond what we are currently doing. Examples of such domains may be exploring new methods and designs for investigating our current scientific questions; investigating ways to study multiple health behaviors in different health and disease areas; identifying new partners from different disciplines to help expand both the types of questions that we ask and the answers that we seek; and including target groups in our samples that extend beyond one segment of the life course. The Program Committee will be looking to showcase research and symposia that reflect this type of innovative thinking in the April 2012 Annual Meeting occurring in the "one of a kind" city of New Orleans.
One thing that has become increasingly clear to me as I travel my own professional development journey is that mentoring and career development never cease and are in a very real sense a "two-way street"; that is, I think that many of our senior members have found that expansion and growth of our own professional horizons is significantly interwoven with the mentoring of our trainees and junior colleagues. In many ways, we benefit as much (and, arguably, more) from the mentoring that we do of junior researchers who come to the scientific endeavor with fresh eyes, new insights, and an enthusiasm that is often inspiring. With this in mind, we plan to continue to work on expanding the 'intergenerational' career development activities that have steadily grown at SBM, both as part of the Annual Meeting & Scientific Sessions and beyond. So look for a new "future leaders of behavioral medicine" training workshop at the Meeting as well as other such professional development offerings (including "pearls of wisdom" advice and highlights related to career development from our Fellows and more senior SBM members).
I'm looking forward to continuing our collective scientific journey together!
Best, Abby King
Congratulations to the following 2011 Society of Behavioral Medicine Achievement Awards recipients!



Distinguished Research Mentor Award
Howard Leventhal, PhD





Distinguished Scientist Award
Margaret A. Chesney, PhD




Outstanding Dissertation Award
Jennifer L. Brown, PhD





Community Engagement Award
Nueva Vida, Inc.
---
Early Career Investigator
Jeffrey S. Gonzalez, PhD
Free & Clear Research to Practice
Kevin Patrick, MD, MS
Fellows
Linda E. Carlson, PhD
Angela D. Bryan, PhD
Kathy J. Goggin, PhD
Jeffrey L. Goodie, PhD, ABPP
Lee M. Ritterband, PhD
Phillip B. Sparling, EdD
Victor J. Stevens, PhD
Karen L. Syrjala, PhD
Brent Van Dorsten, PhD
Kenneth D. Ward, PhD
Distinguished Student Awards
Excellence in Research
Ding Ding, MPH
Jessica Magidson, MS
Carmina Valle, MPH
Travel Scholarship
Anca Gaston, MA
Travis I. Lovejoy, MS, MPH
C. Tracy Orleans Distinguished Service
The Society of Behavioral Medicine recognizes the following individuals for their hard work and dedication to the society.
Gary G. Bennett, PhD
Francis J. Keefe, PhD
Lisa M. Klesges, PhD
Suzanne M. Miller, PhD
Special Interest Groups (SIG) Awards
SBM congratulates the following recipients of these special awards given by the Special Interest Groups.
Aging SIG
SBM Aging SIG Award for Outstanding Student Research Abstract in Aging
Siobhan M. White
Child and Family Health SIG
The Student Award for Outstanding Research in Child and Family Health
Katherine C. Bailey, MA
The Award for Outstanding Research in Child and Family Health
Tonja R. Nansel, PhD
Cancer SIG
Outstanding Student Award
Elissa Gerfen, BA
Cancer SIGGIE
Ronit Elk, PhD
Paul B. Jacobsen, PhD
Complementary and Integrative Medicine SIG
Complementary and Integrative Medicine Investigator Research Award
Karen M. Mustian, PhD
Complementary and Integrative Medicine Student Research Award
Jessie Chan
Ethnic, Minority, and Multicultural Health SIG
Outstanding Student Abstract Awarded by the Ethnic, Minority, and Multicultural Health SIG
Diedra F. Frum, MA
Errol J. Philip, MA
Evidence-Based Behavioral Medicine SIG
Outstanding Student/Trainee Award in Evidence-Based Behavioral Medicine
Matthew P. Buman, PhD
Health Decision Making SIG
Outstanding Trainee Abstract in Health Decision Making
Jessica A. Kadis, MPH
Multiple Health Behavior Change SIG
Multiple Health Behavior Change SIG Research Award
Emily D. Williams, PhD
Multiple Health Behavior Change SIG Student Research Award
Aaron Blashill
Pain SIG
Pain SIG Student Research Award
Elizabeth K. Seng, MS
Susan Sharp, BA
Physical Activity SIG
Physical Activity SIG Student Research Award
Eric B. Hekler, PhD
Physical Activity SIG Local Innovator Award
Bikes for the World
Spirituality SIG
Spirituality and Heath Senior Investigator Award
Gail Ironson, PhD, MD
Student SIG
Student SIG Research Award
Delesha M. Carpenter, PhD
Alexandra H. Dupont
Marisa E. Hilliard, PhD
Women's Health SIG
Outstanding Student Researcher in Women's Health Award
Robyn L. Fielder, MS
2011 Annual Meeting Recap
Gary Bennett, PhD, 2010-2011 Program Committee Chair
We were extremely pleased to welcome over 1,600 members and friends - the largest number of attendees in the Society's history - to the 32nd SBM Annual Meeting and Scientific Sessions. Held in Washington DC, the 2011 Annual Meeting theme was "Accelerating Our Impact on the Public's Health." The Program Committee designed the meeting in response to SBM President Karen Emmons' charge to play an "active role in shaping the health agenda for our nation." Our SBM members and friends rose to the occasion, submitting an unprecedented number of high-quality proposals. This is an exciting time for behavioral medicine and we think the energy was palpable at the 2011 meeting.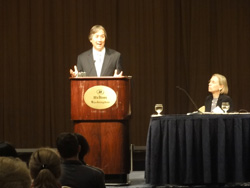 Howard Koh, MD, MPH
The Annual Meeting opened on April 27 with a host of exciting pre-conference seminars and workshops. We greatly appreciate the efforts of our SIGs, whose work was extremely well represented in Wednesday's sessions. On Thursday morning, Howard Koh, MD, MPH, Assistant Secretary for Health for the U.S. Department of Health and Human Services (HHS), opened the 2011 Meeting with a Keynote Address that described the challenges and opportunities for behavioral medicine created by health system reform. Consistent with the SBM mission, he noted that promoting population health requires a "broad multidisciplinary, community based approach that combines the best of behavior and biology." Speaking about the challenges facing the U.S. health system, he reminded us that William Sloane Coffin said, "Giant obstacles are brilliant opportunities, brilliantly disguised as giant obstacles." Two Thursday Master Lectures wonderfully illustrated the broad continuum of behavioral medicine research. Brian S. Mittman, PhD, Director of the Veterans Affairs (VA) Center for Implementation Practice and Research Support, described models underlying the emerging area of implementation science and the field-leading work occurring within the VA health system. Leonard H. Epstein, PhD, Distinguished Professor in the Departments of Pediatrics and Social and Preventive Medicine at the University at Buffalo SUNY, delivered the Distinguished Scientist Master Lecture, which described his groundbreaking research investigating the impact of food reinforcement on childhood obesity. On Thursday evening, we were joined by Dan Ariely, PhD, James B. Duke Professor at Duke University and New York Times best-selling author of The Upside of Irrationality and Predictably Irrational. Blending the science of behavioral economics with humorous vignettes, Dr. Ariely described his work investigating "irrational" human behavior and its implications for health promotion.
On Friday morning, SBM President Karen M. Emmons, PhD, delivered her 2011 Presidential Keynote. Dr. Emmons is Associate Dean for Research and Professor of Society, Human Development, and Health at the Harvard School of Public Health and Deputy Director, Center for Community-Based Research at the Dana Farber Cancer Institute. In her talk, "Behavioral Medicine and the Health of Our Nation: Realizing Our Potential Impact," Dr. Emmons challenged the field to be "relevant to both practice and policy while maintaining our very high standards of scientific excellence." She offered several specific strategies for balancing excellence and relevance, noting that the field should address pressing social concerns, implement research in real-world settings, answer multiple research questions at once, and integrate interdisciplinary approaches. Doing these things, she argued, would facilitate the "successful translation of our evidence base in ways that can impact population health."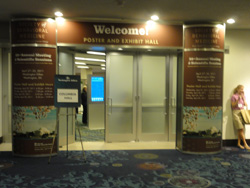 Muin Khoury, MD, PhD, founding director of CDC's National Office of Public Health Genomics, presented one of our 2011 State-of-the-Science Master Lectures. In his talk, "Public Health Genomics: Closing the Gap between Gene Discovery and Population Health," Dr. Khoury offered a host of strategies for translating genomic findings into population health benefits. Jack P. Shonkoff, MD, Julius B. Richmond FAMRI Professor of Child Health and Development at the Harvard's School of Public Health and Graduate School of Education, and founding director of Harvard's Center on the Developing Child, delivered Friday's second Master Lecture. Entitled "The Biology of Adversity and the Early Childhood Foundations of Lifelong Health," Dr. Shonkoff reviewed the extensive evidence indicating the importance of childhood context on health across the life course. On Friday evening, we were very pleased to have Debra Haire-Joshu, PhD, Professor and Associate Dean for Research Washington University's Brown School of Social Work, deliver a Keynote, entitled "The Obesity Policy Roadmap: How Do We Get There From Here?" A health policy advisor for Senator Edward Kennedy and then-Senator Barack Obama, Dr. Haire-Joshu offered strategies for translating behavioral medicine research evidence into policies to contend with the obesity epidemic. Elissa S. Epel, PhD, Associate Professor in the Department of Psychiatry at the University of California, San Francisco, gave our second State-of-the-Science Master Lecture, in which she reported intriguing new findings detailing the impact of chronic stress and health behaviors on telomeres and telomerase activity. Finally, in our closing Keynote, "PTSD: Diagnosis, Theory, and Evidence-based Treatment," Edna B. Foa, PhD, Professor of Clinical Psychology in Psychiatry at the University of Pennsylvania, described her work to develop, evaluate, and disseminate prolonged exposure, an evidence-based treatment for post-traumatic stress disorder.
This year, we introduced several enhancements to the Annual Meeting program that we hope you enjoyed. On Tuesday, we hosted a special day-long pre-conference workshop, called "From Discovery to Public Health Impact: New Approaches to Developing, Testing & Optimizing Behavioral Interventions." Co-sponsored by NHLBI, NIDA, OBSSR, and SBM, the workshop was co-chaired by Susan Czajkowski, PhD, NHLBI; Patty Mabry, PhD, OBSSR; and Lisa Onken, PhD, NIDA. Second, we invited an exciting special Presidential symposium, entitled "The Status of the Science of Cardiovascular Behavioral Medicine: Capitalizing on its Multidisciplinary Focus," presented by session chair Marc D. Gellman, PhD, and an outstanding group of leading behavioral medicine researchers, including: Joel Dimsdale, MD, Karen Matthews, PhD, Shari Waldstein, PhD, and Neil Schneiderman, PhD.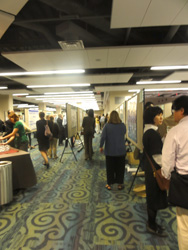 Additional highlights of the 2011 Meeting included stimulating symposia, the first SBM Community Award, introductions to SBIR and VA funding opportunities, morning yoga sessions, wonderful poster presentations, and a bevy of exciting paper sessions. We greatly appreciate the efforts of our colleagues on the local arrangements committee (co-chaired by Susan Czajkowski, PhD, NHLBI and Kristi Graves, PhD, Georgetown University), which organized activities and materials that greatly improved the quality of our time in D.C.
I would like to thank our many colleagues who worked tirelessly to make the meeting so successful, including our track chairs and reviewers, all of our student volunteers, and the SBM staff. I would especially like to thank our Program Committee, who met weekly for an entire year to plan the Annual Meeting. Finally, I must acknowledge the support and guidance provided by Holland LaFave, SBM Manager of Meetings and Education, Michael Diefenbach, PhD, 2010 Program Chair, and Jamie Studts, PhD, 2012 Program Chair. Their efforts and dedication contributed greatly to the meeting's success.
Best wishes to all and we'll see you in New Orleans for SBM's 33rd Annual Meeting!
2011 Program Committee
Gary G. Bennett, PhD, Chair
Jamie L. Studts, PhD, Co-Chair
Michael A. Diefenbach, PhD, Immediate Past-Chair
Lisa M. Kleges, PhD
Laura A. Linnan, ScD, CHES
Barbara Resnick, PhD, CRNP, FAAN, FAANP
Suzanne M. Miller, PhD
SBM Outlook Spotlight - Membership Council - Spring/Summer 2011
Brent Van Dorsten, PhD, Membership Council Chair
The Society of Behavioral Medicine's Membership Council is one of the five permanent councils and is charged with recruitment and retention of members. In accordance with the SBM mission statement, this is a multi-dimensional goal focused on recruiting interdisciplinary members involved in a variety of clinical, research, administrative and educational pursuits.
The Membership Council attempts to represent multiple professional specialties and a variety of Special Interest Groups (SIGs). The current Membership Council is composed of the following members (listed with their SIG affiliations):
Brent Van Dorsten, PhD - Membership Council Chairperson; Pain; Diabetes; Integrated Primary Care
Marcella H. Boynton, MA - Health Decision Making; Multiple Health Behavior Change; Student
Jennifer K. Carroll, MD, MPH - Evidence Based Behavioral Medicine
Dean G. Cruess, PhD - Cancer; Evidence Based Behavioral Medicine; Multiple Health Behavior Change; Women's Health
Sasha A. Fleary, MS - Child & Family Health; Ethnic Minority & Multicultural Health; Health Decision Making; Multiple Health Behavior Change; Obesity & Eating Disorders; Physical Activity; Student
Jeffrey L. Goodie, PhD, ABPP - Aging; Integrated Primary Care; Obesity & Eating Disorders; Pain
Robert Motl, PhD - Physical Activity
Christina Psaros, MS - Multiple Health Behavior Change; Obesity & Eating Disorders; Evidence Based Behavioral Medicine; Women's Health (Co-Chair)
Barbara Resnick, PhD, CRNP, FAAN, FAANP - SIG Council Chair
Sherri Sheinfeld Gorin, PhD - Evidence Based Behavioral Medicine (Co-Chair); Cancer
At the SBM annual meeting, the Membership Council sponsors a New Member Breakfast Roundtable to provide orientation to new members regarding the myriad opportunities available within the organization and to familiarize them with the array of SIG activities. The Membership Council also staffs a membership information booth to facilitate membership application for non-member meeting attendees. The Membership Council looks forward to collaborating with the Program Committee to develop creative strategies to increase local professional attendance at SBM's 2012 Annual Meeting & Scientific Sessions in New Orleans, LA and to retain attendees as members. In the current turbulent financial times being faced by academic, medical, and practitioner professionals, the Membership Council requests the assistance of all SBM members to encourage our colleagues to remain members and to attract new members to serve our collective mission.
Call to Action:
A "grass roots" recruitment effort aims to increase membership by asking current SBM members to contact 2-5 colleagues who are not current SBM members to encourage them to renew membership or join anew. We hope every SBM member will recruit a colleague who can benefit from involvement in order to sustain our membership numbers and national visibility.
In conjunction with the Scientific and Professional Liaison Council, the Membership Council will participate in efforts to recruit new members via collaborative interactions with other professional organizations who share SBM's vision and initiatives.
The Membership Council is devising ways to recruit more non-member meeting attendees to join SBM.
The Membership Council aims to increase the number of members from a variety of professional settings including but not limited to basic behavioral scientists, clinical care providers, physicians, nurses, educators, administrators, and policy makers.
The Membership Council will continue to investigate effective strategies to retain student members and post-doctoral fellow members as they transition from trainee to autonomous professional.
The SBM Career Trajectories Survey: Findings and Next Steps
Francis J. Keefe, PhD; Laura S. Porter, PhD; & Tamara J. Somers, PhD
In 2010 SBM conducted a survey of its members that focused on career trajectories in behavioral medicine. In the past, SBM's career development efforts have tended to focus on early career development and not as much on career development issues that might arise later in one's career. Also, it is apparent that some SBM members do not follow traditional career paths and that learning more about their career development experiences might be helpful. Thus, the impetus for this survey was to learn more about career paths of our members and to determine if SBM needs to be doing more to address career development issues.
The survey was developed by SBM's working group on career trajectories, a committee that included Lisa Klesges, Bev Thorn, Laura Porter, Susan Czajkowski, Karen Oliver, Tamara Somers, and Ken Wallston. Members of the committee represented early, mid-, and late career SBM members. The survey was administered using an on-line survey methodology. An email announcing the survey was sent to all SBM members on February 9, 2010 and the opportunity to respond spanned from February 9, 2010 to March 3, 2010.
A total of 737 members completed at least part of the survey, with 577 completing the entire survey. The latter represents 30% of the SBM membership. The sample consisted of 71% female members.
A total of 53% of the respondents described themselves as early career, 31% mid-career, 15% late career, and 1% post career (retired). On average, respondents reported that they have been working in the field of behavioral medicine for 11.78 years (SD=10.1). The vast majority reported their discipline was Psychology (73%). Other disciplines reported included Epidemiology or Health Service Research (6%), Nursing (5%), other Behavioral Sciences (6%), Medicine (2%), and other fields (8%). A total of 81% of respondents reported having some type of Doctoral degree (i.e. Ph.D., M.D., PsyD, JD, DNP).
We asked respondents to indicate how they spent their time (i.e. in research, clinical work, administrative work, teaching, mentoring, and other) during the early phase of their career, now, and how they anticipate spending their time 5 years from now. Interpretation of the data is somewhat difficult given that the number of respondents to these questions varied across the time periods. Nevertheless, several patterns are evident. First, most respondents indicated that about half of their time has been spent and is likely to be spent in the future involved in research activities. Second, respondents indicated that their clinical activities decreased from early career (20% of time) to present/future (11-13% of the time). Third, respondents indicated that administrative activities take an increasing proportion of their time as they move from early career (10%) to the present (16%) and towards 5 years from now (14%). Fourth, a similar pattern is evident for mentoring activities which was estimated as increasing from 6% during early career to 9% at present to 11% five years from now. Finally, teaching activities were estimated as taking a relatively constant proportion of time from early career, to the present/future (approximately 12%).
A major objective of this survey was to determine, whether over the course of their career, SBM members changed careers or took breaks from their career activities. A total of 21% of respondents indicated that behavioral medicine was not their original career. Other than a sabbatical or health-related leave (including maternity leave), only 9% reported taking a break from their career (e.g. to take care of their family or to obtain additional training to transition to a new position).
Respondents were asked about career development resources they have used in the past and what they would like SBM to offer in the future. The most frequently endorsed resources that members reported they have used were colleagues/peers (83%), mentors within ones' work institution (80%) as well outside their work institution (60%), boss/direct supervisor (45%), professional societies other than SBM (26%), and SBM annual meetings (16%), and SBM Special Interest Groups (12%), or a career counselor (7%). Respondents endorsed an array of resources that SBM could offer in the future to help with career development-related issues. These include panel discussions at the Annual Meeting (47%), a web page/forum and ListServ for career development issues on the SBM website (41%), more activities at the Annual Meeting (i.e., small group [41%] and one-on-one discussions [31%]), mentoring programs through the SIGs (38%), development of a small grant program to support a member visiting the work setting of a colleague/consultant/mentor (38%), long-term mentoring with a senior SBM member (34%), and an Outlook column devoted to career development issues (32%).
The results of this survey can inform SBM's efforts in career development in several ways. First, respondents to this survey were primarily Psychologists over half of whom report being in their early career and who indicate they are spending almost half of their time in research. This suggests that SBM's traditional focus on career development issues that affect early career members is important. However, there is a significant minority of members who are in other disciplines and other stages of their career suggesting that a broader focus on career development is warranted. Second, respondents indicated that, from their early career phase to the present and into the next five years, administrative activities and mentoring are likely to take up more of their time. This suggests that SBM should consider doing more to foster members 'skills as mentors and administrators. Third, respondents indicated that they have relied on a wide variety of resources for their own career development and that they would like SBM to build upon and extend its current career development efforts. In particular, they endorsed the need for additional career development opportunities at the Annual meeting, the development of web-based career resources, a novel small grants program to support in-person mentoring activities, and increased use of long-term mentors and Outlook.
Considered overall, the survey results draw further attention to the important issue of career development. We hope these results will stimulate a broader discussion and dialogue about career development in behavioral medicine. A discussion of career development issues potentially has implications not only for individual members but also for future directions pursued by the SBM Board, committees, SIGs, publications and Annual Meeting. Informed in part by these findings, the Education Training and Career Development Council in conjunction with the SIGs recently have launched a new web-based consultation program. A panel discussion on atypical career trajectories is also planned for the 2011 Annual Meeting. Finally, additional web-based career development resources are currently in the planning stages.
SBM Helping to Bring Behavioral Science to ACSM's Exercise is Medicine® Initiative
Matthew P. Buman, PhD, Stanford University School of Medicine
NiCole R. Keith, PhD, FACSM, Indiana University-Purdue University, Indianapolis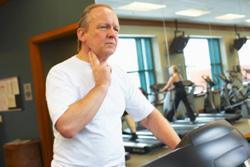 SBM leadership and members of the Physical Activity Special Interest Group (SIG) have recently begun working with the American College of Sports Medicine (ACSM) on their Exercise is Medicine® (EIM) initiative. The objectives of the EIM initiative are to make physical activity a "vital sign" that is routinely assessed at every patient interaction with a health care provider, and to encourage primary care physicians and other health care providers to include exercise and physical activity when designing treatment plans for patients. ACSM is systematically identifying ways in which the "vital sign" routine assessment can be implemented, and partnering with SBM to more fully develop the program referral process and overall access to evidence-based behavioral interventions in order to provide stronger scientific support for the initiative.
The goals of the SBM-ACSM partnership are to (a) identify evidence-based interventions that are scalable at the national level and have the potential to cut across a wide range of healthcare delivery settings; (b) work with ACSM and other organizations to effect this type of translation and scalability; and (c) identify and/or develop the most effective types of referral systems to enact the link between the primary care office referral and the program delivery source.
At the 58th ACSM Annual Meeting and 2nd World Congress on Exercise is Medicine® in May-June 2011 in Denver, CO, SBM members met with the ACSM leadership and members to discuss short- and long-term plans for moving this partnership forward. Short-term plans include the identification of evidence-based physical activity programs that have promise for widespread dissemination across communities and healthcare settings. One of the initial plans will be to focus on web-based and telephone-linked systems that promote initiation and long-term maintenance of physical activity behavior. Promising evidence-based programs will be identified and translational efforts to scale up such programs will be discussed. Longer-term plans include identifying other types of physical activity programs (e.g., community-based approaches, brief healthcare professional based advice/programs) that have the potential for scalability and integrating the referral process into the medical record. Plans are underway to evaluate short- and long-term behavioral outcomes as well as the translation/dissemination process from start to finish.
Our hope is that initial success in identifying existing evidence-based programs with potential for scalability will lead to deeper and even more productive collaborations between SBM and ACSM with the EIM® initiative being a focus of these initial interactions.
Diabetes SIG Update
Korey K. Hood, PhD, Diabetes SIG Chair
Recent government initiatives based on growing public health concerns make this an ideal time for many SIGs to increase activity in policy discussions and decisions. The Diabetes SIG in particular has much to contribute to policy initiatives. The newest language in the National Prevention and Health Promotion Strategy highlights what members of our SIG have been active in documenting - the substantial health and economic burden of diabetes. (See the National Strategy's fact sheet, The National Prevention Strategy: America's Plan for Better Health and Wellness). Further, this Strategy emphasizes opportunities for prevention and health promotion efforts to improve the "mental and emotional well-being" of children and adults. While many of us are already responding to our own "call to action" that propels our work, these initiatives serve to validate and (hopefully) extend opportunities to further our efforts in diabetes.
In the coming year, the Diabetes SIG will keep you updated on new initiatives, cutting-edge clinical and translational research, and funding opportunities that may help you in your prevention and health promotion work. You can assist us by posting relevant links to initiatives, research findings, funding opportunities, and training and continuing education opportunities to the Diabetes SIG listserv (contact info@sbm.org to subscribe listserv and then send an email to diabetes@list.sbm.org to post to the listserv). In addition, given the overlap in prevention and health promotion themes across multiple conditions and diseases, there is potential for cross-SIG collaboration that may serve to better fortify efforts and eventual translation into clinical care.
Behind the scenes, Diabetes SIG members are actively generating proposals for programming at the 2012 Annual Meeting in New Orleans. Multiple ideas for programming were generated at the breakfast roundtable during the 2011 Annual Meeting in Washington, DC. They include innovative topics such as improving behavioral adherence in diabetes management, utilizing mobile health technologies in disease management, and the integration of quantitative and qualitative research methodologies to increase the richness of data collected in clinical and translational research. We are also investigating ways to increase SIG membership of graduate students, postdoctoral fellows, and early-career behavioral scientists. This promises to be an exciting and active year for the Diabetes SIG. Stay tuned.
Evidence-Based Behavioral Medicine SIG Update
Sherri Sheinfeld Gorin, PhD, Evidence-Based Behavioral Medicine SIG Chair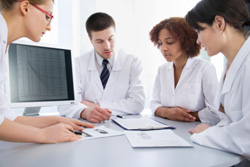 The Evidence-Based Behavioral Medicine Special Interest Group (EBBM_SIG) is among the newest SIGs, but we've been catching up quickly. We're led by a different team this year: Drs. Sherri Sheinfeld Gorin and newly-elected Karen Oliver will serve as co-chairs, working alongside several committee chairs. We have a number of new initiatives planned that we will describe in more detail in Outlook later this year. In brief, we are planning a co-sponsored pre-session at next year's Annual Meeting with the Integrated Primary Care and Ethnic Minority and Multicultural Health SIGs; identifying honorees for our second annual Outstanding Student/Trainee Award in Evidence-Based Behavioral Medicine; enhancing our connection with the work of the EBBM Council on meta-analyses and systematic reviews; and, providing an opportunity to present studies and papers in process at the Annual Meeting. In addition, given the methodologic skills of many of our members, we will expand our involvement in the Consultation Program (led by the Education, Training, and Career Development Council), broadening mentoring opportunities for SBM members.
The Evidence-Based Behavioral Medicine SIG connects an interdisciplinary group of professionals from all over the world with interests in health promotion, disease prevention, health care, behavioral and psychosocial interventions, and research methodology. While we're a heterogeneous group, we share an interest in one or more of the following areas:
(1) Creating an evidence base that allows us to compare treatments, evaluate intervention effects and efficiency, and choose the most promising and feasible intervention strategy for specific client(s). Our members are interested in creating and evaluating guidelines for the conduct and report of randomized controlled trials and other systematic research, conducting meta-analyses and assessing their results, and guiding practitioners in the use of evidence with their clients.
(2) Improving research methodology by educating members about the strengths and weaknesses of research strategies and statistical solutions; fostering critical thinking and a rigorous evaluation of the available literature; and discussing how to improve the quality of both the evidence base and evidence-based practice decisions.
(3) Translating evidence-based knowledge into evidence-based behavioral practice (EBBP), including: searching the literature; finding the most relevant evidence; and assisting with decision-making around the most promising treatment strategies for client(s).
This past year, under the final year of Dr. Kerstin Schroder's term, alongside Dr. Sherri Sheinfeld Gorin, we awarded our first Outstanding Student/Trainee Award in Evidence-Based Behavioral Medicine to Dr. Matthew Buman for his abstract titled "Peer Volunteers Improve Maintenance of Physical Activity: A Randomized Controlled Trial." Dr. Buman is now on the faculty of Arizona State University in their College of Nursing and Health Innovation, Program on Exercise and Wellness. The award honors students/trainees whose presentation at the Annual Meeting of the Society of Behavioral Medicine contributes significantly to the field of Behavioral Medicine. Each student/trainee abstract was rigorously evaluated by three of the following reviewers: Drs. Jennifer Carroll, Erin Bantum, Gozde Ozakinci, Jean C Yi, Wolfgang Linden, Kerstin Schroeder, Sherri Sheinfeld Gorin, and Patricia Mullen. Abstracts were evaluated using a 9-point scale for significance, innovation, and approach. The award was presented at our breakfast roundtable; Dr. Buman received a plaque and an honorarium of $500.
Our 2011 Annual Meeting pre-session co-sponsored with Health Decision Making SIG entitled "Transdisciplinary Training for Evidence-Based Behavioral Practice: Best Practices for Individuals and Communities" was enthusiastically received. Led by Drs. Bonnie Spring, Elena Carbone, and Karen Oliver, participants were well-informed, well-fed, and fully engaged. Finally, last year, we participated in the Expert Consultation program (under the Education, Training, and Career Development Council).
We welcome your involvement in the EBBM SIG, and urge you to contribute to our work on the listserv.
Health Decision Making SIG Update
Marc T. Kiviniemi, Ph.D., HDM SIG Chair
Suzanne C. O'Neill, Ph.D., HDM SIG Co-Chair
The mission of the Health Decision Making Special Interest Group (SIG) is to promote and advance the theory, science, and practice of health decision making, particularly as applied in behavioral medicine. The SIG was officially formed in 2009, has developed a strong agenda of activities to support its mission, and has rapidly grown to over 160 members. In this update, we will highlight activities from our inaugural year of programming at the SBM Annual Meeting held in April 2011 in Washington, DC, as well as other conference-related activities in the planning phases.
2011 Annual Meeting
The 2011 Annual Meeting was the first SBM conference with an active Health Decision Making (HDM) SIG presence on the conference program. The SIG kicked off the conference with a co-sponsored pre-conference workshop on evidence-based behavioral medicine. The workshop was developed by the Evidence-Based Behavioral Medicine (EBBM) SIG and co-sponsored by the HDM SIG. The workshop highlighted current trends in EBBM. The HDM SIG then sponsored a mid-day meeting with a panel presentation and facilitated discussion on incorporating behavioral economics principles into health decision making research and practice. Finally, the HDM SIG sponsored a symposium session, co-developed with the Society for Medical Decision Making, which featured research on health care decision making from the DECISIONS study. In addition, we held our second-ever formal business meeting at the 2011 conference.
Co-Sponsored Session at the Fall 2011 Society for Medical Decision Making Conference
In our last Outlook update (Fall 2010), we reported on developing ties between the HDM SIG and the Society for Medical Decision Making (SMDM). The DECISIONS symposium held at this year's annual meeting is a direct result of those ties. In addition, the HDM SIG is sponsoring a symposium at this Fall's SMDM annual meeting. The symposium will highlight how findings from basic health decision making research can inform applied work in medical decision making. SMDM and the SBM Cancer SIG have both contributed funding to make this session possible.
Planning for HDM SIG Activities at the 2012 SBM Annual Meeting
At this time, we are beginning plans for building on this year's success to have an even stronger program of health decision making sessions for the 2012 SBM Annual Meeting in New Orleans. Possibilities include a pre-conference session focused on health decision making, SIG-developed symposia on health decision making topics, and breakfast or midday meetings focused on health decision making. We welcome your input and ideas.
If you have interest in joining the HDM SIG, suggestions for activities, or questions about the update, please don't hesitate to contact us - we would welcome talking with you about the SIG! Marc Kiviniemi (mtk8@buffalo.edu); Suzanne O'Neill (sco4@georgetown.edu)
Pain SIG Update
Martin D. Cheatle, PhD, Pain SIG Chair
"Unity is strength… when there is teamwork and collaboration, wonderful things can be achieved" (Mattie Stepanek)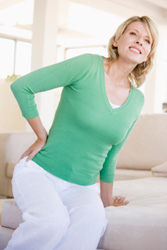 As active members of the Society for Behavioral Medicine we share a common vision, but we often work in silos. The gift of being a member of SBM is the opportunity to network and build collaborations across disciplines and interests. The mission statement of the Pain SIG is to "advance the understanding of pain and its treatment according to a biopsychosocial framework." We aim to achieve this mission by increasing interdisciplinary communication and collaboration with other SBM SIGs.
Chronic pain has become a significant healthcare problem and a public health crisis. More than 50 million Americans suffer from chronic or recurrent pain (1, 2). The prevalence of pain in the cancer population is also noteworthy. Greater than 60% of patients with metastatic or advanced diseases, 59% of patients receiving cancer treatments, and 33% of cancer survivors experience pain, and more than a third of these patients rate their pain as moderate to severe (3). Chronic pain can impact quality of life and work productivity. The societal costs of chronic pain are also high: the annual costs of medical diagnostics and treatment, compensation for lost wages, and lost productivity has been estimated at more than 200 billion dollars per year (4, 5).
The study of pain mechanisms and psychosocial processes has applications in a variety of clinical and research settings. For example, there have been meaningful developments in psychosocial and pharmacologic interventions for managing cancer-related pain and at end of life. Complicated pain patients are best treated in an integrated interdisciplinary pain program. However, the vast majority of these patients are cared for in the primary care setting where practitioners have a paucity of time, training, and resources to effectively evaluate and manage these complex pain cases. These resource constraints can lead to additional suffering and costly complications.
Developing evidence-based, effective, and cost and time efficient interventions that reduce pain, improve mood and function while decreasing health care expenditures would significantly relieve the burden of pain on the individual pain sufferer and society. Although there is evidence that physical and behavioral interventions improve pain and function, there is a need for more rigorous interdisciplinary research. Systematic reviews have demonstrated a benefit of exercise in improving disability in the pain population but the overall results have been modest (6). There is an opportunity to investigate issues of adherence and which exercise type is best suited for a particular pain disorder in order to maximize treatment response (7). Likewise, psychological interventions have merit but require additional work such as matching specific patient characteristics to treatment type (8). Both physical and psychological interventions would gain from the translational research, for example, of pain sensitivity and gender response differences (9).
There are numerous opportunities for cross-SIG collaborations within SBM as related to pain management. The application of behavioral management principles (integrated primary care) and use of advancing technology (behavioral informatics) could have profound effects in improving healthcare delivery and outcomes and reducing costs in this patient population. Other areas for collaboration include physical activity (promoting exercise and adherence to physical conditioning programs to improve pain and functionality), spirituality and health, complementary and integrative medicine (providing scientific evidence to highlight the potential benefit of these interventions in the pain population), ethnic minority and multicultural health (addressing disparity issues in pain medicine), and aging (managing pain in the aging population).
In the upcoming year, the Pain SIG will make strides to collaborate with other SIGs. This will include:
Joint pre-conference seminars;
Submission of symposia for the Annual Meeting that will represent perspectives from different groups (for example, the use of behavioral informatics in improving outcomes in pain medicine);
Joint sponsorship of young investigator awards; and
Developing a web blog for exchange of information among Pain SIG members and members of other SIGs and the general membership.
If you are interested in helping to promote collaborations involving the Pain SIG, please contact: Martin D. Cheatle, PhD, Chair, Pain SIG, at martin.cheatle@uphs.upenn.edu.
References
Portenoy RK, Ugarte C, Fuller I, Haas G. Population-based survey of pain in the United States: Differences among white, African American, and Hispanic subjects. J Pain. 2004; 5(6):317-328.
Pleis JR, Lucas JW. Summary health statistics for U.S. adults: National health interview survey, 2007. Vital Health Stat [10]. 2009; (240):1-159.
van den Beuken-van Everdingen MH, de Rijke JM, Kessels AG, Schouten HC, van Kleef M, Patijn J. Prevalence of pain in patients with cancer: A systematic review of the past 40 years. Annals of Oncology. 2007; 18(9):1437-1449.
Stewart, W., J. Ricci, et al. "Lost productive time and cost due to common pain conditions in the US workforce." JAMA. 2003; 290(18): 2443-54.
National Research Counsel. Musculoskeletal disorders and the workplace. Washington, DC, USA: National Academy Press, 2001.
Oesch P, Kool J, Hagen KB, Bachmann S. Effectiveness of exercise on work disability in patients with non-acute non-specific low back pain: Systematic review and meta-analysis of randomised controlled trials. J Rehabil Med. 2010 Mar;42(3):193-205.
Turk DC, Wilson HD, Cahana A. Treatment of chronic non-cancer pain. Lancet. 2011 Jun; 377: 2226-35.
Thieme K, Turk DC, Flor H. Responder criteria for operant and cognitive-behavioral treatment of fibromyalgia syndrome. Arthritis Rheum. 2007 Jun 15;57(5):830-6.
Kindler LL, Valencia C, Fillingim RB, George SZ. Sex differences in experimental and clinical pain sensitivity for patients with shoulder pain. Eur J Pain. 2011 Feb;15(2):118-23.
Spirituality and Health SIG Update
Amy Wachholtz, PhD, UMass Medical School/UMass Memorial Medical Center
There are many questions about the role of religion and spirituality in health. While participation in religious organizations is decreasing (following the general pattern of decreased participation in community activities), private spiritual practices such as prayer have increased in recent years. Using data from the 1999 CDC National Health Interview Survey (NHIS), Ni and colleagues (Ni, Simile, & Hardy, 2002) found that 13.7% of individuals had prayed for their own health. Using updated NHIS data, recent prayer for personal health concerns was 43% in 2002 and 49% in 2007 (Wachholtz & Sambamoorthi, 2011). Interestingly, increases in prayer over time cut across all demographics, including gender, ethnicity, income status, education level, and health insurance status. Previous research has indicated that spirituality and religion can have a powerful impact on mental and physical health status and there have been a number of potential physiological pathways outlined for this influence (Seybold, 2007). Prayer is a powerful resource that can have both positive and negative effects on the individual. Unfortunately, these effects are under-addressed in both research and clinical settings. With almost half of the US regularly using prayer to address their personal health concerns, these are important research questions..
The Spirituality and Health SIG brings together researchers from a wide variety of disciplines and topic areas who are interested in learning more about how spirituality affects health. At the 2011 SBM Annual Meeting, we had an exciting group of investigators join us at our breakfast meeting and our lunchtime lecture honoring Dr. Gail Ironson. As the Chair-elect for the Spirituality and Health SIG, I am enthusiastic about working with both established investigators and researchers who are just delving into this area. The Spirituality and Health SIG aims to develop our understanding of the links between spirituality and health. By using well thought out empirical research to assess the relationship of spirituality to health, we can produce high quality, empirically validated interventions that can translate into clinical practice.
References
Ni, H., Simile, C., & Hardy, A. M. (2002). Utilization of Complementary and Alternative Medicine by United States Adults: Results from the 1999 National Health Interview Survey. Medical Care, 40(4), 353-358.
Seybold, K. (2007). Physiological mechanisms involved in religiosity/spirituality and health. Journal of Behavioral Medicine, 30(4), 303-309.
Wachholtz, A., & Sambamoorthi, U. (2011). National Trends in Prayer Use as a Coping Mechanism for Health concerns: Changes From 2002 to 2007. Psychology of Religion and Spirituality, 3(2), 67-77.
Honors, Awards and Publications
HONORS / AWARDS
Smita C. Banerjee, PhD, Assistant Attending Behavioral Scientist in the Department of Psychiatry and Behavioral Sciences at Memorial Sloan-Kettering Cancer Center, received the 2011 Eastern Communication Association's Article of the Year Award (with Drs. Kathryn Greene from Rutgers University and Shelly Campo from University of Iowa) for the article: Greene K, Campo, S, & Banerjee, SC. Comparing normative, anecdotal, and scientific risk evidence to discourage tanning bed use. Communication Quarterly. 2010;58:111-32.
Jill Bormann, PhD, RN, Research Scientist from the VA San Diego Healthcare System, received a Planetree (Patient Centered Care) Implementation Award in April 2011 for the Mantram Repetition Program, a portable meditation-based intervention for veterans with PTSD and for Employee Health and Wellness.
Noel T. Brewer, PhD, received the Rutgers University Early Career Alumnus Award for Distinguished Accomplishments and Service, 2010 as well as the Phillip and Ruth Hettleman Prize for Artistic and Scholarly Achievement by Young Faculty, University of North Carolina at Chapel Hill, 2011.
Babalola Faseru, MD, MPH, an Assistant Professor with joint appointment at the Department of Preventive Medicine and Public Health and Department of Family Medicine, University of Kansas Medical Center received the 2011 Excellence in Public Health Teaching Award at the University of Kansas School of Medicine.
Janine Giese-Davis, PhD, and team received the Herbert Spiegel Memorial Award for Research on the Efficacy of Hypnotic Interventions 2011 given by The American Society of Clinical Hypnosis (ASCH) for the authors of the article Butler, L., Koopman, C., Neri, E., Giese-Davis, J., Palesh, O., Thorne-Yocam, K., DiMiceli, S., Chen, X.-H., Fobair, P., Kraemer, H.C., Spiegel, D. Effects of supportive-expressive group therapy on pain in women with metastatic breast cancer. Health Psychology. 2009;28(5):579-587.
Summar H. Reslan, MS, received the 2011 Active Minds Emerging Scholars Fellowship, an award dedicated to supporting behavioral health research by college-aged scholars as supported by the Scattergood Foundation for Behavioral Health.
James F. Sallis, PhD, of the SBM Board of Directors has been honored with a 2011 Lifetime Achievement Award from the President's Council on Fitness, Sports and Nutrition (PCFSN). The PCFSN Lifetime Achievement Award is given to individuals whose careers have greatly contributed to the advancement or promotion of physical activity, fitness, sports and nutrition-related programs nationwide. Winners are chosen by the members of the President's Council based on the span and scope of an individual's career, the estimated number of lives they have touched, and the impact of their legacy. Time Magazine has identified Dr. Sallis as an "obesity warrior."
PUBLICATIONS
Abernethy A, Wheeler J, Courtney P, Keefe F. Supporting implementation of evidence-based behavioral interventions: the role of data liquidity in facilitating translational behavioral medicine. Transl Behav Med. 2011 Mar 1;1(1):45-52.
Adachi-Mejia AM, Drake KM, MacKenzie TA, Titus-Ernstoff L, Longacre MR, Hendricks KH, Beach, ML, Dalton MA. Perceived intrinsic barriers to physical activity among rural mothers. J Womens Health. 2010 Dec;19(12):2197-202. PMID: 20973674.
Adachi-Mejia AM, Sutherland LA, Longacre MR, Beach ML, Titus-Ernstoff L, Gibson JJ, Dalton MA. Adolescent weight status and receptivity to food TV advertisements. J Nutr Educ Behav. 2011 June 10.[Epub ahead of print]. PMID: 21665550.
Alschuler KN, Hoodin F, Murphy SL, Geisser ME. Ambulatory monitoring as a measure of disability in chronic low back pain populations. Clin J Pain. 2011 Apr 20. [Epub ahead of print] PubMed PMID: 21505322.
Alschuler KN, Otis JD. Coping strategies and beliefs about pain in Veterans with comorbid chronic pain and significant PTSD symptomatology. Eur J Pain. 2011 Jun 29. [Epub ahead of print] PubMed PMID: 21723169.
Anthamatten, P, Brink L, Lampe S, Greenwood E, Kingston B, Nigg CR. An assessment of schoolyard renovation strategies to encourage children's physical activity. Int J Behav Nutr Phys Act. 2011 Apr 9;8:27. PubMed PMID: 21477325.
Arasaratnam LA, Banerjee SC. Sensation seeking and intercultural communication competence: A model test. Int J Intercult Rel. 2011 Mar;35(2):226-33. doi:10.1016/j.ijintrel.2010.07.003.
Banerjee SC, Greene K, Yanovitzky I. Sensation seeking and dosage effect: An exploration of the role of surprise in anti-cocaine messages. J Subst Use. 2011 Feb;16(1):1-13. DOI: 10.3109/14659890903490773.
Banerjee SC, Siriwardena AN, Iqbal M. What influences pre-hospital cannulation intentions in paramedics? An application of the theory of reasoned action. J Eval Clin Pract. 2011 Feb;17(1):84-90. PubMed PMID: 20807293.
Birnie K, Speca M, Carlson LE. Exploring self-compassion and empathy in the context of mindfulness-based stress reduction (MBSR). Stress & Health. 2010 Dec;26(5):359-371. DOI: 10.1002/smi.1305.
Burne B, Knafelc V, Melonis M, Heyn PC. The use and application of assistive technology to promote literacy in early childhood: a systematic review. Disabil Rehabil Assist Technol. 2011;6(3):207-13. Epub 2010 Oct 5. PubMed PMID: 20923322.
Campbell TS, Labelle LE, Bacon SL, Carlson LE. Impact of Mindfulness-Based Stress Reduction (MBSR) on resting blood pressure in women with cancer: A longitudinal waitlist-controlled study. J Behav Med. 2011 Jun 12. [Epub ahead of print]. PubMed PMID: 21667281.
Carlson LE, Groff S, Waller A, Bultz BD. Reply to S. Palmer et al. clinical trial did demonstrate benefits for screening cancer patients for distress. J Clin Oncol. 2011 April;29(10), e279-e280. PubMed PMID: 21300932.
Carlson LE, Speca M. Mindfulness Based Cancer Recovery: A step-by-step MBSR approach to help you cope with treatment and reclaim your life. New Harbinger Pubns; 1 edition (February 3, 2011).
Carmody JF, Crawford S, Salmoirago-Blotcher E, Leung K, Churchill L, Olendzki N. Mindfulness training for coping with hot flashes: results of a randomized trial. Menopause. 2011 Jun;18(6):611-20. PubMed PMID: 21372745.
Castro CM, Pruitt LA, Buman MP, King AC. Physical activity program delivery by professionals versus volunteers: the TEAM randomized trial. Health Psychol. 2011 May;30(3):285-94. PubMed PMID: 21553972.
Choi WS, Faseru B, Beebe LA, Greiner KA, Yeh HW, Shireman T, Talawyma, M, Cully L, Kaur B, Daley CM. Culturally-Tailored Smoking Cessation for American Indians: Study protocol for a randomized controlled trial. Trials, 2011 May 18;12(1):126. PubMed PMID: 21592347.
Coups EJ, Geller AC, Weinstock MA, Heckman CJ, Manne SL. The reply re. Letter to the Editor regarding prevalence and correlates of skin cancer screening among middle-aged and older white adults in the United States. Am J Med. 2010 Dec;123(12):e13-4. PMCID: N/A.
Courtney P. Data Liquidity in Health Information Systems. The Cancer Journal: The Journal of Principles and Practice of Oncology. July/August 2011; In Press.
Cox LS, Faseru B, Mayo MS, Krebill R, Snow TS, Bronars CA, Nollen NL, Choi WS, Okuyemi KS, Salzman GA, Benowitz NL, Tyndale RF, Ahluwalia JS. Design, baseline characteristics, and retention of African American light smokers into a randomized trial involving biological data. Trials. 2011 Jan 25;12:22. PubMed PMID: 21266057.
Daley CM, Faseru B, Nazir N, Solomon C, Greiner KA, Ahluwalia JS, Choi WS. Influence of traditional tobacco use on smoking cessation among American Indians. Addiction. 2011 May;106(5):1003-9. doi: 10.1111/j.1360-0443.2011.03391.x.. PubMed PMID: 21306597.
Ding D, Hofstetter CR, Norman GJ, Irvin VL, Chhay D, Hovell MF. Measuring immigration stress of first-generation female Korean immigrants in California: psychometric evaluation of demand of Immigration Scale. Ethn Health. 2011 Feb;16(1):11-24. PubMed PMID: 21213157.
Ding D, Sallis JF, Hovell MF, Du J-Z, Zheng M, He H-Y, Owen N. Physical activity and sedentary behaviors among rural adults in Suixi, China: a cross-sectional study. Int J Behav Nutr Phys Act. 2011 Apr 26;8:37. PubMed PMID: 21521510.
Ding D, Sallis JF, Norman GJ, Saelens BE, Harris SK, Kerr J, Rosenberg D, Durant N, Glanz K. Community food environment, home food environment and fruit and vegetable intake of children and adolescents. J Nutr Educ Behav. 2011 Apr 28. [Epub ahead of print]. PubMed PMID: 21531177.
Ding D, Wahlgren DR, Liles S, Matt GE, Oliver M, Jones JA, Hovell MF. A second reporter matters: Agreement between parents' and children's reports of smoking bans in families. Am J Prev Med. 2011 May;40(5):572-5. PubMed PMID: 21496758.
Faseru B, Turner M, Casey G, Ruder C, Befort CA, Ellerbeck EF, Richter KP. Evaluation of a hospital-based tobacco treatment services: Outcomes and lessons learned. J Hosp Med. 2011 Apr;6(4):143-150. Epub 2010 Nov 24. PubMed PMID: 21480493.
Garland SN, Carlson LE, Antle M, Samuels C, Campbell T. I-CAN SLEEP: Rationale and Design of a non-inferiority RCT of Mindfulness-Based Stress Reduction (MBSR) and Cognitive Behavioral Therapy (CBT) for the treatment of Insomnia in CANcer survivors. Contemp Clin Trials. 2011 Jun 1. [Epub ahead of print]. PubMed PMID: 21658476.
Giese-Davis J, Collie K, Rancourt KM, Neri E, Kraemer HC, Spiegel D. Decrease in depression symptoms is associated with longer survival in patients with metastatic breast cancer: a secondary analysis. J Clin Oncol. 2011 Feb 1;29(4):413-20. Epub 2010 Dec 13. PubMed PMID: 21149651.
Hack TF, Carlson L, Butler L, Degner LF, Jakulj F, Pickles T, Dean Ruether J, Weir L. Facilitating the implementation of empirically valid interventions in psychosocial oncology and supportive care. Support Care Cancer. 2011 Aug;19(8):1097-105. Epub 2011 Apr 15. PubMed PMID: 21494781.
Heckman CJ. Indoor tanning: Tanning dependence and other health risks. Household and Personal Care TODAY. 2011 Jan; 1:20-22.
Hovell MF, Wahlgren DR, Liles S, Jones JA, Hughes SC, Matt GE, Ji M, Lessov-Schlaggar CN, Swan GE, Chatfield D, Ding D. Coaching and cotinine feedback for preteens to reduce their secondhand smoke exposure: A randomized trial. Chest 2011 Apr 7. [Epub ahead of print]. PubMed PMID:21474574.
Ingersoll KI, Farrell-Carnahan L, Cohen-Filipic J, Heckman CJ, Hettema J, Ceperich SD, Marzani-Nissen G (2011). A pilot randomized clinical trial of two medication adherence and drug use interventions for HIV+ crack cocaine users. Drug Alcohol Depend. 2001 Jul 1;116(1-3):177-87. Epub 2011 Feb 8. PubMed PMID: 21306837.
Inouye J, Boland MG, Nigg CR, Sullivan K, Leake A, Mark D, Albright CL. A center for self-management of chronic illnesses in diverse groups. Hawaii Med J. 2011 Jan;70(1):4-8. PubMed PMID: 21225588.
Jensen MP, Alschuler KN, Smith AE, Verrall AM, Goetz MC, Molton IR. Pain and fatigue in persons with post-polio syndrome: independent effects on functioning. Arch Phys Med Rehab, in press.
Katz DA, Tang F, Faseru B, Horwitz PA, Jones P, Spertus J. Prevalence and correlates of smoking cessation pharmacotherapy in hospitalized smokers with AMI. Am Heart J. 2011 Jul;162(1):74-80. PubMed PMID: 21742092.
Kemeny M, Foltz C, Cavanaugh J, Giese-Davis J, Jennings P, Rosenberg E, Gillath O, Shaver P, Wallace B, Ekman P. Contemplative/emotional training reduces negative emotional behavior and promotes prosocial responses. Emotion. (In press June 2011).
Kiviniemi MT, Orom H, Giovino GA. Psychological Distress and Smoking Behavior: The Nature of the Relation Differs By Race/Ethnicity. Nicotine Tob Res. 2011 Feb;13(2):113-9. Epub 2010 Dec 15. PubMed PMID: 21159784.
Kiviniemi MT, Orom H, Giovino GA. Race/ethnicity, psychological distress, and fruit/vegetable consumption. The nature of the distress-behavior relation differs by race/ethnicity. Appetite. 2011 Jun;56(3):737-40. Epub 2011 Feb 22. PubMed PMID: 21349306.
Kiviniemi MT, Ram PK, Kozlowski LT, Smith KM. Perceptions of and willingness to engage in public health precautions to prevent 2009 H1N1 influenza transmission. BMC Public Health. 2011 Mar 8;11:152. PubMed PMID: 21385436.
Madanat HN, Lindsay R, Hawks SR, Ding D. A Comparative study of the culture of thinness and the nutrition transition in four countries: China, Japan, Jordan, and the US. Asia Pac J Clin Nutr. 2011;20(1):102-8. PubMed PMID: 21393117.
Manne SL, Coups EJ, Jacobsen P, Ming M, Heckman CJ, Lessin SR. Sun protection and sunbathing practices among at-risk family members of patients with melanoma. BMC Public Health. 2011 Feb 21;11:122. PubMed PMID: 21338483.
Mâsse LC, Nigg CR, Basen-Engquist K, Atienza AA. Understanding the mechanism of physical activity behavior change: Challenges and a Call for Action. Psychol Sport Exerc. 2011 Jan;12(1):1-6.
Moser RP, Hesse BW, Shaikh AR, Courtney P, Morgan G, Augustson E, Kobrin S, Levin KY, Helba C, Garner D, Dunn M, Coa K. Grid-Enabled Measures: Using Science 2.0 to Standardize Measures and Share Data. Am J Prev Med. 2011 May;40(5 Suppl 2):S134-43. PubMed PMID: 21521586.
Moser RP, Hesse BW, Shaikh AR, Courtney P, Morgan G, Auguston E, Levin K, Helba C, Garner D, Dunn M. Promoting the Use of Harmonized Measures and Sharing Data to Catalyze Progress in Behavioral Science: The National Cancer Institute's Grid-Enabled Measures (GEM) Portal. Ann Behav Med. 2011 Apr;41 Suppl 1:S145.
Myaskovsky L, Burkitt KH, Lichy AM, Ljungberg IH, Fyffe DC, Ozawa H, Switzer GE, Fine MJ, Boninger ML. The association of race, cultural factors, and health-related quality of life among persons with spinal cord injury. Arch Phys Med Rehabil. 2011 Mar;92(3): 441-448. PubMed PMID: 21353826.
Nigg CR, Geller KS, Motl RW, Horwath CC, Wertin KK, Dishman RK. A Research Agenda to Examine the Efficacy and Relevance of the Transtheoretical Model for Physical Activity Behavior. Psychol Sport Exerc. 2001 Jan;12(1):7-12.
Pan J, Nigg CR. Motivation for Physical Activity among Hawaiian, Japanese, and Filipino University Students in Hawai'i. J Appl Sport Psychol. 2011 Jan 28;23(1):1-15.
Reslan S, Saules KK. College students' definitions of an eating "binge" differ as a function of gender and binge eating disorder status. Eat Behav. 2011 Aug;12(3):225-227. PubMed PMID: 21741023.
Reslan S, Saules KK, Serras A. "Partier" identity mediates the relationship between college student binge drinking and related adverse consequences. Addict Behav. 2011 Aug; 36(8):855-60. PubMed PMID: 21514735.
Salmoirago-Blotcher E, Crawford S, Carmody J, Rosenthal L, Ockene I. Characteristics of dispositional mindfulness in patients with severe cardiac disease. Evid Based Complement Alternat Med. Published online before print April 25, 2011, doi: 10.1177/2156587211405525 NIHMS # 288351.
Salmoirago-Blotcher E, Crawford S, Jackson E, Ockene J, Ockene I. Constipation and Risk of Cardiovascular Disease among Postmenopausal Women. Am J Med. 2011 Jun 8. [Epub ahead of print] PubMed PMID: 21663887.
Salmoirago-Blotcher E, Fitchett G, Ockene JK, Schnall E, Crawford S, Granek I, Manson J, Ockene I, O'Sullivan MJ, Powell L, Rapp S. Religion and healthy lifestyle behaviors among postmenopausal women: the women's health initiative. J Behav Med. 2011 Feb 8. [Epub ahead of print] PubMed PMID:21301947.
Sangowawa AO, Owoaje ET, Faseru B, Ebong IP, Alagh BT. A comparative study of HIV/AIDS knowledge and attitudes of hearing-impaired and non-hearing-impaired secondary school students in Ibadan. Niger J Clin Pract. 2010 Oct-Dec;13(4):453-8. PubMed PMID: 21220865.
Sauer AL, Parks A, Heyn PC. Assistive technology effects on the employment outcomes for people with cognitive disabilities: A systematic review. Disabil Rehabil Assist Technol. 2010;5(6):377-91. PubMed PMID: 20392190.
Southwell BG. On the need for a lifespan approach to health campaign evaluation. Health Commun. 2010 Sep;25(6-7):525-8. PuBMed PMID: 20845132.
Suminski RR, Ding D, Lee R, May L, Tota T, Dinius D. Youth physical activity opportunities in lower and higher income neighborhoods. J Urban Health. 2011 Apr 15. [Epub ahead of print]. PubMed PMID: 21494895.
Trief PM, Sandberg J, Fisher L, Dimmock JA, Scales K, Hessler D, Weinstock RS. Challenges and lessons learned in the development and implementation of a couples-focused telephone intervention for adults with type 2 diabetes: The Diabetes Support Project. Translational Behavioral Medicine 2011 Jun 28; [Epub ahead of print]. (DOI) 10.1007/s13142-011-0057-8.
Toussaint LL, Owen AD, Cheadle A. Forgive to live: Forgiveness, health, and longevity. J Behav Med. 2011 Jun 25. [Epub ahead of print] PubMed PMID: 21706213.
Wittenberg L, Yutsis M, Taylor S, Giese-Davis J, Bliss-Isberg C, Star P, Spiegel D. Marital status predicts change in distress and well-being in women newly diagnosed with breast cancer and their peer counselors. Breast J. 2010 Sep-Oct;16(5):481-9. PubMed PMID: 20642458.
Wright KO, Faseru B, Kuyinu YA, Faduyile FA. Awareness and uptake of pap smear among market women in Lagos-Nigeria. Journal of Public Health in Africa. 2011 Feb;2(1):e14.