Evidence-Based Behavioral Medicine SIG Update
Sherri Sheinfeld Gorin, PhD, Evidence-Based Behavioral Medicine SIG Chair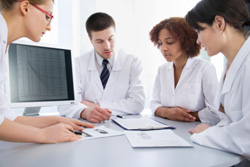 The Evidence-Based Behavioral Medicine Special Interest Group (EBBM_SIG) is among the newest SIGs, but we've been catching up quickly. We're led by a different team this year: Drs. Sherri Sheinfeld Gorin and newly-elected Karen Oliver will serve as co-chairs, working alongside several committee chairs. We have a number of new initiatives planned that we will describe in more detail in Outlook later this year. In brief, we are planning a co-sponsored pre-session at next year's Annual Meeting with the Integrated Primary Care and Ethnic Minority and Multicultural Health SIGs; identifying honorees for our second annual Outstanding Student/Trainee Award in Evidence-Based Behavioral Medicine; enhancing our connection with the work of the EBBM Council on meta-analyses and systematic reviews; and, providing an opportunity to present studies and papers in process at the Annual Meeting. In addition, given the methodologic skills of many of our members, we will expand our involvement in the Consultation Program (led by the Education, Training, and Career Development Council), broadening mentoring opportunities for SBM members.
The Evidence-Based Behavioral Medicine SIG connects an interdisciplinary group of professionals from all over the world with interests in health promotion, disease prevention, health care, behavioral and psychosocial interventions, and research methodology. While we're a heterogeneous group, we share an interest in one or more of the following areas:
(1) Creating an evidence base that allows us to compare treatments, evaluate intervention effects and efficiency, and choose the most promising and feasible intervention strategy for specific client(s). Our members are interested in creating and evaluating guidelines for the conduct and report of randomized controlled trials and other systematic research, conducting meta-analyses and assessing their results, and guiding practitioners in the use of evidence with their clients.
(2) Improving research methodology by educating members about the strengths and weaknesses of research strategies and statistical solutions; fostering critical thinking and a rigorous evaluation of the available literature; and discussing how to improve the quality of both the evidence base and evidence-based practice decisions.
(3) Translating evidence-based knowledge into evidence-based behavioral practice (EBBP), including: searching the literature; finding the most relevant evidence; and assisting with decision-making around the most promising treatment strategies for client(s).
This past year, under the final year of Dr. Kerstin Schroder's term, alongside Dr. Sherri Sheinfeld Gorin, we awarded our first Outstanding Student/Trainee Award in Evidence-Based Behavioral Medicine to Dr. Matthew Buman for his abstract titled "Peer Volunteers Improve Maintenance of Physical Activity: A Randomized Controlled Trial." Dr. Buman is now on the faculty of Arizona State University in their College of Nursing and Health Innovation, Program on Exercise and Wellness. The award honors students/trainees whose presentation at the Annual Meeting of the Society of Behavioral Medicine contributes significantly to the field of Behavioral Medicine. Each student/trainee abstract was rigorously evaluated by three of the following reviewers: Drs. Jennifer Carroll, Erin Bantum, Gozde Ozakinci, Jean C Yi, Wolfgang Linden, Kerstin Schroeder, Sherri Sheinfeld Gorin, and Patricia Mullen. Abstracts were evaluated using a 9-point scale for significance, innovation, and approach. The award was presented at our breakfast roundtable; Dr. Buman received a plaque and an honorarium of $500.
Our 2011 Annual Meeting pre-session co-sponsored with Health Decision Making SIG entitled "Transdisciplinary Training for Evidence-Based Behavioral Practice: Best Practices for Individuals and Communities" was enthusiastically received. Led by Drs. Bonnie Spring, Elena Carbone, and Karen Oliver, participants were well-informed, well-fed, and fully engaged. Finally, last year, we participated in the Expert Consultation program (under the Education, Training, and Career Development Council).
We welcome your involvement in the EBBM SIG, and urge you to contribute to our work on the listserv.