2011 Annual Meeting Recap
Gary Bennett, PhD, 2010-2011 Program Committee Chair
We were extremely pleased to welcome over 1,600 members and friends - the largest number of attendees in the Society's history - to the 32nd SBM Annual Meeting and Scientific Sessions. Held in Washington DC, the 2011 Annual Meeting theme was "Accelerating Our Impact on the Public's Health." The Program Committee designed the meeting in response to SBM President Karen Emmons' charge to play an "active role in shaping the health agenda for our nation." Our SBM members and friends rose to the occasion, submitting an unprecedented number of high-quality proposals. This is an exciting time for behavioral medicine and we think the energy was palpable at the 2011 meeting.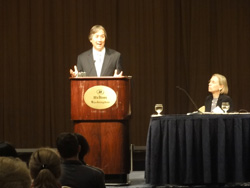 Howard Koh, MD, MPH
The Annual Meeting opened on April 27 with a host of exciting pre-conference seminars and workshops. We greatly appreciate the efforts of our SIGs, whose work was extremely well represented in Wednesday's sessions. On Thursday morning, Howard Koh, MD, MPH, Assistant Secretary for Health for the U.S. Department of Health and Human Services (HHS), opened the 2011 Meeting with a Keynote Address that described the challenges and opportunities for behavioral medicine created by health system reform. Consistent with the SBM mission, he noted that promoting population health requires a "broad multidisciplinary, community based approach that combines the best of behavior and biology." Speaking about the challenges facing the U.S. health system, he reminded us that William Sloane Coffin said, "Giant obstacles are brilliant opportunities, brilliantly disguised as giant obstacles." Two Thursday Master Lectures wonderfully illustrated the broad continuum of behavioral medicine research. Brian S. Mittman, PhD, Director of the Veterans Affairs (VA) Center for Implementation Practice and Research Support, described models underlying the emerging area of implementation science and the field-leading work occurring within the VA health system. Leonard H. Epstein, PhD, Distinguished Professor in the Departments of Pediatrics and Social and Preventive Medicine at the University at Buffalo SUNY, delivered the Distinguished Scientist Master Lecture, which described his groundbreaking research investigating the impact of food reinforcement on childhood obesity. On Thursday evening, we were joined by Dan Ariely, PhD, James B. Duke Professor at Duke University and New York Times best-selling author of The Upside of Irrationality and Predictably Irrational. Blending the science of behavioral economics with humorous vignettes, Dr. Ariely described his work investigating "irrational" human behavior and its implications for health promotion.
On Friday morning, SBM President Karen M. Emmons, PhD, delivered her 2011 Presidential Keynote. Dr. Emmons is Associate Dean for Research and Professor of Society, Human Development, and Health at the Harvard School of Public Health and Deputy Director, Center for Community-Based Research at the Dana Farber Cancer Institute. In her talk, "Behavioral Medicine and the Health of Our Nation: Realizing Our Potential Impact," Dr. Emmons challenged the field to be "relevant to both practice and policy while maintaining our very high standards of scientific excellence." She offered several specific strategies for balancing excellence and relevance, noting that the field should address pressing social concerns, implement research in real-world settings, answer multiple research questions at once, and integrate interdisciplinary approaches. Doing these things, she argued, would facilitate the "successful translation of our evidence base in ways that can impact population health."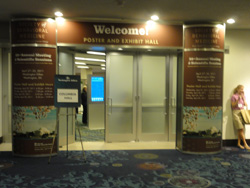 Muin Khoury, MD, PhD, founding director of CDC's National Office of Public Health Genomics, presented one of our 2011 State-of-the-Science Master Lectures. In his talk, "Public Health Genomics: Closing the Gap between Gene Discovery and Population Health," Dr. Khoury offered a host of strategies for translating genomic findings into population health benefits. Jack P. Shonkoff, MD, Julius B. Richmond FAMRI Professor of Child Health and Development at the Harvard's School of Public Health and Graduate School of Education, and founding director of Harvard's Center on the Developing Child, delivered Friday's second Master Lecture. Entitled "The Biology of Adversity and the Early Childhood Foundations of Lifelong Health," Dr. Shonkoff reviewed the extensive evidence indicating the importance of childhood context on health across the life course. On Friday evening, we were very pleased to have Debra Haire-Joshu, PhD, Professor and Associate Dean for Research Washington University's Brown School of Social Work, deliver a Keynote, entitled "The Obesity Policy Roadmap: How Do We Get There From Here?" A health policy advisor for Senator Edward Kennedy and then-Senator Barack Obama, Dr. Haire-Joshu offered strategies for translating behavioral medicine research evidence into policies to contend with the obesity epidemic. Elissa S. Epel, PhD, Associate Professor in the Department of Psychiatry at the University of California, San Francisco, gave our second State-of-the-Science Master Lecture, in which she reported intriguing new findings detailing the impact of chronic stress and health behaviors on telomeres and telomerase activity. Finally, in our closing Keynote, "PTSD: Diagnosis, Theory, and Evidence-based Treatment," Edna B. Foa, PhD, Professor of Clinical Psychology in Psychiatry at the University of Pennsylvania, described her work to develop, evaluate, and disseminate prolonged exposure, an evidence-based treatment for post-traumatic stress disorder.
This year, we introduced several enhancements to the Annual Meeting program that we hope you enjoyed. On Tuesday, we hosted a special day-long pre-conference workshop, called "From Discovery to Public Health Impact: New Approaches to Developing, Testing & Optimizing Behavioral Interventions." Co-sponsored by NHLBI, NIDA, OBSSR, and SBM, the workshop was co-chaired by Susan Czajkowski, PhD, NHLBI; Patty Mabry, PhD, OBSSR; and Lisa Onken, PhD, NIDA. Second, we invited an exciting special Presidential symposium, entitled "The Status of the Science of Cardiovascular Behavioral Medicine: Capitalizing on its Multidisciplinary Focus," presented by session chair Marc D. Gellman, PhD, and an outstanding group of leading behavioral medicine researchers, including: Joel Dimsdale, MD, Karen Matthews, PhD, Shari Waldstein, PhD, and Neil Schneiderman, PhD.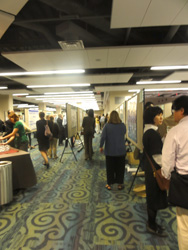 Additional highlights of the 2011 Meeting included stimulating symposia, the first SBM Community Award, introductions to SBIR and VA funding opportunities, morning yoga sessions, wonderful poster presentations, and a bevy of exciting paper sessions. We greatly appreciate the efforts of our colleagues on the local arrangements committee (co-chaired by Susan Czajkowski, PhD, NHLBI and Kristi Graves, PhD, Georgetown University), which organized activities and materials that greatly improved the quality of our time in D.C.
I would like to thank our many colleagues who worked tirelessly to make the meeting so successful, including our track chairs and reviewers, all of our student volunteers, and the SBM staff. I would especially like to thank our Program Committee, who met weekly for an entire year to plan the Annual Meeting. Finally, I must acknowledge the support and guidance provided by Holland LaFave, SBM Manager of Meetings and Education, Michael Diefenbach, PhD, 2010 Program Chair, and Jamie Studts, PhD, 2012 Program Chair. Their efforts and dedication contributed greatly to the meeting's success.
Best wishes to all and we'll see you in New Orleans for SBM's 33rd Annual Meeting!
2011 Program Committee
Gary G. Bennett, PhD, Chair
Jamie L. Studts, PhD, Co-Chair
Michael A. Diefenbach, PhD, Immediate Past-Chair
Lisa M. Kleges, PhD
Laura A. Linnan, ScD, CHES
Barbara Resnick, PhD, CRNP, FAAN, FAANP
Suzanne M. Miller, PhD