PRESIDENT'S MESSAGE
Scientific and Professional Development as Journeys of Venturing Beyond Our Current 'Comfort Zones'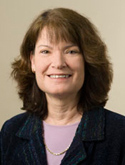 Abby C King, PhD
Abby King, PhD, Society of Behavioral Medicine President
"Knowing is not enough; we must apply. Willing is not enough; we must do." Goethe
On the Scientific Development Front
While behavioral medicine has always been a field that embraces different perspectives, we are continuing to expand our focus in exciting ways that reflect the increasingly demanding and complex world around us. This expansion of focus has been both upward - for example, into the 'macro-spheres' of public policy and related areas - as well as downward - for example, into the 'micro-spheres' of cellular and genetic forces that contribute to human behavior, health, and disease. Such efforts involve our collective willingness as a field to learn about and embrace different ways of thinking that extend beyond our traditional scientific 'comfort zones'. This type of scientific engagement - SBM's overarching theme for the 2011-2012 year - was reflected in myriad ways at the 2011 conference. An example of this was Dr. Len Epstein's master lecture on some of the genetic and physiological forces underlying the important behavioral construct of food reinforcement. Over the years, Len's work has epitomized the kind of thinking beyond one's usual terrain that is increasingly called for as scientific funds become more competitive and the world's problems ever more complex.
SBM is pursuing several approaches to stay abreast of scientific arenas that are increasingly relevant to behavioral medicine. One approach that is in the initial stage of development is the creation of a series of simple "primers" aimed at describing "basic things that you wanted to know about [a specific discipline or field] but were afraid to ask". The goal of such primers is to increase our basic working knowledge and collective "literacy" pertaining to fields that are currently not in the SBM "mainstream" but will likely become increasingly important to our field over the next several years. Among the goals of such primers are to describe basic terminology and jargon in a relevant field, along with the types of current discoveries in the field of particular relevance to behavioral medicine researchers and a list of resources for learning more about it. We envision such primers being distributed through different channels, including the SBM website, and likely utilizing different types of communication media (e.g., brief YouTube videos). So stay tuned! We will also continue to highlight important fields with growing connections to behavioral medicine through SBM's 2012 scientific program. Among the ideas that have been generated by the Program Committee thus far are spotlights on the emerging genetic evidence predicting behavioral health intervention success (as well as the "counter-evidence" to this approach); "brain health" across the life course; and ways of translating our evidence-based behavioral medicine interventions for community dissemination as well as the public policy arena.
A second approach through which SBM is engaging with the scientific community more generally is through partnerships with other scientific organizations with common interests that pertain to behavioral medicine. An example of a recent partnership is the work that some of our SBM members are doing with the American College of Sports Medicine (ACSM) to promote the behavioral intervention component of the ACSM's "Exercise is Medicine" initiative. The goal of this collaboration is to foster ways in which health care providers' efforts to counsel patients on the importance of regular physical activity can be consistently linked with evidence-based physical activity intervention programs that have been developed by behavioral scientists, many of whom are SBM members. More details are presented in the Physical Activity SIG update.
A third area of continued SBM engagement involves continuing to "grow" our collective capacity and expertise in the area of public policy through our health policy committee and public policy leadership group. The public policy leadership group serves as our "rapid response" team when relevant legislative and policy issues arise that impact behavioral medicine and that require timely action (e.g., a policy brief aimed at the scientific evidence germane to a particular piece of legislation currently being discussed in Congress). As part of SBM's continuing education related to impacting relevant health policy on national, regional, and local levels, we have become increasingly aware of the importance of local behavioral medicine scientific "success stories" in capturing the attention of decision makers, including those at the NIH. In identifying such scientific success stories, it has become abundantly clear that our greatest resource is our members and the excellent scientific work that they have been doing at local, regional, and national levels. So keep a look out for ways in which we can build our local scientific 'success stories' into messages that can have an impact beyond the usual academic arenas.
Finally, in keeping with our engagement theme related to growing community partnerships, the Program Committee is exploring ways to move beyond the hotel "walls" in developing active learning seminars, as well as finding ways to bringing the culture and vibrancy of the New Orleans community into the meeting.
On the Professional Development Front
It strikes me that the scientific engagement and expansion-oriented work that the Society and the behavioral medicine field as a whole are doing represent a useful 'metaphor' for how professional development often happens on a personal level. That is, our careers can be enhanced through reaching beyond our own personal 'comfort zones' in many ways, both large and small. This could mean doing some initial 'reconnaissance' into domains that extend beyond what we are currently doing. Examples of such domains may be exploring new methods and designs for investigating our current scientific questions; investigating ways to study multiple health behaviors in different health and disease areas; identifying new partners from different disciplines to help expand both the types of questions that we ask and the answers that we seek; and including target groups in our samples that extend beyond one segment of the life course. The Program Committee will be looking to showcase research and symposia that reflect this type of innovative thinking in the April 2012 Annual Meeting occurring in the "one of a kind" city of New Orleans.
One thing that has become increasingly clear to me as I travel my own professional development journey is that mentoring and career development never cease and are in a very real sense a "two-way street"; that is, I think that many of our senior members have found that expansion and growth of our own professional horizons is significantly interwoven with the mentoring of our trainees and junior colleagues. In many ways, we benefit as much (and, arguably, more) from the mentoring that we do of junior researchers who come to the scientific endeavor with fresh eyes, new insights, and an enthusiasm that is often inspiring. With this in mind, we plan to continue to work on expanding the 'intergenerational' career development activities that have steadily grown at SBM, both as part of the Annual Meeting & Scientific Sessions and beyond. So look for a new "future leaders of behavioral medicine" training workshop at the Meeting as well as other such professional development offerings (including "pearls of wisdom" advice and highlights related to career development from our Fellows and more senior SBM members).
I'm looking forward to continuing our collective scientific journey together!
Best, Abby King