2009 Annual Meeting
Sherry L. Pagoto, PhD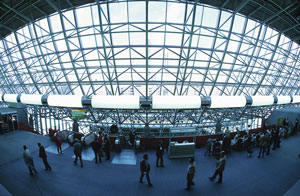 The Palais des Congres de Montreal in Montreal, Quebec was the setting for the 30th Annual Meeting & Scientific Sessions of the Society of Behavioral Medicine (SBM) this past April. As SBM's first international meeting, it was a huge success with 1,249 attendees and more than 1,200 presentations.
The 2008 SBM President, Dr. Bonnie Spring, set the tone for the meeting with the theme, Behavioral Medicine: From Evidence to Practice and Policy, and a host of speakers followed suit, including Gordon Guyatt, MD, Caryn Lerman, PhD, C. Tracy Orleans, PhD, Wayne Katon, MD, and Delia Smith West, PhD. Attendees also had unique opportunities to learn ways to "think outside the box" about translational research from experts in networking science, medicine, technology, media, marketing, government, and industry. This year, SBM provided rich opportunities for attendees to learn how to expand the capacity to translate, implement, and disseminate behavioral medicine and its impact more broadly.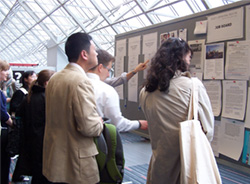 Clinicians and researchers also had ample opportunities to acquire new skills via pre-conference seminars and training courses. If you have never participated in pre-conference activities at SBM, they provide an extraordinary opportunity for in-depth learning on topics in an interactive and stimulating context. In 2009, the Cancer, Complementary and Alternative Medicine, and Integrated Primary Care SIGs offered all day training courses. In addition to SIG-sponsored activities, an extensive range of half-day training seminars covered both analytic and clinical skills including calculating effect sizes, mixed linear modeling, and secondary data analyses of large public datasets, as well as problem solving therapy, cultural translation of clinical practices, obesity prevention interventions, and many others. Training opportunities are set to expand even further in future meetings; members and SIGs interested in contributing to the list of seminars and workshops should contact the Program Committee with their ideas!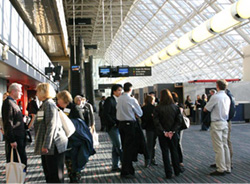 One of our priorities in planning the 2009 Annual Meeting was to increase the richness of the scientific and social interactions in poster sessions, given the wonderful opportunity they provide for networking, mentorship, and mingling. This task was made easier by the high quality of poster submissions. We also arranged for poster sessions to directly follow nearby Keynote lectures and we enhanced the ambiance by providing food, music, and libations. Poster sessions were extremely well-attended and we look forward to enhancing poster sessions further by expanding the number of exhibitors, strongly encouraging attendance by senior members, minimizing competing events, and yes, we'll keep the food coming!
Finally, the Annual Meeting cannot happen without the tremendous efforts of SBM membership. A special thanks goes out to all SBM members who contributed to the meeting as track chairs, reviewers, presenters, and attendees. If anyone is interested in becoming more involved in the Annual Meeting, you can volunteer to be an abstract reviewer by sending your name and a brief description of your expertise to the Program Committee.
For those of you who did not attend the 2009 meeting, here are some fun facts about the meeting:
All conference attendees received reusable grocery bags.
SBM Board members wore berets at the Presidential Reception to honor our French Canadian colleagues.
Colin Milner, Master Panel speaker, gave an attendee a piggyback ride during his talk.
If you string together titles of various sessions you can create this:

For God's sake, what's going on down there in the barbershops, brothels, and bible ways? Will the yanks ever learn anything? It's all fun and games until everything is up in smoke, so let's meditate on this: get digital, Bypass the Blues, roll the dice, Live Well, ride a heat wave, get the kids on the move, and get yourself into ORBIT to reach the unreachable so you can go from disaster to WOW!

Conference attendees devoured a 100 pound 30th Annual Meeting birthday cake in 30 minutes.
As 2009 Program Chair, it has been a sincere pleasure and honor to be involved in the planning of the SBM Annual Meeting. I am pleased to announce that the 2010 Annual Meeting Program Chair is Dr. Michael Diefenbach, Mount Sinai, School of Medicine, New York, and Program Co-Chair is Dr. Gary Bennett, Duke University. We hope that you enjoyed the 2009 Annual Meeting and that you plan to attend the 2010 Annual Meeting in Seattle, Washington. We welcome and encourage feedback and ideas about past and future meetings, so please send comments directly to the Program Committee. Very exciting plans are already in the works for 2010! See you in Seattle!