President's Message: Expanding the Reach and Impact of Our Research
James F. Sallis, PhD, SBM president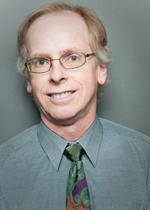 The Society of Behavioral Medicine (SBM) has nurtured me throughout my career. I have learned a great deal about the important health research we are engaged in, and I have benefitted from the wisdom and kindness of many valued colleagues over the years. So I am honored to be able to serve the members as president this year. My main goal is to build on the work of recent presidents by enhancing the reach and impact of our research, and I am framing my theme as improving the translation of research to policy and practice.
Research Translation
Early in my career I often added a vague sentence to the discussion section of papers that the results had "policy implications" or could be applied in practice. However, I did not have any idea about how that connection between my research and policy or practice could be made, and making the connection did not seem like my job. I did not realize that few policy makers or practitioners read our journal articles. Now I understand that research translation is mostly a haphazard process, though initiatives like the U.S. Preventive Services Task Force and The Guide to Community Preventive Services are systematically using research to guide changes to practice and policy. As applied researchers, our goal is to use research to improve health, and we do not want our findings to be ignored. There is much that both SBM as an organization and individual members can do to improve the impact of our work.
SBM already is playing important roles in research translation, and recent initiatives have included annual Capitol Hill visits, policy briefs, and expanded partnerships with policy-active organizations. I am proposing additional steps including SBM Special Interest Groups working with the Health Policy Committee to develop more policy briefs; the Scientific and Professional Liaison Council developing relationships with policy-related organizations; the Publications and Communication Council increasing access to findings of selected papers using podcasts, YouTube videos, and online lay summaries; the Education, Training, and Career Development Council including research translation and policy impact in training goals; and the Membership Council adding a membership category for policy makers and advocates. I ask you to support these actions to make research translation a goal for all of SBM.
I have learned that individual researchers can make important contributions to research translation. My experience with Active Living Research demonstrated that many researchers are eager to get engaged in research translation. A first step is to make the main lessons of research accessible to potential research users by writing lay summaries, posting short YouTube videos, conducting webinars, or developing ongoing relationships with policy makers. A more time-efficient approach may be to work with evidence-based advocacy organizations, such as Trust for America's Health, or policy-engaged professional organizations, such as American Heart Association or American Cancer Society. Although not all SBM members will be comfortable getting involved in research translation, my request is to identify at least one action you can take to communicate your research to those who can use it.
Nurturing Diverse Leadership in SBM
Building on Marian Fitzgibbon's Leadership Institute for mid-career professionals, which will soon be open for applications for the 2017 institute, my goal is to support the development of more diverse leaders within SBM. I have seen effective mentoring programs in other organizations that can be adapted for SBM. I will be putting together a group to develop such a program, so please contact me if you are interested in contributing to this effort.
Plan Ahead for SBM 2017 in San Diego
It is a happy coincidence that I am involved in planning the 2017 SBM Annual Meeting that will be held in my home town of San Diego. Program Chair David Marquez and I, along with the Program Committee, have great plans underway. Stay tuned as the specifics are announced. The meeting theme is "La Buena Vista: Expanding Horizons of Behavioral Medicine". The Spanish phrase recognizes the Latino heritage in San Diego and "the beautiful view" refers to the perspective that we have as we stand atop the mountain of evidence we have accumulated. Even as we appreciate our accomplishments, let's challenge ourselves to identify the most important directions for growth and expansion related to research, policy, and practice.
James F. Sallis, PhD
President
Society of Behavioral Medicine
Board Notes: Advancing Health Policy and Leadership Development
Monica L. Baskin, PhD, Board of Directors member delegate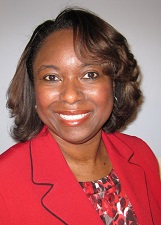 SBM's Health Policy Work: Past and Future
At the March 2016 Board Meeting, Health Policy Committee Chair Joanna Buscemi, PhD, underscored the significant policy and advocacy work the Society of Behavioral Medicine (SBM) has led over the past few years. That work includes yearly visits to Capitol Hill to advocate for research funding for the National Institutes of Health and key endorsements supporting the Prevention and Public Health Fund, Medicare coverage for diabetes prevention, the Centers for Disease Control and Prevention's Partnership to Improve Community Health program, and Senator Elizabeth Warren's bill to increase biomedical research funding. In addition to on-the-ground advocacy work in Washington, DC, SBM has published policy briefs and statements on a variety of topics including increasing HPV vaccination uptake, regulation of electronic nicotine delivery systems, banning indoor tanning for persons under age 18, and others (see more on SBM's Policy Briefs and Statements page).
While this work will continue, SBM President James F. Sallis, PhD, has charged the SBM Board of Directors with ensuring that behavioral medicine evidence shapes and influences health policies. Given the central role of behavior in health, the expertise and research findings generated by our membership can play a vital role in improving population health. To help direct our future health policy endeavors the Board approved the appointment of Marian L. Fitzgibbon, PhD, as the new Health Policy Council chair.
Leadership Development
Very few behavioral science training programs include leadership development. Recognizing the need to better prepare our members for leadership roles to advance behavioral medicine Dr. Fitzgibbon, SBM President 2015-16, led the creation of SBM's Leadership Institute for mid-career members. The inaugural class of 35 participants came from diverse disciplines and backgrounds and began their one-year training program with a two-day intensive training that kicked off at the 2016 Annual Meeting in Washington, DC. Several board members participated in the development of the institute and are serving as mentors for this year's class. With such strong interest in the program, the board is working to plan the 2017 institute for trainees. Stay tuned for more information.
New Board Members
Speaking of leadership, the SBM Board welcomed its two newest members this spring: President-Elect Gary G. Bennett, PhD, and Member Delegate Elva M. Arredondo, PhD. Dr. Bennett is a longtime SBM member who served the society's 2011 Annual Meeting Program Committee chair and as a Board of Directors member delegate from 2011 to 2014. He also serves as a member of SBM's Development Committee. Dr. Arredondo has also been a long-term member and has chaired numerous research symposia, served as reviewer of research abstracts, and chaired the diversity track for SBM's Program Committee. Welcome to the newest members of the board!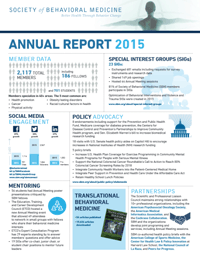 2015 Annual Report Shows SBM's Year in One Infographic
What did SBM accomplish in 2015? It's all in the 2015 Annual Report infographic.
Report highlights include:
SBM had 2,117 members.
SIGs shared 149 job openings.
The SBM Leadership Institute for mid-career members was created.
Leaders made 18 visits to health policy aides on Capitol Hill.
SBM released five policy briefs.
Congratulations to the Recipients of SBM's 2016 Achievement Awards
The Society of Behavioral Medicine (SBM) extends a warm congratulations to the following recipients of the society's 2016 achievement awards. Recipients are pictured below with SBM 2015-16 President Marian L. Fitzgibbon, PhD. Recipients formally received their awards from Dr. Fitzgibbon on March 31, 2016, during SBM's 37th Annual Meeting & Scientific Sessions at the Washington Hilton in Washington, DC.
SBM additionally congratulates new 2016 society fellows, who were also honored by Dr. Fitzgibbon during the Annual Meeting and are pictured with her below.
SBM would like to recognize the recipients of 2016 Special Interest Group (SIG) Awards as well. Recipients were honored during individual SIG meetings at the Annual Meeting, and their names are listed below.
Jessie Gruman Award for Health Engagement
Kate Lorig, DrPH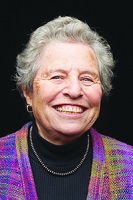 Distinguished Research Mentor Award
Deborah Bowen, PhD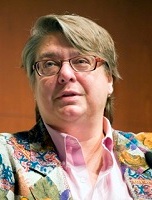 Distinguished Scientist Award
Francis J. Keefe, PhD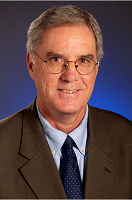 Research to Practice Award
Claudio Nigg, PhD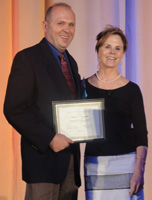 Excellence in Behavioral Medicine Training Program Award
Stanford Prevention Research Center (Abby C. King, PhD, accepted the award on behalf of the center)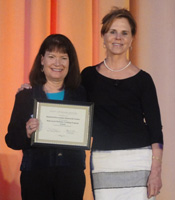 Early Career Investigator Award
Monica L. Wang, ScD, MS; and Brie Turner-McGrievy, PhD, MS, RD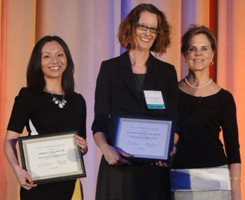 Outstanding Dissertation Award
Jennifer L. Moss, PhD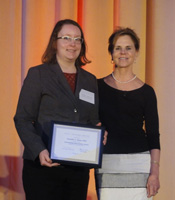 Distinguished Student Award
Travel Scholarship
Karl E. Minges, MPH; Stephanie Goldstein; Mindy McEntee, MS
Excellence in Research
Courtney Stevens; Stephanie Kerrigan, MS

C. Tracy Orleans Distinguished Service Award
Kathleen Wolin, ScD; Amy L. Yaroch, PhD; Lisa M. Klesges, PhD; Alan M. Delamater, PhD; Sherry L. Pagoto, PhD; and Bonnie Spring, PhD, ABPP
(Not pictured: Nicole Zarrett, PhD)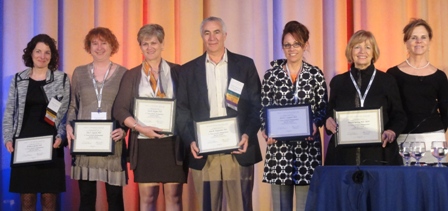 New 2016 Fellows
Sara Wilcox, PhD; David X. Marquez, PhD; William J. Sieber, PhD; Joshua M. Smyth, PhD; Susan Michie,
DPhil, CPsych, FBPS; Margaret Schneider, PhD; and M. Scott DeBerard, PhD
(Not pictured: Hope Landrine, PhD)

Special Interest Group (SIG) Awards
Aging SIG Outstanding Graduate Research Award
Gwenndolyn C. Porter
Cancer SIG Outstanding Student Abstract Award
Julie Cessna
Cancer SIG Senior Investigator Award for Outstanding Contributions to the Field
Michael A. Andrykowski, PhD
Child and Family Health SIG Award for Outstanding Achievements in the Field of Child and Family Health
Tonya M. Palermo, PhD
Child and Family Health SIG Professional Award for Outstanding Research in Child and Family Health
Robert L. Newton Jr., PhD
Child and Family Health SIG Student Award for Outstanding Research in Child and Family Health
April B. Bowling, MA
Diabetes SIG Early Career Travel Award
Angela Fidler Pfammatter, PhD
Ethnic Minority and Multicultural Health SIG Early Career Investigator Award
Meghan L. Butryn, PhD; and Sara C. Folta, PhD
Ethnic Minority and Multicultural Health SIG Student Award
Christian J. Cerrada, BS; Alice Guan, BA, BS; and Scherezade K. Mama, DrPH
Ethnic Minority and Multicultural Health SIG Mentor Award
Frank Penedo, PhD
Ethnic Minority and Multicultural Health SIG Service Award
Jack E. Burkhalter, PhD; Clement K. Gwede, PhD, MPH, RN, FAAN; Thomas V. Merluzzi, PhD; Eleshia Morrison, PhD; Francisco L. Sotelo, MS; and Hayley S. Thompson, PhD
Evidence-Based Behavioral Medicine SIG Outstanding Student/Trainee Award in Evidence-Based Behavioral Medicine
Kelly M. Shaffer
Health Decision Making SIG Award for Outstanding Trainee Abstract in Health Decision Making
Caitlin Biddle
Integrated Primary Care SIG Student/Postdoctoral Research Travel Award
Jennifer M. Wray, PhD
Military and Veterans' Health SIG Patricia H. Rosenberger Award for Outstanding Student/Fellow Abstract
Erin M. Anderson Goodell, SM; and Mona AuYoung, PhD, MS, MPH
Multiple Health Behavior Change SIG Outstanding Student/Trainee Award in Multiple Health Behavior Change
Christopher M. Warren
Optimization of Behavioral Interventions SIG Outstanding Optimization of Behavioral and Biobehavioral Interventions Research Award
Sayali Phatak, MS
Obesity and Eating Disorders SIG Excellence in Research Award (student)
Jennifer L. Matthews, MS
Obesity and Eating Disorders SIG Excellence in Research Award (postdoc)
Emily C. Martin, PhD
Pain SIG Graduate Student Abstract Award for Outstanding Research in Pain or Palliative Care
Amy E. Kupper, MS; Heather Padilla, MS, RDN, LD; Danielle B. Tometich, BS
Physical Activity SIG Student Research Award
Andrew Hua, BS; and Leah M. Schumacher, MS
Physical Activity SIG Local Innovator Award
Beacon House
Spirituality and Health SIG Distinguished Investigator in Spirituality and Health Award
Crystal L. Park, PhD
Spirituality and Health SIG New Investigator Award
Kelly M. Trevino, PhD
Student SIG Student Abstract Award
Casey K. Gardiner; Luke D. Mitzel, MS; and Heather Padilla, MS, RDN, LD
Technology SIG Student Award for Innovation
Stephanie Goldstein
Technology SIG Student Award for Significance to the Field of Digital Health
Brooke T. Nezami, MA
Women's Health SIG Best Poster Award
Michele D. Levine, PhD
2016 Annual Meeting: Behavioral Medicine at a Crossroads
Kathleen Wolin, ScD, Program Committee chair; David X. Marquez, PhD, Program Committee co-chair; and James F. Sallis, PhD, SBM president
The Society of Behavioral Medicine's (SBM) 2016 Annual Meeting & Scientific Sessions kicked off with an exciting opening keynote delivered by Omada Health CEO Sean Duffy. Mr. Duffy told the story of dropping out of Harvard Medical School to launch a company dedicated to bringing the Diabetes Prevention Program to the commercial market. Omada is one of the few digital health companies in the diabetes prevention space to have published their clinical trial data in peer-reviewed journals. Sharing both their story and data with SBM resulted in an exciting overview of the translation of evidence-based interventions into practice.
The theme of translating evidence to practice carried into the keynote delivered by Jeanette Betancourt, EdD, senior vice-president of Community and Family Engagement at Sesame Street Workshop. Dr. Betancourt discussed the ways in which her team is drawing on research to target many aspects of child growth, including cognitive, social, physical, emotional, and educational development. Jody Heymann, MD, PhD, dean of the University of California, Los Angeles School of Public Health, focused her keynote on the translation of research into policy, with a focus on the elimination of health disparities. And Andrew J. Hoffman, PhD, who delivered the closing keynote, challenged the academic community to move themselves outside of research and become engaged in broader discussions related to our research, both for setting policy and funding.
Catherine M. Alfano, PhD, in her stimulating master lecture, continued the theme of collaboration and connection between academic and non-academic partners while discussing a team approach to survivor care. Jessica Donze Black, RD, MPH, focused on policies to support school nutrition – an area in which we have made great progress.
But, we must continue to evolve in how we do our research. During her master lecture, Susan L. Murphy, ScD, OTR, pushed attendees to think about new study design approaches (i.e., micro-randomization, just-in-time adaptive interventions) that utilize scarce research resources to more quickly answer pressing questions. In her presidential keynote, Marian L. Fitzgibbon, PhD, spoke on evolving and adapting to the changing world and options around us. Describing the twists and turns of her career path and the changing approaches she has used to answer questions, Dr. Fitzgibbon highlighted that our field is ever evolving and that we must evolve with it.
Many of these topics extended into the rigorous science presented throughout the meeting in paper and poster sessions, symposia, panel discussions, and seminars. Meeting sessions about social media use, HIV prevention, and healthy eating received national press coverage, confirming that the science presented at SBM is highly impactful. New at this year's meeting was a session focused on null results - something every researcher is familiar with but often has little opportunity to present. Conference attendees enjoyed learning from the times we haven't found what we were hoping for as much as when p<0.05.
The upcoming 2017 Annual Meeting theme is "La Buena Vista: Expanding Horizons in Behavioral Medicine". We have a beautiful view from the mountain of valuable evidence our field has created over the years. From this vantage point we should be looking in multiple directions for new horizons so we can make progress in research, practice, and policy. Some highlighted speakers in San Diego will inspire and instruct us how to get our research used more effectively to improve practice and policy. The Program Committee has received excellent suggestions from the membership for content and is looking forward to the symposia, paper, panel discussions, and poster submissions to showcase SBM as a thought leader in this space.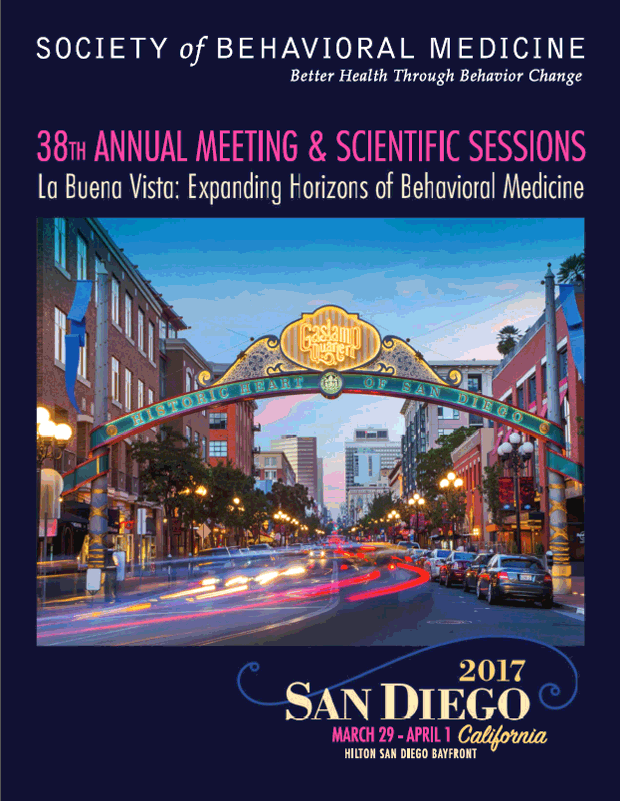 ETCD Council Thanks Those Who Volunteered at the 2016 Annual Meeting
Education, Training, and Career Development Council members would like to thank the following Society of Behavioral Medicine (SBM) members who volunteered their time during the SBM 2016 Annual Meeting & Scientific Session in Washington, DC.
Meet the Presidents Social Networking Event Volunteers
| | |
| --- | --- |
| David B. Abrams, PhD | Abby C. King, PhD |
| Elva M. Arredondo, PhD | Lisa M. Klesges, PhD |
| Alan J. Christensen, PhD | Valerie Harwell Myers, PhD |
| Heather Cole-Lewis, PhD | Judith K. Ockene, PhD, MEd, MA |
| Elliot J. Coups, PhD | James F. Sallis, PhD |
| Laura L. Hayman, MSN, PhD, FAAN | Monica L. Wang, ScD, MS |
| Amy G. Huebschmann, MD | Dawn K. Wilson, PhD |
| Peter G. Kaufmann, PhD | Sandra J Winter, PhD, MHA |
| Robert M. Kaplan, PhD | Julie A. Wright, PhD |
Poster Mentoring Program Volunteers
| | |
| --- | --- |
| Cheryl L. Albright, PhD, MPH | Bess H. Marcus, PhD |
| Karen M. Basen-Engquist, PhD, MPH | Suzanne M. Miller, PhD |
| Dana H. Bovbjerg, PhD | Karen M. Mustian, PhD |
| Deborah J. Bowen, PhD | Claudio R. Nigg, PhD |
| Paula R. Brantley, PhD | Lori Pbert, PhD |
| Phillip J. Brantley, PhD | Bernardine M. Pinto, PhD |
| Angela D. Bryan, PhD | Julia H. Rowland, PhD |
| David B. Buller, PhD | Sherri Sheinfeld Gorin, PhD |
| Alan M. Delamater, PhD | Bonnie Spring, PhD, ABPP |
| Rashelle B. Hayes, PhD | Jennifer L. Steel, PhD |
| Vicki S. Helgeson, PhD | Barbara Stetson, PhD |
| Paul Jacobsen, PhD | Jerry M. Suls, PhD |
| Rodger S. Kessler, PhD ABPP | Corrine I. Voils, PhD |
| Tricia Leahey, PhD | Molly Waring, PhD |
| Sharon L. Manne, PhD | |
Leadership Institute Fellows Receiving Valuable Coaching and Mentoring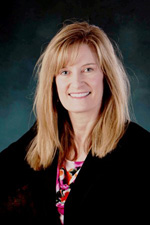 Society of Behavioral Medicine (SBM) Leadership Institute participant Lynette L. Craft, PhD, FACSM, wasn't sure what to expect from her institute professional development coach.
She'd never received official career coaching before, plus the Leadership Institute was new and she was part of its very first class of fellows. She couldn't exactly ask someone how their coaching went last year.
But as soon as Dr. Craft and her coach started talking on the phone, she knew it was going to be a worthwhile experience.
"It was really great to have an outsider's perspective," said Dr. Craft, who works as the American College of Sports Medicine's (ACSM's) vice president for evidence-based practice and scientific affairs.
"Part of our time together was spent working on how I can better manage the groups I'm in charge of, particularly the remote working groups comprised of ACSM members," she said. "A lot of what we talked about was perspective taking. As leaders, we have to get our work done but we also need to understand the perspectives of others, especially when working with volunteers. It's really important to understand what's going on with them and what resources they need to successfully complete a project. ... We know volunteer members are busy. It was helpful to discuss strategies to engage the members and to identify ways to assist them when they're struggling to get things done."
Professional coaching is just one part of the yearlong SBM Leadership Institute, started this year to give mid-career SBM members the training and skills they need to advance their careers and take on more leadership roles. The institute is the brainchild of SBM Past-President Marian L. Fitzgibbon, PhD.
The institute kicked off with a two-day in-person workshop on March 29-30 in Washington, DC. Now, participants are having individual calls with their coaches and group calls with their institute learning communities.
The 36 Leadership Institute fellows were assigned to one of five learning communities based on similar professional interests. Each community is led by a two-person team of esteemed SBM leaders who will mentor the fellows throughout the next year as they complete individual leadership projects.
Institute fellow Corrine Voils, PhD, is looking forward to her first learning community call, which she hopes will build on knowledge she gained during one of the workshop sessions.
"The session reminded me that building diverse, inclusive, highly-functioning teams depends, in large part, on effective leadership," said Voils, who works at the Durham VA Medical Center and Duke University. "Learning community mentoring as well as individual coaching should help me fulfill my leadership aspirations and I'm grateful to SBM for these opportunities."
Applications for the 2017-18 Leadership Institute will be available on the SBM website this fall.
Congratulations to the inaugural 2016-17 Leadership Institute fellows:
| | |
| --- | --- |
| Ana M. Abrantes, PhD | Kimberly J. Arriola, PhD, MPH |
| Maureen C. Ashe, PhD, PT | James F. Konopack, PhD |
| Jamile A. Ashmore, PhD | Meghan Lines, PhD |
| S. Bryn Austin, ScD | David X. Marquez, PhD |
| Carmen Radecki Breitkopf, PhD | Michelle Y. Martin, PhD |
| Matthew P. Buman, PhD | Karen M. Mustian, PhD |
| Kelly M. Carpenter, PhD | Angela Odoms-Young, PhD |
| Mei-Wei Chang, PhD | Aasim I. Padela, MD, MSc |
| Christopher Coleman, PhD, RN, FAAN | Caryn E. Peterson, PhD |
| Mary E. Cooley, PhD, RN, FAAN | Courtney A. Pinard, PhD |
| Elliot J. Coups, PhD | Brian A. Primack, MD, PhD |
| Lynette L. Craft, PhD | Melinda R. Stolley, PhD |
| Gareth R. Dutton, PhD | Mark Stoutenberg, PhD, MSPH |
| Sabrina Ford, PhD | Kimberlee J. Trudeau, PhD |
| Amy A. Gorin, PhD | Corrine I. Voils, PhD |
| Joseph A. Greer, PhD | Randal K. Wada, MD |
| Jennifer L. Huberty, PhD | Jessica A. Whiteley, PhD |
| Marc T. Kiviniemi, PhD | Melicia C. Whitt-Glover, PhD |

Leadership Institute participants met for a two-day training workshop on March 29-30 during SBM's 2016 Annual Meeting in Washington, DC.
The ETCD Council: SBM's Year Round Career Development Resource
Nicole Zarrett, PhD, Education, Training, and Career Development Council chair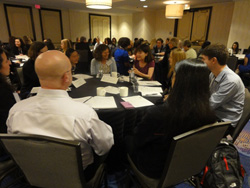 Each year the Education, Training, and Career Development (ETCD) Council endeavors to offer relevant sessions to members of the Society of Behavioral Medicine (SBM). The 2016 Annual Meeting & Scientific Sessions proved to be no exception. Below are some program highlights:
Meet the Presidents: 2nd Annual SBM Fellow Office Hours
The Washington, DC, setting inspired the SBM ETCD council to invite past SBM presidents to staff our 2nd annual "Meet the Professors" small group networking session. For this event the ETCD Council recruited 10 SBM presidents and eight junior faculty partners to facilitate small round-table discussions. Attendees were able to discuss pathways to career success and network in small groups with past SBM presidents and colleagues with similar professional interests.
Similar to its previous iteration, Meet the Professors, the event attracted attendees at various points in their careers. The variety of voices at each table enriched the experience of attendees such as SBM member Zakkoyya Lewis, who wrote "What I enjoyed most about the Meet the Presidents event was the opportunity to get feedback and input from the past president who made a very successful career, the junior faculty who is developing their career, and fellow students who are trying to establish a career. Gaining perspective from everyone at the table was extremely beneficial."
Special thanks to the following SBM past-presidents, and current SBM president, who participated in this event:
| | |
| --- | --- |
| David B. Abrams, PhD | Abby C. King, PhD |
| Alan J. Christensen, PhD | Lisa M. Klesges, PhD |
| Laura L. Hayman, MSN, PhD, FAAN | Judith K. Ockene, PhD, MEd, MA |
| Robert M. Kaplan, PhD | James F. Sallis, PhD |
| Peter G. Kaufmann, PhD | Dawn K. Wilson, PhD |
Poster Mentoring Program
This was the fifth year that the ETCD Council offered the poster mentoring program. The council is grateful to the 27 senior SBM members who volunteered to be matched with 36 students with shared research interests. The mentors attended the student/trainees poster presentations to provide valuable feedback on their research and to discuss future directions and/or career goals.
Due to the continued popularity of this program, the council is exploring ways to expand it. If you are interested in serving as a poster mentor for the 2017 Annual Meeting please contact SBM Program Manager Erica Linc at elinc@sbm.org.
Career Development Panels
This year the ETCD Council organized two panel discussions. The Graduate Student Research Panel Discussion, is offered annually and recruits faculty with experience in mentoring students in research activities, theses, and dissertations to provide advice and answer attendee questions about all facets of the graduate school experience and post-graduate trajectories. The flexible nature of the panel allowed for panel attendees' questions to determine the content of the discussion.
The second panel, Careers in Behavioral Medicine: Navigating the Challenges and Opportunities of Academic Career Transitions and Advancements, was presented in partnership with the Health Decision Making Special Interest Group (SIG). During this session panelists discussed the opportunities and challenges that exist across behavioral medicine academic careers, identified commonalities across differing career stages, and shared strategies for successfully coping with challenges and capitalizing on opportunities.
The council hopes to partner with more SIGs for the 2017 Annual Meeting to present career development sessions. If you are interested in partnering please contact ETCD Council Chair Nicole Zarrett, PhD, at zarrettn@mailbox.sc.edu.
Consultation Program
Along with the education, training and career development opportunities offered at annual meetings, SBM offers a web-based Consultation Program which provides members with year-round electronic access to experts in various behavioral medicine areas. Prospective consultees can identify expert consultants on the SBM website and contact them with specific questions pertaining to scientific topic areas as well as career development issues. Whether you are a postdoc looking for advice on negotiating your first job or a full professor delving into a new area of research, your fellow SBM members may be able to provide the knowledge and guidance you need.
Members can access the program by logging into the Members Only section of the SBM website and clicking on the Consultation Program link in the Member Benefits list. Currently, consultants are available from the Cancer SIG, Child and Family Health SIG, Integrated Primary Care SIG, Obesity and Eating Disorders SIG, Physical Activity SIG, Spirituality and Health SIG, and ETCD Council.
While several individuals have graciously agreed to share their time and expertise, additional consultants are always welcome. Please contact Erica Linc at elinc@sbm.org to participate.
Research Translation for Military and Veteran Health
"Our clinical partners can't wait five years for research to be done before they act to prevent suicide among our Veterans," noted David Atkins, MD, MPH (VA's Acting Chief Research and Development Officer) while speaking at the Society of Behavioral Medicine's (SBM) 2016 Annual Meeting in Washington, DC. Improving the wellbeing and safety of our military Servicemembers, Veterans, and their families clearly requires accelerated translation of research to practice.
Our Military and Veterans' Health Special Interest Group (MVH SIG) oversees numerous other, urgent opportunities for research translation from diabetes prevention, obesity reduction, dietetics, and physical activity promotion to PTSD and depression treatment to reduction of alcohol, tobacco, and opioid use or misuse. Our SIG's U.S. Department of Veterans Affairs (VA), U.S. Department of Defense (DoD), and academic affiliated members are leading the way for best practices and policy. We are very proud that so many of our colleagues are choosing SBM as an additional opportunity to discuss, develop, and disseminate their work. Our MVH SIG is emerging as a leading scientific and professional forum for Servicemember and Veteran health!
We are currently planning a pre-conference course on research translation for the SBM 2017 Annual Meeting, March 29 - April 1, 2017, San Diego, CA. Course content will emphasize research translation as it applies to policy development, implementation science, and healthcare quality improvement. Portions of the course will also highlight how to best secure funding support for work through VA, DoD, and other mechanisms.
The intent of the pre-conference course, and much of our SIG's work, is to increase the knowledge and skills of our members and others for career success and mission accomplishment for health. As we plan abstract submissions for next year's Annual Meeting, we invite your contributions to complement the broader MVH SIG mission and SBM mission and vision including, "better health through behavior change."
Our MVH SIG invites all SBM members, other associates, and potential new members to join our commitment of promoting behavioral health for those still serving, who once served, and their families. We invite interested SBM members to join our listserv by contacting Communications Officer Lindsey Dorflinger, PhD, at: Lindsey.Dorflinger@va.gov.
Feel free to also contact any of us as co-chairs. We look forward to working with our SIG's members and others in support of Servicemember and Veteran health now through the next year!
An Interview with Bob Twillman about the National Pain Strategy and How You Can Help
Lara Dhingra, PhD, Pain SIG chair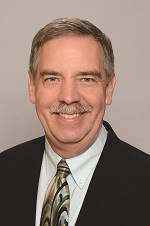 This article features an interview with Bob Twillman, PhD, FAPM, executive director of the Academy of Integrative Pain Management (formerly the American Academy of Pain Management). Dr. Twillman is a pain psychologist and a national expert on federal and state pain policies. He is a strong advocate for an integrative and common sense approach to pain management.
Pain SIG: What is the National Pain Strategy?
Twillman: Mandated as part of the Patient Protection and Affordable Care Act, the National Pain Strategy (NPS) is a document created by 80 national experts in various areas of pain management. It outlines a strategy for addressing the public health crisis represented by chronic pain and focuses on six areas of activity: (1) population research, (2) prevention and care, (3) disparities, (4) service delivery and payment, (5) professional education and training, and (6) public education and communication. In each of these areas the NPS lays out short-term, intermediate-term, and long-term strategic goals. The content of the NPS is organized around addressing the findings presented in the Institute of Medicine's 2011 report, Relieving Pain in America, and calls for implementation of an integrated approach to pain care—one that is interdisciplinary, multimodal, and patient-centered.
Pain SIG: What do you see as the strengths and limitations of this strategy?
Twillman: The greatest strength of the NPS lies in its comprehensive nature and the robust development process. A review of the six subject areas that I previously mentioned indicates that the NPS addresses not just research and clinical pain care, but also public and professional education and disparities. Further, it focuses not only on care for people who already have pain, but also on primary and secondary prevention strategies that might enable people to avoid developing chronic pain. To have such a comprehensive strategy developed by the leading experts in pain management is truly valuable. But the greatest limitation of the NPS lies in the fact that it is just a document outlining a strategy. While this is a great start, it is just a framework, and it needs urgent work to build out a tactical response, not to mention Congressional appropriations to pay for it.
Pain SIG: SBM, along with 72 other organizations, recently endorsed a letter that you initiated to the U.S. Senate Committee on Health, Education, Labor, and Pensions (HELP) on an implementation plan for the National Pain Strategy. Can you tell us about this letter and why it's important?
Twillman: As it exists now, the NPS is just a strategy. Its lack of an implementation plan and the funding to carry out that plan means that, until much more work is done, this report, like many other government reports, is in danger of becoming another dusty tome on someone's bookshelf. The letter to the Senate HELP Committee urged the committee to demand a written implementation plan, with a budget needed to carry it out, from the Department of Health and Human Services (DHHS) within 60 days of a request from the committee. To date, we have not seen this request from the committee, but several groups have met with the appropriate people within DHHS and confirmed that work on an implementation plan and budget is well underway. The goal of the DHHS staff is to complete that plan before the Obama Administration leaves office.
Pain SIG: Can the SBM community help? If so, what can SBM members do to join the effort, and get a plan and budget from Congress?
Twillman: Yes! There are two things that SBM's members can do now to help implement the NPS:
Contact Congress: Leverage any of their Congressional relationships (e.g., HELP, Energy and Commerce) to talk about the NPS and the importance of its swift implementation.
Sign the White House Petition: In July, the Consumer Pain Advocacy Task Force will launch a collective effort to gain 100,000 signatures on a White House Petition. SBM members, and all individuals and organizations, can sign the petition at http://consumerpainadvocacy.org/sign-wh-petition/.
Career Development for Integrated Primary Care: An Early-Career Psychologists' Perspective
Cerissa L. Blaney, PhD, University of Central Florida
Any Society of Behavioral Medicine (SBM) member who seeks to understand how to develop a strong professional identity in the health service sector and deliver behavioral medicine interventions in clinical settings, needs to read this personal journey of an early career psychologist. Given SBM's focus on "translating science to policy and practice," this brief summary of one professional's experiences provides great support for the work we need to do more of.
Ten months ago, I started my first job as an academic psychologist within a patient centered medical home (PCMH). I am the first and only psychologist at the University of Central Florida to be financially supported by the Department of Psychology but function primarily in the College of Medicine's physician practice. In this joint appointment, I am charged with developing integrated care services, for primary and specialty care, and preparing the next generation of psychologists for the unique and diverse roles within integrated primary care (IPC).
The expectations from the College of Medicine and the Psychology Department are not always compatible. In the PCMH, I am director of Behavioral Health Services and I primarily provide direct patient care; in psychology, I train eight onsite graduate students. In one brief year, I have learned that assertiveness, flexibility, and patience are essential for success as an IPC provider.
I was fortunate as a graduate student at the University of Rhode Island, and as an intern and post-doctoral fellow at Brown University, to have trained in well-developed integrated settings, including primary care. Often, IPC training opportunities are centered on providing direct care as part of an interdisciplinary team. However, many trainings are limited in other important skills in this field: developing competence in program development, billing in IPC, electronic health record (EHR) development and regulations, provider engagement, funding streams, systemic challenges, training development (provider and students), and quality improvement.
Although I built appropriate confidence during my internship and post-doctoral training, I soon experienced the return of self-doubt and the dreaded "imposter syndrome". Regardless, I pushed forward to take the necessary steps to establish joint appointments, memoranda of understandings, HIPAA compliance procedures for integrating into an EHR and documentation of behavioral services, training guidelines, service setup, intercollegiate expectations, and dozens of workflow processes.
Throughout this process I learned that – even given strong training -- early career success in IPC requires two more factors: (1) tolerance of uncertainty, and (2) perseverance. While establishing myself as a new leader in an organization, I have learned how important it is to be comfortable functioning and making decisions within the context of ambiguity. I also learned how to persevere without on-site mentorship or colleagues of similar background. However, feedback from trainees, clients, colleagues and clinical teams fueled my motivation for continued growth as an individual professional and development as a clinical service.
As often recommended by leaders in IPC, having a physician champion who is invested in the integrated behavioral health service is crucial to our growth and development. Specifically, having my medical director's consistent support and encouragement has been an indispensable factor in establishing my role and maintaining appropriate expectations for programs. In discussing physician perceptions and experiences with our services, Maria Cannarozzi, MD, medical director, stated that, "Our physicians have learned so much regarding how to care for patients' behavioral needs. We have learned how effective brief interventions can be and how wide the scope of intervention can be. Prior to having onsite [behavioral health] BH services, we would refer patients for psychology/psychiatry services with no knowledge of the type of care they were receiving, how we could effectively partner with them during treatment, even if indeed they were pursuing the care we recommended! Now we are co-managing illness and wellness together, while learning from one another during each shared patient encounter. It's been fun to be a part of the IPC program development and see the positive effects for our patients and staff."
Even with this support, it continues to be challenging to juggle advocacy roles across various teams and departments. I often need to clarify the complex role of behavioral health services in IPC settings. A few IPC-naive colleagues have a difficult time fully understanding my IPC role and its accompanying responsibilities. Many presume that behavioral health services are simply a physically relocated form of the traditional mental health paradigm. Further, medical providers and their teams may also share this misunderstanding, and dated models of training are likely to contribute to this type of thinking. Changing professionals' beliefs and expectations while simultaneously developing services and training experiences for the next generation of IPC psychologists has been quite a unique learning experience.
Finally, I must emphasize that early career mentorship is invaluable for support and continued training within the rapidly evolving field of IPC. I have benefitted immensely from the support of great IPC mentors across a wide variety of organizations. Specifically, I would like to thank Justin Nash, PhD; Susan McDaniel, PhD; Jared Skillings, PhD; Cheryl Brosig Soto, PhD; James Anderson, PhD; Christine Runyan, PhD; and Barbara Cubic, PhD. along with their mentoring organizations: APA, Collaborative Family Healthcare Association, Association of Psychologists in Academic Health Centers, Council of Clinical Health Psychology Training Programs, SBM, and the Society for Health Psychology.
I hope that the IPC field continues to expand its embedded training opportunities for the continued development of early career and future psychologists. Specifically, we should focus on broad training for our various functional roles in these positions and mastery of IPC program development and management within organizations that have yet to experience the benefits of a behavioral health team.
Integrating and Optimizing Technology for Behavioral Medicine Interventions for Diabetes: An Interview with Chandra Osborn
Diabetes SIG Student Co-Chairs: Naomi Kane, MA; Maggie Crawford, BS; and Amanda Phillips, MS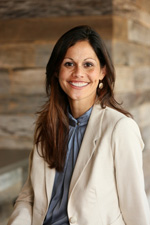 The Society of Behavioral Medicine (SBM) Diabetes Special Interest Group (SIG) interviewed the 2017 Diabetes SIG Annual Meeting Coordinator Chandra Osborn, PhD, MPH, about using technology to deliver behavioral interventions.
Dr. Osborn is an assistant professor of medicine and biomedical informatics and the co-director for the Center for Health Education and Behavior at the Vanderbilt University School of Medicine. She is a social psychologist with expertise in health communication and behavioral informatics. Dr. Osborn has published on the Information-Motivation-Behavioral (IMB) model's application to diabetes self-care, the relationship between limited health literacy and numeracy skills, nonadherence, and suboptimal glycemic control, and leveraging technology to promote self-care. Her current NIH funding includes an mHealth intervention for vulnerable patients with diabetes, and web-delivered interventions to promote medication management and adherence.
Diabetes SIG: How did you become interested in using digital health technologies in research?​
Osborn: My first iPhone sparked my interest in technology. Unlike any other device, the iPhone changed how we send and receive information, including health information. My career had to change too. As a health psychologist, I'm knowledgeable about what works in behavioral interventions, but because people's expectations of how they receive health information changed based on this device, my intervention delivery methods had to change, too. Doing this work isn't a choice; it's now a requirement. We have to stay relevant, and flexible – meeting patients where they are and where they want to be.
Diabetes SIG: What behavioral theory is your research based upon?
Osborn: I use the IMB model, a hybrid theoretical model that integrates the most useful parts of a handful of other behavior change theories. For the past 30 years, the pathways of the IMB have been empirically supported across a wide range of behaviors and populations. In 2003, I was the first to apply the model to diabetes self-care. Now, all my technology-based interventions are grounded in the IMB model. However, having a theory-based intervention isn't enough, so my interventions present information in literacy- and numeracy-appropriate ways.
​Diabetes SIG: Which diabetes self-​management behavior​(s) ​are you most passionate about affecting through technology​?
Osborn: I think all diabetes self-care behaviors are important, but I see medication adherence as the most influential behavior for glycemic control. There has been less focus on promoting medication adherence relative to the other behaviors, so my research aims to promote this, and, in turn, improve glycemic control, prevent complications and premature mortality.
Diabetes SIG: What sort of research and/or advocacy work is needed to reach disadvantaged groups who might lack access to these newer technologies?
Osborn: People who are sicker and more disadvantaged adopt technology faster, even though they have limited resources to obtain the devices. These people are often the hardest to engage in the healthcare setting, so leveraging technology to reach them can be very powerful. In our work, we have found no racial disparities in technology use, and that responding to text messages is as likely among Whites and non-Whites irrespective of age, gender, or socioeconomic status.
​Diabetes SIG: How can SBM members who are not Diabetes SIG members get more involved in contributing to this important work?
Osborn: Performing research at the intersection of technology, disparities, and self-care support has application across all behavioral research contexts. It isn't restricted to people doing diabetes research. Behavioral researchers conducting self-care promotion research in other disease contexts should use technology to reach, engage, and optimize intervention utility among populations with the greatest need. It's important work that needs to be done, and more of us need to be doing it.
Evidence-Based Behavioral Medicine Special Interest Group: A Diverse Group of Scientists, Clinicians, and Policymakers
Joanna Buscemi, PhD, and Heather Jim, PhD, EBBM SIG Co-Chairs
With 569 members, the Evidence-Based Behavioral Medicine (EBBM) Special Interest Group (SIG) is one of the Society of Behavioral Medicine's (SBM) largest SIGs. The EBBM SIG membership is comprised of students and professionals interested in further creating an evidence base that allows us to evaluate interventions, improve research methodology, and translate evidence-based knowledge into practice. Given that the mission of the EBBM SIG cuts across nearly every interest area within SBM, the majority of our members are also members of other SIGs. For example, 42% of our members are also members of the Multiple Health Behavior Change SIG, 37% are members of the Theories and Techniques of Behavior Change Interventions (TTBCI) SIG, and 34% are members of the Cancer SIG.
Given the EBBM SIG's overlapping interests, we have developed partnerships across SIGs for programming at the annual meeting and collaboration on manuscripts. At SBM's 37th Annual Meeting, the EBBM SIG collaborated with the TTBCI SIG, the Cancer SIG, the Scientific & Professional Liaison Council (SPLC), and the Cochrane Collaboration to develop a pre-conference course entitled, Network Meta-Analysis for Behavioral Trials: An Introduction and Overview. The EBBM SIG also partnered with the Optimization of Behavioral Interventions SIG and the SPLC to develop a manuscript entitled, "Increasing the Public Health Impact of Evidence-Based Interventions in Behavioral Medicine: New Approaches and Future Directions." This manuscript is currently under review.
At SBM's 37th Annual Meeting, the EBBM SIG also held a midday meeting where our student abstract winner, and outgoing and incoming co-chairs were honored. Our 2016 Outstanding Student/Trainee Award in Evidence-Based Behavioral Medicine winner, Kelly Shaffer, is currently completing her predoctoral clinical psychology internship at Massachusetts General Hospital. The EBBM SIG congratulates Kelly on this honor! Additionally, this year marked a transition in our SIG's leadership. After three years of excellent service to our SIG, Amy Janke, PhD, was presented with the Outgoing SIG Chair Award. We also welcomed our new SIG Co-Chair Heather S. Jim, PhD. Dr. Jim is an associate member in the Health Outcomes and Behavior Department at Moffitt Cancer Center. She has an active program of research in EBBM for cancer patients and survivors. She has been an enthusiastic member of the EBBM SIG for several years and looks forward to fostering new collaborations within and across SIGs.
Looking forward to SBM's 38th Annual Meeting, the EBBM SIG plans to harness the diversity of our membership to propose several cross-cutting symposia that will be of broad interest to SBM. We are currently collaborating with the Pain SIG to propose a health policy brief on psychological and behavioral interventions for pain management. It is our hope that these collaborations will aid in moving the science of EBBM forward, and will serve to increase the impact of our work.
Contact the current EBBM co-chairs Joanna Buscemi, PhD, at jbuscemi@uic.edu or Heather Jim, PhD, at Heather.Jim@moffitt.org for more information and with any questions.
Misconceptions of the Relationship between Physical Activity and Work-Related Burnout
Jason D. Cohen, BS, Physical Activity SIG student representative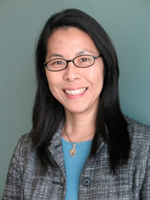 The Physical Activity Special Interest Group (SIG) interviewed Shine Chang, PhD, about the relationship between work-related burnout and physical activity, as well as what current research suggests. Dr. Chang is the director of the Cancer Prevention Research Training Program, a distinguished teaching professor at the University of Texas System, and a professor of epidemiology at the Division of Cancer Prevention and Population Sciences at the University of Texas MD Anderson Cancer Center.
PA SIG: With respect to faculty members conducting research or serving in clinical settings, what is the current understanding of why burnout is on the rise?
Chang: Burnout can happen at all levels, especially to those who are high performers. Conventional thinking is that burnout is an issue of the individual and the individual's habits. However, current research suggests that work-related burnout and overload are actually a combination of what individuals do, how they respond to their environment and the demands routinely placed on them. So, over time, especially in research intensive institutions, there has been an increased load placed on researchers and clinicians to do more with the same or less time, resources, and energy, which in turn, increases overload and burnout. … It is also important to point out that burnout is a state characteristic, not a trait.
PA SIG: Is physical activity an ideal option for lowering or preventing symptoms of burnout?
Chang: When institutions respond to faculty by providing solutions such as meditation sessions, healthy dieting options, informative seminars, and fitness centers, that's good. But, the major part of the problem is the continuous demand on faculty time, such as grants, heavier patient loads, and other factors not addressed by improved lifestyle behaviors. The formerly discussed provisions are the wrong solution for the actual problem because they do not directly address the root cause of the stress. While regular physical activity is an excellent mechanism for combatting stress, long-term improvement can only be addressed by revisiting and restructuring factors stemming directly from the work environment. Rather than creating quick-fix solutions, institutions should be focusing on reducing the burdens routinely placed on their faculty members, not on non-work related changes such as exercising.
PA SIG: How can faculty members recognize and actively address burnout?
Chang: I recommend the work of Dr. Christina Maslach. She is a nationally recognized researcher and professor at UC Berkley, and in the past was the vice provost for undergraduate education among other distinguished positions. Dr. Maslach is one of the foremost figures in burnout research; she created a validated instrument for assessing burnout that is widely used. The Maslach Burnout Inventory (MBI) has three features: emotional exhaustion, depersonalization (meaning one stops treating people as individuals and being polite), and a lower sense of personal accomplishment. For instance, if you are high in emotional exhaustion and depersonalization, and low in personal accomplishment, you are on your way to being, or already are, burned out. It is important to note that severe burnout may require the support and guidance of a trained counselor, ideally knowledgeable in the area of burnout. Time off can help, as well as increasing physical activity and sleep, but emotional constructs need to be addressed as well.
Career Development for Integrated Primary Care: Trainee Perspective on an Innovative New Curriculum
Mark A. Stillman, PhD, Mercer University; Olivia Gupton, MS, Mercer University; Natasha DePasa, MS, University of Central Florida; and Keri Dotson, MS, University of Central Florida
Across virtually every area of specialized expertise and interest within SBM, those who desire to improve population health in medical settings could benefit from clearly understanding how integrated primary care (IPC) training can help them to meet their goals. In congruence with the timely emphasis that SBM President James F. Sallis, PhD, placed upon translating science to policy and practice, this article highlights the importance of graduate training in order to better prepare for all areas of applied behavioral medicine. On a more pragmatic level, it is also essential that graduate education and training programs respond to growing workforce demands for psychologists to function as full members of IPC health teams.
As the demand for population health increases, so does the need to effectively train psychologists in the competencies that are necessary to work within integrated care settings (Cubic et al., 2011). The American Psychological Association (APA) Division 38 developed a freely available introductory curriculum as a resource for graduate training programs and affiliated clinical training sites. Feedback has been positive and promising, and strongly suggests that exposure to the IPC curriculum fosters interest among students and promotes an awareness of psychology's role in the changing healthcare field.
The APA Society for Health Psychology's Committee on IPC has developed a freely available course, Integrated Primary Care Psychology: An Introductory Curriculum (Gunn et al., 2016), to be used as a resource by any graduate program or training site with the goal of enhancing psychologists' roles in the transforming health care system. Mercer University's Clinical Medical Psychology Doctoral program was the first national pilot of the APA's entire curriculum (August – December, 2015). We reflect on this experience below.
Curriculum Development
The Primary Care Psychology Introductory Curriculum (see Table 1) was developed by psychologists with extensive clinical and training experience in primary care. It presently includes four 120-minute Foundation Modules (each with 90-minute versions), and eleven 90-minute Topic Modules, with additional modules becoming available over the next few years.
Table 1. Integrated Primary Care Psychology (IPC) Curriculum Description

Foundational Modules

Module 1
Introduction to IPC
Defines field, integration and traditional vs. integrated role of the psychologist
Module 2
Across the Continuum: Psychology's Role in IPC
Discusses range of primary care patient needs
Module 3
Primary Care Patients: Who are They and How Can Psychologists Be Helpful
Describes primary care patients' common behavioral health concerns
Module 4
IPC Interventions
Identifies clinical skills for primary care intervention

Additional Topics

Anxiety ADHD Chronic Disease Management Chronic Pain Depression

Health Promotion/Disease Prevention Motivational Interviewing

Research & Quality Improvement

Substance Misuse Training Trajectory Working with Older Adults
The curriculum will be accessible on the Division 38 website beginning in June 2016.
Trainee Perspectives
Olivia Gupton, MS, Mercer University doctoral student:
As a student in the inaugural cohort for the IPC course, I gained a working comprehension of the Behavioral Health Consultant's role related to IPC Competencies as defined by McDaniel et al. (2014). Multimodal teaching techniques were used, including interactive presentations, student exercises, references, case materials, illustrative videos, and resources. The skills and knowledge I learned from this course prepared me for my practicum in an Atlanta area adult outpatient clinic where I collaborated closely with medical doctors, nurses, social workers, psychologists, and psychiatrists to treat patients with comorbid medical and psychiatric diagnoses.
Natasha DePesa, MS, University of Central Florida doctoral student, incoming intern at Tampa VA:
Training in IPC is highly desired by graduate students. Within our clinical psychology graduate program, a small group of IPC-committed students advocated for clinical experiences in integrated health to enrich our generalist training. Our extensive efforts in developing an integrated primary care externship site provided unique and invaluable learning experiences. Initially, significant time and money were invested to ensure appropriate training and guidance. Currently, we are adapting the training model to be more sustainable and to meet the varied needs of students within our program. The new IPC curriculum is an excellent tool for generalist programs like ours.
Keri Dotson, MS, University of Central Florida doctoral student, presently applying for clinical internship:
IPC training is an invaluable experience for students, even those not planning a career in IPC or a medical setting. Training in IPC has enhanced my understanding of the biopsychosocial model by emphasizing increased awareness and consideration of medical factors in case conceptualization, treatment planning and implementation, and care coordination. Such training experiences also foster development of a shared vernacular among various healthcare professionals. Personally, this experience has allowed me to further establish my professional identity as a health service provider and develop as a clinician, leader, and young professional.
Summary
In response to the general shift towards delivering all manner of evidence-based behavioral interventions to broad populations in primary care settings, psychologists can benefit from IPC training that focuses on collaboration, treatment implementation, and brief interventions. The construction of the IPC curriculum by APA's Division 38 was aimed to address and meet the needs of our field. The response from students who have undergone specialized IPC training has been highly positive and promising.
References
Cubic B., Neumann, C., Kearney, L., McGrath, R., Ruddy, N., Rybarczyk, B., Zamudio, A. (2011). Report of the Primary Care Training Task Force to the APA Board of Educational Affairs. American Psychological Association.
Gunn, W. B., Ward-Zimmerman, B., Ruddy, N., Cubic, B. A., Kearney, L. K., Neumann, C., Vogel, M. E., Stillman, M. A., Wells, S. (2016). Integrated Primary Care Psychology: An Introductory Curriculum. American Psychological Association; Society for Health Psychology.
McDaniel, S. H., Grus, C. L., Cubic, B. A., Hunter, C. L., Kearney, L. K., Schuman, C. C., . . . Johnson, S. B. (2014). Competencies for psychology in practice in primary care. American Psychologist, 69(4), 409-429.
New Articles from Annals of Behavioral Medicine and Translational Behavioral Medicine
SBM's two journals, Annals of Behavioral Medicine and Translational Behavioral Medicine: Practice, Policy, Research (TBM), continuously publish online articles, many of which become available before issues are printed. Three recently published Annals and TBM online articles are listed below.
SBM members who have paid their 2016 membership dues are able to access the full text of all Annals and TBM online articles via the SBM website by following the steps below.
Go to the Members Only section of the SBM website (http://www.sbm.org/membership/members).
Log in with your username and password.
Click on the Journals link (listed third in the list of member benefits).
Click on the title of the journal which you would like to electronically access.
To check if you are a current SBM member, or if you are having trouble accessing the journals online, please contact the SBM national office at info@sbm.org or (414) 918-3156.
Annals of Behavioral Medicine
Perceived Housing Discrimination and Self-Reported Health: How Do Neighborhood Features Matter?
Authors: Tse-Chuan Yang, Danhong Chen, Kiwoong Park
Abstract: While the association between perceived discrimination and health has been investigated, little is known about whether and how neighborhood characteristics moderate this association. We situate discrimination in the housing context and use relative deprivation and social capital perspectives to fill the knowledge gap. We applied multilevel logistic modeling to 9,842 adults in 830 neighborhoods in Philadelphia to examine three hypotheses. First, the detrimental effect of discrimination on self-reported health was underestimated without considering neighborhood features as moderators. The estimated coefficient (β) increased from approximately 0.02 to 1.84 or higher. Second, the negative association between discrimination and self-reported health was enhanced when individuals with discrimination experience lived in neighborhoods with higher housing values (β = 0.42). Third, the adverse association of discrimination with self-reported health was attenuated when people reporting discrimination resided in neighborhoods marked by higher income inequality (β = −4.34) and higher concentrations of single-parent households with children (β = −0.03) and minorities (β = −0.01). We not only confirmed the moderating roles of neighborhood characteristics, but also suggested that the relative deprivation and social capital perspectives could be used to understand how perceived housing discrimination affects self-reported health via neighborhood factors.
Parental History of Diabetes, Positive Affect, and Diabetes Risk in Adults: Findings from MIDUS
Authors: Vera K. Tsenkova, Arun S. Karlamangla, Carol D. Ryff
Abstract: Family history of diabetes is one of the major risk factors for diabetes, but significant variability in this association remains unexplained, suggesting the presence of important effect modifiers. To our knowledge, no previous work has examined whether psychological factors moderate the degree to which family history of diabetes increases diabetes risk. We investigated the relationships among parental history of diabetes, affective states (positive affect, negative affect, and depressed affect), and diabetes in 978 adults from the MIDUS 2 national sample. As expected, parental history of diabetes was associated with an almost threefold increase in diabetes risk. We found a significant interaction between positive affect and parental history of diabetes on diabetes (p = .009): higher positive affect was associated with a statistically significant lower relative risk for diabetes in participants who reported having a parental history of diabetes (RR = .66 per unit increase in positive affect; 95 % CI = .47; .93), but it did not influence diabetes risk for participants who reported no parental history of diabetes (p = .34). This pattern persisted after adjusting for an extensive set of health and sociodemographic covariates and was independent of negative and depressed affect. These results suggest that psychological well-being may protect individuals at increased risk from developing diabetes. Understanding such interactions between non-modifiable risk factors and modifiable psychological resources is important for delineating biopsychosocial pathways to diabetes and informing theory-based, patient-centered interventions to prevent the development of diabetes.
Baseline Characteristics and Generalizability of Participants in an Internet Smoking Cessation Randomized Trial
Authors: Sarah Cha, Bahar Erar, Raymond S. Niaura, Amanda L. Graham
Abstract: The potential for sampling bias in Internet smoking cessation studies is widely recognized. However, few studies have explicitly addressed the issue of sample representativeness in the context of an Internet smoking cessation treatment trial. The purpose of the present study is to examine the generalizability of participants enrolled in a randomized controlled trial of an Internet smoking cessation intervention using weighted data from the National Health Interview Survey (NHIS). A total of 5290 new users on a smoking cessation website enrolled in the trial between March 2012 and January 2015. Descriptive statistics summarized baseline characteristics of screened and enrolled participants, and multivariate analysis examined predictors of enrollment. Generalizability analyses compared demographic and smoking characteristics of trial participants to current smokers in the 2012–2014 waves of NHIS (n = 19,043) and to an NHIS subgroup based on Internet use and cessation behavior (n = 3664). Effect sizes were obtained to evaluate the magnitude of differences across variables. Predictors of study enrollment were age, gender, race, education, and motivation to quit. Compared to NHIS smokers, trial participants were more likely to be female, college educated, and daily smokers and to have made a quit attempt in the past year (all effect sizes 0.25–0.60). In comparisons with the NHIS subgroup, differences in gender and education were attenuated, while differences in daily smoking and smoking rate were amplified. Few differences emerged between Internet trial participants and nationally representative samples of smokers, and all were in expected directions. This study highlights the importance of assessing generalizability in a focused and specific manner.
Translational Behavioral Medicine
UWALK: the development of a multi-strategy, community-wide physical activity program
Authors: Cally A. Jennings, Tanya R. Berry, Valerie Carson, S. Nicole Culos-Reed, Mitch J. Duncan, Christina C. Loitz, Gavin R. McCormack, Tara-Leigh F. McHugh, John C. Spence, Jeff K. Vallance, W. Kerry Mummery
Abstract: UWALK is a multi-strategy, multi-sector, theory-informed, community-wide approach using e and mHealth to promote physical activity in Alberta, Canada. The aim of UWALK is to promote physical activity, primarily via the accumulation of steps and flights of stairs, through a single over-arching brand. This paper describes the development of the UWALK program. A social ecological model and the social cognitive theory guided the development of key strategies, including the marketing and communication activities, establishing partnerships with key stakeholders, and e and mHealth programs. The program promotes the use of physical activity monitoring devices to self-monitor physical activity. This includes pedometers, electronic devices, and smartphone applications. In addition to entering physical activity data manually, the e and mHealth program provides the function for objective data to be automatically uploaded from select electronic devices (Fitbit®, Garmin and the smartphone application Moves) The RE-AIM framework is used to guide the evaluation of UWALK. Funding for the program commenced in February 2013. The UWALK brand was introduced on April 12, 2013 with the official launch, including the UWALK website on September 20, 2013. This paper describes the development and evaluation framework of a physical activity promotion program. This program has the potential for population level dissemination and uptake of an ecologically valid physical activity promotion program that is evidence-based and theoretically framed.
Use of self-monitoring tools in a clinic sample of adults with type 2 diabetes
Authors: Molly L. Tanenbaum, Harikrashna B. Bhatt, Valerie A. Thomas, Rena R. Wing
Abstract: Self-monitoring is an effective strategy for chronic disease management; many readily available mobile applications allow tracking of diabetes-related health behaviors but their use has not yet been integrated into routine clinical care. How patients engage with these applications in the real world is not well understood. The specific aim of this study is to survey adults with type 2 diabetes (T2D) regarding self-monitoring behaviors, including mobile application use. In 2015, we surveyed an adult diabetes clinic population (n = 96) regarding self-monitoring behaviors: diet, physical activity, weight, and blood glucose. Self-monitoring with any method ranged from 20–90 %. About half of the participants owned smartphones; few had mobile applications. The most common app-tracked behavior was physical activity, then weight and diet. Despite numerous available mobile health-tracking applications, few T2D adults from our sample used them, though many reported self-monitoring with other methods.
A pilot study evaluating the effects of a youth advocacy program on youth readiness to advocate for environment and policy changes for obesity prevention
Authors: Rachel A. Millstein, Susan I. Woodruff, Leslie S. Linton, Christine C. Edwards, James F. Sallis
Abstract: Youth advocacy for obesity prevention is a promising but under-evaluated intervention. The aims of this study are to evaluate a youth advocacy program's outcomes related to youth perceptions and behaviors, develop an index of youth advocacy readiness, and assess potential predictors of advocacy readiness. Youth ages 9–22 in an advocacy training program (n = 92 matched pairs) completed surveys before and after training. Youth outcomes and potential predictors of advocacy readiness were assessed with evaluated scales. All 20 groups who completed the evaluation study presented their advocacy projects to a decision maker. Two of six perception subscales increased following participation in the advocacy program: self-efficacy for advocacy behaviors (p < .001) and participation in advocacy (p < .01). Four of five knowledge and skills subscales increased: assertiveness (p < .01), health advocacy history (p < .001), knowledge of resources (p < .01), and social support for health behaviors (p < .001). Youth increased days of meeting physical activity recommendations (p < .05). In a mixed regression model, four subscales were associated with the advocacy readiness index: optimism for change (B = 1.46, 95 % CI = .49–2.44), sports and physical activity enjoyment (B = .55, 95 % CI = .05–1.05), roles and participation (B = 1.81, 95 % CI = .60–3.02), and advocacy activities (B = 1.49, 95 % CI = .64–2.32). The youth advocacy readiness index is a novel way to determine the effects of multiple correlates of advocacy readiness. Childhood obesity-related advocacy training appeared to improve youths' readiness for advocacy and physical activity.
Honors and Awards
Congratulations to the following Society of Behavioral Medicine (SBM) members who recently received awards or were otherwise honored. To have your honor or award featured in the next issue of Outlook, please email elinc@sbm.org.
Cynthia C. Forbes, PhD
Dr. Forbes received the Oncology Nursing Society's 2016 Excellence in Writing Award for Quantitative Nursing Research. This award recognized her paper, "Prevalence and correlates of strength exercise among breast, prostate, and colorectal cancer survivors in Nova Scotia, Canada", originally published in Oncology Nursing Forum, for making a significant contribution to the empirical literature, being an exemplar of quantitative nursing research, and suggesting ways to translate findings to clinical practice in cancer care.
Ian Kleckner, PhD
Dr. Kleckner recently had the honor of giving an oral presentation at the American Society for Clinical Oncology (ASCO) Annual Meeting. That same presentation was hand selected to be included in the Best of ASCO® program and was awarded the ASCO Merit Award.
Karl E. Minges, PhD, MPH
Dr. Minges received Yale University's 2016 Anthony DiGuida Dissertation Prize. The prize is given to a graduating doctoral student who demonstrates creative conceptualization of a complex clinical problem for study, methodologic and analytic excellence, and superb writing.
Cynthia Thomson, PhD, RD
Dr. Thomson was the recipient of two awards this spring. The University of Arizona Distinguished Outreach Faculty Award which recognizes outstanding faculty whose scholarship-based outreach to the state, nation and the world has demonstrated sustained excellence in the University's outreach mission. The second award, the 14th Annual Distinguished Investigator Salmon Award, recognizes outstanding University of Arizona Cancer Center faculty members for their leadership in cancer research, grant support and publications. This award is presented annually in honor of Dr. Sydney Salmon, founding director of the University of Arizona Cancer Center.
Erika A. Waters, PhD, MPH
Dr. Waters was promoted to associate professor of surgery in the Division of Public Health Sciences at Washington University in St. Louis.
Redford B. Williams, Jr., MD
Dr. Williams received the American Psychosomatic Society's 2016 Distinguished Scientist Award on March 9 at the society's 2016 Annual Meeting. The award recognizes senior scientists and physicians who have made an important and protracted contribution in any research field within the society's bailiwick.
Members in the News
The following Society of Behavioral Medicine (SBM) members and their research were recently featured in news articles or videos. To have your news spot featured in the next issue of Outlook, please email elinc@sbm.org.
Lauren M. Hamel, PhD
Dr. Hamel's study that assessed the frequency and nature of physicians and patients treatment cost discussions was featured on Clinical Oncology News on May 13.
Michelle L. Segar, PhD, MPH, MS
Dr. Segar was featured in a May 13 Huffington Post article about how to exercise regularly and consistently. The article outlined four steps, based on Dr. Segar's research, to setting attainable fitness goals. Dr. Segar was also quoted in a January 20 Wall Street Journal article on the fitness metric Personal Activity Intelligence. She urged fitness device makers to focus on behavioral psychology in addition to data collection when developing their products.
CLASSIFIEDS
The Cancer Therapy & Research Center at the University of Texas Health Science Center at San Antonio Seeks Applicants for Two Faculty Positions

Faculty Position Available
Cancer Prevention and Population Science - Epidemiology and Cancer Disparities
The Cancer Therapy & Research Center (CTRC) at the University of Texas Health Science Center at San Antonio (UTHSCSA), in conjunction with the Department of Epidemiology and Biostatistics, School of Medicine is recruiting for two faculty positions at the title and rank of Assistant Professor, Associate Professor or Full Professor on the tenure track with a research interest in any of the following areas:
Cancer Population Science
Cancer Health Disparities
Cancer Epidemiology
Behavioral Oncology
Successful candidates will join the CTRC's cancer-prevention efforts with a particular emphasis on cancers that commonly or disproportionately affect the population of San Antonio and South Texas and will join the CTRC's Population Science and Prevention Program, which has 26 members with more than $7.3M in peer-reviewed funding. We are seeking independent investigators with expertise in identifying genetic, epigenetic and environmental factors that increase cancer risk and disparities; design and implementation of interventions affecting cancer risk and outcomes, particularly for our unique population; and the movement of findings in risk assessment and intervention into clinical practice.
The CTRC at UTHSCSA is one of four National Cancer Institute-designated Cancer Centers in Texas and the only NCI designated center in South Texas, serving a region of 45,970 square miles (over 4 million people) including a large, multiethnic population. The CTRC is committed to integrated multidisciplinary research and care, and the translation of research findings into the diagnosis, treatment, and prevention of cancer while improving the quality of life of cancer survivors. The 77 CTRC researchers have more than $33.6M in extramural research funding and have a broad range of basic, clinical, and population science expertise. The CTRC's three research programs of Cancer Development and Progression, Experimental and Developmental Therapeutics, and Population Science and Prevention along with a group of developing programs are supported by eight shared core facilities. The CTRC is celebrating its 40th year as a cancer center in 2014 and has exceptional support from a fast-growing and committed community.
The Department of Epidemiology and Biostatistics has 18 full-time faculty members with research interests including translational scientific discovery, clinical- and population-based investigation, the application of epidemiological and biostatistical principles to clinical problem solving, formulation of health policy, and application to health services organizational management, as well as the development of epidemiological and biostatistical research methods. The mission of the Department is to develop and enhance population-based, clinical and translational research in clinical and community settings, to develop epidemiologic, biostatistical, and medical informatics resources, and to promote the educational mission of the School of Medicine by teaching epidemiology, biostatistics and critical appraisal of the medical literature to students, house-staff, and faculty. The Department plays an integral role in UTHSCSA's research and educational missions by enhancing programs to prevent disease, promote health, deliver quality health care, and inform health policy decisions.
Candidates with a track record in population science and a cancer-related focus are encouraged to apply. The successful applicant should hold an M.D., Ph.D., M.D./Ph.D., or equivalent degree and have a demonstrated track record of research productivity related to cancer prevention and control, a strong publication record and extramural peer-reviewed funding commensurate with the level of the faculty position applied for. Experience in obtaining multi-investigator research grants is desirable. Candidates with an interest in cancer disparities, prevention, early detection, treatment access, communications, and survivorship are encouraged to apply. Significant institutional support including a competitive compensation package, startup funds, and modern laboratory space and facilities will be provided. The successful candidate will also have opportunities to apply for additional support funds from a number of funding mechanisms administered by Cancer Prevention and Research Institute of Texas ( http://www.cprit.state.tx.us/funding-opportunities/). Applicants must be eligible to legally work in the U.S.
Applications are currently being received and will continue until the position is filled. All faculty appointments are designated as security sensitive positions. The University of Texas Health Science Center at San Antonio is an Equal Employment Opportunity/Affirmative Action Employer including protected veterans and persons with disabilities. Interested applicants should submit a cover letter detailing their qualifications, a curriculum vitae, and an overview of current and future research plans (1-2 pages) to varnerl@uthscsa.edu or by mail to:
Please address cover letter, CV, and overview of future research plans to:
Dr. Amelie G. Ramirez
Chair ad Interim, Epidemiology and Biostatistics
Associate Director for Cancer Prevention and Health Disparities
Cancer Therapy and Research Center
c/o: Ms. Lori Moctezuma
Office of the Director
7979 Wurzbach Rd.
San Antonio, TX 78229

Visit the SBM Job Opportunities page for additional positions.